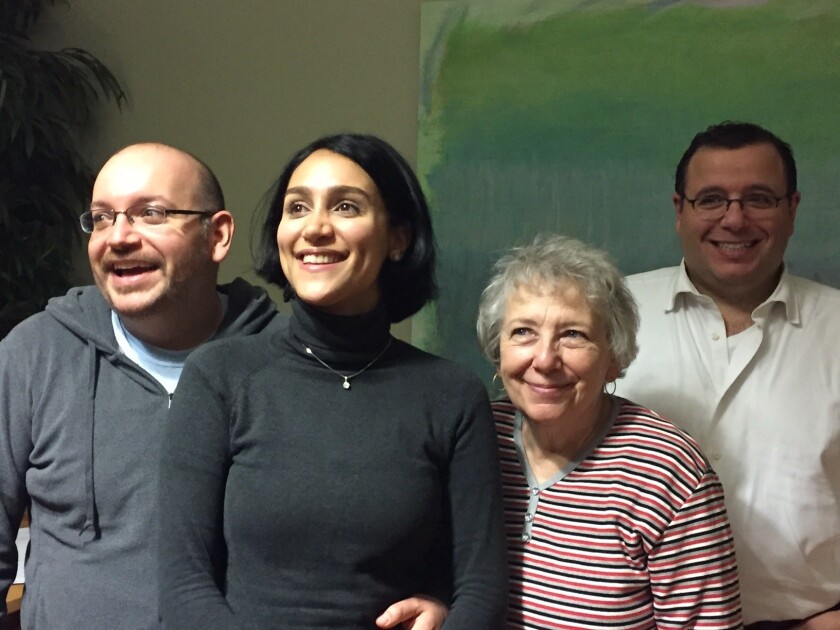 Having spent 18 months in an Iranian prison – where he lost 40 pounds, paced a small cell for hours and was sometimes held in isolation – Washington Post reporter Jason Rezaian worried about his release from captivity until the very end.
When the Swiss air force jet carrying Rezaian, his family and two other American prisoners took off from Tehran last weekend, the passengers burst into applause and then applauded again when the jet left Iranian airspace, according to Washington Post Foreign Editor Doug Jehl, who debriefed Rezaian in Germany on Monday.
"It really was touch and go, he said, in the final hours as to whether he'd be able to leave," Jehl told The Times on Monday, adding that there was uncertainty as to whether Iranian officials would allow Rezaian's wife and his mother to leave Iran with him. "He was not sure that this trauma would be over until the plane actually began to take off."
Rezaian, who was released from Iran as part of a prisoner swap with the U.S., said Monday that "physically, I'm feeling good" after enduring 18 months in captivity, the Washington Post reported.
It also published a photo that showed the grinning journalist posing with members of his family, who were also smiling -- though Rezaian hinted that his recovery might take a while.
"I want people to know that physically, I'm feeling good," Rezaian told the Post at Ramstein Air Base in Germany, where he was taken for medical checks. "I know people are eager to hear from me, but I want to process this for some time.''
After Rezaian's release Saturday, Washington Post Executive Editor Martin Baron and Jehl met with him at Ramstein and said he "looked remarkably good." It was Baron who took the photo of Rezaian and his family, and the Post editors joined the group for a celebratory dinner.
There had been concerns about Rezaian's health during his captivity at Tehran's notorious Evin Prison.
"He's lost a lot of weight," Jehl told The Times, adding that Rezaian spent "a lot of time walking around and around" an 8-by-8-foot cell.
See more of our top stories on Facebook >>
"It was a way to keep busy, to keep sane," and it kept him "fairly fit," Jehl said of Rezaian, an extrovert who spent 49 days in solitary confinement.
Rezaian's time outside the cell was limited to a "tiny courtyard" and "when he left the cell, he was blindfolded," Jehl said.
It wasn't until after Rezaian's release that he connected to the Internet on his mother's tablet Sunday and "realized just how well known his story had become," Jehl said.
Rezaian was among the four jailed Americans released by Iran over the weekend in exchange for U.S. prosecutors pardoning or dropping cases against 21 Iranians.
The deal was the result of a year of secret negotiations and was announced hours before the U.S. also lifted sanctions on Iran in exchange for Tehran's implementation of restrictions on its nuclear program.
In addition to Rezaian, U.S. Marine veteran Amir Hekmati and Christian pastor Saeed Abedini also left Iran after their release over the weekend.
A fourth Iranian American, Nosratollah Khosravi-Roodsari, about whom little is known, chose tzzo stay in Iran, U.S. officials said, adding that it was his right. Iranian officials also announced the release of Matthew Trevithick, a detained American student from Hingham, Mass., though his case was said to be unrelated to the swap.
Trevithick arrived in Boston on Sunday after 40 days in captivity, the Boston Globe reported.
Early Monday morning, U.S. Reps. Jared Huffman (D-San Rafael) and Dan Kildee (D-Mich.) flew to Germany to meet with Rezaian and Hekmati. Rezaian is from Marin County, Calif., and Hekmati is from Flint, Mich.
Huffman said the lawmakers spent the evening with the freed prisoners and their families at Landstuhl Regional Medical Center, a U.S. military hospital in Landstuhl, Germany.
"I can tell you that Jason Rezaian and Amir Hekmati are in great spirits. They are surrounded by family," Huffman said by phone from Germany.
Huffman brought Rezaian a hat bearing the insignia of his high school, Marin Academy in San Rafael.
"He just lit up when I gave it to him," the congressman said.
Kildee told CNN that Hekmati was "a strong guy with a great spirit who's been through an awful ordeal, but has maintained that great spirit."
In the next few days, Kildee said Hekmati will go through medical examinations and "discuss with the folks on the ground here in Landstuhl the process of going back home," adding: "It's really up to him. When he feels ready, he'll be able to head home."
NEWSLETTER: Get the day's top headlines from Times Editor Davan Maharaj >>
Kildee said Hekmati "asked me to say how proud he is to be an American who stood with these other Americans who have gone through this ordeal, and [to] have so much support from this administration, from Congress, from people back home."
Huffman said the Rezaian family's "large and loyal circle of friends" had begun calling and emailing the congressman soon after he was detained. Huffman wrote editorials and made public pleas for Rezaian's release. He also met with Iran's ambassador to the United Nations and brought Ali Rezaian, Jason's brother, as his guest to President Obama's State of the Union address last week.
"It's in some ways bigger than anything I've worked on, and you feel a real responsibility to do everything you can," Huffman said. "I contributed what I could. There were so many others that did even more."
Iranian officials were aware of American efforts to get Rezaian released, including online petitions and pressure from journalism organizations, Huffman said.
"The one thing that Jason did tell me tonight was his Iranian captors knew it. They took notice," he said.
The released men will stay in Germany until they are ready to return to the United States, Huffman said. The "reintegration process" includes psychological and medical evaluations, he said.
Jehl said that Rezaian was still figuring out what to do next and was still trying to understand "the back story" of why he was imprisoned.
"He's taking it a day at a time," Jehl said. "He made clear that he doesn't want to rush things. He recognizes he can get some really good care here" and wants to take time "to go through the proper checks. He and his family will make some decisions in the days ahead about when he'll come home, but he doesn't want to rush things."
Jehl added, "He looks forward to thanking the many people who supported him and finding the right time and place to tell his story."
Times staff writers Patrick J. McDonnell in Beirut and Tracy Wilkinson and Sarah D. Wire in Washington and special correspondent Ramin Mostaghim in Tehran contributed to this report.
Follow @MattDPearce for national news
ALSO
Four countries call on Taliban to come to Afghan peace table
Pentagon report: Iran took SIM cards from detained U.S. sailors' phones
Jason Rezaian, journalist freed by Iran, wanted 'to tell the truth' about his father's homeland
---