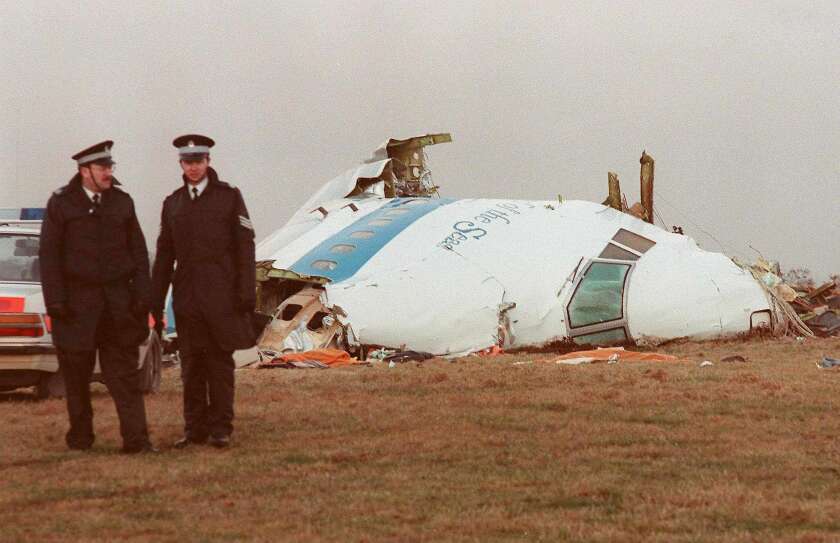 Reporting from Washington —
Determining culpability for the bombing of Pan Am Flight 103 could well turn out to be the most difficult investigation of any modern terrorism incident, U.S. officials said Wednesday, because the task begins with what one source conceded are "mere tidbits" of information about who is responsible.
The style of the bombing and the timing of the incident both come at an unusual juncture in the recent history of terrorist activity. And for every U.S. theory on a specific group or a possible sponsor state, a countertheory has been put forward.
Nevertheless, U.S. officials and terrorism experts said, the search for the perpetrators will step up. "I think the follow-up can become rigorous now," said Terrell Arnold, a former State Department counterterrorism official.
'Look Rather Silly'
The investigation had to be held back previously, Arnold said, "to determine whether you were looking for a real or an illusory bomber. If this plane had turned out to have structural faults, an all-out investigation would have looked rather silly."
Palestinian radicals, specifically groups such as that headed by the renegade Abu Nidal, are among the leading suspects cited by American officials. Abu Nidal's Revolutionary Council of Fatah has undertaken several of the decade's most spectacular attacks, including the simultaneous 1985 attacks at the Rome and Vienna airports.
Counterterrorism officials also point out the obvious motive: the U.S. announcement two weeks ago to open a dialogue with the Palestine Liberation Organization.
Abu Nidal broke with the PLO in the early 1970s because of Chairman Yasser Arafat's decision to explore diplomatic options beyond the armed struggle as a means of achieving a Palestinian homeland. His group tried Arafat in absentia and sentenced him to death.
At the same time, however, other counterterrorism officials point out that the bombing does not fit Abu Nidal's well-established modus operandi. They also say that an operation of this complexity could not have been organized in the time between the unexpected U.S. announcement and the Pan Am flight.
Government Suspected
On another key issue, counterterrorism sources strongly believe that a foreign government played a role, directly or indirectly, in the bombing because of the use of so-called high-performance plastic explosives.
"You don't buy this kind of stuff off the streets," one U.S. analyst said. "To do something like this also requires a certain amount of sophistication, to work with this kind of explosive and to get it on board."
Yet, several of the nations that in the past have been linked with state-sponsored terrorism have been notably trying to improve relations with the United States.
Syria, for example, was linked with the 1986 attempt to blow up an El Al plane flying out of London. During the pre-boarding security check, the pregnant Irish girlfriend of a Syrian operative was found to be carrying--apparently unwittingly--a sophisticated explosive in her hand luggage.
But Syria's President Hafez Assad recently has taken several steps to shed his image as a sponsor of international terrorism, including firing officials linked with terrorism and reining in groups that have used Damascus as a base.
'A Little Bit Crazy'
A State Department source said that pointing a finger at Syria "would be a little bit crazy."
Iran is another possible state source of plastic explosives with a clear motive: Last July a U.S. Navy cruiser shot down a civilian Iranian jetliner over the Strait of Hormuz, killing all 290 people aboard, in the belief that it was an attacking Iranian warplane.
Last Thursday, an anonymous telephone call to news agencies in London claimed responsibility for the crash in the name of a pro-Iranian group called Guardians of the Islamic Revolution and said the bombing was in retaliation for the downing of the Iranian airliner. However, there has apparently been no evidence to substantiate that claim.
Among the reasons to suspect Iranian responsibility, said former State Department official Arnold, are "indications over time that a number of people wanted to get back at the United States" for shooting down the airliner.
Yet, intelligence analysts believe that the Tehran government has been actively warming relations with Western nations over the last six months. They also believe that Iran wants to establish a dialogue with the United States.
A senior State Department official said he doubts that Iran was behind the bombing. "It would seem to fly in the face of Iran's interests," he said. "Iran has put in a lot of effort to distance itself from terrorism. And this isn't their style. We haven't seen any of the Iranian-linked terrorist groups try to blow up a plane before."
Libya is arguably the leading suspect in terms of supplying explosives to any of several radical Middle East factions with which it has longstanding relations, U.S. sources say.
Col. Moammar Kadafi, the Libyan leader, also repeatedly has vowed to take revenge against the United States after the 1986 bombing of Libya, in which his adopted daughter was among several civilian casualties. But even the mercurial Kadafi has been hinting at ending hostilities with Washington.
Angles Contradicted
"In other words," one counterterrorism official said, "every angle has a contradiction." He added that the investigation could take "weeks, even months," before a break develops in the Pan Am bombing.
In a similar large-scale terrorist incident, the 1983 Marine barracks bombing in Beirut, the United States still has no conclusive detailed information about the attack that killed 241 American troops.
There have been only three precedents to the Pan Am bombing linked with Middle East groups. The most recent similar attack was tied to the Arab Organization of May 15, another Palestinian splinter group long outside the PLO.
That group was held responsible for the 1986 bombing of TWA Flight 840 between Athens and Rome in which four Americans, including a woman and her baby, were sucked out of the aircraft. The United States is still seeking extradition from Greece of Mohammed Rashid, a Palestinian member of the Arab Organization of May 15, to answer charges arising from that bombing.
The May 15 group--whose name refers to the date of the outbreak of the 1948 Arab-Israeli War--was also linked to the 1982 bombing of a Pan American World Airways flight from Tokyo to Honolulu in which a young Japanese passenger was killed.
Yet, even before the Pan Am bombing, FBI counterterrorism specialists had concluded that the May 15 group had been disbanded. Some of its operatives are thought to have been absorbed by other groups, including the security wing of Arafat's mainstream Fatah faction.
And while State Department sources say that no group has been ruled out, one said, "No one seriously believes the PLO is involved."
1970 Incident
The third precedent was the 1970 bombing of a Swiss airplane, in which 47 mainly American and Israeli passengers were killed, after it took off from Zurich.
The Popular Front for the Liberation of Palestine-General Command initially claimed credit but then mysteriously withdrew its claim.
The PFLP-GC is, however, still high on the list of possibilities. More than a dozen members, some of whom were found in possession of explosive devices, were arrested in West Germany in October.
West German authorities originally suspected that those arrested had been planning to bomb an aircraft but later said they believed that the plan involved attacking an army train. All but two of the suspects later were released.
Some U.S. officials expressed doubt about whether a group whose plans had been publicly linked with an aircraft bombing would dare to carry through with such an act.
Opposed Arafat
The PFLP-GC's terrorist acts traditionally have increased at times of Middle East peace efforts. Like the Abu Nidal group, it has opposed Arafat's leadership of the Palestinian movement--to the point that it engaged in open conflict with Arafat's troops in 1983.
In the current Pan Am case, L. Paul Bremer III, the State Department's ambassador at large for counterterrorism, has listed the top four possibilities in order as: radical Palestinians, a terrorism-sponsoring government, pro-Iranian extremists and criminal elements.
Middle East groups are the prime suspects because many European terrorist groups are in decline and few would have the motive to carry out such a bombing.
Background Checks
The possibility of a criminal attack could drag out the investigation, for the backgrounds and connections of nearly all 259 people aboard the Pan Am jetliner would have to be checked.
U.S. officials have not ruled out the emergence of a new, as-yet-unknown group, although several who were interviewed indicated that "old hands" probably had to be involved in some way.
"This kind of incident simply requires some degree of experience," a U.S. analyst said. "This is not the kind of thing you do successfully the first time around."
One of the most baffling aspects of the case so far is that U.S. officials believe that no credible claim of responsibility has been made.
"Usually, a group does something because it wants to draw attention to a cause. Very rarely has no one claimed responsibility," a counterterrorism source said.
"What's weird about this is that everyone's so quiet."
Staff writers Douglas Jehl and Doyle McManus contributed to this story.
---