London stabbing and shooting deaths put city on par with New York for homicide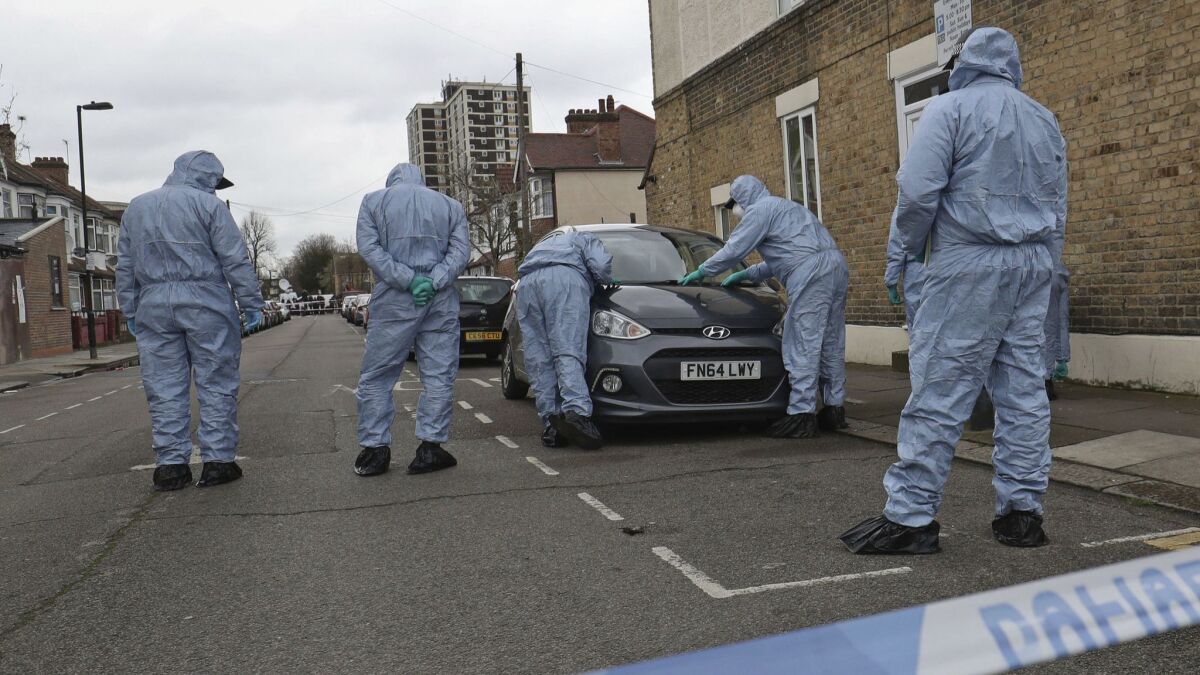 Reporting from LONDON —
As big cities go, London is safe.
In a population of 8.8 million people, it had 130 homicides last year, far fewer than the 292 in New York, a slightly smaller metropolis that is among the safest big U.S. cities.
But a recent surge in London killings — many of them by stabbing — has sparked growing fears of violence there.
British media widely reported this week that things had gotten so bad that London — for the first time ever — was deadlier than New York. It had 15 homicides to New York's 11 in February, and 22 to its 21 in March.
That was a little misleading. Through March this year, New York still had more homicides: 50 to 45.
And the narrowing gap between the two cities has as much to do with a decline in New York as it does with an increase in London.
In the early 1990s, New York had a reputation for being a lawless city where whole neighborhoods were branded no-go zones.
At its peak, there were more than 2,000 homicides in a single year. But that number has fallen steadily for a variety of reasons. The number of homicides per 100,000 people last year was 3.4.
By comparison, that number was 24 in Chicago, which has repeatedly been in the news for gun violence, and 67 in St. Louis, the deadliest major U.S. city.
It was 8.4 in Los Angeles and 111 in Los Cabos, Mexico, one of the most dangerous cities in the world.
In London, it was 1.5. If the killings continue at the current pace, that would rise to 2 for 2018 — the highest it's been in a decade.
That has sparked calls for urgent measures to address gangs, guns and knife crime.
Metropolitan Police Commissioner Cressida Dick said swift action was needed to tackle the problem, including greater use of "stop and search" powers that had been curtailed amid concern that they disproportionately targeted minorities.
She is expected to travel across Britain and to New York to hear how other places have dealt with violent crime.
Rapper Jermaine Lawlor, a former London gang member, said he was not surprised by the rising homicide rate.
"This is something that has been slowly, progressively increasingly," said Lawlor, 26, who has established a project called Voice4YouthAgainstViolence to offer mentoring and other training to disadvantaged young Londoners.
He blamed the rise on cuts to education, youth activities and law enforcement.
"People are feeling more desperate, people are not buying society's dream of having a pension to rely on when you're older," he said. "Look at your average 9-to-5 worker. A drug dealer is making more than that in two or three hours, and it's not going to change by anything other than education."
The recent spate of killings has occurred across a wide swath of neighborhoods. Most involve gangs and were done with knives, according to police.
Still, it was a gun killing that shook the city hardest this week: the drive-by shooting of 17-year-old girl whose name has still not been released by police. London's Metropolitan Police said she was walking with a group of friends in the north London neighborhood of Tottenham.
In a separate incident about the same time, in east London, a 16-year-old boy was shot. The boy has since died, according to the BBC.
Richard Wood, detective chief superintendent of the homicide and major crime command, said his officers were working hard to take more weapons off the street.
And London Mayor Sadiq Khan posted a video on Twitter directed at young Londoners, using the hashtag: #LondonNeedsYouAlive.
"Don't risk your future by carrying a knife," he said.
---
UPDATES:
2:52 p.m.: This article was updated to include the homicide rate in Los Angeles.
This article was originally published at 2:15 p.m.
---
Must-read stories from the L.A. Times
Get the day's top news with our Today's Headlines newsletter, sent every weekday morning.
You may occasionally receive promotional content from the Los Angeles Times.