Eurotunnel crisis: Crush turns deadly as migrants push toward Britain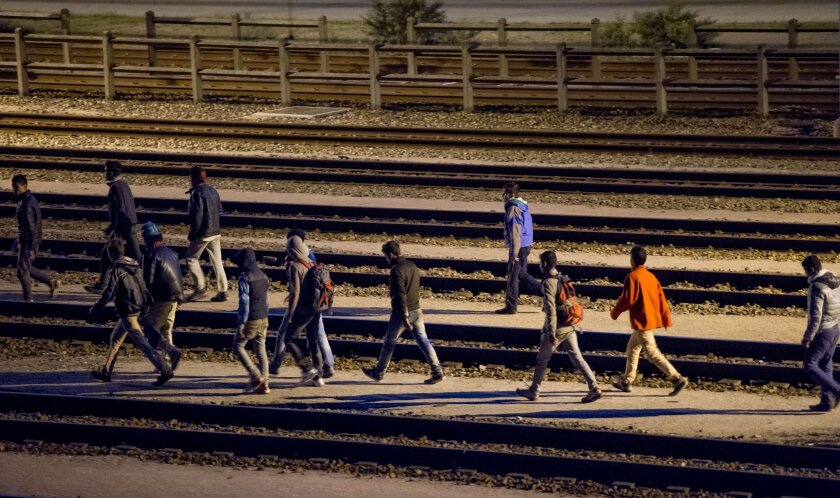 Reporting from London —
The crush of migrants trying to enter Britain through the tunnel connecting it to France turned deadly again Wednesday with reports of another man killed making the attempt -- one of an estimated 37,000 thwarted crossings this year.
French and British authorities are struggling to deal with a situation that has escalated in recent months in tandem with the crisis facing Europe over migrants desperately trying to reach the continent from war-torn or poverty-stricken countries in Africa and the Middle East.
Hundreds of people encamped in the northern French port town of Calais rushed the Eurotunnel to Britain on Monday and Tuesday nights, hoping to hitch a ride on commercial vehicles making the crossing. French media said a Sudanese man in his 20s died in the wave of attempts late Tuesday after being crushed by a truck.
At least nine dead
As many as nine people have been killed this year trying to sneak through the Eurotunnel, which runs beneath the English Channel.
"This exceptional migratory situation has dramatic human consequences," Bernard Cazeneuve, the French interior minister, said Wednesday. "Calais is a reflection of the conflicts and the crises that are tearing apart some regions of the world."
It's unclear how many migrants have actually succeeded in making it to Britain. Theresa May, the British home secretary, acknowledged Wednesday that "a number of people" had gotten through this week but gave no specific figure. The company that operates the tunnel said it had intercepted more than 37,000 migrants who have attempted to cross since the beginning of the year.
Gilles Debove, a police union representative in Calais, told reporters that 2,000 attempts to breach the tunnel were made Tuesday, some by people who tried more than once. Debove said that, in their increasing desperation, migrants have changed tactics in recent weeks, preferring to storm the tunnel and vehicles en masse rather than slip through surreptitiously in small groups or solo.
British critical
Migrants picked up by authorities are mostly released immediately, leading to multiple crossing attempts the same day -- and to accusations by some British officials of laxity and ineffectiveness on the part of French police.
"How many more people will die before the French authorities really get a grip [on] the situation there?" Damian Collins, a member of the British Parliament, told the BBC. Collins represents Folkestone, the port town where the Eurotunnel begins on the British side.
"This is happening night after night," Collins said. "How are we going to make sure that the port and terminal function properly this summer over the next few weeks? That requires the French authorities making more manpower available to make sure they police the frontier properly."
The British government, which convened an emergency meeting Wednesday to discuss the crisis, announced earlier this week that it would spend an additional $11 million to deal with the crisis, on top of $22 million pledged since last year. The money has funded more fencing around the tunnel and terminal area, dog searches and secured parking areas.
British and French authorities are also to start working together on sending West African migrants back to their home countries. But many of the estimated 3,000 people living in the squalid tent cities around Calais hail from other African nations such as Sudan and Eritrea, and some from Syria; they would be likely to apply for political asylum.
Business disrupted
The attempted crossings have seriously disrupted commerce and tourism through the tunnel, with freight and passenger trains and trucks facing long lines and delays.
"This is very concerning. We're working very closely with the French," British Prime Minister David Cameron said Wednesday while on an official visit to Singapore. "I have every sympathy with holidaymakers who are finding access to Calais difficult because of the disturbances there, and we'll do everything we can to work with the French to bring these things to a conclusion."
Video footage of nighttime incursions on the tunnel by groups of migrants, most of them young men, has fanned growing anti-immigrant sentiment in Britain. Nigel Farage, the leader of the anti-immigrant U.K. Independence Party, said it was only a matter of time before a British tourist or truck driver was killed in the chaos and suggested that the British army be called in to enforce order.
France, too, has been grappling with the rise of the far-right anti-immigrant National Front.
Eurotunnel, the company that operates the Channel tunnel, called on the British and French governments to solve the problem in Calais.
Staff writer Chu reported from London and special correspondent Willsher from Paris.
Follow @HenryHChu on Twitter for coverage of Europe
ALSO:
Indian state's ban on cattle slaughter is driving farmers to ruin
Chinese escalator that crushed woman had design flaw, investigators say
Dentist accused of killing Cecil is not alone: Trophy hunters are mostly Americans
---
Must-read stories from the L.A. Times
Get the day's top news with our Today's Headlines newsletter, sent every weekday morning.
You may occasionally receive promotional content from the Los Angeles Times.