Residents of Brussels' Molenbeek district say 'jihadi capital' reputation is hype
Reporting from Molenbeek St. Jean, Belgium —
Across the canal from the trendy bars and brew pubs of the Belgian capital, the district known as Molenbeek St. Jean throbs with a different pace of life.
Men sip steaming mint tea from glasses at corner cafes. Women in veils stroll from shop to shop.
The neighborhood is tranquil on a Sunday evening, while on the other side of the canal, in Brussels' historic core, young hipsters sit at bohemian cafes working through mugs of beer and glasses of wine.
This sprawling district, a historic bastion for working-class Belgians, has come under intense scrutiny since last week's terrorist attacks in Paris that left 129 dead and more than 345 wounded.
Several avenues of inquiry in the international investigation have led back to Molenbeek St. Jean, home to about 100,000 people, many of them of Moroccan origin.
The so-called Belgian connection in the Paris attacks has again revived the district's reputation as the "jihadi capital of Europe" — a characterization that residents here decry as more media hype than reality.
Still, the link to the Paris atrocities prompted a new wave of journalists to descend.
Prosecutors have said that two of the militants who carried out Friday's terrorist rampage were French nationals who had been living in Molenbeek. At least one car linked to the killing rampage has also been connected to the neighborhood, a U.S. law enforcement source said, through a parking ticket found inside after the vehicle was abandoned outside Paris.
The mayor of Molenbeek told reporters that five people had been arrested here in connection with Friday night's massacre in Paris. Their various roles remained unclear.
On Sunday, French Interior Minister Bernard Cazeneuve declared that the assault on Paris was "planned from abroad," which many took as a reference not only to Syria but to Belgium — specifically, Molenbeek.
Belgian officials, clearly embarrassed by the nation's apparent connection to the Paris attacks, have publicly vowed to take action, though what they plan to do remains unclear.
"I notice that each time there is a link with Molenbeek," Prime Minister Charles Michel was quoted as saying Sunday in an interview here, referring to the neighborhood's history of connections to terrorist episodes. "This is a gigantic problem."
The focus of public attention is nothing new for Molenbeek, which has become notorious as a purported center of militant networks linked to battlegrounds in the Middle East.
Sylvain Perriot stops to take a picture of the flag at half mast above the Presidential Palace in Paris. France's Sate of Emergency will continue, with flags at half mast.
(Carolyn Cole / Los Angeles Times)
Looking inside the courtyard of the Presidential Palace, guards stand at attention for the departure of Secretary of State John Kerry after his meeting with French President Francois Hollande.
(Carolyn Cole / Los Angeles Times)
On the third day of national mourning, the Eiffel Tower was illuminated in the colors of the French flag after going dark.
(Carolyn Cole / Los Angeles Times)
On the third day of national mourning, people continue to gather in public places like the Place de la Republique, including Tao Cisse, age 5, and Maya Sutej.
(Carolyn Cole / Los Angeles Times)
People observe a minute of silence in front of the Le Carillon cafe in Paris on Nov. 16, paying tribute to victims of the terror attacks.
(Lionel Bonaventure / AFP/Getty Images)
Paris residents take part in a Nov. 16 moment of silence under the Eiffel Tower in observance of those who died during the terrorist attacks three days earlier.
(Carolyn Cole / Los Angeles Times)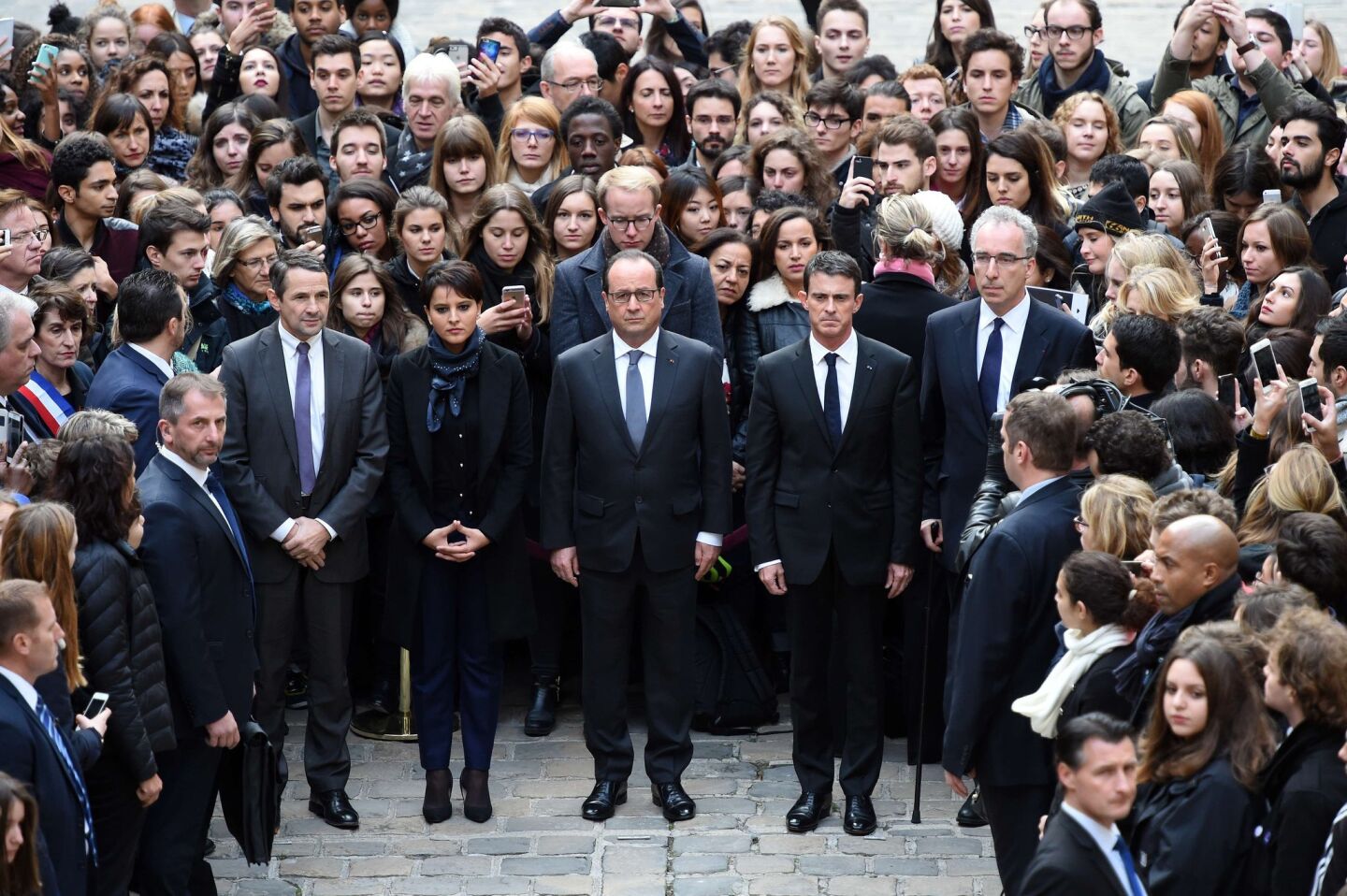 French President Francois Hollande, center, stands with government officials to observe a minute of silence Nov. 16 at the Sorbonne University in Paris.
(Stephane De Sakutin / AFP/Getty Images)
Members of the French Foreign Legion stand guard near the Eiffel Tower on Nov. 16.
(Carolyn Cole / Los Angeles Times)
A Paris shopkeeper stays inside Sunday as soldiers guard the street where she works.
(Carolyn Cole / Los Angeles Times)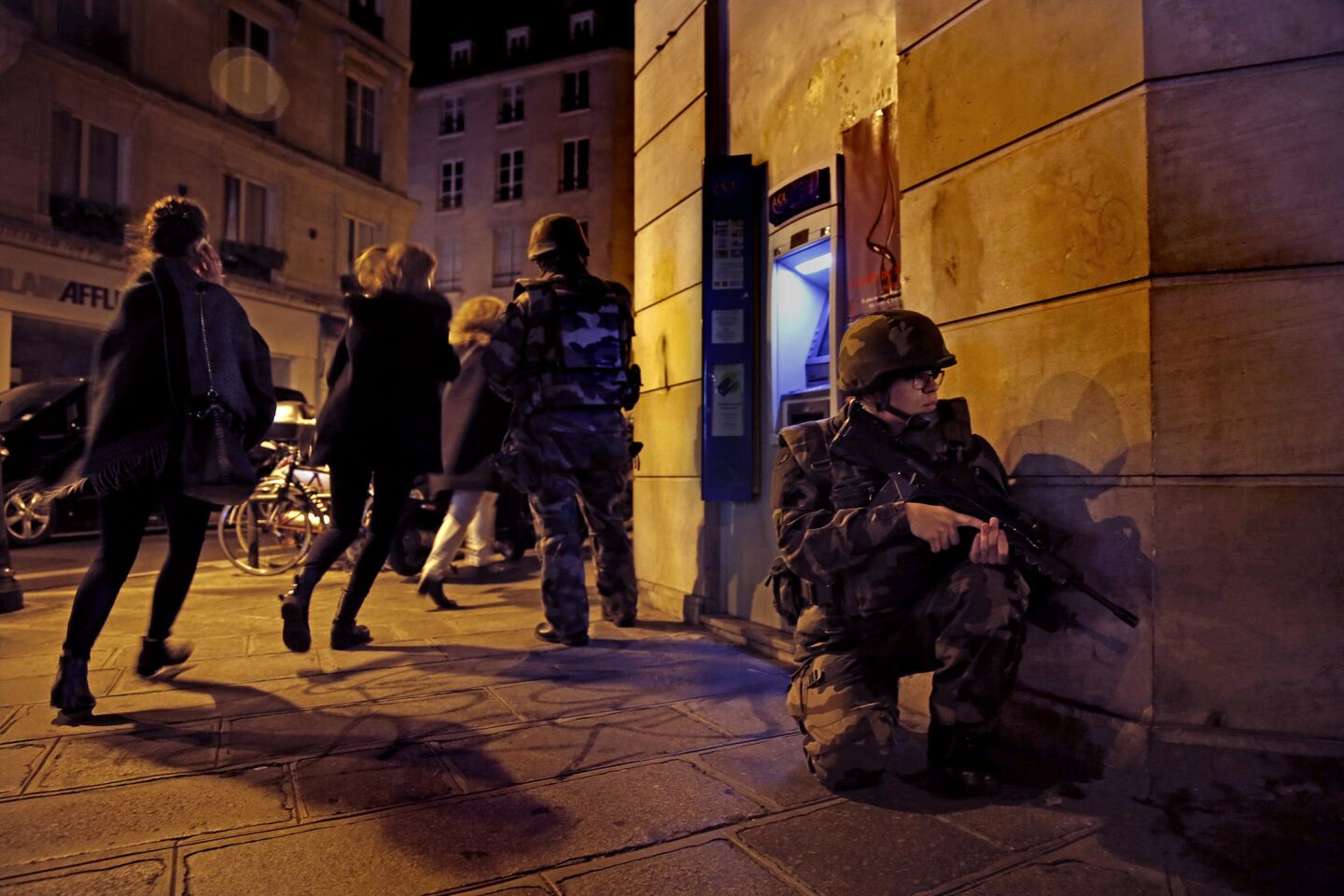 Women run past French soldiers as panic spread through the streets of Paris when rumors spread of another possible terrorist attack, which turned out to be a car left running in the street.
(Carolyn Cole / Los Angeles Times)
Prelates arrive to celebrate a Mass in memory of the attack victims at the Notre Dame cathedral.
(LIONEL BONAVENTURE / AFP/Getty Images)
An emotional crowd gathers in front of Le Carillon restaurant.
(Carolyn Cole / Los Angeles Times)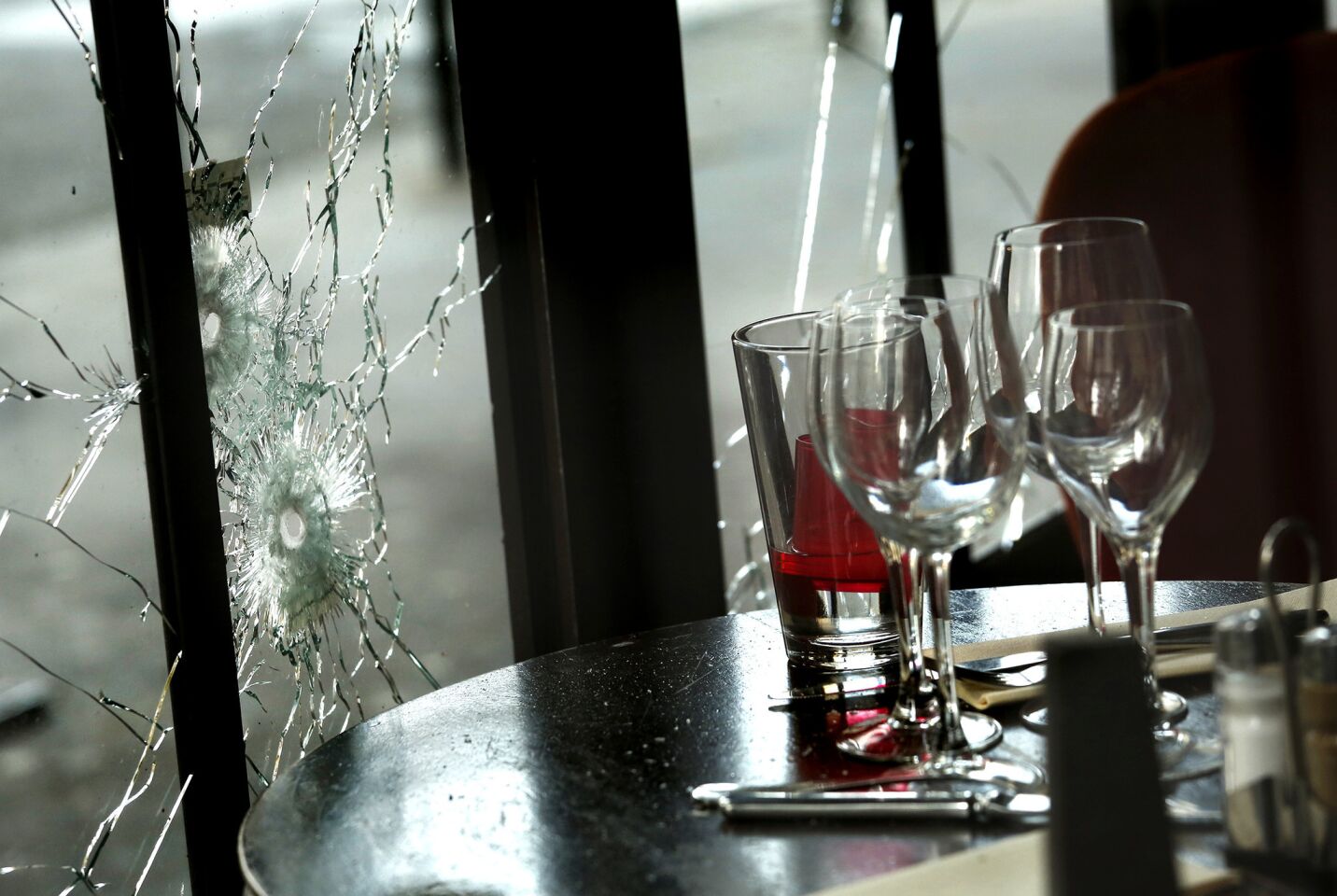 The glasses and silverware remain on the table where bullets were fired at Cafe Bonne Biere.
(Carolyn Cole / Los Angeles Times)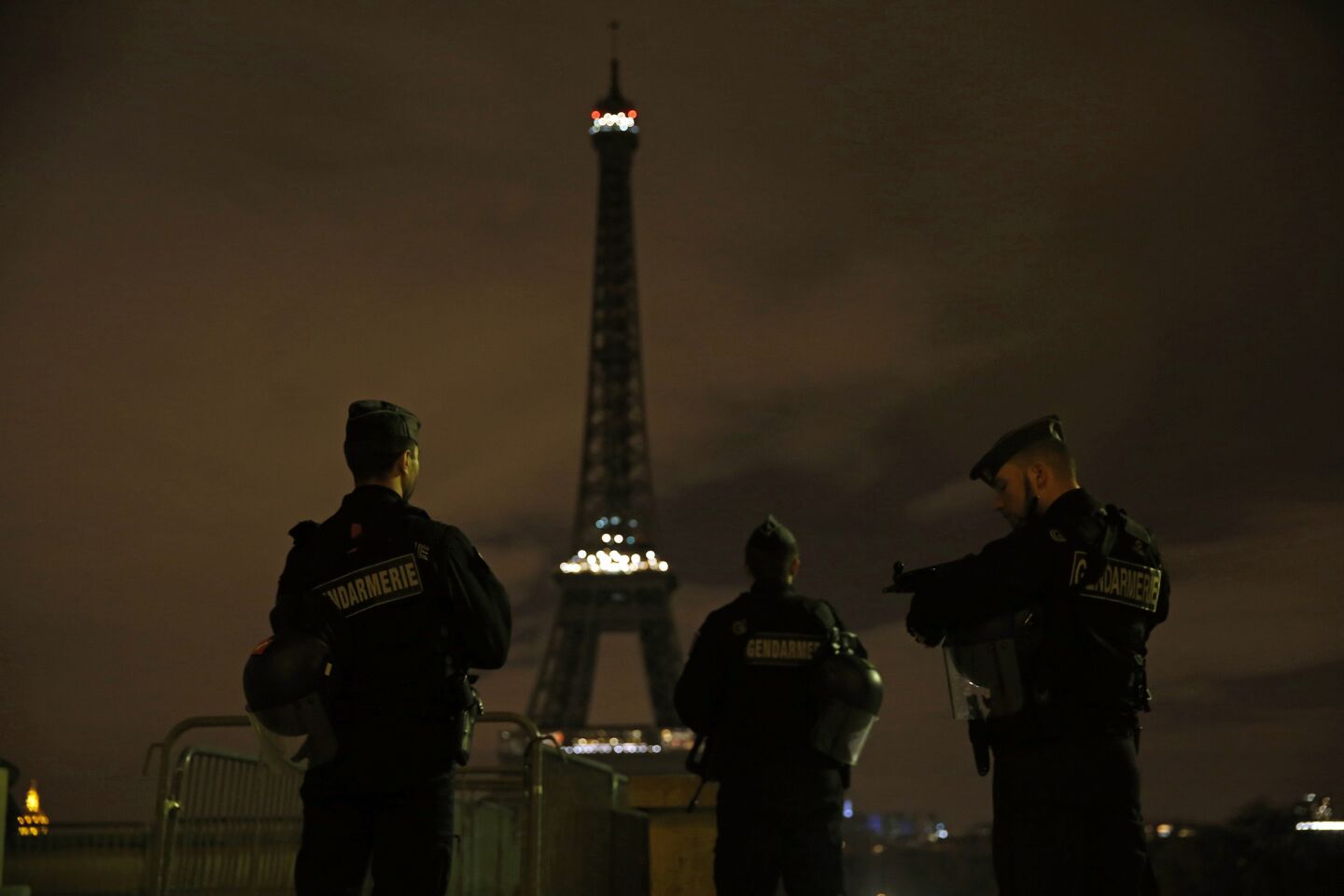 Armed police stand guard Nov. 14 near the Eiffel Tower, which was kept dark in honor of those who died in the terrorist attacks.
(Carolyn Cole / Los Angeles Times)
Mourners place flowers and candles outside the Bataclan theater in Paris.
(Carolyn Cole / Los Angeles Times)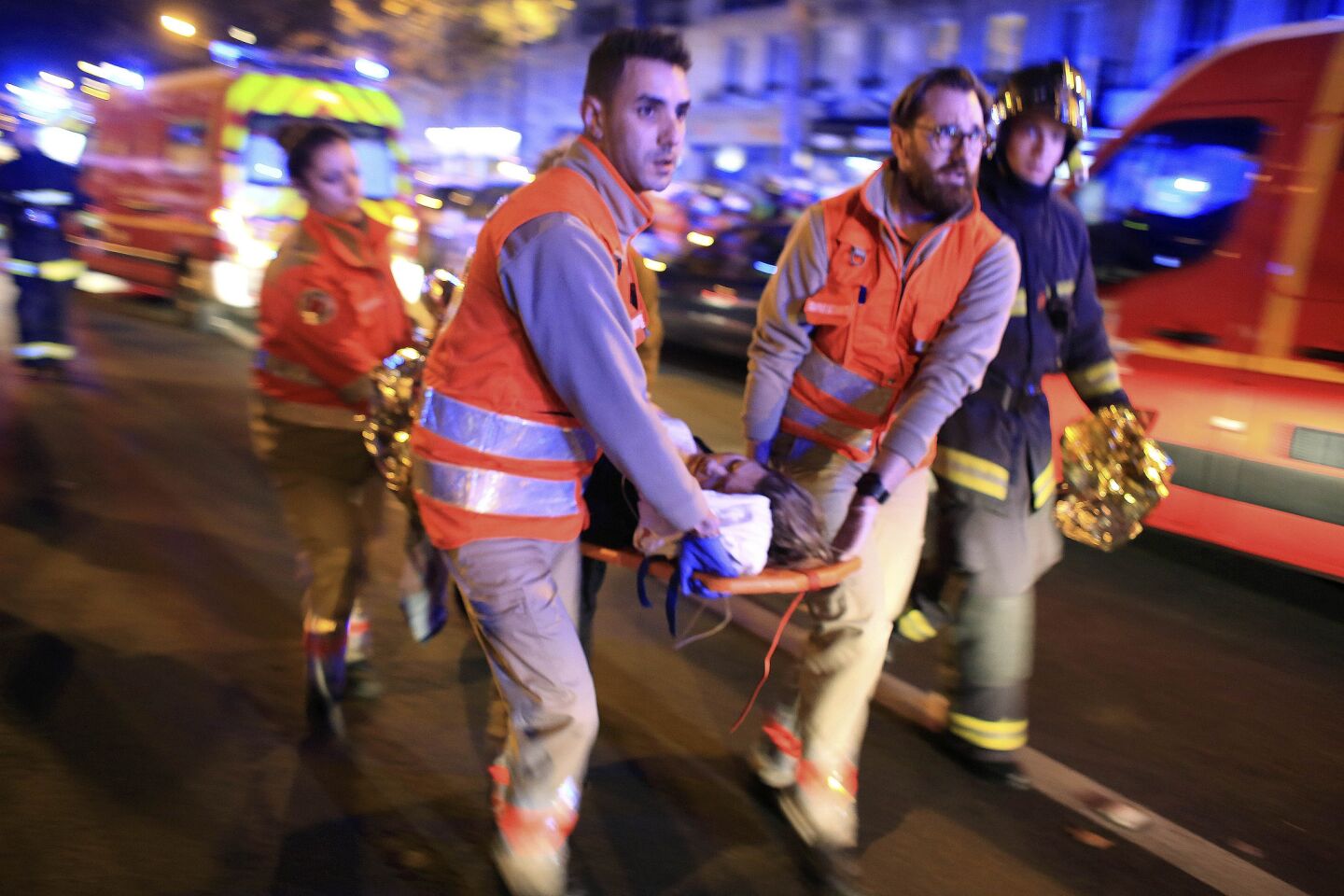 A woman is evacuated from the Bataclan theater after the shootings in Paris.
(Thibault Camus / Associated Press)
People lie on the pavement near the Cafe Bonne Biere in Paris following a series of attacks.
(ANTHONY DORFMANN / AFP/Getty Images)
Rescuers evacuate people following an attack in Paris, where there were also reports of an ongoing hostage crisis at a concert venue.
(Kenzo Tribouillard / AFP/Getty Images)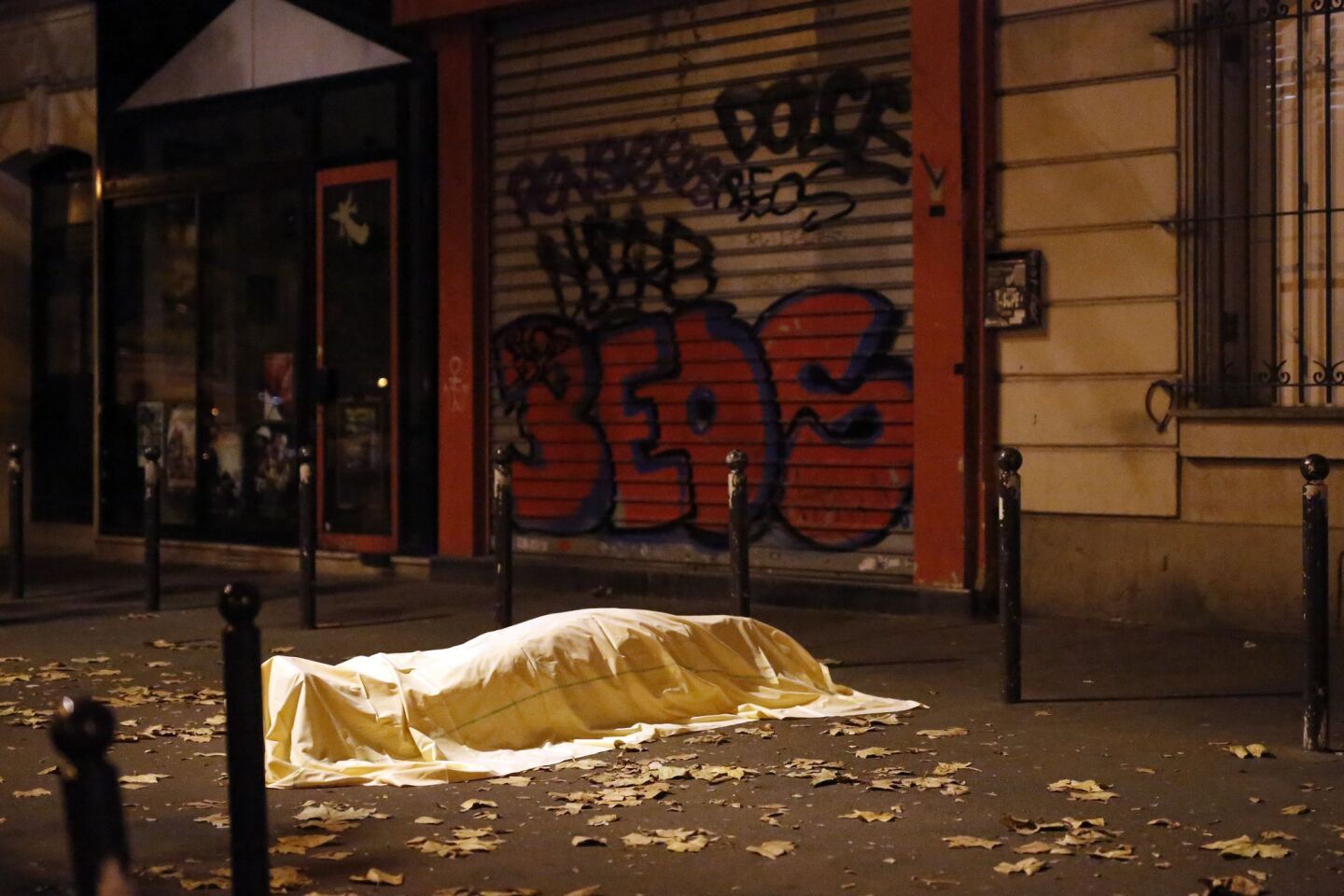 A victim lays dead under a blanket outside the Bataclan theater in Paris.
(Jerome Delay / AP)
Hundreds of people spilled onto the field of the Stade de France stadium after explosions were heard nearby during a match between the French and German national soccer teams.
(Christophe Ena / Associated Press)
Ayoub El Khazzani, a Moroccan national, was reportedly living in Molenbeek when he shot up a train from Amsterdam bound for Paris in August, and was apprehended by U.S. soldiers who happened to be aboard.
Separately, a French national, Mehdi Nemmouche, killed three people in a Jewish museum in Brussels last year; he also reportedly lived in the neighborhood.
In January, after the attacks on the French satirical magazine Charlie Hebdo and a grocery that killed 17, police swooped down on what authorities called an Islamic State cell in Verviers in eastern Belgium, seizing automatic weapons and explosives. Authorities said several cell members, including two killed in the police raid, were from Molenbeek.
Tiny Belgium, with its highly diverse population, has become a significant exporter of radicals to the Middle East war zones, experts say.
Various estimates have shown that, among European nations, Belgium has sent the highest number of recruits per capita to fight in the battlefields of Syria and Iraq.
Authorities regard returning militants as an extreme security risk. The fear is that many of those trained in the tactics of insurgent warfare and steeped in radical Islam will turn their sights on domestic targets once they are back on European soil.
Despite its tainted reputation, Molenbeek is not a place that seems especially threatening. The sprawling district includes areas with both run-down apartment buildings and middle-class homes.
The feeling here is completely unlike that found in some of the Paris suburbs, which have long been known as incubators of Islamist radicals — including all three perpetrators in the Charlie Hebdo killings.
Molenbeek is very much part of Brussels, separated only by a canal that, in the industrial era, was a key corridor for transporting manufacturing goods and supplies. Unlike many dense immigrant neighborhoods across Europe, It is not a new suburb of soul-less high rises.
Before large-scale Moroccan immigration began in the 1960s, Molenbeek housed earlier generations of working-class immigrants, including Italians, who came to work in factories and run machines. Many immigrants formed unions and supported left-wing political parties.
Before its connection to Islamic radicalism, Molenbeek was known for elevated crime rates and social disintegration. It still suffers from high unemployment — which many here say is largely responsible for the fact that some young men have undoubtedly turned to radicalism. But they insist the problem is exaggerated.
"Molenbeek is a victim of media stereotyping," said Kenza Yacoubi, a local socialist councilwoman and the daughter of Moroccan immigrants. "There is a grave problem here of unemployment, of discrimination. But people here work very, very hard to support their families. This is a neighborhood of hard workers."
Contrary to what outsiders may believe, she said, the mosques in Molenbeek feature moderate preachers and are not centers of extremism. Experts say that radicalization often happens away from mosques, outside public view.
"With the lack of work here and other problems, it can happen that someone comes along and leads young men astray," said the councilwoman. "But this is a very tiny minority and should not taint the entire district."
She spoke at a brightly lighted cafe where mint tea and North African delicacies featured prominently on the menu. At the cash register, Jamal el-Yassini, hearing that a foreign journalist was visiting, wanted to make a point.
"These men who take innocent life — they have nothing to do with Islam," said El-Yassini, a Moroccan immigrant. "I know my religion. What they did does not represent our beliefs."
Times staff writer Richard A. Serrano in Washington contributed to this report.
Follow McDonnell on Twitter at @mcdneville for news on the Paris attack
MORE ON THE PARIS ATTACKS
France launches new airstrikes amid reports that Paris attacks were directed in Syria
Hundreds gather at Cal State Long Beach to remember 'a beautiful soul'
French Muslims fear reprisals in wake of Paris terrorist attacks
---
Must-read stories from the L.A. Times
Get the day's top news with our Today's Headlines newsletter, sent every weekday morning.
You may occasionally receive promotional content from the Los Angeles Times.