Pope Francis to set up panel to consider ordaining women as deacons in Catholic Church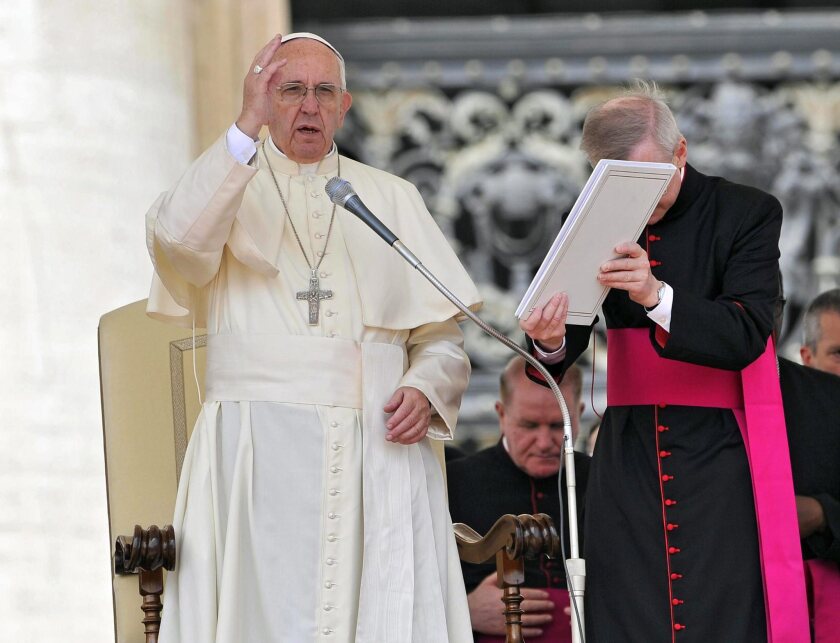 Reporting from Vatican City —
Pope Francis said Thursday that he will establish a commission to consider the ordaining of female deacons in the Roman Catholic Church, reflecting a willingness to end the church's tradition of all-male clergy.
Francis agreed to the proposal for a commission when he faced questions on the role of women in the church from 900 superiors of women's religious orders at a Vatican audience.
"It would do good for the church to clarify this point. I am in agreement," the pope said.
Deacons are ordained ministers in the Catholic Church but do not have the rank of priest. They can give homilies and preside at weddings, funerals and baptisms, but they cannot celebrate Mass.
There are 42,000 Catholic deacons, all men, of which about 18,000 are in the United States.
Francis' comments were reported by the National Catholic Reporter and affirmed by a report on Vatican Radio.
Any move to ordain female deacons would represent a huge change in the church and reflect Francis' acknowledgment of the growing role women play in Catholic life.
"This is amazing, and the debate is going to be very interesting," said Father Thomas Reese, an analyst with the National Catholic Reporter. "There have been no previous efforts by senior church officials to discuss this. Pope John Paul II and Pope Benedict were not interested in this conversation."
Reese said the idea of a commission was in keeping with Francis' belief in holding consultations over important decisions. "It's a smart move," Reese said.
Until about the 12th century, women were ordained deacons in the Catholic Church, often leading prayers for female Catholics, before the practice died out.
"Pope Francis will want to dig into the tradition and ask, 'Why did we do this?'" Reese said. "They will also look at the role of female deacons in the Greek Orthodox Church, which is conservative and traditional. It will be a very interesting discussion."
The new move is likely to stir fears by conservative Catholics that Francis has put the church on a slippery slope toward the ordaining of female priests.
But Francis has firmly rejected that possibility. In September, he recalled that Pope John Paul II had decided "that cannot be done." He said that women might be capable of becoming priests, but it would not happen.
"Pope St. John Paul II — after long, long discussions, long reflections — said it clearly," he said.
Phyllis Zagano, senior research associate-in-residence at the Department of Religion at Hofstra University, said the ordaining of female deacons would be a great step for the church.
"Women are leading the march away from the Catholic Church," she said. "But having a woman deacon proclaiming the gospel in St. Peter's Square — what would that say to the world? This is a wonderful thing and shows Francis is an open-minded Jesuit ready to discuss things."
Kington is a special correspondent.
MORE WORLD NEWS
Brazil's Senate votes to impeach President Dilma Rousseff
Meet the women trying to rid Pakistan — and the world — of polio
Turtle is legendary in Vietnam, but it's on the verge of extinction
---
The Latinx experience chronicled
Get the Latinx Files newsletter for stories that capture the multitudes within our communities.
You may occasionally receive promotional content from the Los Angeles Times.