Tensions rise around Crimea: Putin accuses Ukraine of 'terror' and Kiev beefs up military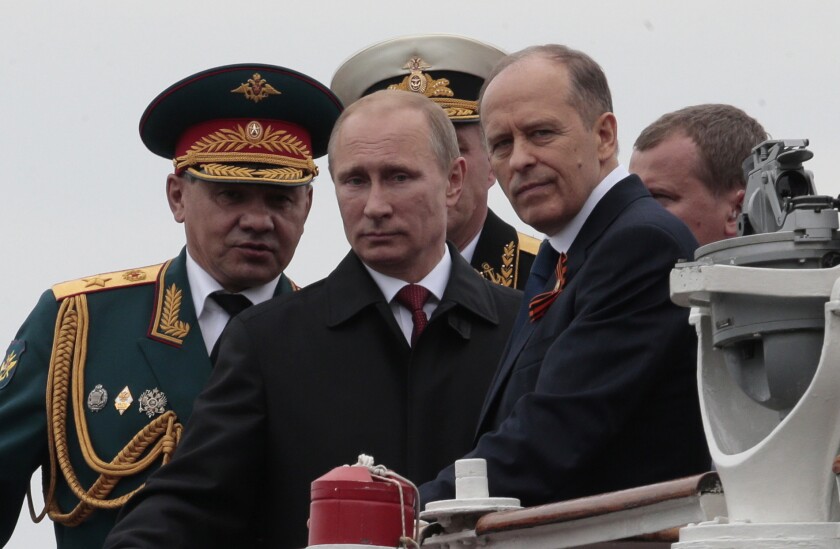 Reporting from Moscow —
Tensions ratcheted up Thursday around the Russian-annexed province of Crimea, as Ukraine's president ordered the reinforcement of nearby military installations and Crimea's pro-Moscow leader accused the United States of meddling in the dispute.
The developments came one day after Russian President Vladimir Putin accused Ukraine of sending armed "terrorist" groups to the Black Sea peninsula and threatened to withdraw from peace talks on the conflict in eastern Ukraine.
That conflict has pitted pro-Russia forces against Ukraine's Western-leaning government. In February 2014, thousands of troops in unmarked uniforms appeared in Crimea, which was once part of Russia but had been transferred to Ukraine under Soviet rule. The troops forced Ukrainian service members to pledge allegiance to Russia or lay down their guns and leave.
Weeks later, in an election that was not recognized by the international community, Crimea's citizens voted to become part of Russia.
Russia's Federal Security Service, or FSB, the main successor agency to the Soviet KGB, charged that two Russian servicemen were killed in separate armed clashes with groups of Ukrainian spies over the weekend. One of the alleged spies was detained and claimed that Ukraine's Defense Ministry dispatched his group to organize terrorist attacks in Crimea, the FSB said in a statement issued Wednesday.
Russia's Kremlin-controlled television networks showed a bruised, handcuffed man they identified as the detained spy, and aired images of bags filled with explosives, land mines and ammunition that the spies reportedly brought to carry out the terrorist attacks.
In the Ukrainian capital, Kiev, President Petro Poroshenko dismissed Russia's claims and said Moscow concocted them to justify its military involvement in Ukraine.
"These fantasies are but an excuse to come up with more threats of military [action] against Ukraine," he said in a statement issued by his office.
Poroshenko tweeted that he also ordered the reinforcement of military installations that border Crimea and the breakaway regions.
Putin had said in televised remarks late Wednesday that Ukraine has "switched to terror practices instead of looking for a peace settlement."
He lambasted Kiev for sabotaging the peace talks over the breakaway regions, including the separatist provinces of Donetsk and Luhansk, where tensions escalated in recent weeks and a separatist leader was wounded in a car crash Saturday. Putin called on the United States and the European Union to push Ukraine to resume the talks.
"Most importantly, those who support the current authorities in Kiev have to, after all, make up their mind about what they want," he said. "Do they want their clients to keep staging provocations of this kind or do they want a real peace settlement?"
A Ukrainian political analyst said he doubted the veracity of Putin's claims, which he believed were part of Russia's efforts to force Ukraine to give up the breakaway regions.
"This is a murky story, hardly believable, but what's important is its consequences," Vadim Karasyov of the Institute of Global Strategies, a think tank, said in an interview Thursday. Putin is "criminally blackmailing the West so that it forces Ukraine to fulfill the Minsk agreements."
He was referring to a cease-fire accord Russia and Ukraine signed in 2014 in Minsk, the capital of neighboring Belarus. The deal, however, failed to stop the fighting as Ukraine and separatist authorities accused each other of breaking it.
An analyst with the Carnegie Moscow Center, an independent think tank, said that Putin's claims were aimed at boosting the Kremlin's popularity before parliamentary elections in September.
"He constantly needs a series of quasi-wars to keep the pro-Putin majority mobilized," Andrei Kolesnikov said in an interview. "It's very hard to believe in a [military] operation that is extremely unfavorable for Poroshenko and very beneficial for Putin."
Meanwhile, Crimea's pro-Moscow leader accused the United States of urging Ukrainian authorities to organize the purported terrorist attacks.
"These are not their own actions and messages, [because] the U.S. State Department is looming behind them," Sergei Aksyonov told the Russia-24 television channel.
The Obama administration did not specifically respond to the charge but said Thursday that it was alarmed at rising tensions between Ukraine and Russia and called for both countries to exercise restraint.
"We believe that any actions, including rhetoric, including remarks, have the ability to escalate what is already a very tense situation and a very dangerous situation," State Department spokeswoman Elizabeth Trudeau said.
The U.S. position, she added, is well known: "Crimea is part of Ukraine and is recognized as such by the international community."
In recent weeks, independent observers and Crimean Tatar activists claimed that Russia has moved troops, tanks and artillery to the Ukrainian border. Tatars are a Muslim minority that has lived in Crimea for centuries and faced increasing pressure from Russian authorities after the annexation.
Dozens of Ukrainian service members, pro-Russia militants and civilians have been killed in eastern Ukraine in recent weeks amid escalating violence and almost daily shelling.
Mirovalev is a special correspondent. Times staff writer Tracy Wilkinson in Washington contributed to this report.
---
Must-read stories from the L.A. Times
Get the day's top news with our Today's Headlines newsletter, sent every weekday morning.
You may occasionally receive promotional content from the Los Angeles Times.