Ukrainian separatist leader wounded in car bombing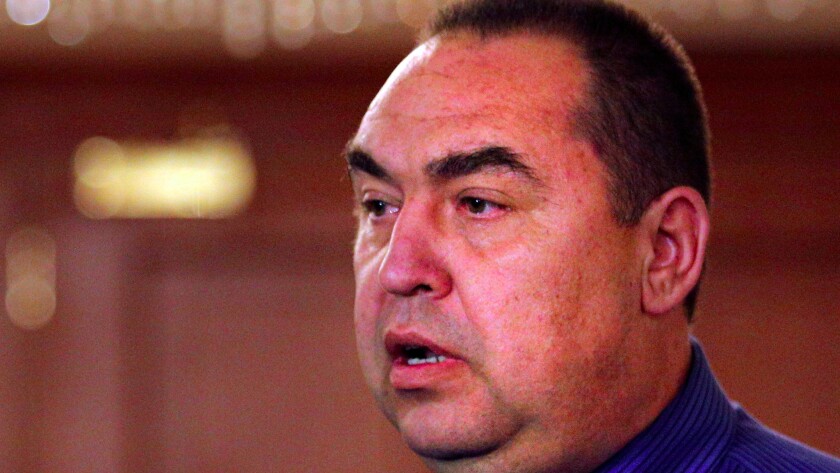 Reporting from Moscow —
A pro-Russia leader of Ukraine's breakaway region of Luhansk was wounded Saturday in a car bombing that supporters called an assassination attempt.
Igor Plotnitsky, a burly, bull-necked warlord who has been at the helm of the unrecognized Luhansk People's Republic in eastern Ukraine since 2014, was hospitalized after a bomb explosion, separatist authorities said in a statement.
The Luhansk Information Center, a separatist-run news agency, posted photos and video footage of Plotnitsky's black SUV severely damaged by the explosion in central Luhansk. It said Plotnitsky's condition was "stable."
But separatist official Oleg Tsaryov tweeted that Plotnitsky "has been hospitalized in a grave condition," and a source in the hospital told the Interfax news agency that Plotnitsky's liver and spleen were badly damaged.
Separatist authorities immediately accused Ukrainian intelligence of organizing the attack.
Those behind the assassination attempt were "controlled by intelligence from Western nations," one of the militant officers, Maj. Andrey Marochko, told the Luhansk Information Center.
Plotnitsky himself accused the U.S. of acting to "roil" Ukraine.
"I am alive and healthy," he said in an audio address posted on his website late Saturday. "The war is not over, and behind the Ukrainian government are the intelligence services of the U.S., those who try to roil the situation in Ukraine and in the world in general."
He said that Russian President Vladimir Putin has already been briefed about "the sidekicks of Ukrainian and U.S. special services" who allegedly operate in Luhansk.
Ukrainian authorities rejected the claims.
The assassination allegations "lack logic and won't solve anything," government spokesman Alexander Motuzyanik said in televised remarks.
Plotnitsky, 52, has accused Jews of seizing power in Ukraine after a pro-Western popular revolt deposed a pro-Russia president in 2014. He challenged the president's successor, Petro Poroshenko, to a duel.
Plotnitsky came to power in the tiny Luhansk region months after it broke away from the central government in Kiev in April 2014.
The separatist war in Luhansk and in the neighboring Donetsk region has claimed almost 10,000 lives and displaced more than a million people.
The separatists accused the central government in Kiev of suppressing the rights of ethnic Russians and Russian speakers, and declared independence after two hastily organized referendums.
They initially hoped that Russia would annex Donetsk and Luhansk the way it absorbed Crimea just months earlier, but the Russian government said the fight for independence was Ukraine's "domestic" problem and denied sending troops and weapons to the separatists.
Shortly after declaring independence, Luhansk split into several warring enclaves that were controlled by Cossacks, far-right nationalists and other pro-Russia forces.
Plotnitsky consolidated control by removing and exiling his opponents whose supporters accused him of trying to assassinate them.
Two of Plotnitsky's main rivals were killed last year in car explosions. Plotnitsky's advisor was gunned down in April.
Plotnitsky participated in the development of the 2015 Minsk peace accord that significantly decreased the hostilities in eastern Ukraine. But in recent weeks, the fighting intensified, resulting in dozens of deaths and almost daily shelling.
Mirovalev is a special correspondent.
ALSO
Japan's emperor will give a video speech. What's the big deal?
South Africa's ruling party suffers biggest election setback since apartheid
Protesters say a massacre took place in this Mexican town. Now it's become a rallying cry against the government
---
UPDATES:
3:35 p.m.: This story was updated with a statement from Plotnitsky.
1:50 p.m.: This story was updated throughout with staff material.
This was originally published at 11:40 a.m.
---
Must-read stories from the L.A. Times
Get the day's top news with our Today's Headlines newsletter, sent every weekday morning.
You may occasionally receive promotional content from the Los Angeles Times.