Russian confidence in Putin remains strong, even as domestic problems persist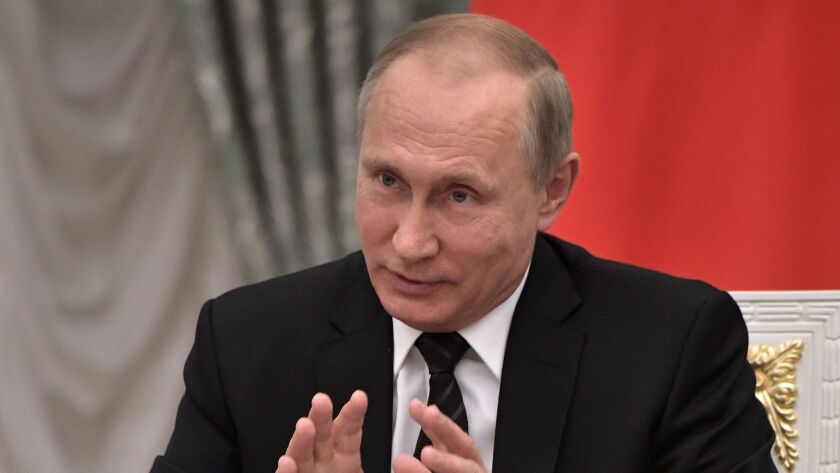 Moscow —
Despite concerns about such issues as rising food prices and tension with the West, many Russians support the direction the country is headed under President Vladimir Putin, according to a new poll.
About 87% of the respondents said they had confidence in Putin's handling of foreign affairs, and 59% said their country plays a more important role in global affairs than it has in 10 years. The survey released Tuesday by the Pew Research Center polled 1,002 Russians from February to April.
Putin became prime minister in 1999 under President Boris Yeltsin and then was elected president in 2000, serving in the position until 2008, with term limits preventing a third consecutive term. Putin became prime minister again during Dmitry Medvedev's presidency before being re-elected president in 2012.
"Confidence in Putin's global leadership has been consistently strong over the decade-and-a-half that Pew Research Center has polled in Russia," the report said. "Trust in the Russian leader has remained high since an increase in 2014, shortly after the conflict with Ukraine and subsequent annexation of Crimea."
While Putin's conduct on the world stage has received praise from many Russians, perceptions of corruption among the political elite and a pessimistic outlook on the economy remain major concerns in the country, according to the survey.
But Russia's economy is expected to grow this year, according to the International Monetary Fund, after a recession brought on by lower global oil prices and Western sanctions.
The country's economy is heavily dependent on oil and gas exports, which were adversely affected when the price of crude oil decreased in 2014. The recession sparked a Russian ruble devaluation, and many Russians were hit hard by the currency shakeup.
While the economy looks to be picking up slightly, unemployment, higher food prices and stagnant economies outside of major cities like Moscow and St. Petersburg have taken their toll on many Russians.
In addition, the Kremlin has seen two waves of massive street protests this year. Tens of thousands of people participated in anti-corruption demonstrations in cities and towns across the country on March 26 and June 12. Police severely cracked down on the protests, arresting and detaining thousands in major cities and in rural areas.
Opposition leader Alexei Navalny organized the protests, which attracted thousands of people to the streets after his popular YouTube channel aired a 50-minute documentary outlining an alleged corruption scheme involving Medvedev, who is prime minister. Navalny was arrested June 12 and convicted of organizing an unauthorized rally, for which he was sentenced to 30 days in jail.
Economic woes and a widespread belief that corruption was a major problem in Russia could pose significant challenges for Putin and his ruling party, United Russia, ahead of next year's presidential and national elections.
Across the board, Putin's approval ratings on how he handled several domestic issues decreased since 2015, according to the Pew report. Fifty-five percent of respondents approved of the way Putin was handling the economy, compared with 70% in 2015.
Putin's handling of corruption also took a hit: In 2015, 62% of Russians thought he was doing a good job. In the latest Pew survey, 49% approved.
Putin has not officially declared that he will run again in what would be his fourth term as president since being elected in 2000. (Presidential terms were changed from four years to six years in 2011.)
Few believe he can lose. Navalny, the opposition leader, has said he will run, but the Russian election commission says he is unable to register because of a past criminal conviction. Navalny says the cases against him are politically motivated.
Twitter: @sabraayres
---
The Latinx experience chronicled
Get the Latinx Files newsletter for stories that capture the multitudes within our communities.
You may occasionally receive promotional content from the Los Angeles Times.