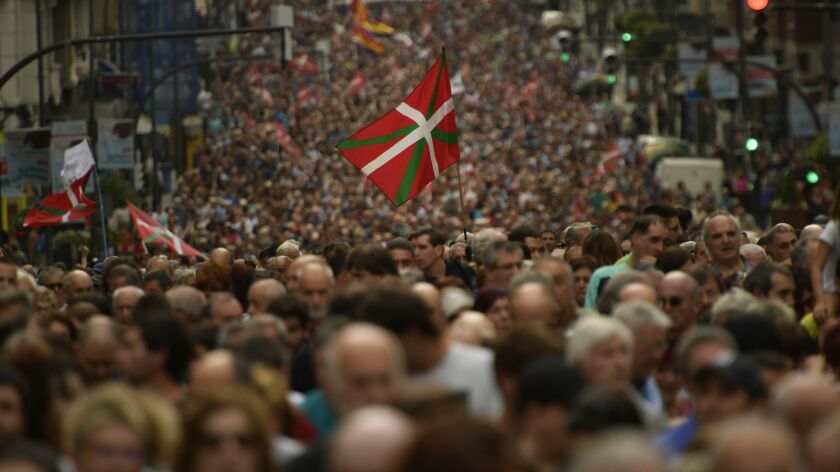 Reporting from Madrid —
Spain's government vowed Wednesday to press criminal investigations of the militant group ETA regardless of the group's dissolution ending a bloody 60-year campaign for a Basque nation independent of Spain and France.
Interior Minister Juan Ignacio Zoido said the militant group would gain nothing from its decision to disband, just as no concessions were given to the group when it declared a ceasefire seven years ago. He said authorities would continue to pursue past crimes committed by ETA members.
In a letter publicized Wednesday, the group said that it had "completely dissolved" and that it had failed to solve the political conflict involving Basque independence.
"ETA had already been defeated and dissolved by the security forces and by Spanish society," Zoido said via Twitter. "What it has to do is repent, ask for forgiveness and cooperate with justice to clear up its crimes. There can be no impunity."
ETA was responsible for killing more than 800 people over five decades, mostly in Spain, before it signaled a "definitive end" to violent means in 2011 after Spanish and French security forces had weakened the group by arresting many of its leading members.
In recent years ETA, whose initials stand for Euskadi Ta Askatasuna or Basque Country and Freedom, has revealed the whereabouts of weapons caches in France to international mediators.
In a letter dated April 16 sent to various institutions in the Basque Country region of northern Spain and distributed to several media outlets, ETA said its decision to disband "closes the historical circle of 60 years," adding: "It does not overcome, however, the conflict […] with Spain and France."
"The Basque Country is now before a new opportunity to finally close the conflict and build a collective future," the group said. "Let's not repeat the errors. Let's not allow for problems to rot."
According to Covite, an association of victims, at least 358 crimes by ETA members have yet to be resolved.
Covite's president, Consuelo Ordóñez, reacted angrily to ETA's announcement, accusing the Spanish government of failing to push for an absolute defeat of ETA.
"This is not the end of ETA we wanted as a society or as victims, and not the one we deserved," Ordóñez said in San Sebastián.
A document published by Ordóñez and other members of the Basque community this week accused ETA of attempting to gloss over its violent campaign as it prepares for an event Friday to mark its dissolution before supporters and international observers in Bayonne, France.
The document, titled "ETA wants to put the clock back to zero," accused the organization of not collaborating with the judiciary to clear up outstanding crimes, as well as justifying its violence on the basis of a conflict that did not exist once Spain had become a constitutional democracy in 1978 after the death of dictator Gen. Francisco Franco.
"After 1978 there was democratic liberty in all of Spain and if it was not more peaceful, that was ETA's fault," according to the document.
ETA was founded in 1959 as a response to political repression under Franco's military regime. ETA's highest-profile killing was the 1973 bombing of Franco's anointed successor, Prime Minister Luis Carrero Blanco.
But the group's bloodiest period came in the 1980s, after the Basque Country region had been granted a significant degree of self-rule. As well as killing 853 people, according to Spanish government figures, ETA injured more than 2,600 in its attacks against security forces, politicians and business figures. The group kidnapped 83 people in a campaign of extortion that resulted in hundreds of people leaving the Basque region.
In the mid-1980s, Spain's security apparatus set up death squads, responsible for dozens of extrajudicial assassinations against ETA suspects.
A report based on an investigation by forensic experts for the Basque region's parliament last year put the number of cases of reported torture by Spanish police forces between 1960 and 2014 at 4,113.
Badcock is a special correspondent.
---
UPDATES:
2 p.m.: This article was updated throughout with Times staff reporting.
This article was originally published at 9:45 a.m.
---