A timeline of deadly attacks in Russia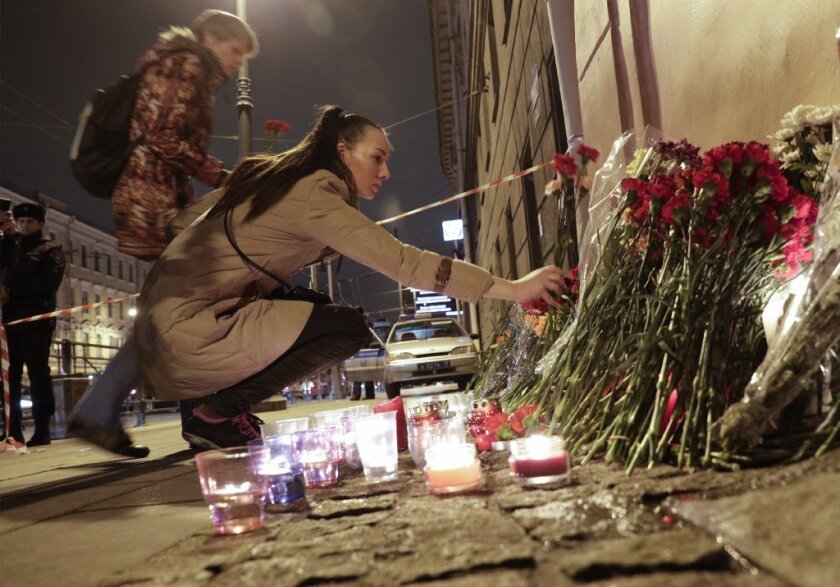 A timeline of deadly attacks in Russia
Nearly a dozen people were killed Monday in a subway train explosion in St. Petersburg, Russia's second-largest city and most popular tourist destination. Although officials said it was too early to draw definitive conclusions about who was behind the attack, the country has endured numerous attacks by militant groups in recent years. Many were carried out by Chechen separatists, who have sought to create an independent Islamist republic in the southern Russian region. Here's a look at some of the deadliest incidents.
---
October 2015
Tourist jet crash
A charter jet taking Russian vacationers home to St. Petersburg from an Egyptian beach resort town crashed in a remote part of Egypt's Sinai Peninsula, killing all 224 passengers and crew members on board. Russian authorities concluded that a homemade bomb smuggled onto the jet detonated 23 minutes after it took off from Sharm el Sheik, the popular Red Sea resort town. A group with ties to the militant group Islamic State claimed responsibility for the attack. Several airlines diverted flights away from the Sinai Peninsula as a safety precaution.
December 2013
Volgograd bombings
A pair of back-to-back bombings killed 34 people in the southern Russian city of Volgograd, just two months before the country was scheduled to host the Winter Olympics in the Black Sea resort of Sochi. The first attack, a bombing at the city's main train station, killed 18 people. The following day, 16 people were killed in a suicide attack on a crowded trolley bus.
August 2012
Suicide bomber at officer's funeral
A suicide bomber attacked the funeral of a police officer fatally shot a day earlier in Russia's North Caucasus region, killing seven people and injuring 10 in mourning. The attack occurred on the first day of an Islamic holiday as hundreds of thousands of Muslims visited mosques all over Russia.
January 2011
Airport bombing
A suicide bomber crept into a crowd waiting for international passengers arriving at Domodedovo Airport in Moscow and set off a massive blast that left 35 people dead and 130 others injured.
March 2010
Twin attacks on subway system
During rush hour on a Monday morning, two female suicide bombers blew themselves up on packed subway cars in Moscow's bustling downtown in back-to-back attacks that killed about 40 people and wounded at least 100.
November 2009
Nevsky Express bombing
A high-speed train traveling from Moscow to St. Petersburg with more than 650 passengers derailed when it passed over a homemade bomb — equivalent to about 15 pounds of TNT — planted on the tracks. The attack on the Nevsky Express, which caused at least two train cars to go off their tracks, killed 26 people and injured dozens more. A second explosion was set off as investigators were searching the wreckage.
October 2005
Attacks on police
Islamic militants staged a series of attacks on police and government buildings in Russia's North Caucasus region, launching two days of fighting that left at least 139 people dead, including more than 90 attackers.
September 2004
Beslan school siege
About 30 militants demanding the withdrawal of Russian troops from the separatist republic of Chechnya seized a middle school in the town of Beslan, taking more than 1,100 students, teachers and parents as hostages. They were held for three days with no food or water in a stuffy gymnasium wired with bombs. The standoff ended with a storm of explosions and gunfire, setting off a blaze that ripped through the gym and killed many hostages. More than 300 people, half of them children, died.
August 2004
Twin airplane bombings
Two planes that took off within an hour of each other from Moscow's Domodedovo Airport exploded nine seconds apart, killing all 90 passengers aboard. The suicide bombers, two young women, were able to buy tickets illegally from airport personnel.
May 2004
Stadium bombing
A bomb ripped through a stadium in the Chechen capital, Grozny, during a military parade, killing Chechen President Akhmad Kadyrov and several others. More than 60 people were injured in the blast.
December 2003
Train bombing
Two days before Russian parliamentary elections, 44 people were killed in a suicide bombing on a commuter train in southern Russia.
December 2002
Truck bomb
A suicide truck bomb destroyed the headquarters of Chechnya's Moscow-backed government in Grozny. The attack left 72 people dead.
October 2002
Theater hostage crisis
Chechen militants took more than 750 people hostage at a Moscow theater. Special forces stormed the building three days later with narcotic gas they used to knock out the attackers and their captives. More than 100 hostages, as well as 41 Chechen fighters, were killed.
September 1999
Apartment bombings
A series of bomb blasts blamed by Russian officials on Chechen terrorists destroyed four apartment buildings in Moscow and two other Russian cities and left more than 300 people dead.
June 1995
Hospital attack
About 1,500 people were held hostage during an attack on a hospital in Budennovsk, about 90 miles north of the Chechen border, that left about 100 dead. Dozens more died when troops unsuccessfully stormed the hospital three days later.
---
Must-read stories from the L.A. Times
Get all the day's most vital news with our Today's Headlines newsletter, sent every weekday morning.
You may occasionally receive promotional content from the Los Angeles Times.