Turkish military staffers seek refuge in rival Greece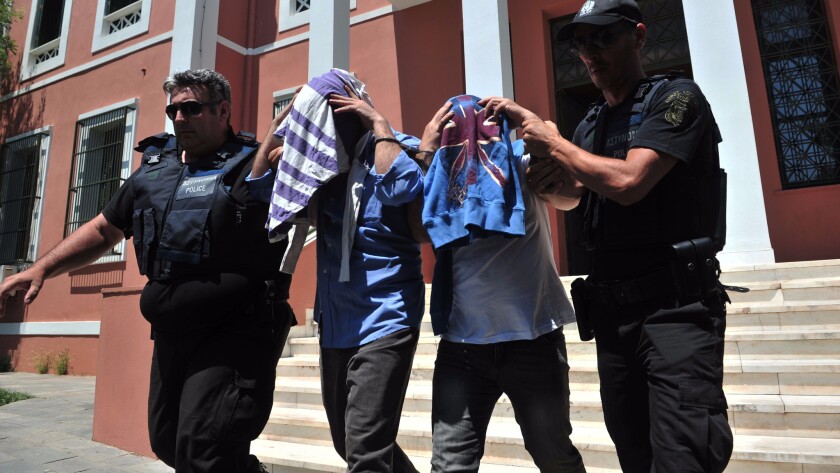 Reporting from Athens —
As Greeks watched with concern the evolution of what became a failed military coup in neighboring Turkey, a lone Turkish Black Hawk helicopter appeared in Greek airspace.
It was early Saturday, the morning after factions in the Turkish military attempted to overthrow the democratically elected government of President Recep Tayyip Erdogan. The chopper sent out a mayday signal. Eight Turkish military officers were on board.
Escorted by two F-16s scrambled by the Greek air force, the helicopter arrived at an airport in Alexandroupoli, posing a huge new political and diplomatic problem for Greece, possibly dragging the country into conflict with its bigger traditional rival after years of relative peace.
It is the first time members of the Turkish military have sought refuge in Greece, a country with which Turkey has been at odds for centuries. The two almost went to war in 1996 over an uninhabited islet in the Aegean Sea and have been at odds for decades over the still-divided island of Cyprus.
The Turkish officers who fled to Greece — three colonels, three captains and two sergeants — now find themselves at the heart of a burgeoning diplomatic and political mess that Greece, already at odds with most of its European Union partners because of its financial woes, does not need.
Complicating Greece's position is a newly minted deal with the EU and Turkey in which Turkey gets certain benefits — visa-free travel, for example — in return to stronger policing of its sea borders with Greece. The aim of the effort is to return migrants to Turkey and stem the flow of immigrants into Europe.
In the last year, about a million people have sought to cross from Turkey to Greece to reach Northern Europe, sparking the continent's biggest refugee crisis since World War II. The March 18 deal, criticized by human rights groups as trampling on due process, has stemmed the flow of refugees.
See more of our top stories on Facebook »
Greek Prime Minister Alexis Tsipras spoke with Erdogan on Sunday, telling him that procedures for the Turkish asylum seekers will be swift but in line with international law and human rights treaties. That followed conversations his foreign minister, Nikos Kotzias, held with his counterpart in Turkey, Mevlut Cavusoglu. Those talks gave rise only to confusion, with the Turkish minister saying Greece had promised to hand over the eight "traitors."
In a tweet, Cavusoglu said of Kotzias: "He said that eight traitors who fled to Greece will be returned to Turkey as soon as possible."
The Greek Foreign Ministry said in a statement that Kotzias "reiterated to his Turkish counterpart the Greek government's view that the attempted overthrow of the democratically elected Turkish government constitutes a punishable act."
The asylum request "will be examined based on the provisions of Greek and international law, and the procedures provided for under international law will be complied with, it will be borne very seriously in mind that the arrested parties stand accused in their country of violating constitutional legality and attempting to overthrow democracy."
A second Turkish Black Hawk with an extra crew landed in Alexandroupoli late Saturday to fly the first chopper back to Istanbul. On Sunday, the eight Turkish officers were photographed arms across faces, in civilian clothing being taken to and from Greek courts where they were interrogated on charges of illegally entering the country and of disrupting friendly relations between Greece and Turkey. They will not face prosecution on the latter charge.
Vassiliki Marinaki, representing four of the eight, told Greek TV that her clients were unaware of the coup and learned of it after being ordered to transport casualties from the streets of Istanbul. After coming under fire from police, two helicopters were hit and the crews decided to use one to seek refuge in Greece. All are younger than 40 with families in Turkey, according to Greek TV.
"Involvement in a coup would be a 'political crime,' which means they might be eligible for protection as long as they weren't directly involved in violence," said Marty Rosenbluth, a U.S.-based human rights and immigration attorney. "Also, the fact they would almost definitely be subject to torture if they were returned might give them protection under the Convention Against Torture in any case. My guess would be that this will probably go to the European Court of Human Rights before it is resolved."
Rosenbluth added, "I would not want to be the Greek government right now. They need Turkey's cooperation to deal with the EU-Turkey refugee deal, but they also can't violate the Convention Against Torture. Perfect Catch-22."
Petrakis is a special correspondent.
ALSO
Straddling East and West, Turkey is a critical U.S. ally in fight against Islamic State
In Ankara, a night of fear as battling Turkish jets screamed through the skies
'Don't hang up': An L.A. teen's call from Nice brings the terrorism horror home
---
Must-read stories from the L.A. Times
Get the day's top news with our Today's Headlines newsletter, sent every weekday morning.
You may occasionally receive promotional content from the Los Angeles Times.