Voters in Turkey deal stunning setback to president's party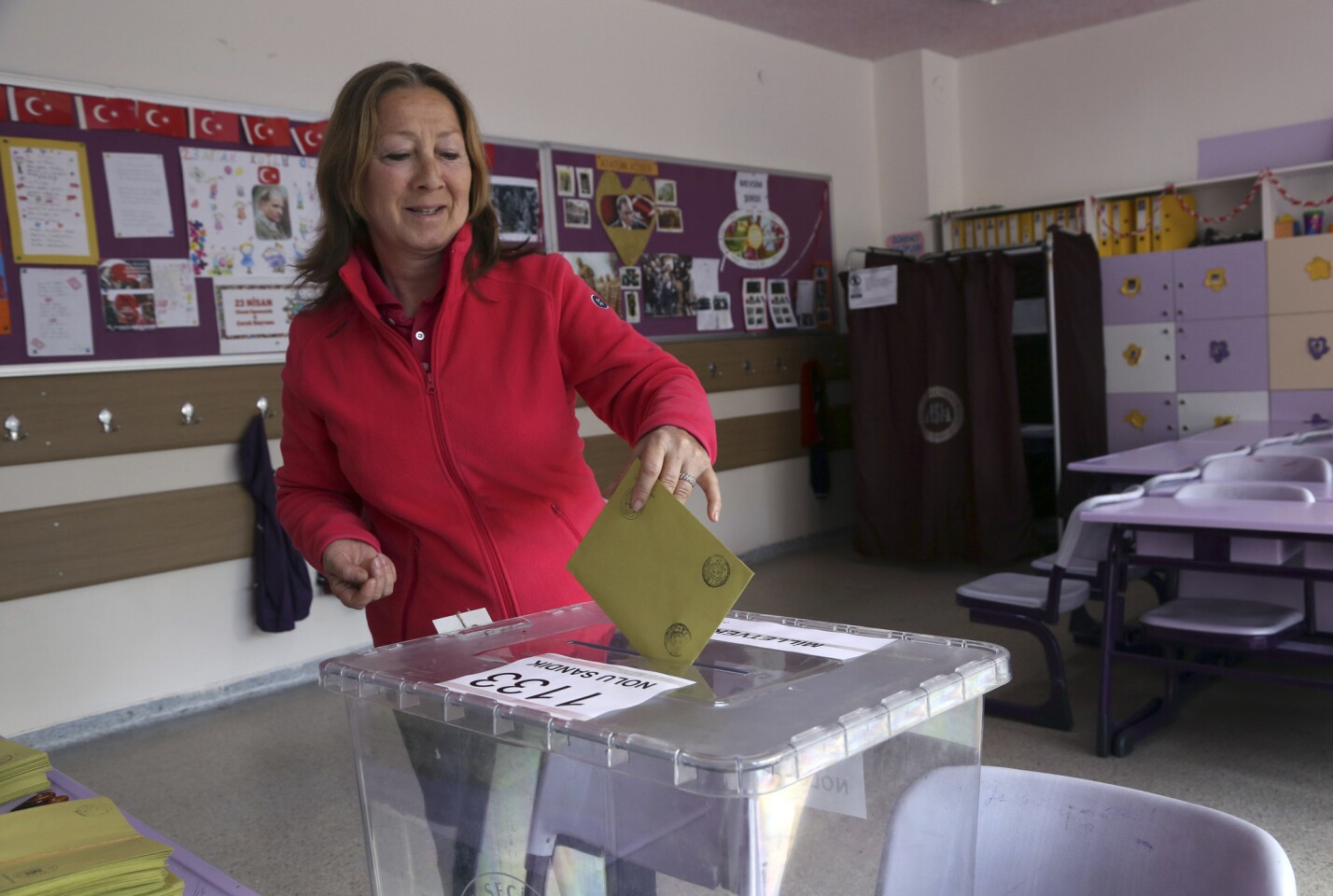 A Turkish woman casts her vote at a polling station in an Ankara primary school on June 7.
(Burhan Ozbilici / Associated Press)
A polling station official in Ankara shows a paper with the names of political parties participating in Turkey's nationwide elections on June 7.
(Burhan Ozbilici / Associated Press)
Turks line up to vote in the southeastern city of Diyarbakir on June 7.
(Bulent Kilic / AFP/Getty Images)
A Turkish woman casts her vote June 7 as others wait in the southeastern city of Diyarbakir.
(Bulent Kilic / AFP/Getty Images)
People wait for the opening of a polling station in an Ankara primary school on June 7.
(Burhan Ozbilici / Associated Press)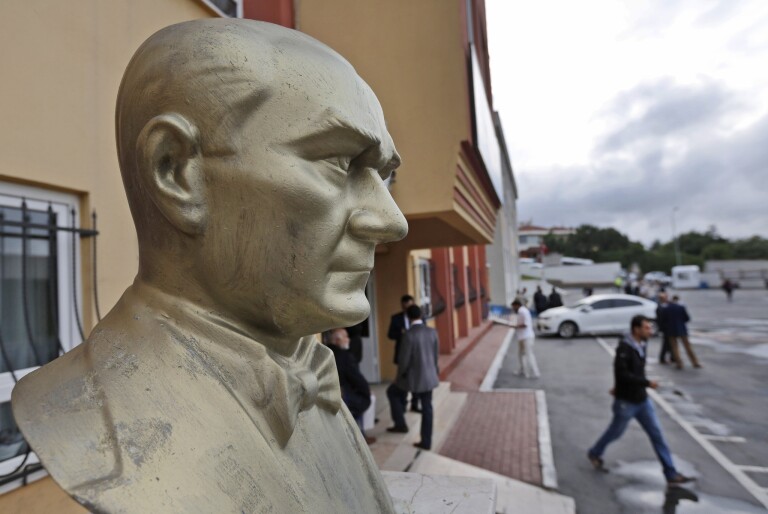 People pass a bust of Turkish Republic founder Mustafa Kemal Ataturk at an Istanbul school serving as a polling station on June 7.
(Lefteris Pitarakis / Associated Press)
reporting from ISTANBUL, Turkey —
In a stunning setback for President Recep Tayyip Erdogan, Turkey's ruling party lost its parliamentary majority for the first time in 13 years, and a pro-Kurdish party for the first time garnered enough votes to enter Parliament, according to a nearly complete tally.
The vote marked a tectonic political shift in Turkey, a NATO ally and an influential player in the unprecedented turmoil roiling the Mideast. If the results are borne out in the final official tally, Erdogan's Justice and Development Party, or AKP, would still be the largest party, but a significantly weakened one, and the president's designs on a vastly empowered executive branch appear to have crumbled.
Horn-honking celebrations broke out outside headquarters of the pro-Kurdish Peoples' Democratic Party, or HDP, which managed to break a daunting 10% electoral threshold to gain a parliamentary foothold, party officials said. The party, which sought to broaden its appeal beyond the Kurdish minority by championing liberal causes, had taken a major risk by running as a bloc rather than fielding independent candidates associated with the Kurdish cause.
Amid the rejoicing, there was also a sense of foreboding. The ballot-box upheaval is likely to usher in a period of political instability for Turkey, with some fearing that a wounded Erdogan might lash out anew at opponents. A call for early elections, expected by many analysts, could set the stage for an even more divisive and violent campaign to come.
Despite the presence of flag-waving faithful at AKP headquarters across the country, the mood was grim as the magnitude of the damage sank in. The party had hoped to not only maintain its majority, but expand it to a two-thirds "supermajority" that would have made it possible for Erdogan to push through constitutional changes that would shift greater powers to his presidency.
With 98% of the ballots counted, the AKP tally was about 41% of the vote, while the main opposition Republican People's Party had 25%, the nationalist MHP 17% and the HDP more than 12%, the Turkish state broadcaster TRT reported.
"The nation's decision is the best decision -- do not worry," Prime Minister Ahmet Davutoglu, the AKP head, told supporters in his hometown, Konya. But he added: "We will never bow down to any power."
In advance of the election, there were worries that a shutout of the HDP -- which would have gotten no seats had it failed to reach the 10% threshold -- could have triggered a breakdown of the peace process between Kurdish militants and the government. But with a projected 80 members of parliament, the country's Kurdish minority, making up about 20% of the population, can look to a major new political role -- though one that could provoke an angry backlash.
As the vote count progressed, jubilant celebrations erupted in Diyarbakir, the main city in Turkey's Kurdish-dominated southeast. Only two days before the election, the city was the scene of a deadly blast at a political rally that left four dead and scores injured. Turkish media carried photos of some of the bomb-injured arriving at the polls, swathed in bandages.
The vote also vaulted the HDP's charismatic co-leader, Salahattin Demirtas, to new prominence. At a news conference in Istanbul, cheered by supporters, he called the outcome a "tremendous" victory.
Although Erdogan did not appear on the ballot, the election was widely viewed as a referendum on his increasingly authoritarian style, which was welcomed by some as a show of strength but denounced by others as undermining Turkey's tradition of secular democracy stretching back to the republic's founding leader, Mustafa Kemal Ataturk.
Over the past two years, Erdogan has presided over crackdowns on media freedom, harshly quelled street protests, orchestrated large-scale arrests of political opponents and made heavy-handed attempts to curb criticism spread on social media. To many, his plan to revamp Turkey's form of governance and remake his presidency into the seat of national power smacked of imperial ambition.
"He's dividing the country, making the people enemies of each other," said Nurgul Temizkan Alho, who cast her ballot in Ankara for the main opposition Republican People's Party, or CHP. But partisans of the president were out in force in neighborhoods where his pious brand of Islam is embraced.
Economic woes, though, were seen by analysts as a point of vulnerability for the AKP. The party had presided over years of strong growth, which fueled Erdogan's personal popularity, but Turkey's economic performance has since faltered.
With nearly 54 million people eligible to vote, turnout was estimated at more than 85%, as long lines formed at many neighborhood polling places. The election's high stakes raised fears of voting fraud, and tens of thousands of Turks, mostly associated with civil society groups, volunteered to serve as election monitors.
Erdogan was constitutionally barred from engaging in electioneering, but he turned dozens of official appearances into what were effectively campaign rallies, making scathing, strident attacks on the AKP's opponents. He and Davutoglu had warned of dire consequences if the AKP were forced to share power
Special correspondent Glen Johnson contributed to this report from Ankara.
Twitter: @laurakingLAT
---
Must-read stories from the L.A. Times
Get all the day's most vital news with our Today's Headlines newsletter, sent every weekday morning.
You may occasionally receive promotional content from the Los Angeles Times.