British Prime Minister May starts campaigning after lawmakers back her call for an early general election June 8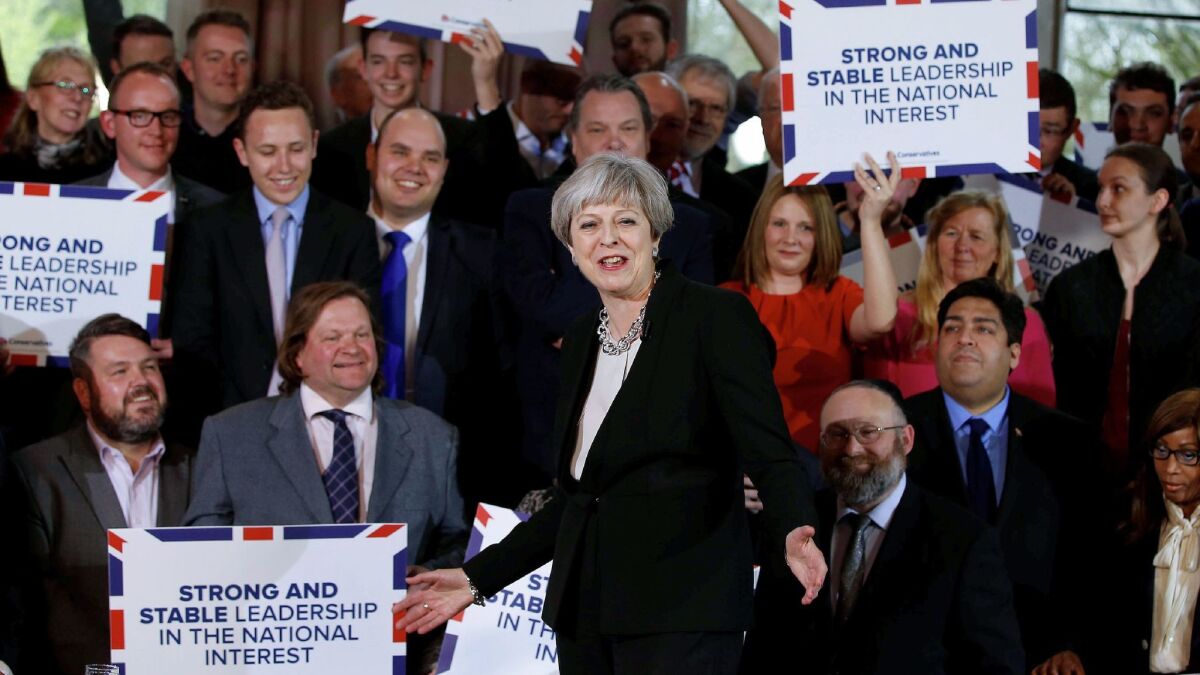 Reporting from London —
British voters will return to the polls in June for an early general election, less than a year after a bitterly split electorate favored breaking away from the 28-nation European Union.
British parliament on Wednesday overwhelmingly backed Prime Minister Theresa May's call a day earlier for a June 8 election, a move she hopes will solidify her power and increase political stability.
May said a vote in June instead of 2020 as expected would help create a more "secure future for our country," which is in the early stages of a two-year process to exit the EU.
Britain's formal negotiations with EU officials were expected to start by late May but instead will begin in earnest after the June vote, officials said Wednesday.
Members of parliament voted 522 to 13 in favor of May's call for an early election, well above the two-thirds majority required in the 650-seat House of Commons.
"The decision facing the country will be clear," May told lawmakers before the vote. "I will be campaigning for strong and stable leadership in the national interest with me as prime minister, and I will be asking for the public's support to continue to deliver my plan for a stronger Britain."
May immediately hit the campaign trail, heading to Bolton, in northwest England, to speak to supporters. She said the support she received in the House of Commons was "the right decision" in the national interest.
May said the country was facing a clear choice: strong and stable Conservative Party leadership, which could successfully take Britain through "Brexit" and beyond, or an unstable "coalition of chaos" under Labor Party leader Jeremy Corbyn.
"Give me the mandate to lead Britain," she said. "Give me the mandate to speak for Britain. Give me the mandate to fight for Britain, and give me the mandate to deliver for Britain."
May's motivations for calling a snap election have been questioned by politicians who think it is less about her desire to secure a strong mandate to lead Britain out of the EU, and more about securing her party's grip on power.
The Conservatives had only a slim parliamentary majority after the 2015 election, but recent polls show they currently have a double-digit lead on Labor.
Nicola Sturgeon, the Scottish National Party leader, who has requested permission to hold a second independence referendum for Scotland once the terms of the so-called Brexit are known, said the move was about "selfish, narrow, party-political interests."
Liberal Democrats leader Tim Farron said any suggestion that May's change of heart was about anything other than a desire to consolidate power against a weak Labor Party was "nonsense."
Dawn Butler, a member of parliament for the Labor Party, said the prime minister was asking the public to vote for the equivalent of a "blank check" so she could shape Brexit exactly as she saw fit.
Meanwhile, Conservative lawmaker Michael Gove said May had made the right move by calling an early election, and so far her judgment had been "absolutely right."
"I'm really glad that Theresa decided to go for it," he said on BBC radio. "Whatever the eventual deal, and I'm confident Theresa [May] will get a good one, this ensures a greater degree of stability for the country."
May succeeded David Cameron as prime minister last year after he stepped down because he had backed the failing "remain" side in the June 23 referendum on whether the nation should stay a part of the European Union or leave it. The campaign and results bitterly divided the country, with 52% of voters backing "leave" versus 48% favoring "remain."
May was voted in as prime minister by her party and therefore did not have to seek a popular mandate, meaning the June vote will be the first time the general public is asked to vote for her as prime minister.
If May wins, she will secure backing to lead the country as it pushes ahead with Brexit negotiations expected to last into 2019 and seeks to forge new relationships with Europe and other global partners.
She previously had ruled out holding an early election before the current parliament's five-year term expired in 2020, saying the country needed a period of calm and another election would reopen wounds from the referendum that had not healed.
But she stunned the nation Tuesday by announcing she had changed her mind. She said constant in-fighting among rival politicians threatened to undermine the Brexit process and weaken the government's negotiating position.
Corbyn said he welcomed an early election but hoped to make it less about Brexit — an issue that has split his own party — and more about putting to a vote the Conservative Party's policies on issues such as the economy and welfare.
"This election is about her government's failure to rebuild the economy and living standards for the majority," he said during Wednesday's debate.
He also questioned how the public was supposed to believe May's statements as prime minister when she had so blatantly gone back on her word.
"This is a prime minister who promised that there wouldn't be [an early election]," he said, "a prime minister who can't be trusted."
Boyle is a special correspondent.
ALSO
In surprise move, British prime minister calls for early election in bid to strengthen 'Brexit' plan
UK's Labor Party criticized over response to former London mayor's Nazi comments
'Brexit' begins as Britain gives formal notice of withdrawal from the EU
---
UPDATES:
1:30 p.m.: This article was updated with Times staff reporting, including additional details and comments.
This article was originally published at 6:55 a.m.
---
Must-read stories from the L.A. Times
Get the day's top news with our Today's Headlines newsletter, sent every weekday morning.
You may occasionally receive promotional content from the Los Angeles Times.