In battle between Russia and Ukraine, even God is in dispute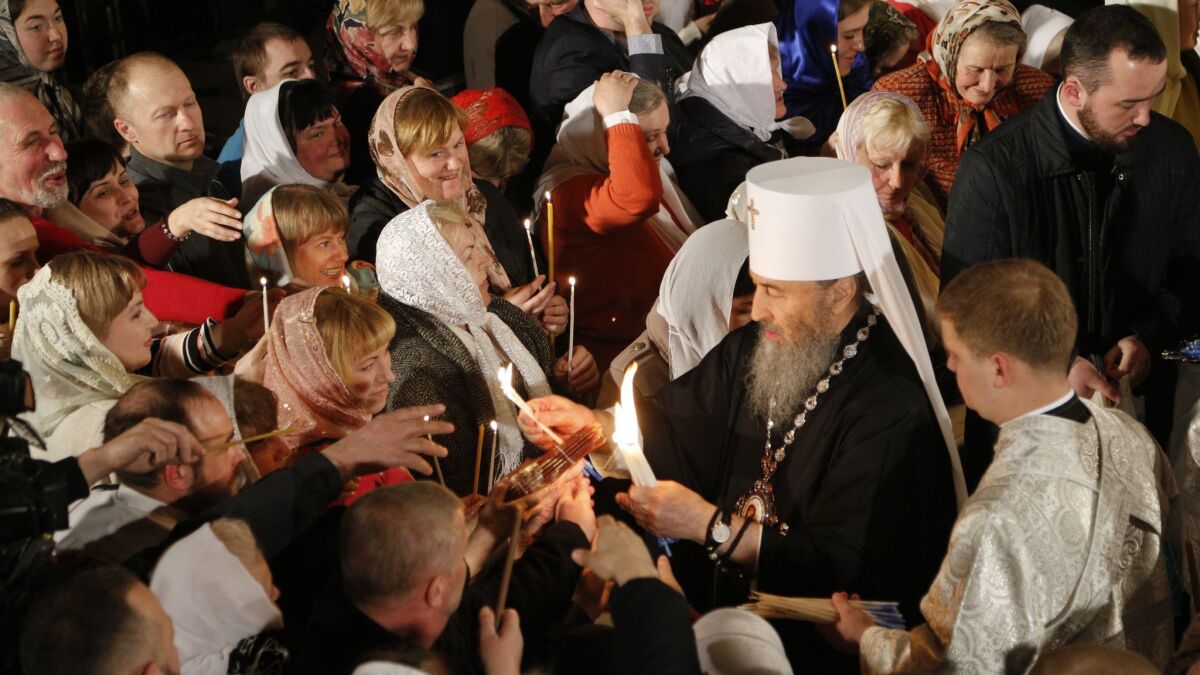 Reporting from Kiev, Ukraine —
Almost four years ago, Archbishop Afanasy faced a firing squad.
Several armed separatists in southeastern Ukraine's Luhansk region blindfolded and beat the full-bearded, stately Orthodox cleric in June 2014, weeks after pro-Moscow leaders declared Luhansk's independence and intention to join Russia.
The separatists targeted Afanasy because his spiritual leader, Patriarch Philaret, had broken away from the Russian Orthodox Church in the 1990s and lambasted Russian President Vladimir Putin's policies in Ukraine.
Afanasy heard a shot, but the bullet did not hit him. The separatists removed the blindfold and told him to leave Luhansk. His run-down car soon crashed because they had deliberately damaged its brakes, he said. He hates recalling that day, his personal episode in a Russian-Ukrainian religious war that seems far from over.
"I don't like to rehash the past," he said in an interview.
But it is the past — the shared, ancient past of Russia and Ukraine — that fueled the conflict.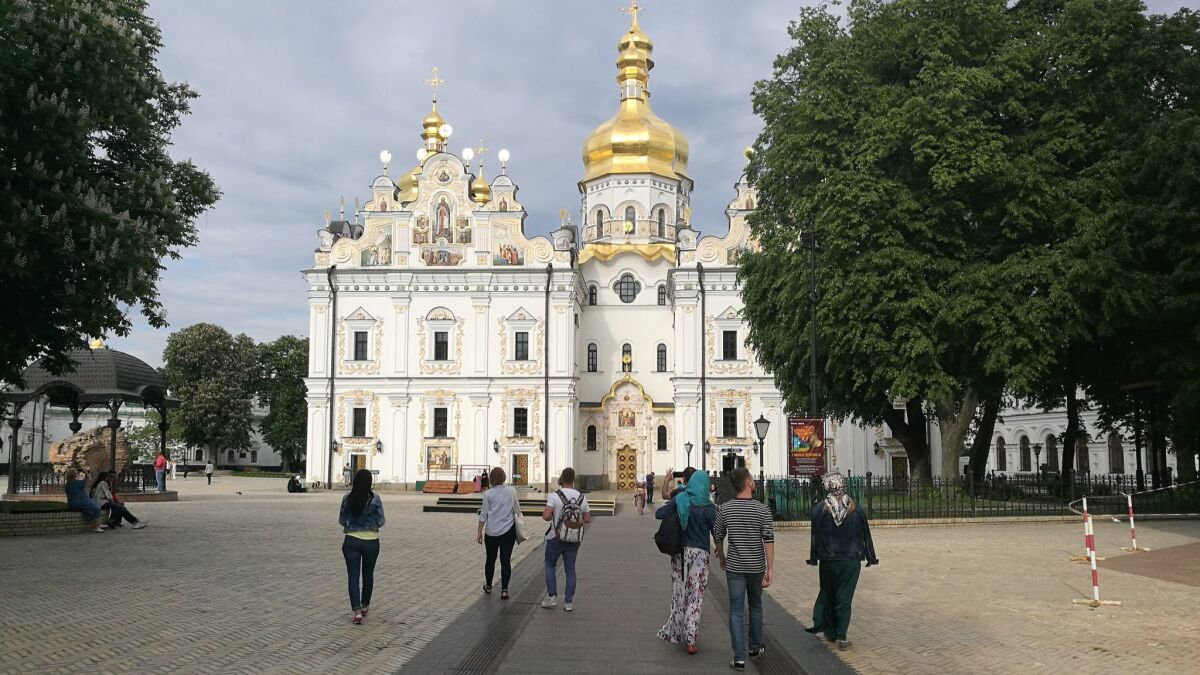 More than a thousand years ago, in roughly 988, Prince Vladimir of Kiev, a warlike pagan of Viking origin, arrived in Crimea, the peninsula that would eventually be jointly claimed by Russia and Ukraine. There he converted to Orthodox Christianity and wed a Byzantine princess. That immensely boosted the international prestige of Kievan Rus, a nascent Eastern European power that would morph into the modern states of Ukraine, Russia and Belarus.
It would be another Vladimir — Putin — who would underscore that shared heritage when he annexed Crimea from Ukraine in 2014, hailing its return to the "motherland." The annexation came as pro-Russian separatists covertly supported by the Kremlin fought to split off eastern Ukraine, which borders Russia, from the rest of the country.
Eastern Ukraine has long leaned toward Moscow in its politics. Many of its people speak Russian as their primary language. The west of the country, including the capital, Kiev, has looked longingly to central Europe for its cultural and political cues, and is linguistically Ukrainian — a Slavic language that is close to, but distinct from, Russian.
Religiously, though, the majority of Ukrainians have long been faithful to Orthodox Christianity, which split from Catholicism in 1054 and is based mostly in the Middle East and Eastern Europe.
After the Crimea annexation, Metropolitan Onufri, who heads the Russian Orthodox Church's Ukrainian branch, called the pro-Russian separatists "brothers in faith" and bristled at Kiev's military operation against them.
During a parliament session in May 2015, when Ukrainian President Petro Poroshenko was reading aloud the names of Ukrainian servicemen awarded for fighting the separatists, the entire audience stood up — except for Onufri and his coterie.
What's even more irksome to many Ukrainians is that Patriarch Bartholomew of Constantinople, the most revered leader of Orthodox Christianity, recognizes only Onufri's church in Ukraine.
To Poroshenko, who came to power in 2014 after violent protests ousted his pro-Moscow predecessor, Ukraine's ecclesiastic independence is not just a matter of squabbles of elderly, long-bearded men with archaic names.
In early April, Poroshenko urged Bartholomew to recognize an independent and "unified" Ukrainian Orthodox Church.
"This is a matter of national security in this hybrid war, because the Kremlin sees the Russian Church as one of the main tools of influencing Ukraine," Poroshenko told Ukrainian lawmakers in mid-April.
It was not a far-fetched argument.
Patriarch Kirill, head of the Russian Orthodox Church and a Putin ally, argues that ethnic Russians anywhere, from Kazakhstan to California, are "ethnic Orthodox Christians" whose rights must be protected by Moscow's spiritual and secular rulers.
Their "Russianness" stems from Prince Vladimir's Kievan Rus — and Ukraine is, therefore, a part of the "Russian world" that broke away temporarily, Putin claims.
"Russians and Ukrainians are one people, after all. We don't see a difference," he proclaimed in 2015 during his first visit to annexed Crimea. "I am sure the situation in Ukraine will be straightened out, and Ukraine will develop positively, will step away from the shameful practices that we see today."
Putin justified Crimea's annexation and pro-Russian separatism elsewhere in Ukraine as steps to "consolidate the Russian world" — because in the breakaway regions of Luhansk and Donetsk, Russian speakers see themselves as a majority oppressed by Kiev. One of the separatist squads was named the Russian Orthodox Army.
The independence of the Ukrainian church would therefore deal a deadly blow to the very concept of the "Russian world."
"It would be severely undermined by Ukrainian [religious independence] as Ukraine is the home and center of Kievan Rus and, therefore, of the Russian world," Taras Kuzio, a Kiev-based political scientist, said in an interview.
Unsurprisingly, Moscow opposes Poroshenko's drive for ecclesiastic independence.
Russia "will hardly support and hardly welcome actions aimed at splitting the church," Kremlin spokesman Dmitry Peskov told journalists in late April.
"Such plans and ideas only benefit enemies of the church," Metropolitan Hilarion, who heads the Russian church's equivalent of a foreign ministry, said in a statement.
Patriarch Philaret, who repeatedly called Putin a "new Cain," dismissed their words as "signs of despair and powerlessness." In recent statements, he accused Russia of trying to stop Bartholomew from recognizing an independent Ukrainian church — and promised that "no one will force" Moscow-loyal clerics to join his church.
The Russian church defrocked and denounced Philaret in the 1990s, and Russian courts ordered the destruction of the only church in Russia that reports to him.
That church, in the town of Noginsk outside Moscow, remains untouched, according to its former cleric, the Rev. Merkuriy Skorohod. He said it had been spared out of fear that its destruction could prompt retaliation against some 12,000 parishes of the Russian church scattered throughout Ukraine.
There already were calls to destroy the pro-Moscow churches in Ukraine after a shocking incident.
A 2-year-old boy was accidentally killed in the southern city of Zaporizhzhya last December. His parents requested a funeral service at an Orthodox church attached to a cemetery, but its Moscow-affiliated priests refused because the boy had been baptized in the Ukrainian church.
"They said they have rules," the boy's father, Roman Polishchuk, said in televised remarks. "It wasn't God who wrote these rules."
Unification of Orthodoxy may prove hard in Ukraine, whose religious map is a patchwork that reflects the nation's tumultuous past.
Some 11% of Ukrainians, mostly in western regions that once belonged to the Austro-Hungarian Empire, are part of the Greco-Catholic church that retains Orthodox rites but considers Pope Francis its pontiff. Some 44% are the flock of Philaret's church — twice the percentage of Ukrainians loyal to Moscow's Patriarch Kirill, polls show.
More than half of Ukrainians favor the unification of Ukrainian churches into an independent patriarchy, and only 9.2% think that the Russian Orthodox Church should dominate Ukraine, according to a survey by the Razumkov Center, an independent pollster, conducted in March.
If he's granted independence, Philaret will oversee the world's largest Orthodox church after Russia's — giving him considerable clout among other patriarchs of the world's 250-million-plus Orthodox community.
Ukrainians hope the Holy Synod — a congregation of clerics under Bartholomew — will grant Philaret's church independence by July 28, the 1,030th anniversary of the day when newly-converted Prince Vladimir arrived in Kiev and ordered its residents to plunge in the waters of the Dnieper River to get baptized.
Mirovalev is a special correspondent.
Must-read stories from the L.A. Times
Get the day's top news with our Today's Headlines newsletter, sent every weekday morning.
You may occasionally receive promotional content from the Los Angeles Times.