Security fears loom as revelers around the world celebrate the new year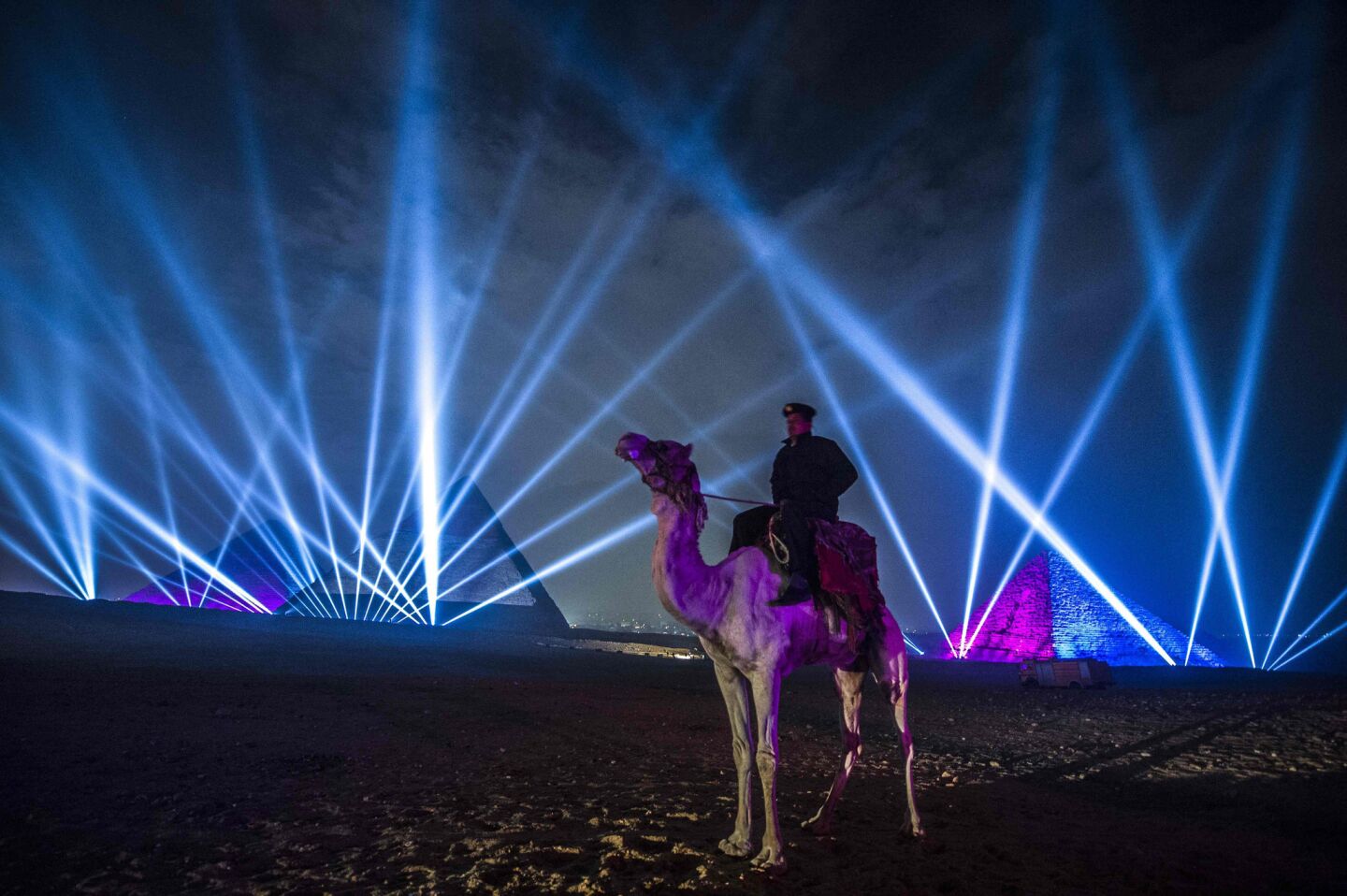 An Egyptian policeman stands guard during New Year celebrations in front of the pyramids near Cairo.
(Khaled Desouki / AFP/Getty Images)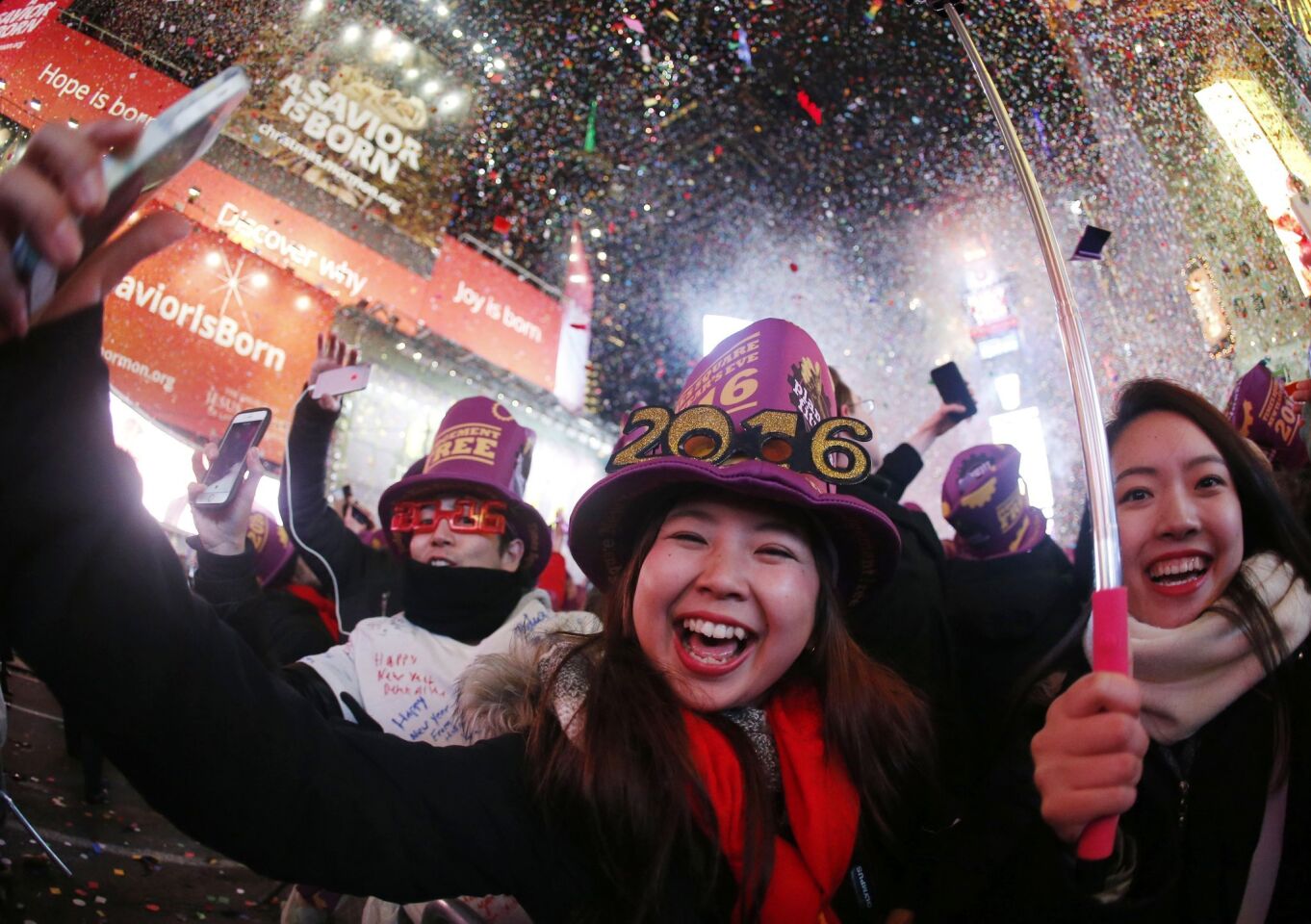 Revelers ring in the new year at Times Square,.
(Julio Cortez / Associated Press)
Revelers celebrate as confetti flies over New York's Times Square after the clock strikes midnight during the New Year's Eve celebration as seen from the New York Marriott Marquis hotel.
(Mary Altaffer / Associated Press)
LOS ANGELES, CA - DECEMBER 31, 2015: City Hall is lit up with a 3D projection during New Year's Eve celebration at Grand Park on December 31, 2015 in Los Angeles, California.(Gina Ferazzi / Los Angeles Times)
(Gina Ferazzi / Los Angeles Times)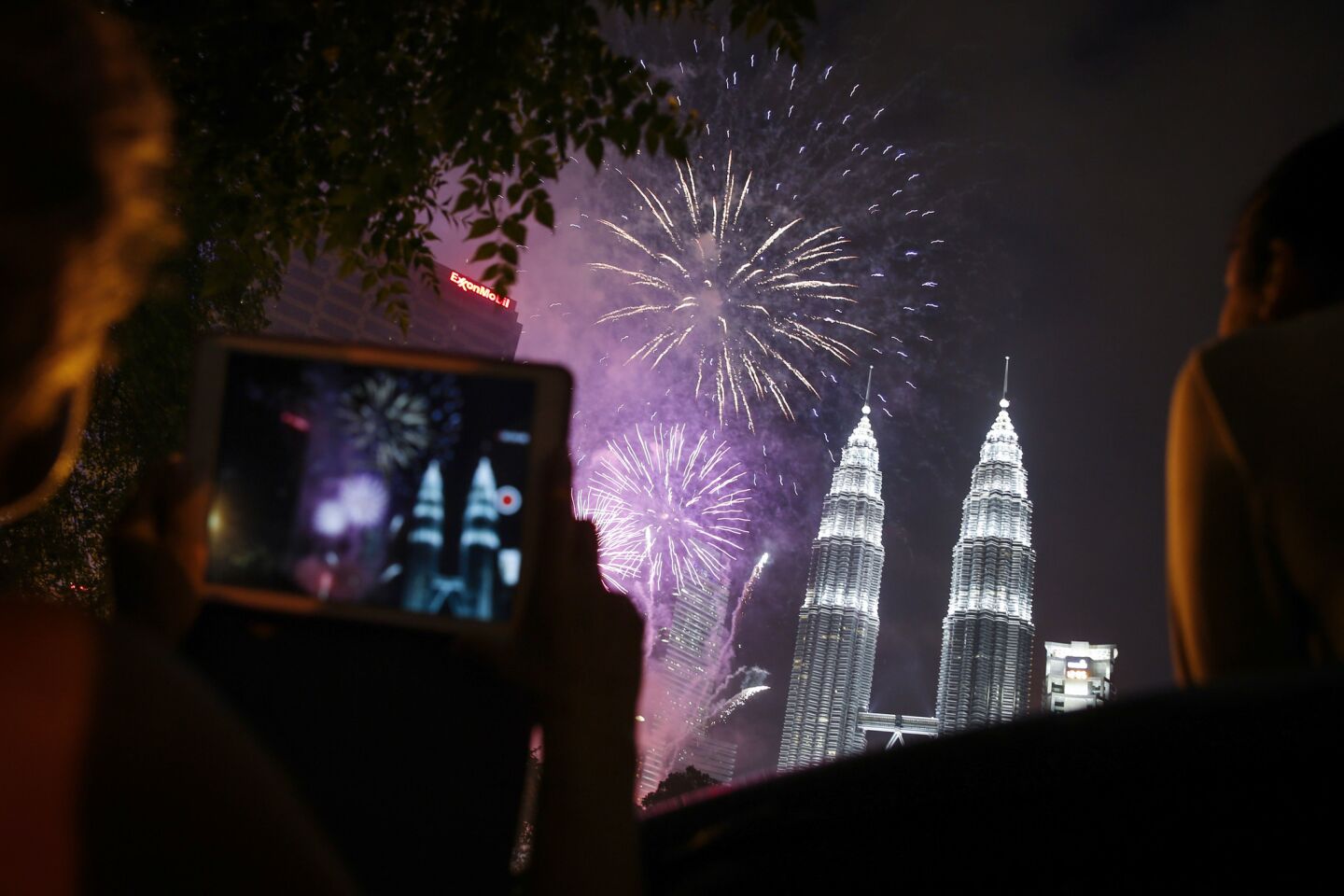 New Year's revelers watch the fireworks display in front of Malaysia's landmark Petronas Twin Towers.
(Joshua Paul / Associated Press)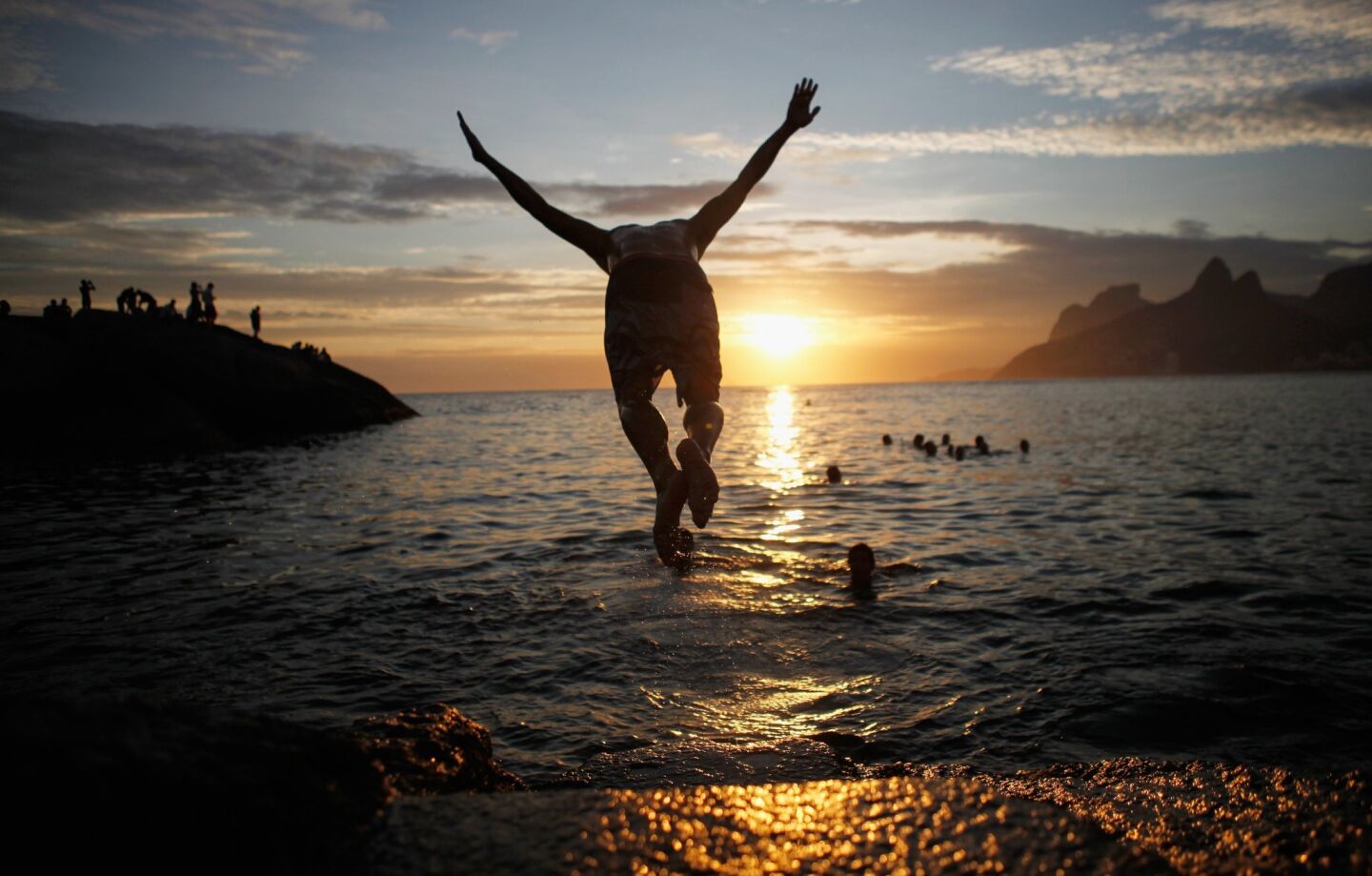 A man dives off Arpoador rock as people gather to watch the last sunset of 2015 in Rio de Janeiro.
(Mario Tama / Getty Images)
Revelers photograph a 5-minute video performance displayed on the Arc de Triomphe as part of New Year's Eve celebrations on the Champs-Elysees in Paris.
(Francois Mori / Associated Press)
New Year's fireworks light up the sky over Sydney, Australia's Opera House, left, and Harbour Bridge.
(Saeed Khan / AFP/Getty Images)
New York police officers patrol Times Square on New Year's Eve.
(Carolyn Cole / Los Angeles Times)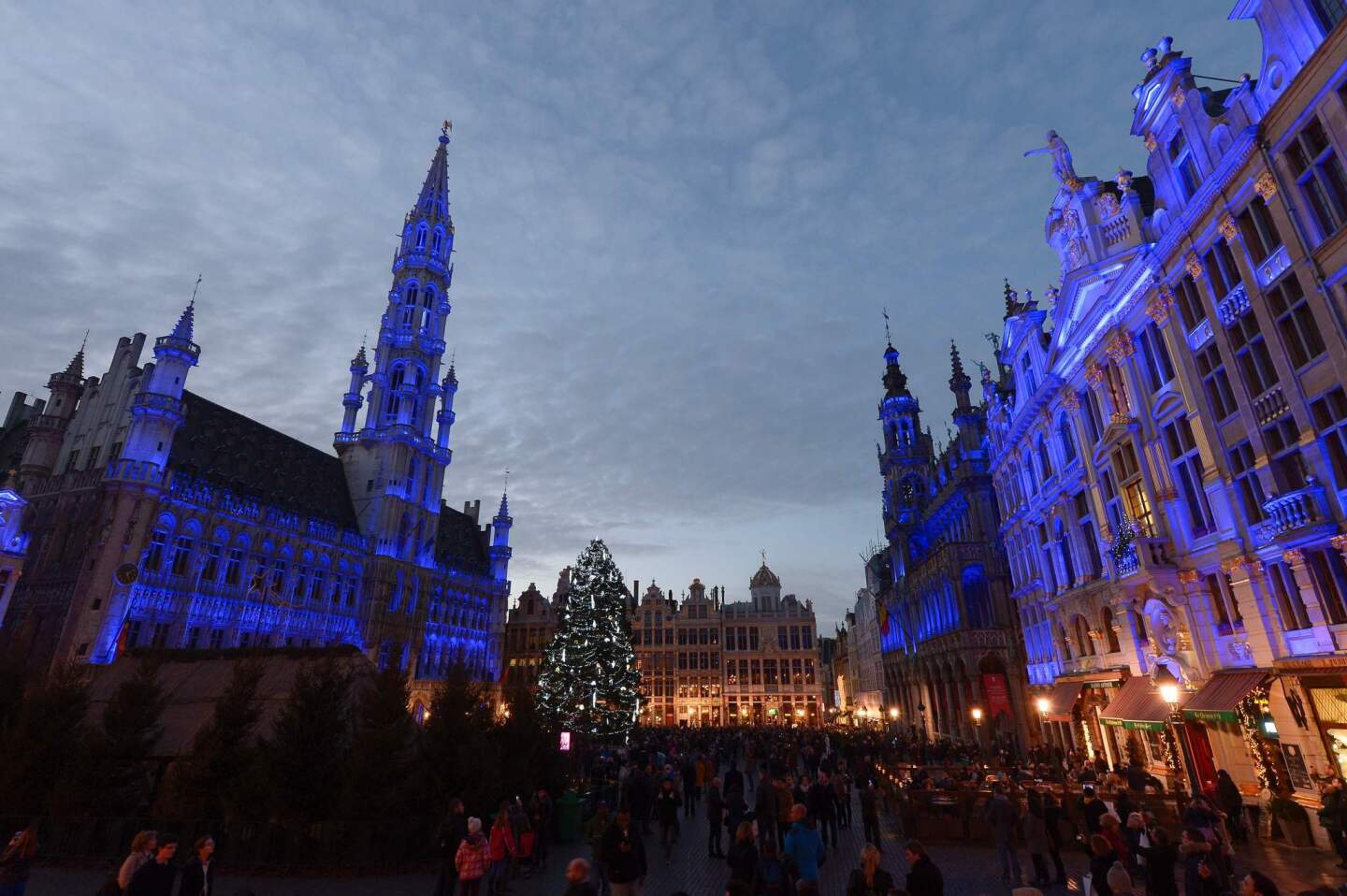 The traditional fireworks display was canceled in the Belgian capital, Brussels, but people walked in the square on Thursday.
(John Thys / AFP/ Getty Images)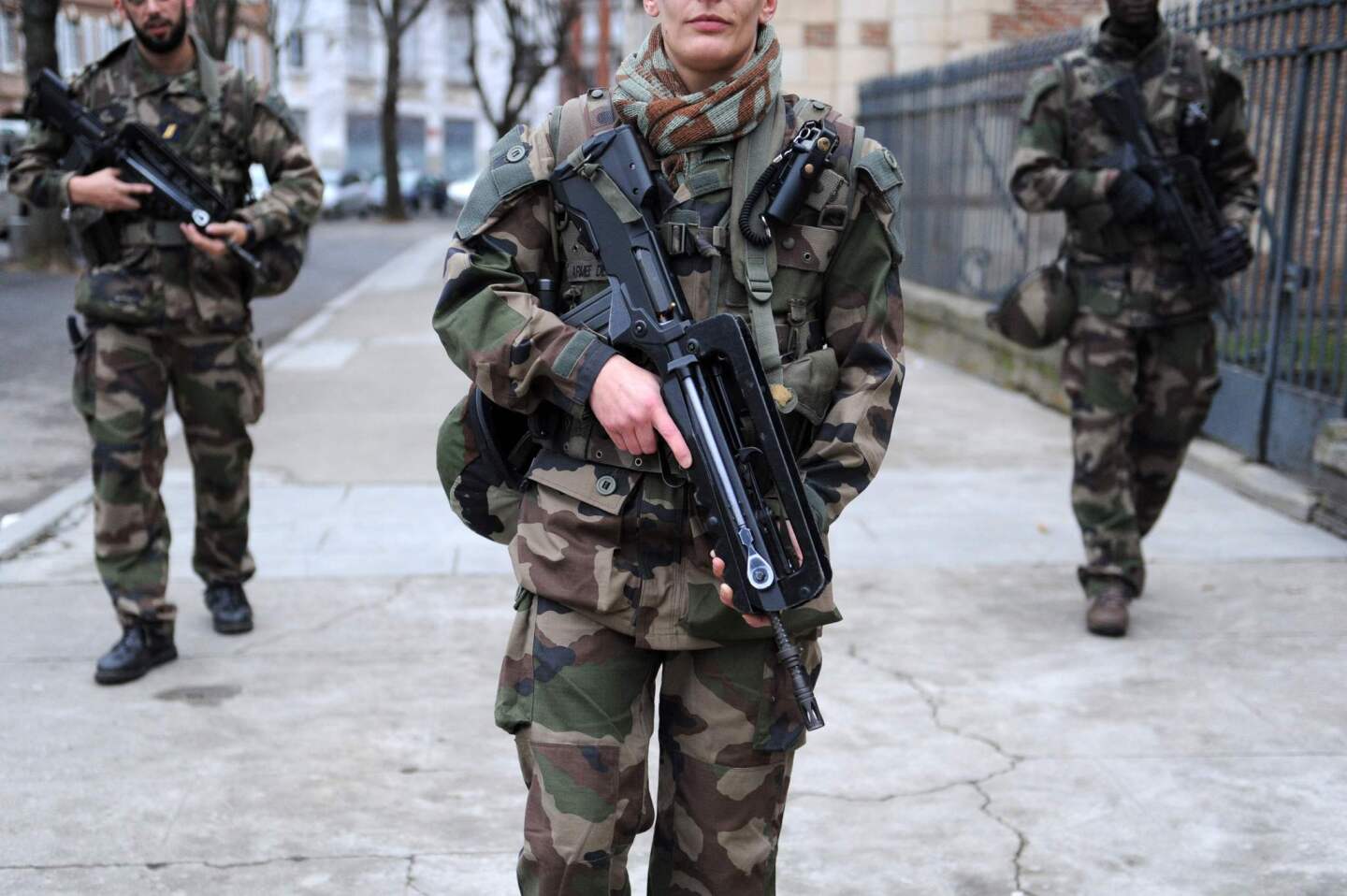 Soldiers patrol in Toulouse, France, on Thursday.
(Remy Gabalda / AFP/ Getty Images)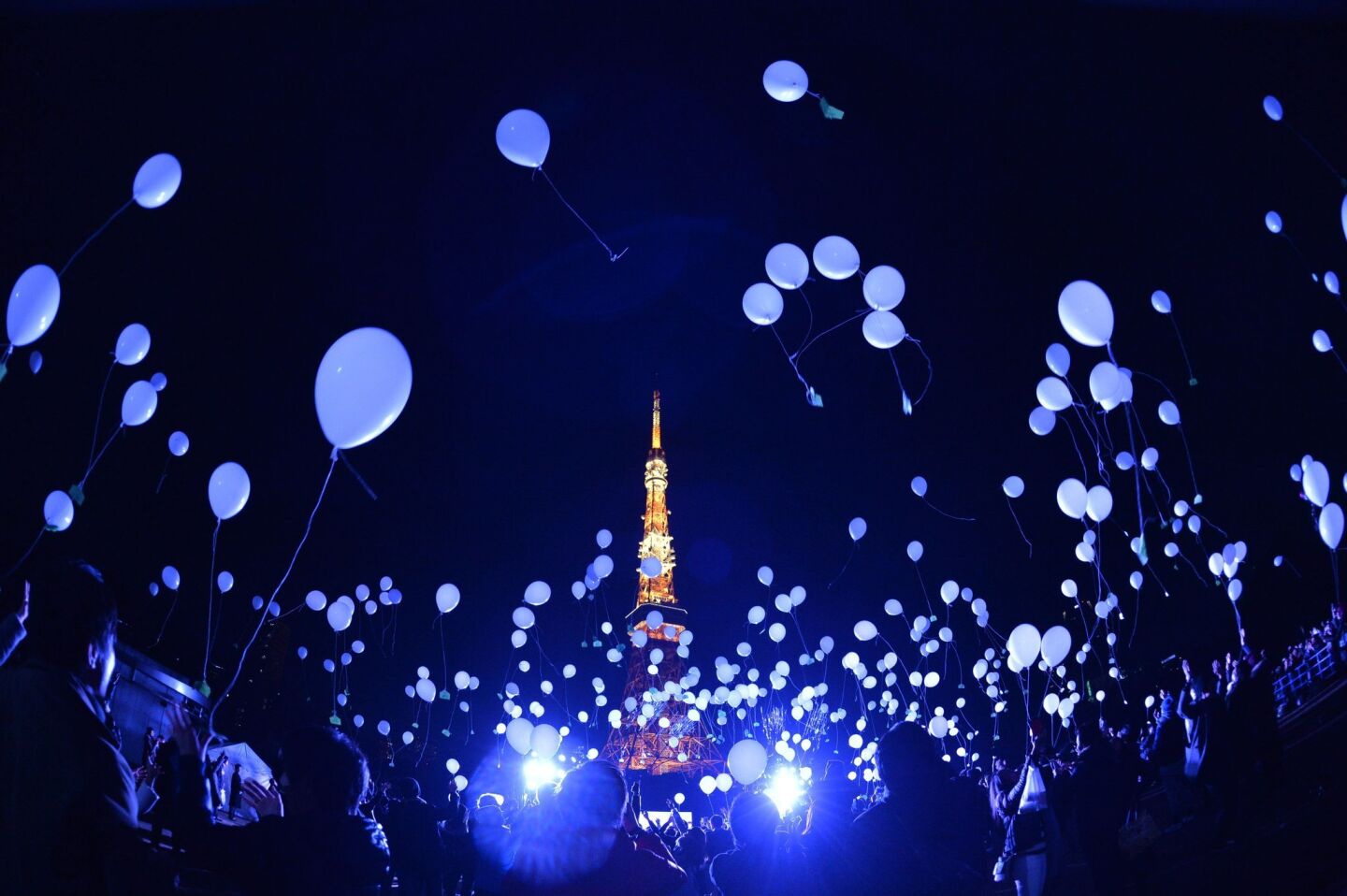 Balloons are released to celebrate the new year at the Prince Park Tower in Tokyo.
(Kazuhiro Nogi / AFP/Getty Images)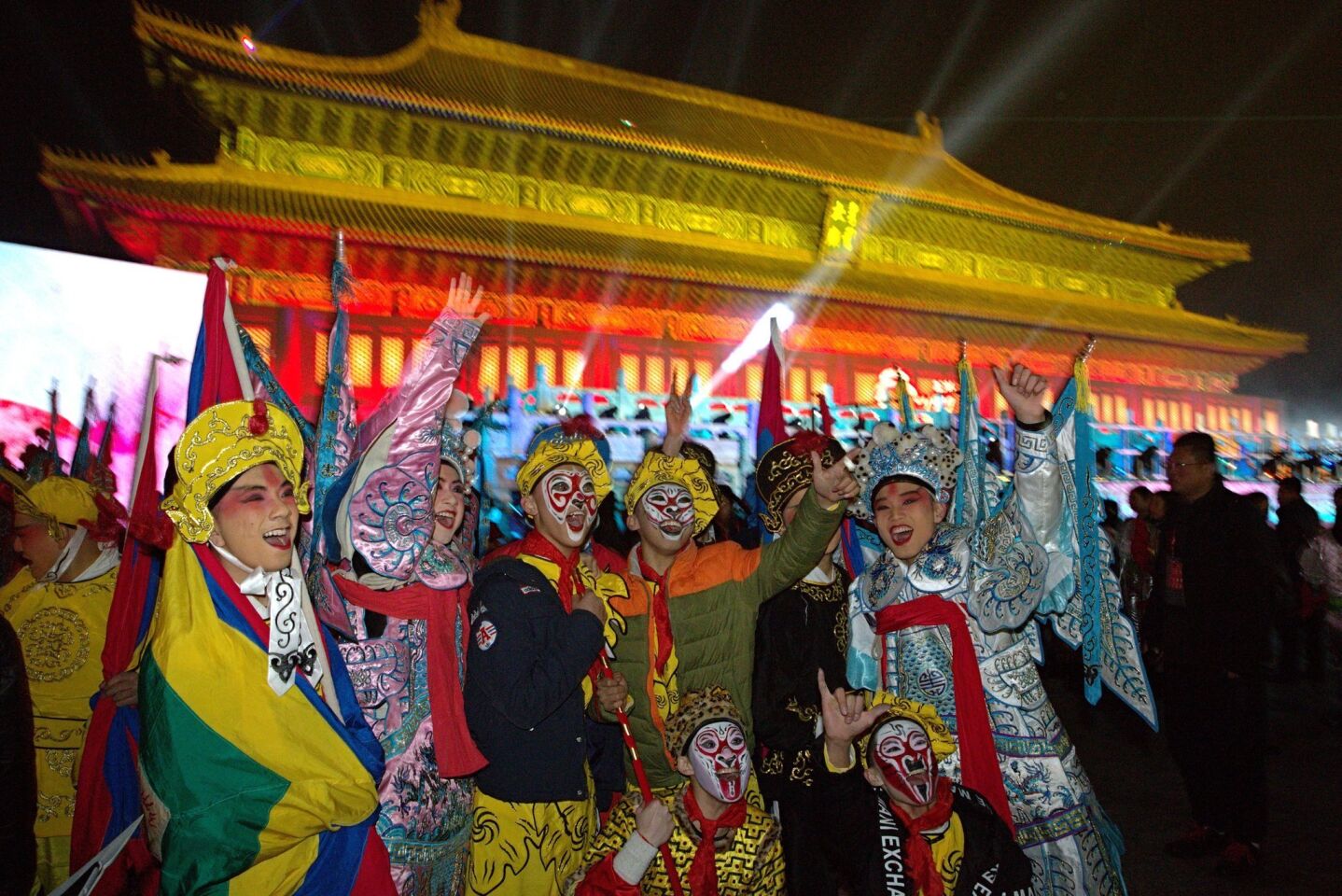 Performers pose for photographs before counting down to the new year in Beijing.
(Ng Han Guan / Associated Press)
People celebrate the new year at a party in Kandawgyi Park in Yangon, Myanmar.
(Ye Aung Thu / AFP/Getty Images)
German police evacuated two train stations in Munich late Thursday night, citing a "serious terror threat" aimed at New Year's Eve revelers in the country's third-largest city.
Bavaria's interior minister, Joachim Herrmann, and Munich's police chief, Hubertus Andrae, told reporters that authorities had received information that Islamic State was planning a suicide attack involving five to seven assailants at one of the stations.
Festivities in the Belgian capital, Brussels, were canceled after authorities unveiled another suspected holiday terrorist plot. And celebrations in Paris, which is still recovering from its own deadly attack, were scaled back.
But as 2015 drew to a close, revelers around the world were refusing to let security fears ruin the party.
More than a million people turned out for the annual fireworks extravaganza in Sydney, Australia, filling boats, balconies and waterside parks and cheering loudly as the first bursts of color erupted over the iconic Harbour Bridge and Opera House.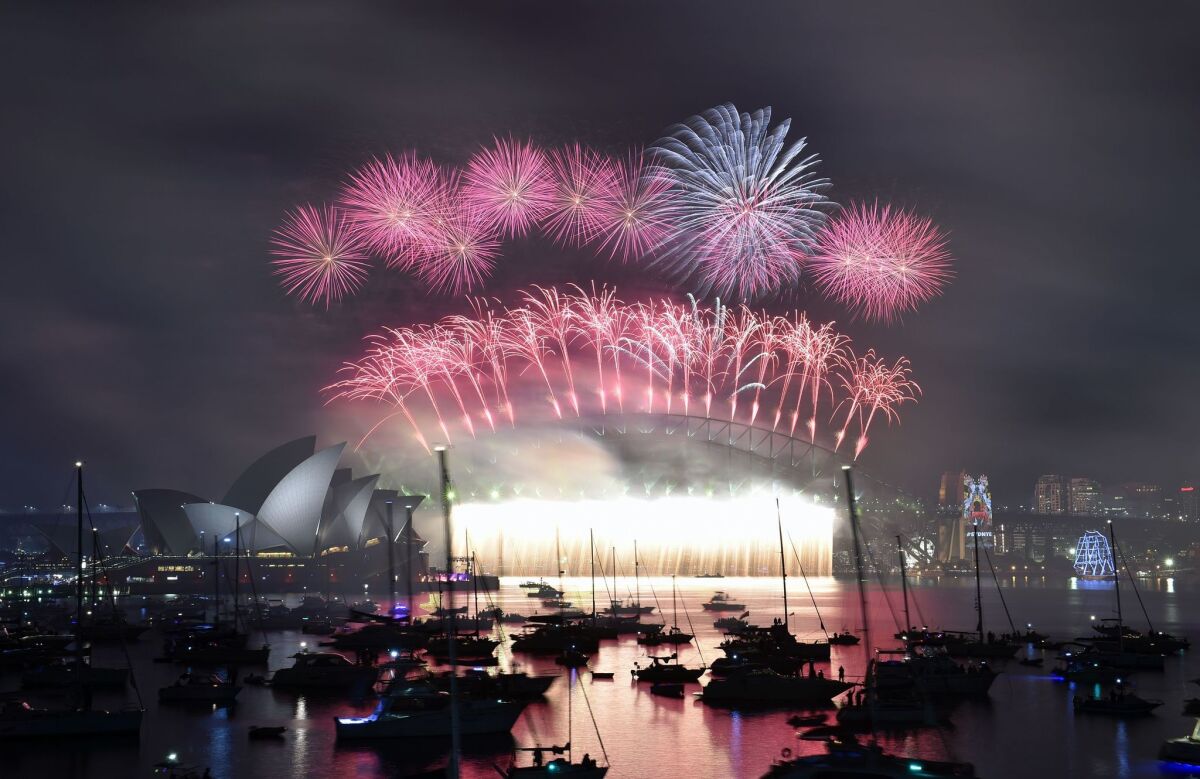 Tens of thousands more whooped it up as the festivities moved on to Beijing, Hong Kong and other major cities around the world.
But the celebrations were more muted due to the threat of attacks in a number of places.
Police in Munich issued a series of warnings via Twitter and Facebook asking revelers to avoid large gatherings and stay away from the city's main train station, Hauptbahnhof, as well as a local station in Pasing. Trains were diverted from the two stations, and heavily armed police barricaded the entrances.
Although the threat sent a chill through Munich, thousands of people were on the streets at midnight to ring in the new year. More than a million others celebrated at a giant open-air party in front of the Brandenburg Gate in Berlin.
Fireworks and other pyrotechnics were banned at numerous shelters in Germany to avoid causing further trauma to the refugees who poured into the country this year from war zones in the Middle East, Asia and beyond.
Belgian authorities canceled a fireworks display and other events that had attracted 100,000 people last year after uncovering what they said was a plan to attack popular attractions during celebrations in the capital, Brussels.
"It's better not to take any risks," Mayor Yvan Mayeur told the Belgian broadcaster RTBF.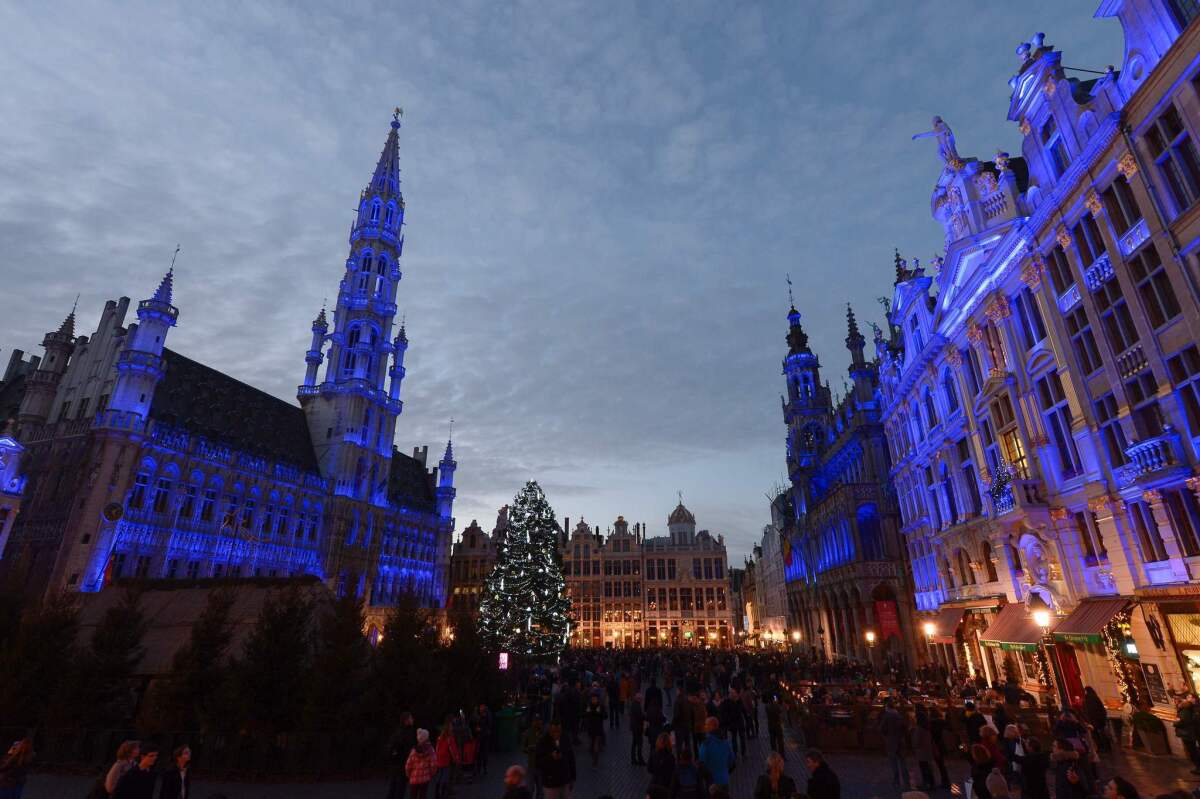 On Tuesday, the federal prosecutor's office announced the arrest of two suspects in connection with the plot along with the seizure of military-style training uniforms, computer equipment and propaganda material from the extremist group Islamic State.
The suspects were identified Thursday as Said Saouti, 30, and Mohammed Kerai, 27, members of a motorcycle club known as the Kamikaze Riders. Other members are believed to have ties to Sharia4Belgium, a group that has recruited fighters for the Islamist cause in Syria.
Six more people were detained Thursday following searches in the Brussels region, prosecutors said. Three of them were released after questioning.
Join the conversation on Facebook >>
The annual fireworks display in Paris, where Islamic State gunmen killed 130 people on Nov. 13, was also canceled. But hundreds of thousands of revelers were still expected to gather on the Champs-Elysees.
"The people of Paris and France need this symbolic passage into the new year," the city's mayor, Anne Hidalgo, told the weekly Journal du Dimanche. "After what our city has lived through, we have to send a signal to the world."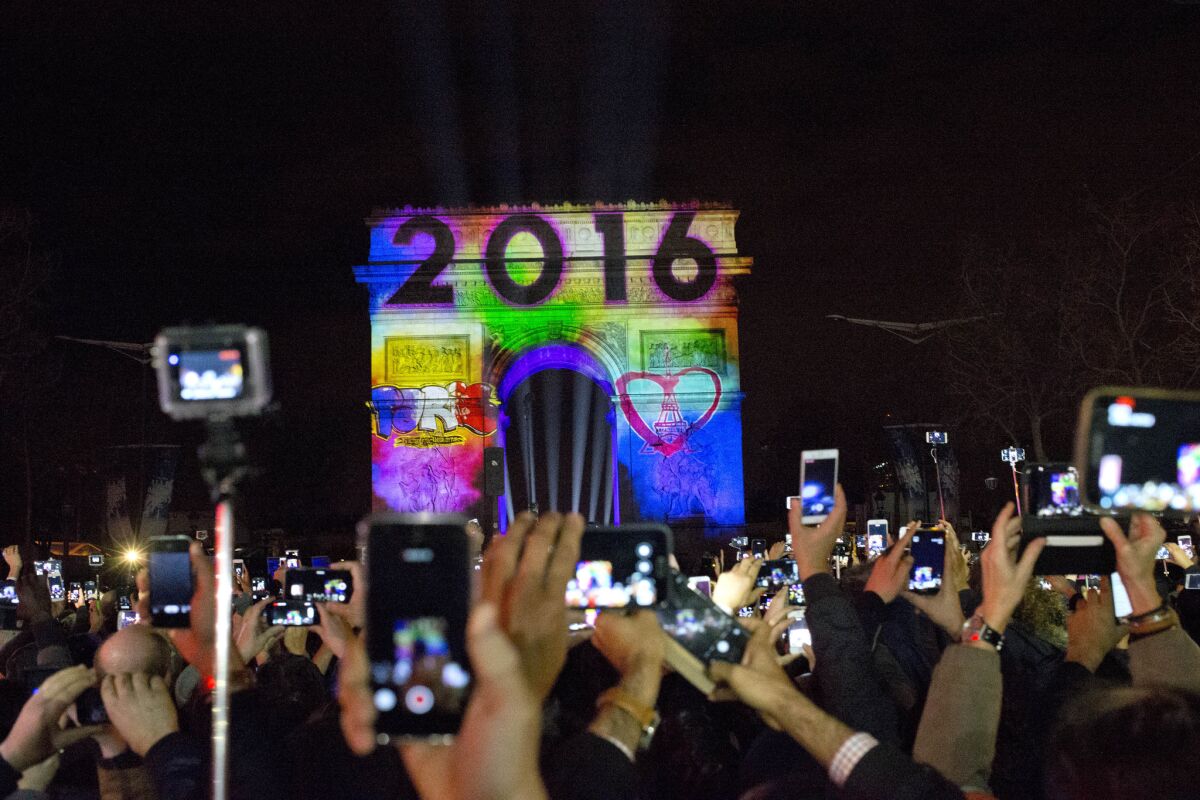 Additional security precautions were taken to protect the festivities. More than 100,000 police and gendarmes were deployed across the country along with soldiers and firefighters.
French interior minister Bernard Cazeneuve said that there was no specific threat but that "the terrorist threat is a constant threat."
In Turkey, two suspected Islamic State militants were detained Wednesday on suspicion of plotting to bomb festivities in the capital, Ankara. During a house search, police seized a suicide vest, another explosive device concealed in a backpack and bomb-making equipment, the prosecutor's office said.
Jakarta remained on high alert after police said they had foiled plans for a New Year's suicide attack in the Indonesian capital.
Additional security measures were also taken in other major cities.
Moscow's Red Square, a traditional gathering place to ring in the new year, was closed Thursday.
In New York, nearly 6,000 police officers were being deployed to protect the annual celebrations in Times Square. They included hundreds of specially trained counter-terrorism officers equipped with radiation detectors and bomb-sniffing dogs.
Thousands of police, including additional firearms officers, were also on duty in London and other European cities.
In the United Arab Emirate of Dubai, a fire broke out at a luxury hotel and residence near the Burj Khalifa, the world's tallest building, where tens of thousands of people had gathered for a massive fireworks display.
It was not immediately clear what caused the blaze. More than a dozen people suffered minor injuries and one person had a heart attack during the building's evacuation, the Associated Press reported.
In Italy, it was smog that was putting a damper on the festivities.
Rome, Milan and numerous other cities banned fireworks displays to avoid aggravating already high levels of air pollution. Authorities also cited a desire to avoid the injuries that typically occur when people set off their own fireworks and to protect animals that might be frightened by the noise.
Times staff writer Zavis reported from Los Angeles and special correspondent Kirschbaum from Berlin.
For more international news, follow @alexzavis on Twitter
ALSO
Terrorism arrest in upstate New York caps busy year for FBI
Fleeing Syria: At a refugee camp in Jordan, lives are in limbo
Fire engulfs Dubai skyscraper near world's tallest building, New Year's fireworks display
---
Must-read stories from the L.A. Times
Get the day's top news with our Today's Headlines newsletter, sent every weekday morning.
You may occasionally receive promotional content from the Los Angeles Times.