'Make French fries, not war!' Mourners in Belgium remind terrorists of Europe's spirit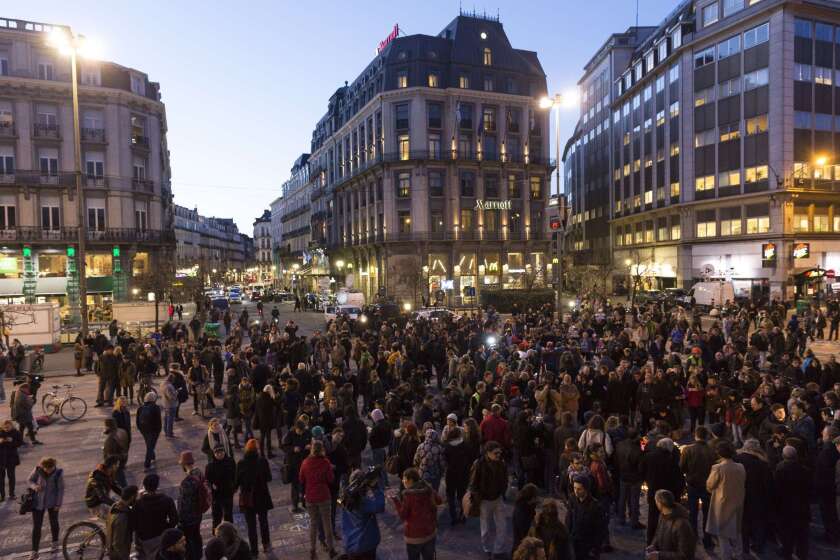 Reporting from BRUSSELS —
With sirens wailing, heavily armed soldiers patrolling street corners, rail stations closed and tight controls in place at border crossings, this country felt gripped in a state of war.
Yet at an impromptu candlelight vigil in Brussel's city center, there was a surreal state of serenity as thousands of mourners gathered to remember the 34 people killed in the country's worst terror attack. And some arrived with a spirited message of hope: "Make French fries, not war!"
"Faites des frites, pas la guerre" was one of the hundreds of the messages in a variety of languages that mourners from around the world scrawled in chalk onto the square in front of the Brussels stock exchange, where everyone from ordinary people and the prime minister paid tribute in the hours after the twin attacks that shocked the country and Europe.
The light-hearted call for more French fries – a delicacy that Belgium says it proudly gave to the world – instead of war epitomized the improbably upbeat sentiment at the square on Ansbach Boulevard in front of La Bourse, where there was also sorrow, some tears, lots of embraces but also some smiles, some laughter and a palpable sense of resilience rather than resignation.
"I'm here because I'm really touched about what happened today," said Philippe De Wulf, a 36-year-old city worker who attended the memorial, where there were some politicians but -- mercifully -- no speeches.
"We always thought this wouldn't happen to us. I think it's important that we're here together to share are grief and show that we will always say no to terror attacks. We can never accept this," De Wulf said.
Belgium Prime Minister Charles Michel and European Commission President Jean-Claude Juncker had stopped by the square earlier in the day. They seemed to simply soak up the atmosphere of solidarity and sorrow for a few moments before leaving.
Eric Thomas Anderson, a 40-year-old aeronautics student from Orange , felt a need to join the tribute. On Monday he arrived in Brussels for the first time in his life for a seminar Tuesday and was planning but leave Thursday but will now stay indefinitely – and not only because the Brussels Airport has been closed until Wednesday.
"I just wanna be here," said Anderson, who like the others seemed oblivious to the chilly early spring temperatures. "I'm going to stay through the weekend. It's a somber mood here but a good one too. I've heard a lot of people talk about 'solidarité'. I think all of our leaders need to use that word more often. We need more solidarity, and less of the 'us versus them' conflict."
Felicia Lynch, a 22-year-old from Texas who was on an Easter break from teaching English in Spain, went to the gathering after getting stranded in Brussels when her 8 p.m. flight to Venice was canceled.
"I think it's so beautiful that everyone's coming together and showing their support for each other," she said. "The people don't seem too worried. They seem really strong here. They have this view: 'You can do this to us but we're not going to fear you'. It's really powerful."
Some of the slogans written in chalk on the square included: "Hate is a tool of power," "I cry for my city but I know we are strong", and "Chocolate, beer and love are better for humanity than hatred" – a reference to Belgium's popular exports.
Audrey Pierre, a 23-year-old student, was busy writing a long message in chalk arguing that religion shouldn't be abused by terrorists and used as an excuse for such violence.
"I came here tonight for the families of the victims," she said. "I'm Belgian and it's important for me to be here tonight. It's so sad."
Her boyfriend Sofian Ahchini, 29, said he was devastated that his beloved Brussels had been targeted for the terror attacks.
"It's hard to believe this happened in Brussels," said Ahchini, a city organizer whose parents came from Algeria and Morocco. "This kind of thing doesn't happen in Brussels. It feels like a movie from America or France. There's no aggressiveness in Belgium. The people are normally just so happy here. It's just unbelievable."
David McAllister, a German member of the European Parliament and close ally of Chancellor Angela Merkel, was among those who felt an urge to mill among the mourners. He said the attacks struck close to home -- he travels through the Brussels Airport every week and his secretary gets off at the subway stop that was attacked.
"It's a special atmosphere, we're all shocked and very sad and frightened," said McAllister, who came to the square in front of the stock market after leaving his office at 8 p.m.
"This was an attack on the heart of Europe today. As we all stood united together with France after the Paris attacks, Europe will now unite with Belgium. We'll stand together in Europe because our values are stronger than the hatred and the violence."
Kirschbaum is a special correspondent
---
The Latinx experience chronicled
Get the Latinx Files newsletter for stories that capture the multitudes within our communities.
You may occasionally receive promotional content from the Los Angeles Times.