Op-Ed: Rethinking the way the world deals with refugees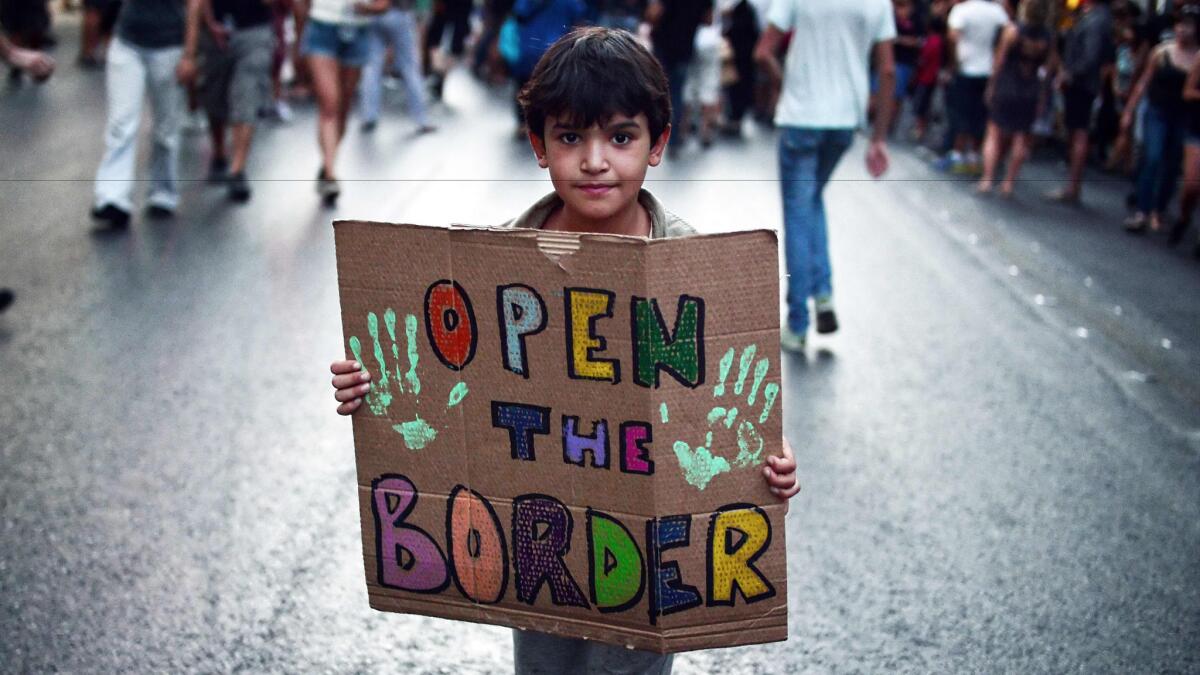 A year ago, masses of people fleeing conflict in Syria, Iraq and Afghanistan began to stream through the western Balkans on their way to northern Europe. Like anyone following the news closely, I was deeply moved by the chaotic scenes of crowded fields and train stations.
A year on, these images have all but disappeared, but the numbers are telling a very different story. According to the International Organization for Migration, by July this year arrivals were up 17% compared with arrivals during the first seven months last year, many of them arriving through Italy and Greece.
Europe's migration crisis is showing no signs of abating. That's because the crises fueling it are intensifying, uprooting ever growing numbers from their homes. It doesn't help that refugees are being quarantined or spurned in many places where they set foot. Those kind of measures create even more poverty and despair among already traumatized people.
In May, I took part in the World Humanitarian Summit in Istanbul, Turkey, where heads of state and international organizations promised to step up emergency relief efforts for the 130 million people affected by war and natural disaster — half of them displaced.
I listened to personal testimonies of suffering and perseverance, and discussed solutions with a host of government officials and nonprofits.
Most significant was the call for closer collaboration between the humanitarian aid sector and development organizations. We should reduce needs instead of just dealing with crises when they become full-blown, delegates unanimously agreed.
A few months have passed and I am now convinced that the international community's approach to migration requires a similar overhaul.
Here are four ways this can be done:
First, there needs to be political will to eliminate the root causes of migration. Conflict prevention and disaster preparedness initiatives — which could save so many lives and significantly lessen the prospect of an exodus— are severely underfunded. Meanwhile, creating jobs and allowing young people to participate in politics and society need to become urgent priorities.
Second, countries should pass laws that better protect refugees — especially women — and put into place mechanisms to boost their life chances, such as ensuring they get an education and job opportunities. The average amount of time a displaced person spends away from home is now 17 years.
That's enough time for a girl born in displacement to graduate from high school. Many refugees also have skills that can match the local demand. These need to be nurtured.
Third, transit and destination countries provide an essential public good as they cater to the needs of displaced people. Having to absorb large numbers of newcomers, local governments require funding and support so they can upgrade public services and administrations, stimulate the economy, and preserve peace and social harmony.
Fourth, tackling migration is a global issue. As hard as it may seem, governments and political parties in Europe must resist their isolationist inclinations in favor of common solutions and shared responsibilities for harboring refugees. Everyone will be better off that way.
The United Nations Development Program is working to prevent conflict and create opportunities for displaced people and the communities hosting them across the world.
For example, in Turkey — the country hosting the largest number of refugees in the world — we are helping thousands of Syrian refugees get career training and language instruction. The country's pioneering new legislation now allows refugees to apply for jobs.
On Sept. 19 on the sidelines of the U.N. General Assembly, the secretary-general of the U.N. will convene a conference on how to tackle the migration crisis. Building on the Istanbul summit, participants will seek to create a more responsible and predictable system for responding to huge waves of refugees and migrants.
The following day, President Obama will host a leaders' summit on refugees that will call for governments to pledge significant new funds for aiding refugees.
As we prepare for these important events, let us deliver on the commitments made in Istanbul to "leave no one behind." If migration can be used as a force for positive change, the international community will have scored a major victory in its effort to eliminate poverty around the world.
Cihan Sultanoğlu is United Nations assistant secretary-general and director of United Nations Development Program's Regional Bureau for Europe and the Commonwealth of Independent States.
Sign up for Essential California for news, features and recommendations from the L.A. Times and beyond in your inbox six days a week.
You may occasionally receive promotional content from the Los Angeles Times.