13.1 million U.S. coastal residents could face flooding from rising sea levels, study says
As many as 13.1 million people living along U.S. coastlines could face flooding by the end of the century because of rising sea levels, according to a new study that warns that large numbers of Americans could be forced to relocate to higher ground.
The estimated number of coastal dwellers affected by rising sea level is three times higher than previously projected, according to the study published Monday in the science journal Nature Climate Change. As many as 1 million California residents could be affected.
If protective measures are not implemented, the study says, coastal residents could be forced to move in numbers mirroring the scale of the Great Migration of African Americans from Southern states during the 20th century.
"We've been underestimating what those potential impacts could be," said Mathew Hauer, one of the coauthors of the study. He is an applied demographer at the University of Georgia, Athens, and a doctoral candidate in the school's geography department.
Rising sea levels, widely believed to be the result of climate change, are threatening to wipe out some of the world's island nations, such as the Maldives in South Asia that scientists say could vanish under water this century.
The study's authors acknowledge that the degree to which sea levels will rise remains an uncertainty and that predicting flood patterns is challenging.
Some studies have use current population data to estimate the populations at risk of future rising sea levels, but this study factored in population growth to arrive at its numbers.
Other research has linked the risk of flooding to populations at a county level. "Such spatial mismatch is likely to overestimate the future populations at risk of sea-level rise, as populations located on higher ground within a coastal county may be erroneously assumed to flood," the study says.
For these reasons, previous studies had "struggled to quantify the number of people at risk from future sea-level rise," according to material published about the new study.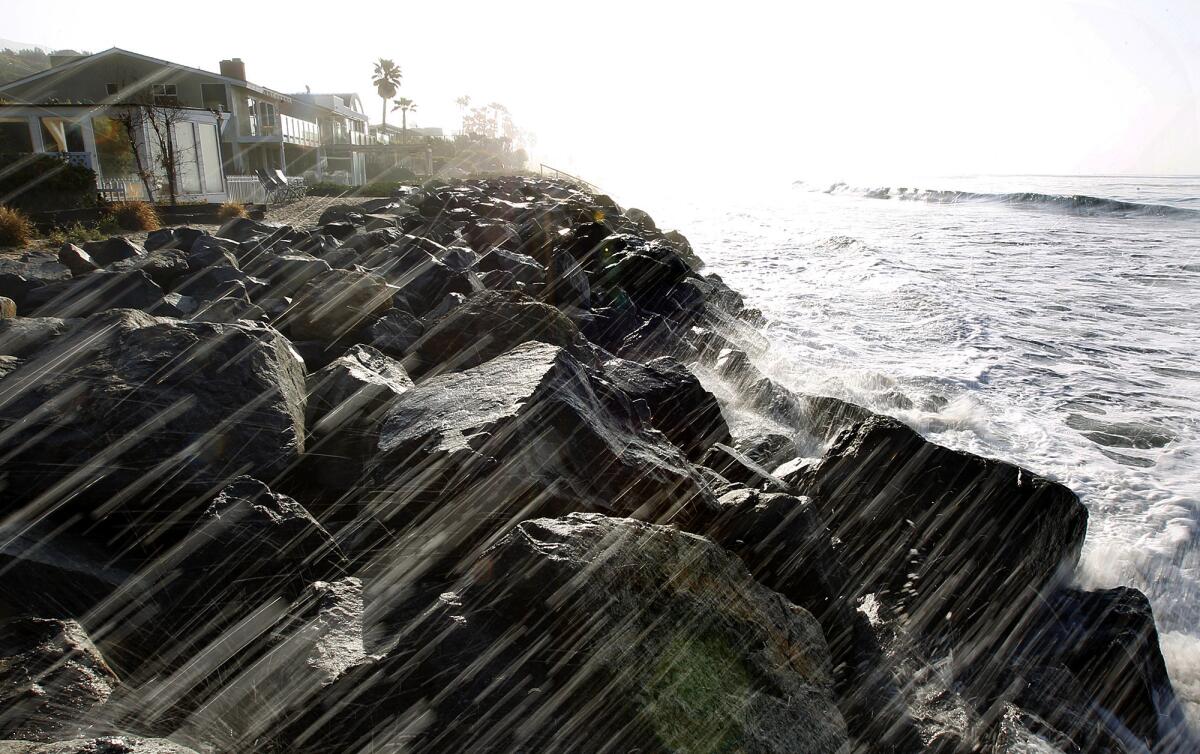 "Coastal communities are among some of the most rapidly growing in the United States, so we have to think about the anticipated expansion of those populations that is likely to occur in this century," Hauer said.
Hauer and his colleagues combined environmental data, such as elevations and flood risks for specific locations, with small-scale population projections for U.S. coastal states and projected sea-level rise from the National Oceanic and Atmospheric Administration.
Their findings revealed that if the sea level rose three feet by the year 2100, some 4.2 million people in U.S. coastal regions would be at risk of flooding. But if the sea level were to rise by about six feet, which lies at the higher end of projections by NOAA, then the number of those at risk of flooding would reach 13.1 million.
Scientists at NOAA were not immediately available to comment on the use of their sea level projection data in the study or the report's findings.
The southeastern United States accounts for 70% of the potential populations that could be affected, according to the study. Florida accounts for almost half, Hauer said. States such as Georgia, South Carolina and Louisiana have more than 10% of coastal populations at risk under the 70.9-inch sea-level rise scenario, according to the study.
California does not fare too well either. Upward of 1 million people could be affected by sea-level rise, Hauer said. Orange County, for example, is projected to see 225,720 residents potentially affected under the 70.9-inch scenario, and ranks eighth on a list of 319 coastal counties whose populations are at risk. San Mateo County ranks seventh, with a potential 249,020 residents at risk.
Timu Gallien, a postdoctoral scholar at Scripps Institution of Oceanography at UC San Diego, said the study was significant in that "it calls attention to a very slow-moving but real crisis to our coastal regions." But the report was not completely comprehensive, Gallien said.
"There are significant limitations to the model they use," Gallien said. "Neither mitigation or migration are incorporated in the study. They used a one-size-fits-all model."
Gallien explained that alleviation measures that might be in place, such as levees and sea walls, were not taken into consideration, nor is the fact that faced with the risk of flooding, people would probably adapt by moving or finding ways to keep the water out.
"Coastal flooding depends on topography, mitigation measures and management," Gallien said. "These have to be included if you want an accurate assessment of vulnerability."
In September 2014, Gov. Jerry Brown signed a measure designed to help California prepare for rising sea levels after a report by the California State Assembly's Select Committee on Sea Level Rise and the California Economy found that the state was "woefully unprepared" for potential changes caused by sea-level rise.
The legislation created a statewide online database that allows California communities to have access to studies, modeling, inundation maps and other information about rising sea levels.
Scientists say that implementing protective measures, such as raising homes and roadways, building wetlands as buffers against rising tides and constructing levees and sea walls, is key to preparing for sea-level rise. Forecasting the potential number of people who might be forced to move because of sea-level rise, as outlined in the new study, underscores the urgency to take action.
"These numbers could be useful for policy makers to make decisions about growth management strategies, or protective infrastructure," Hauer said.
Kevin Trenberth, a distinguished senior scientist at the National Center for Atmospheric Research and an expert on global warming, raised skepticism about the study.
Trenberth explained that since sea level globally has been rising at a rate of 3.3 mm a year since 1992, or 14 inches per century, it would require "a huge acceleration" to get to around three feet let alone around six feet.
"Sea level is expected to accelerate and could get up to a couple of feet above 2000 values, but three feet is stretching credibility in my view," Trenberth said in written remarks, adding, "70.9 inches by 2100 is absurd."
"But it is not absurd," he said, "if we go further into the future, and with sea level it is best thought of as happening sooner or later."
For more news on global sustainability, go to our Global Development Watch page: latimes.com/global-development
And follow me on Twitter: @AMSimmons1
Hoy: Léa esta historia en español
ALSO
Putin orders Russian military to start pullout from Syria
Beverly Hills put a spotlight on its celebrity water wasters -- and it worked
Southern California's Paul J. Watford is among Obama's top choices for Supreme Court
Sign up for Essential California for news, features and recommendations from the L.A. Times and beyond in your inbox six days a week.
You may occasionally receive promotional content from the Los Angeles Times.