19 Images
Friday: The day in photos
A Chinese woman grieves after she identified her son, who was killed in a collapsed school in Shifang.
(AFP / Getty Images)
Chinese rescuers take a break beside the collapsed buildings in Shifang.
(AFP / Getty Images)
Earthquake survivor Wang Chunyan holds her daughter while waiting for information about their relatives at Jiuzhou Stadium in Mianyang, China.
(Getty Images)
An earthquake survivor sleeps on a treadmill at Jiuzhou Stadium in Mianyang.
(Getty Images)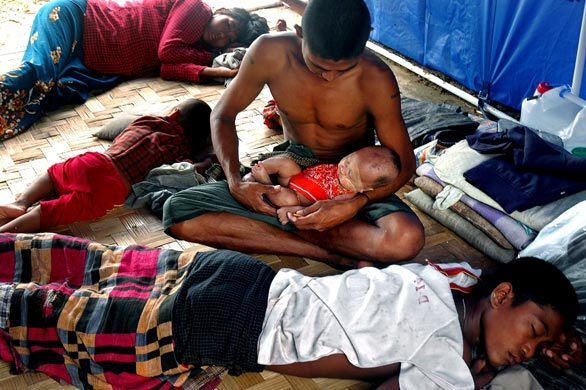 People displaced by cyclone Nargis rest at a relief camp in Hlayang Thyar township on the outskirts of Yangon, Myanmar.
(Khin Maung Win / AFP/Getty Images)
A survivor of cyclone Nargis stands by a house rebuilt next to the wreckage of one that was destroyed, in Thetkala, on the outskirts of Yangon, Myanmar.
(Lisandru / AFP/Getty Images)
U.S. Marines walk past boxes of water on the USS Essex, stationed about 85 nautical miles south of Yangon, Myanmar. The water packs are part of the aid to be transferred to Myanmar once the ship receives permission from Myanmar's ruling junta.
(How Hwee Young / EPA)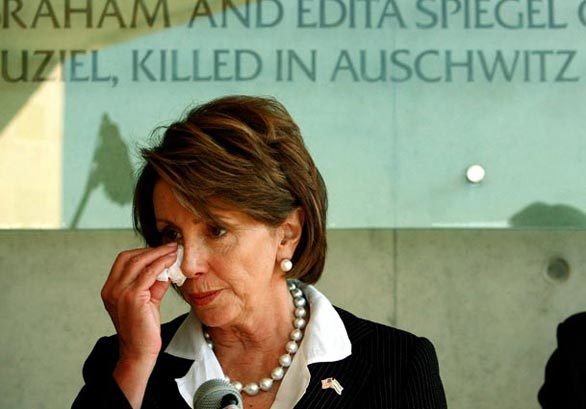 Nancy Pelosi, speaker of the House of Representatives, dabs at her eyes after leaving the Children's Memorial in the Yad Vashem Holocaust memorial in Jerusalem, Israel. She signed a guest book and wrote "Never Again!" Pelosi toured the facility with a group of U.S. legislators.
(Jim Hollander / EPA)
Iraqi police forces and U.S. troops from the 10th Mountain Division treat a man they shot when he started running from their platoon during a routine morning patrol in Baghdad. The man was digging in an area where insurgents have been firing mortars. He was moved to the nearest U.S. base for medical care and is expected to recover. Two other men were arrested and later released.
(Chris Hondros / Getty Images)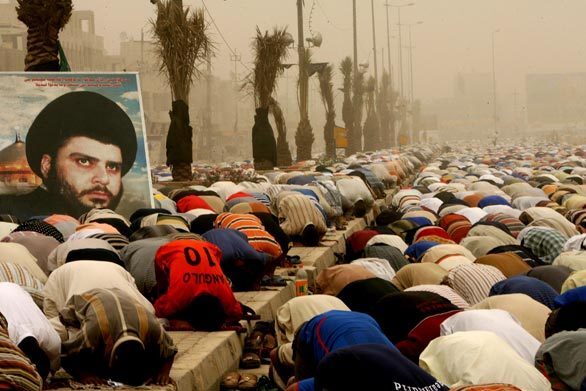 Shiite Muslims pray after the noon sermon in Baghdad's Sadr City district. A truce agreed to last week between the Mahdi Army militia of Shiite radical leader Muqtada Sadr and the government was underway today, and the Shiite movement voiced optimism that it would hold.
(Ali Al-Saadi AFP/Getty Images)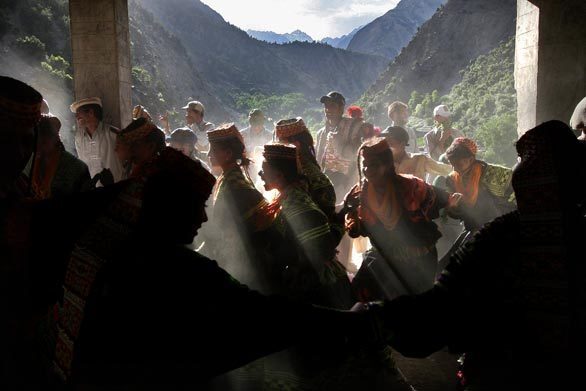 Girls dance at the spring festival of the polytheistic Kalash tribe in the remote village of Rumbur in northwestern Pakistan. The Kalash, who number about 4,000, claim to be descendants of Alexander the Great and worship their own gods.
(John Moore / Getty Images)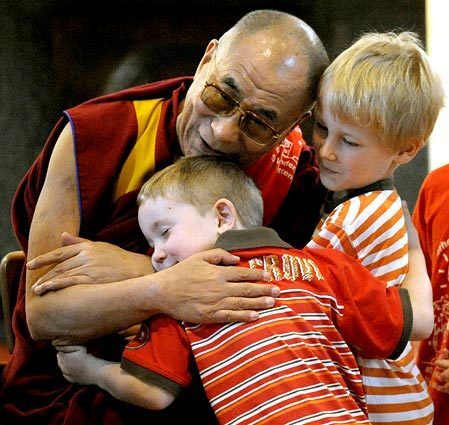 The Dalai Lama greets children at a church in the western German city of Bochum. The Tibetan Buddhist leader is on a three-month tour that will also take him to Britain, Australia, the United States and France.
(Volker Hartmann AFP/Getty Images)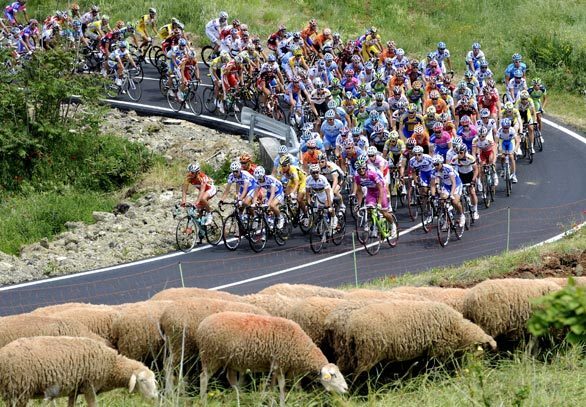 It's a bit wild and woolly as cyclists in the Tour of Italy chug through the mountainous seventh stage between Vasto and Pescocostanzo.
(Damien Meyer / AFP/Getty Images)
Bullfighter Javier Valverde is hit by a bull in the Las Ventas bullring in Madrid, Spain. Valverde was unhurt.
(Victor R. Caivano / Associated Press)
Aymara ethnic group members line up to receive breakfast during the People's Summit in Lima, Peru.
(Marco Garro / AFP/Getty Images)
A 4-week-old lion cub gets medicine to prevent worms during a medical exam at the zoon in Osnabrueck in northern Germany, where it was born April 20.
(Nigel Treblin AFP/Getty Images)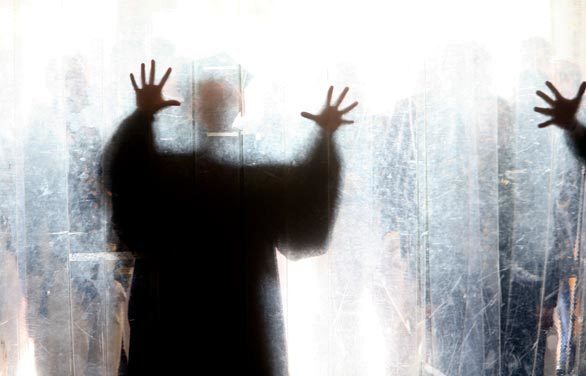 Assistant professor Neil Meser tries to find a way through thick plastic sheeting while leading graduating cadets to a commencement ceremony at
Virginia
Military Institute in
Lexington
, Va.
(Kyle Green / The Roanoke Times)
Melinda Lyons shaves the beard of fellow teacher Dave Venable, at Holloman Middle School, in Alamogordo, N.M. Venable bet students that if they raised at least $2,500 to benefit St. Jude Children's Research Hospital in Memphis, Tenn., Venable would shave the beard he's had since 1973. The students raised $3,000.
(J.R. Oppenheim / Daily News)
Automobile and fuel converge in an unlikely spot, as a driver navigates through a rapeseed field near Bautzen, in the eastern German state of Saxony. Rapeseed is cultivated to produce oil and biodiesel fuel.
(Norbert Millauer AFP/Getty Images)