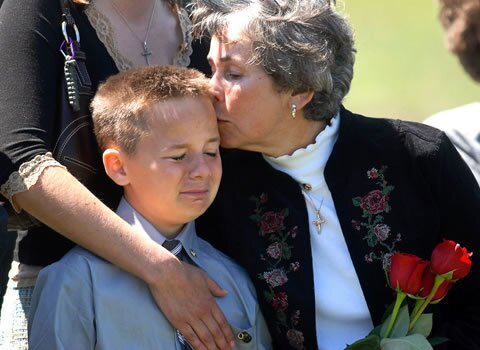 12 Images
Global Picture: June 10 - June 16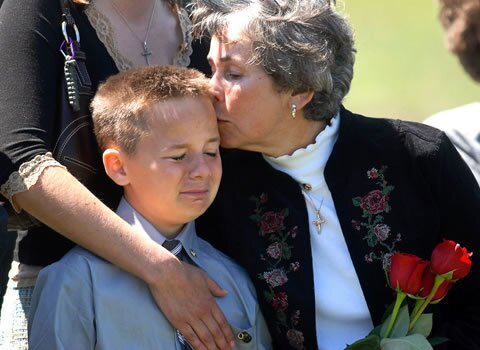 Trevor Oliver, 11, is comforted by his grandmother Elaine Atkins during the funeral Tuesday for his father, Army Staff Sgt. Travis Atkins, in Bozeman, Mont. Atkins, whose parents said he had survived two previous roadside bomb attacks, was killed June 1 by a suicide bomber in Al Yusufiyah, Iraq. Atkins was the first soldier from Bozeman to be killed in Iraq.
(Erik Petersen / AP)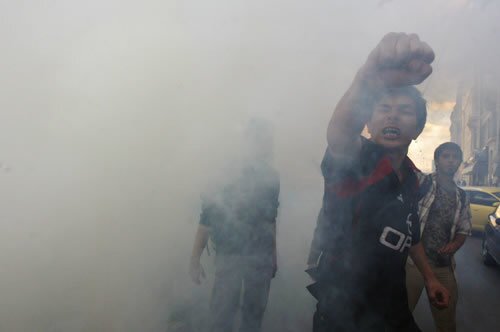 Despite the smoke from grenades fired by members and supporters of the banned National Bolshevik party, an anti-Putin rally in Moscow's Pushkin Square Monday was uncharacteristically peaceful. Approximately 2,000 people, listening to speeches from opposition leaders including chess champion Garry Kasparov, were monitored closely by a similar number of Interior Ministry troops. .
(Sergey Ponomarev / AP)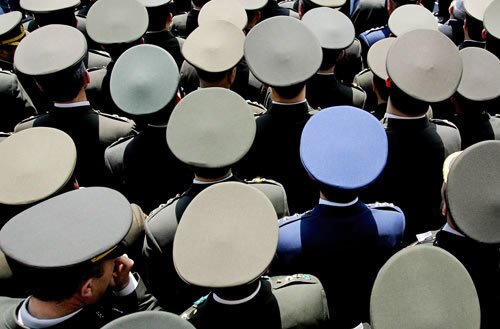 A bomb that was detonated remotely in a Kurdish area of southeastern Turkey on June 9 killed three people and wounded four. The explosion occurred as a military convoy passed by in Sirnak province, on the mountainous border with Iraq. Here, Turkish Army officials attend the funeral Monday of one of the casualties, Pvt. Hasan Guresen, in Istanbul. In recent weeks, Turkey has strengthened its military presence on the Iraqi border in an effort to neutralize the outlawed Kurdistan Workers Party.
(Mustafa Ozer / AFP / Getty Images)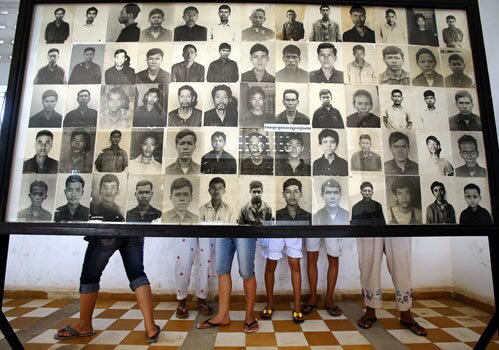 Cambodians study images of victims of the Khmer Rouge at Tuol Sleng, a former prison-turned-genocide museum in Phnom Penh Wednesday. That day a panel of Cambodian and international judges approved rules clearing the way for the U.N.-backed tribunal to put suspects on trial in a long-awaited reckoning of the slaughter that has become known as the "Killing Fields." Nearly 2 million people are thought to have died during Pol Pot's four-year reign of terror that ended in 1979 with the invasion of Cambodia by Vietnam.
(Tang Chhin Sothy / AFP / Getty Images)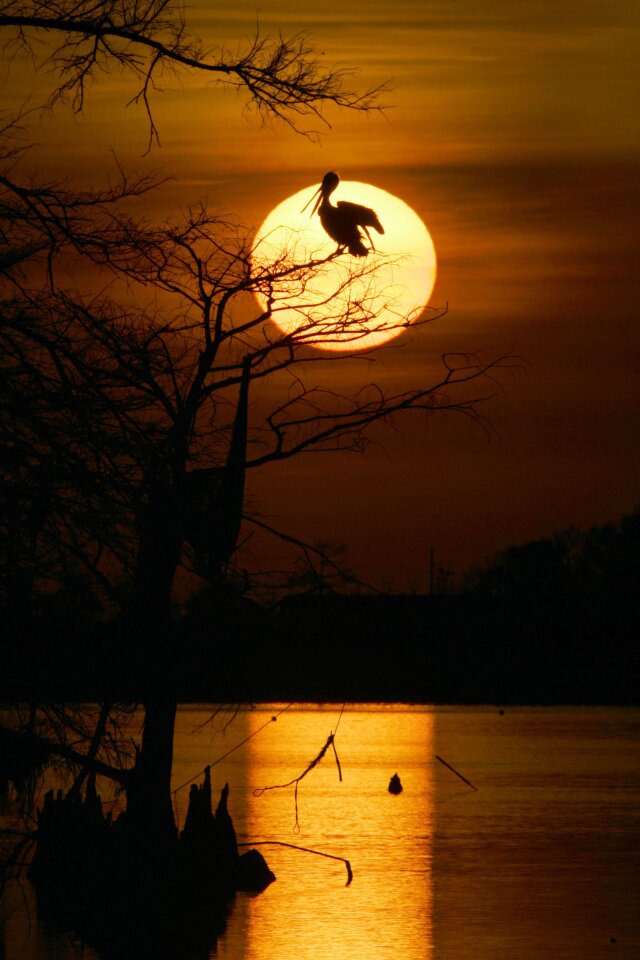 Like much of southern Louisiana, the renowned sport fishing town of Venice was devastated by Hurricane Katrina. Eighteen months after her fury, the wildlife, including this pelican silhouetted by the sunset, are returning, and the Venice Marina, which opens up into 3 million acres of wetlands, is up and running.
(Mark Boster / LAT)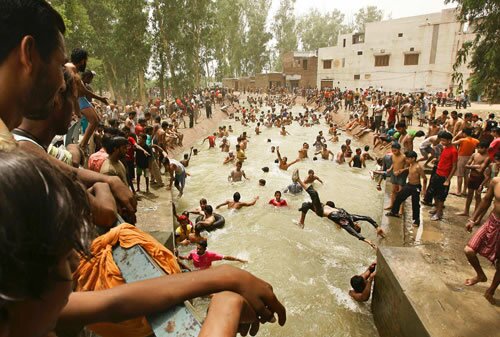 Residents of Amritsar, India, seek liquid relief from the oppressive heat Monday. Hot and dusty desert winds were responsible for a heat wave across north and central India that killed at least 74 people, four of them in Amritsar. On Monday, temperatures there soared to 120 degrees.
(Aman Sharma / AP Photo)
Let there be light, but not too much seems to be the consensus of bishops Wednesday at Pope Benedict XVI's weekly general audience in St. Peter's Square at the Vatican.
(Pier Paolo Cito / AP Photo)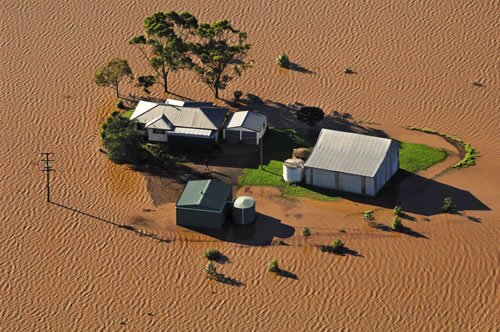 Houses in Australia's Hunter Valley were overcome by flood waters Monday after the worst storms in a generation pummeled the state of New South Wales over the weekend. Nine people died and and more than 4,000 people were evacuated in the town of Maitland. This weekend's forecast is grim as well--gale force winds and torrential rain.
(Dean Lewis / EPA)
As the body of Red Cross worker Haitham Sleiman, 26, was carried through the streets of Halba, Lebanon, aid workers pledged to continue their work in the besieged Nahr al-Bared Palestinian refugee camp. "Nothing is going to change," said Ghaleb Ayoubi of the Lebanese Red Cross. The army has struggled to crush Islamist militiamen in north Lebanon for three weeks. Sleiman's funeral was Tuesday, the day after he and another Red Cross volunteer, Boulos Mimary, 25, were killed as they helped injured camp residents at a first aid post.
(David Furst / AFP Photo)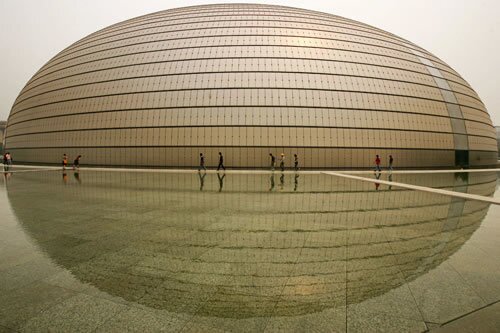 Human beings are dwarfed by the nearly complete National Grand Theater near Tianamen Square in Beijing. The Eggshell, as the structure is known, will be completed by September, but visitors this week were granted a sneak preview. The theater's surface is composed of titanium and glass, and its signature shape comes courtesy of its reflection in the surrounding artificial lake.
(China Photos / Getty Images)
Palestinian supporters of the Fatah movement expressed their reverence for the late Palestinian leader Yasser Arafat during a protest Wednesday in the West Bank town of Ramallah. Civil war between Fatah and Hamas has been raging for days in the Gaza Strip. Hamas seized military control on Thursday, provoking the collapse of its power-sharing Palestinian Authority government. Western powers showed support for Authority President and Fatah leader Mahmoud Abbas on Friday.
(Atef Safadi / EPA)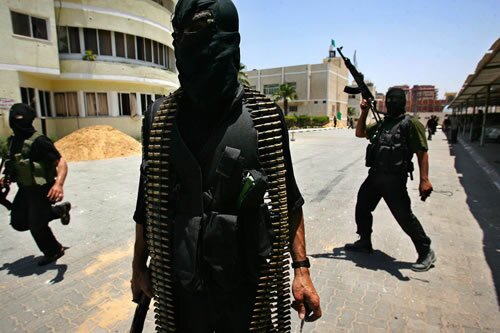 Masked Palestinian members of the military wing of Hamas celebrate the capture Thursday of the headquarters of the Preventive Security Service in Gaza City. The headquarters housed one of the biggest Fatah security forces loyal to Palestinian President Mahmoud Abbas. The Presidential Guard compound fell late in the evening.
(Abid Katib / Getty Images)