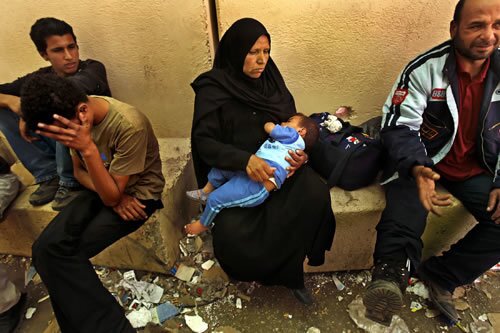 11 Images
Global Picture from June 17 - June 23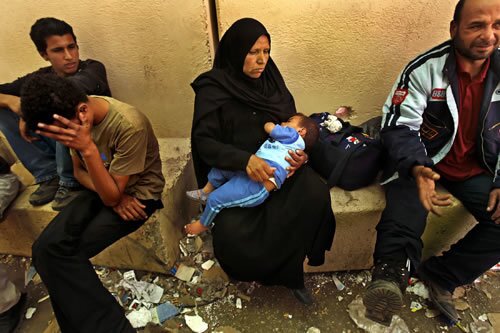 Palestinian Khadra Salem, center, is trying to leave Gaza Thursday with her boy Mohammed, age 1 1/2, to join her husband in the West Bank. Others trying to get out include people who were loyal to Fatah and who fear retaliation from Hamas, which seized control of Gaza last week. Fatah still retains control in the West Bank. The tunnel where Salem waits leads from Gaza to the Erez crossing; it's strewn with garbage and besieged by looters intent on removing its pipes.
(Carolyn Cole / LAT)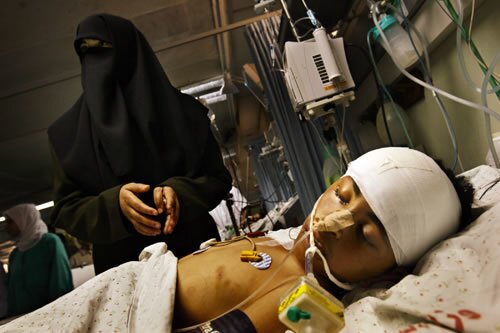 At the Shefa Hospital in Gaza, three children lie in comas as a result of gunshot wounds to the head. Fadel El Looh, 14, was shot during fighting last week between loyalists of Hamas and Fatah. Nearly 150 people, including 36 civilians, lost their lives in the skirmishes that left Hamas solely in command of the impoverished coastal strip.
(Carolyn Cole / LAT)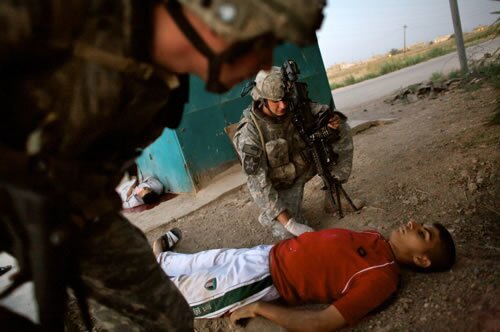 U.S. soldiers search the bodies of two insurgents who were killed while preparing to detonate a roadside bomb Tuesday in Baqubah, the capital of Diyala province in Iraq. The troops were part of a massive push to clear an insurgent outpost in the heart of this city of 300,000, about 35 miles northeast of Baghdad. Baqubah has long been a center of insurgent violence. Last year, Al Qaeda declared the city the capital of its self-styled Islamic caliphate. Abu Musab Zarqawi, the Iraq chapter's former leader, died in a U.S. airstrike just outside the city a year ago.
(Lucian Read Atlas Press / For The Times)
A pair of snipers scan for insurgent fighters as part of an operation to clear the Khatoon and Mufrek Districts of the Diyala provincial capital, Baqubah, of insurgents. American commanders say the offensive, which involves about 10,000 U.S. troops in Baqubah and other parts of Diyala province, is designed to stop the flow of bombs into Baghdad. The need to do so was illustrated once again Tuesday when a massive truck bomb struck one of the capital's most revered Shiite Muslim mosques. The explosion killed at least 60 people and wounded scores more.
(Lucian Read Atlas Press / For The Times)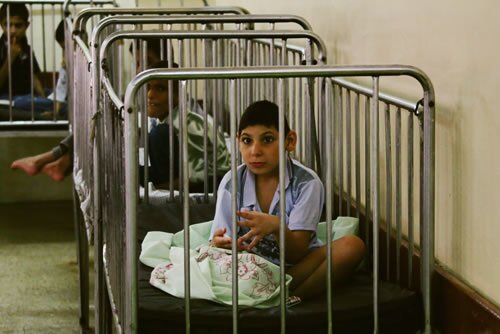 Among 24 severly malnourished boys found by U.S. and Iraqi soldiers June 10 are the youngsters here, resting Thursday in a new facility in Baghdad. When discovered, some of the children--all orphans--were tied to their beds and were too weak to stand. Iraqi Labor and Social Affairs Minister Mahmoud Mohammed al-Radhi criticized publicity surrounding the boys and said news reports about the case were inaccurate.
(Khalid Mohammed / AP Photo)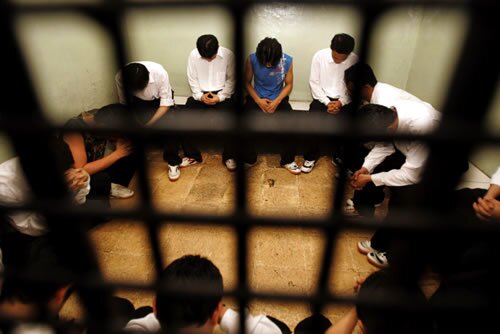 Seventeen Indonesian Christian militant suspects pray inside a detention room Thursday shortly before their trial at South Jakarta's court. Prosecutors are seeking 15 years in jail for five militants, 17 years for 10 others and 20 years for their leaders for allegedly beheading two Muslims in a sectarian attack in 2005 in Indonesia's strife-torn central Sulawesi province.
(Mast Irham / EPA)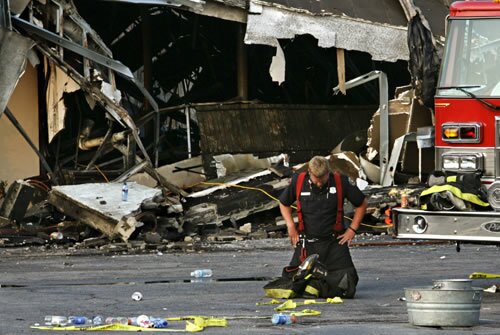 A Charleston, S.C., firefighter pauses outside the Sofa Super Store where nine of his colleagues died battling an intense blaze Monday night. It was the deadliest incident for U.S. firefighters since the 9/11 attacks, and left this storied port city stricken with a searing grief. The cause of the fire was unknown, but Mayor Joseph P. Riley Jr. said arson was unlikely.
(Alice Keeney / AP Photo)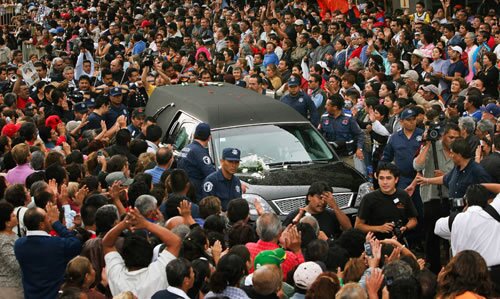 Fans of Mexican singer and actor Antonio Aguilar surge toward the hearse bearing his coffin after a memorial ceremony in the Basilica of Guadalupe in Mexico City Wednesday. Aguilar recorded more than 160 albums and made more than 100 films with the advent of Mexico's so-called "Golden Era" of cinema in the middle of last century. His wholesome musical rodeo shows found international favor, and he was known as the Roy Rogers of Mexico. Aguilar died Tuesday in Mexico City. He was 88.
(Marco Ugarte / AP Photo)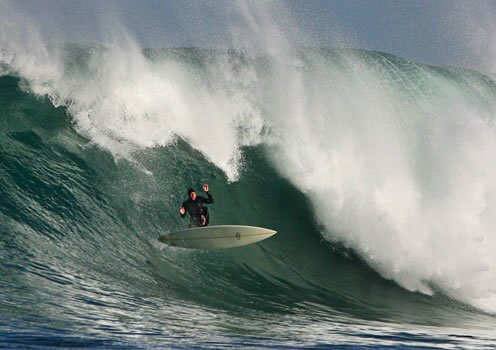 Big wave surfer Barry Futter from South Africa finds more air than water Tuesday at an offshore reef near Cape Town, South Africa, called the Dungeon. Local and international big wave surfers enjoyed huge swells created by a massive cold front moving through the country. Surfers are practicing for the annual Big Wave Africa competition, timed to capitalize on the winter's biggest swells.
(Nic Bothma / EPA)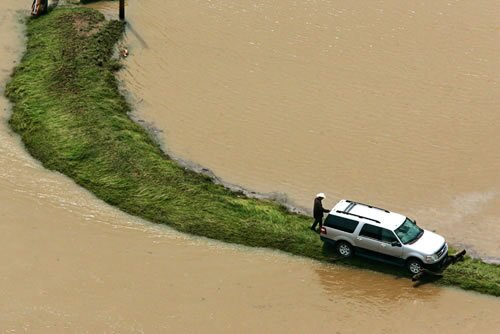 A vehicle is surrounded by floodwaters near Gainesville, Texas, where an overnight storm Sunday dumped as many as 6 inches of rain. The flooding killed at least four people and left five missing, and many residents were stranded atop the roofs of their homes. Hundreds of people were forced to evacuate in and around Gainesville and Sherman, between Dallas and the Oklahoma state line.
(Tony Gutierrez / AP Photo)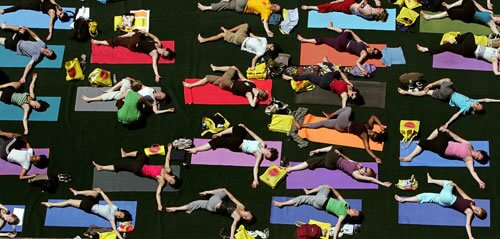 As daylight reaches its full length, so does your hamstring at the annual "Summer Solstice in Times Square Yoga-thon" Thursday in New York. The longest day of the year draws yoga enthusists from across the country to become one with their chakra.
(Mario Tama / Getty Images)