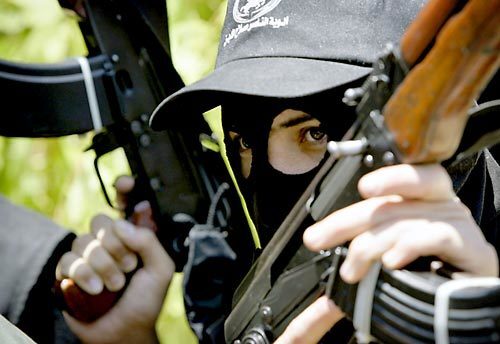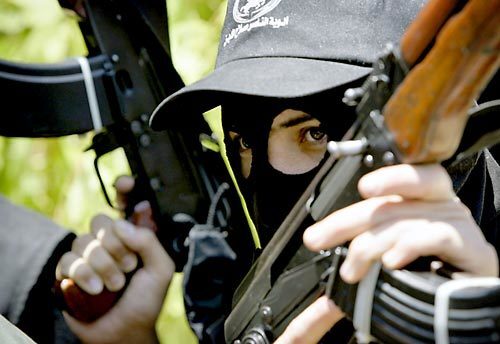 Militants of the Popular Resistance Committee, PRC, a violent group with ties to the Hamas-led Palestinian government, hold their weapons during a press conference in Gaza City Tuesday June 27, 2006. Their spokesman said a captured Israeli soldier is being held in a "secure place," the first acknowledgment by militants that they are holding the soldier and he is still alive. The PRC was one of three groups that participated in Sunday's cross-border infiltration near Gaza in which militants killed two Israeli soldiers and abducted Cpl. Gilad Shalit. The militant also said his group had seized a Jewish settler in the West Bank, a claim that Israeli police said they were taking seriously.
(AP)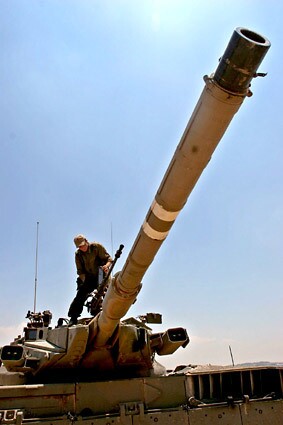 Israeli Defence Forces gather today near the border of Gaza near Mefalsim.
(EPA / ATEF)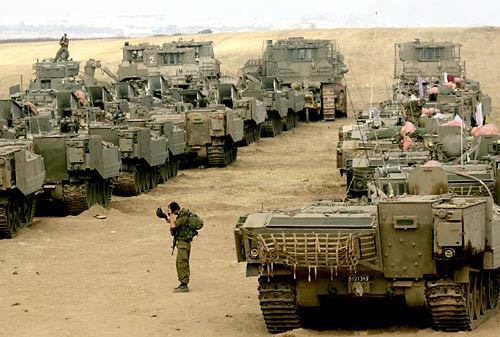 An Israeli soldier stands next to a line of armored vehicles in a field at a gathering point near Kibbutz Mefalsim, southern Israel, just outside the Gaza Strip, today. Israeli troops entered southern Gaza and planes attacked three bridges and a power station, knocking out electricity in most of the coastal strip early Wednesday and stepping up the pressure on Palestinian militants holding captive a 19-year-old Israeli soldier.
(AP)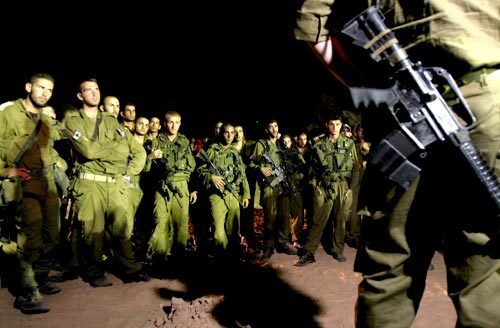 Israeli infantry soldiers gather for a final briefing by their commander early today at a base at Kerem Shalom in southern Israel before boarding their armoured vehicles and entering the southern Gaza Strip.
(AP)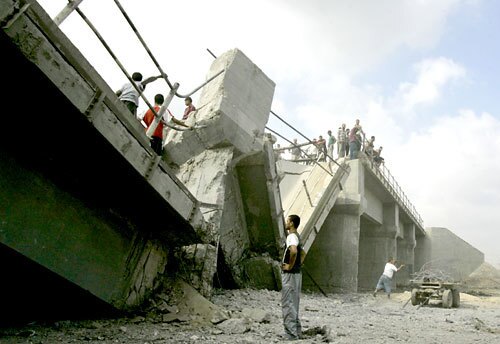 Palestinians look at a bridge today destroyed by Israeli army warplanes on a main road in the northern Gaza Strip, near Gaza City.
(AP)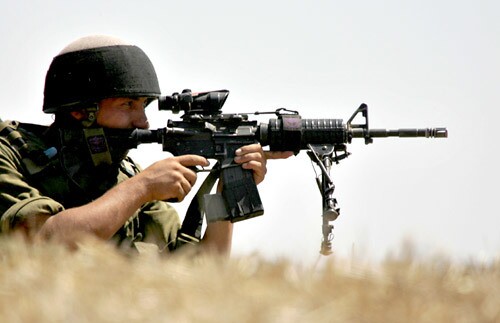 An Israeli soldier points his rifle towards the Gaza Strip today from an Israeli army gathering point near Kibbutz Mefalsim, southern Israel. Israeli aircraft struck northern and southern Gaza on Wednesday as thousands of troops, backed by warplanes and tanks, forged into the coastal strip in an operation meant to pummel Palestinian militants into releasing an Israeli soldier.
(AP)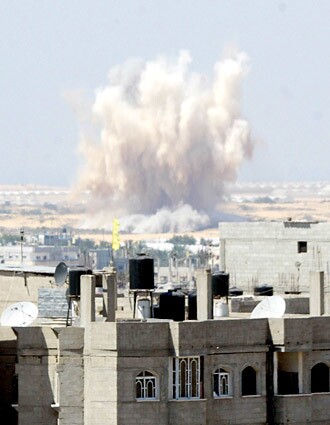 Smoke rises from an explosion after a F-16 Israeli warplane fired a missile in a Hamas military training post today in the Rafah refugee camp in southern Gaza Strip. Israel launched a ground offensive in the Gaza Strip after a wave of targeted air strikes following a tense stand-off over the capture of a soldier. Much of the northern Gaza Strip was plunged into darkness after Israeli war planes hit a power station and three bridges in a series of night time raids.
(Getty)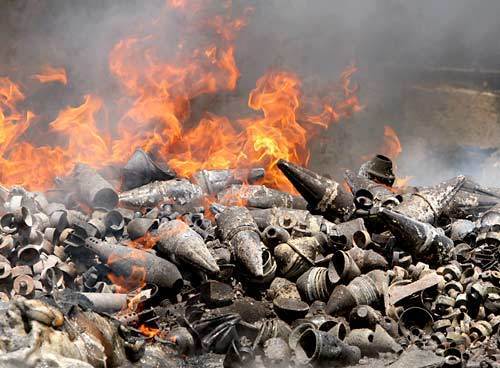 Rockets stored by Palestinian militants in a warehouse in Rafah, southern Gaza Strip, burn today after an Israeli airstrike on the building. Israeli aircraft launched air strikes on an empty militants' training camp and on an empty field in Rafah on Wednesday afternoon, Palestinian security officials said. No casualties were reported.
(AP)