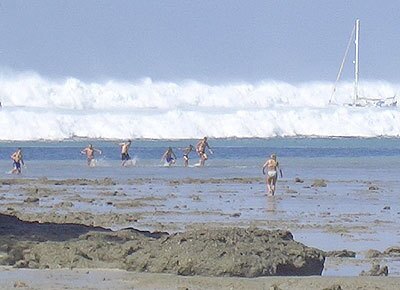 25 Images
Destruction, Death and Aid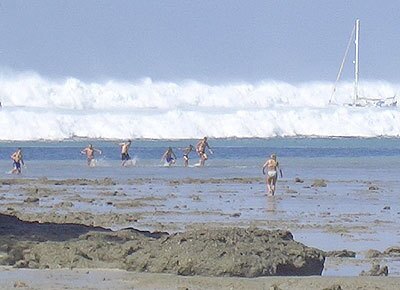 In a photo taken by a tourist, beachgoers react after the first tsunami wave rolls in Sunday toward Hat Rai Lay, near Krabi, Thailand. As is typical in a tsunami, the wave's trough caused the water to recede drastically, luring the bathers farther out. They escaped unharmed.
(AFP / Getty Images)
DELUGED:
Satellite images show the northern shore of Banda Aceh, Indonesia, three days before the tsunami, top, and two days after.
(AFP / Getty Images)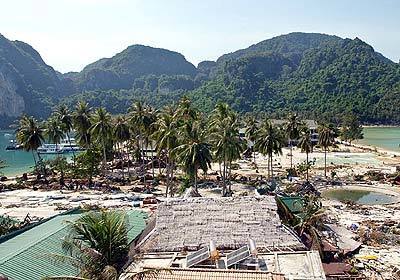 Destruction on Phi Phi Island.
(Suzanne Plunkett / AP)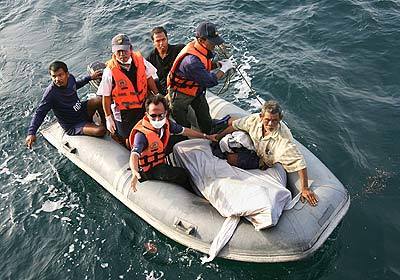 Thai rescue workers carry a body in a rescue vessel in Tonsai Bay, Phi Phi Island, Thailand.
(Paula Bronstein / Getty Images)
A couple inspect the remains of their home on the coast of the Ratmalana district after the massive tsunami wave swept across coastal Sri Lanka.
(Scott Barbour / Getty Images)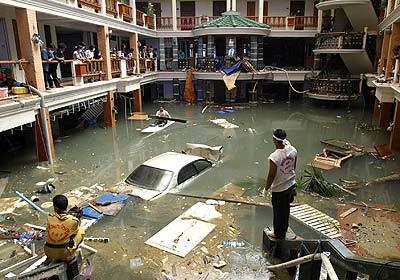 Rescue and clean-up crews survey a flooded lobby at the Seapearl Beach Hotel along Patong Beach on Phuket Island, Thailand.
(Deddeda Stemler / AP)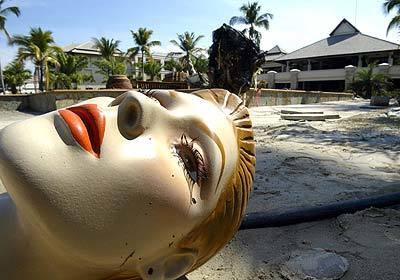 A broken mannequin head lies at the pool of the Le Meridien hotel that was completely devastated along the shoreline of Khao Lak, a province above the Thai tourist haven of Phuket island.
(Saeed Khan AFP/Getty Images)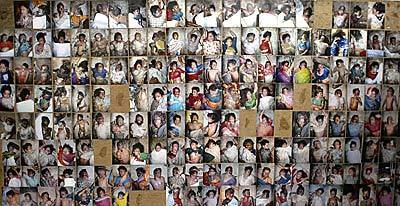 At the Vailanganni Church information office near Nagapattinam, India, photos are displayed of unidentified bodies slated for cremation.
(Harish Tyagi / EPA)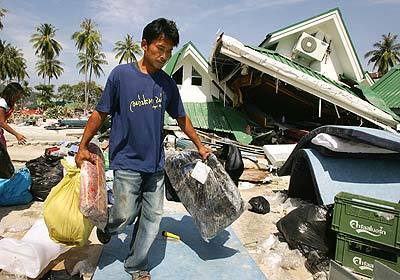 Thai residents carry their personal belongings in Phi Phi Village, on Ton Sai Bay, Thailand.
(Paula Bronstein / Getty Images)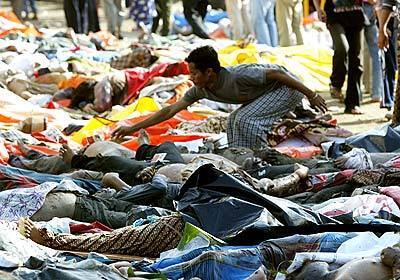 An Acehnese man tries to find his son among hundreds of bodies in the streets in Banda Aceh, Indonesia.
(EPA)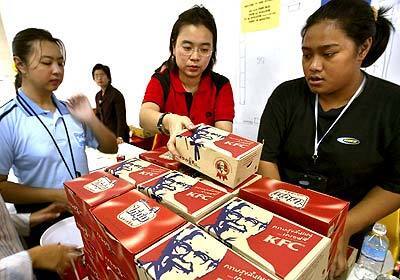 Volunteers at a Bangkok shelter prepare food for tourists rescued from Thailand's southern provinces after the quake-triggered tsunami.
(Uthaiwan Boonloy / EPA)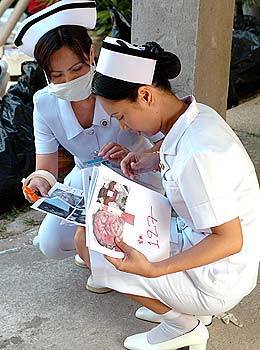 Thai nurses prepare numbered identification photographs of recovered bodies of tsunami victims at the government Patong Hospital in Phuket Island.
(Romeo Gacad AFP/Getty Images)
A Thai man looks at photographs for missing relatives posted outside the emergency ward of the government Patong Hospital on Phuket Island.
(Romeo Gacad AFP/Getty Images)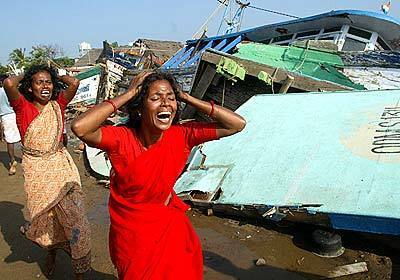 Women grieve as they pass by boats destroyed by tidal waves at the harbor area in Nagappattinam, in the southern India state of Tamil Nadu.
(Gurinder Osan / AP)
A Russian airplane hired by Danish Unicef is loaded with aid at Kastrup Airport in Copenhagen before it takes off for Colombo, Sri Lanka.
(Rune Feldt-Rasmussen AFP/Getty Images)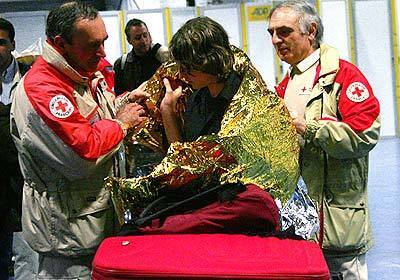 A French tourist, victim of the tsunamis, is helped by members of the French Red Cross at Roissy airport, north of Paris, after being repatriated from Male, Maldives.
(Joel Saget AFP/Getty Images)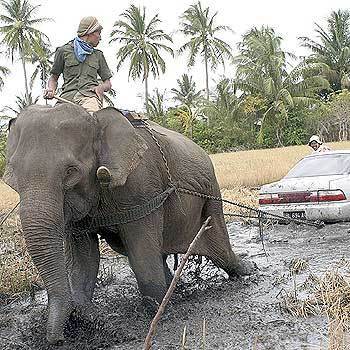 IN INDONESIA:
An elephant is drafted to help recover a car in a village near Banda Aceh. The town is "totally silent. You hear nothing and see nobody," a United Nations official said.
(Nani Afrida / European Pressphoto Agency)
U.S. sailors load food and water onto a Seahawk helicopter headed for Indonesia's Aceh province.
(Choo Youn-Kong / AFP/Getty Images)
Sri Lankans line up for food in Panadura, 25 miles south of the capital, Colombo. Reaching remote areas is still an issue and U.N. officials appealed for cargo planes and helicopters.
(Paula Bronstein / Getty Images)
Indonesians prepare to leave by river with a boat full of relief goods for remote areas of Aceh province. Indonesian authorities raised the death toll to 94,000.
(Peter Dejong / AP)
A Sri Lankan woman who lost two young children in the tsunami is overwhelmed by the wreckage at the site of her home in the northern town of Mullaittivu, controlled by Tamil rebels.
(Ed Wray / AP)
A scavenger looks for anything of value in a rubble heap in Galle, Sri Lanka. Copper is a good find.
(Francine Orr / LAT)
Men search rubble for scrap metal near the Galle Fort. Trucks are dumping debris there as the cleanup process starts.
(Francine Orr / LAT)
Naval air crewmen help an injured Indonesian woman to a waiting helicopter for a trip to a medical facility.
(U.S. Navy / Getty Images)
Survivors sift through clothing at a camp for displaced villagers in Thailand. Secretary of State Powell and Gov. Bush were in that country Monday assessing relief efforts.
(Andrew Wong / Getty Images)