17 Images
The assassination of Benazir Bhutto
Former Pakistani Prime Minister Benazir Bhutto waves as she arrives in Rawalpindi to address her last public rally. She was assassinated just after the rally ended.
(Mohammad Javed / Associated Press)
Bhutto greets supporters at the campaign rally. As she was leaving, her vehicle was hit by gunfire, apparently at close range, then was struck by a suicide bomber riding a motorbike.
(John Moore / Getty Images)
Bhutto looks on during the campaign rally in Rawalpindi. The powerful opposition leader had returned to Pakistan from exile just two months earlier.
(Aamir Qureshi AFP/ Getty Images)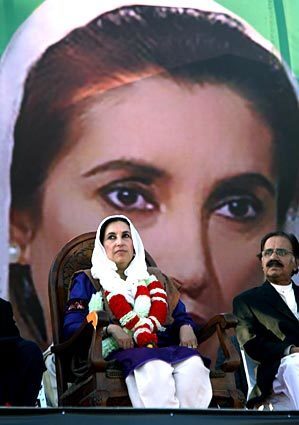 Bhutto was shot just after 5 p.m. and died about an hour later.
(John Moore / Getty Images)
The death of Bhutto, who twice served as Pakistan's prime minister, came 10 weeks after she narrowly survived a bombing that killed more than 150 people during a procession to mark her return from self-exile. She came back to her homeland to lead her Pakistan People's Party in parliamentary elections next month.
(Aamir Qureshi AFP / Getty Images)
A Pakistani policeman keeps watch at the rally in Rawalpindi. Behind him is a poster of Bhutto.
(John Moore / Getty Images)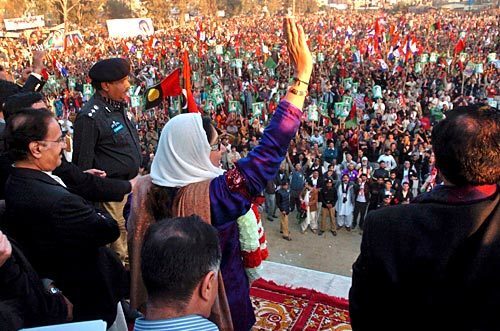 Bhutto greets her supporters at the rally. After the attack, the crowd erupted in anger, some shouting, "Musharraf is a dog!" in reference to Pakistani President Pervez Musharraf.
(T. Mughal / EPA)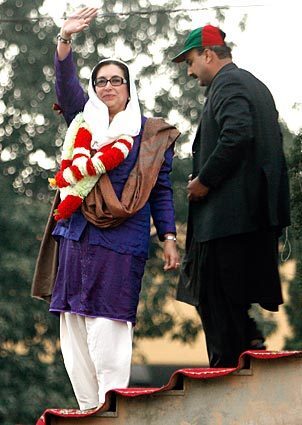 Bhutto waves as she leaves the rally. Today's gathering was her first public appearance in Rawalpindi since she returned to Pakistan in the fall. At the time, she had planned a rally there, but the government canceled it for security reasons.
(B.K. Bangash / Associated Press)
Bhutto smiles from her car seconds before the attack.
(John Moore / Getty Images)
Members of the crowd react to the carnage.
(Aamir Qureshi / AFP / Getty Images)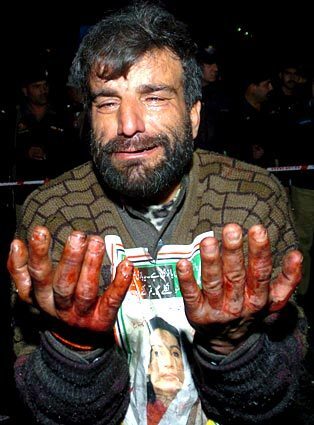 A supporter of Bhutto shows his bloody hands after the explosion.
(T. Mughal / EPA)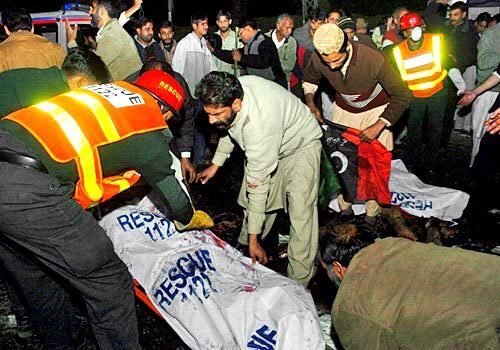 Rescue and recovery workers collect bodies at the attack site.
(T. Mughal / EPA)
A survivor is overcome with emotion after the attack, which killed at least 20 people in addition to Bhutto.
(John Moore / Getty Images)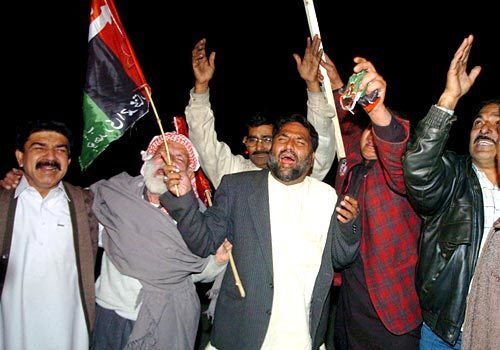 Bhutto supporters react to her slaying. The country was put on a state of heightened alert after the attack, and President Musharraf called for three days of mourning.
(Rahat Dar / EPA)
Vehicles set on fire by protesters angry over the death of Bhutto light up the sky in Karachi, Pakistan.
(Shakil Adil / Associated Press)
Bhutto's body is carried out of Rawalpindi General Hospital. Doctors said they worked for more than half an hour trying to revive her.
(Warrick Page / Getty Images)
Pakistanis grieve at the hospital where Bhutto died. There was no immediate claim of responsibility for the attack, but President Pervez Musharraf blamed Islamic extremists and called on Bhutto's allies to remain calm. "This is the work of those terrorists with whom we are engaged in war," he said in a nationally televised speech.
Note: Some photos in this slide show graphically show the impact of the attack.
(Farooq Naeem / AFP / Getty Images)