6 Images
In breakaway Abkhazia
Two men carrying school chairs and desks on a motorized vehicle pass the shell of a building on the outskirts of Sukhumi, the capital city of the self-proclaimed, but universally unrecognized, republic of Abkhazia. The region along the Black Sea fought a separatist war with Georgia in the early 1990s. The Russian parliament is pushing to beef up the number of Russian peacekeepers stationed in Abkhazia, and has suggested that Moscow might fight on the side of the breakaway republic in case of any military aggression from Georgia, whose push to join the North Atlantic Treaty Organization is backed by the U.S.
(Sergei L. Loiko / Los Angeles Times)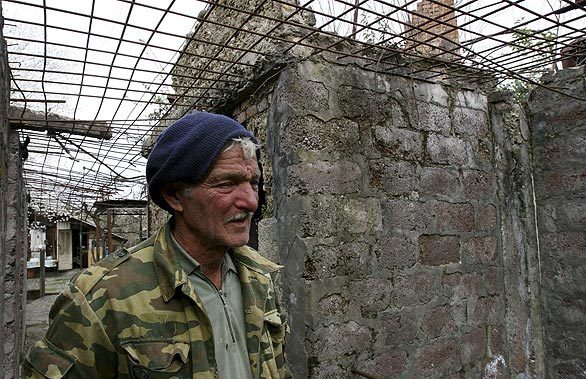 Fridon Makatsaria, 58, an ethnic Georgian resident of the town of Gal in Abkhazia, is among the thousands of ethnic Georgian refugees who fled the violence of the separatist war but were allowed to return a few years ago. When he did, he found that his wife had been killed and his family home destroyed by fire.
(Sergei L. Loiko / Los Angeles Times)
Sukhumi's once-thriving port looks like a ship graveyard, with rusted craft wedged into the sand. Russia recently freed Abkhazia from harsh sanctions, and hinted that it might soon recognize its independence. "Instead of rusting away, all these boats will be put to use," the 80-year-old head of the shipyard says about a hoped-for future. "We'll have boat excursions like before. We used to send thousands of people out in cruises."
(Sergei L. Loiko / Los Angeles Times)
An Abkhaz soldier fixes his bicycle at the Sukhumi airport in front of the private plane of former Georgian President Eduard Shevardnadze, who had to flee Abkhazia during the 1990s war. The Abkhazians reportedly flew the aircraft at first, but then fuel became too expensive.
(Sergei L. Loiko / Los Angeles Times)
Tamara Ezugbaya, head of the seaside Abkhaz village of Lower Eshera near Sukhumi, sits in front of her house at the grave site where four of her five sons were buried after being killed fighting against Georgia in the 1990s conflict. The Georgian government has vowed to bring Abkhazia back within its borders. Abkhazians swear it will never happen. "God forbid!" Ezugbaya says. "I don't think a single Abkhazian living here will allow this, as long as they're alive."
(Sergei L. Loiko / Los Angeles Times)
Sergei Bagapsh, the president of Abkhazia's self-proclaimed government, gestures in his office in Sukhumi. "For us the main thing is not to be in between two superpowers at a complicated time of dividing zones of influence," he has said. But he acknowledges that Abkhazia hungrily snatches up all the help that Moscow throws its way. Police wear Russian uniforms. Elderly people collect Russian pensions. "Since the war nobody has asked us, how do you live? How do your children live? Nobody was interested. Not Europe. Nobody. Only Russia gave us aid. Only Russian peacekeepers stood up here."
(Sergei L. Loiko / Los Angeles Times)