Kabul hotel guests hid in terror as Taliban attackers searched floor-to-floor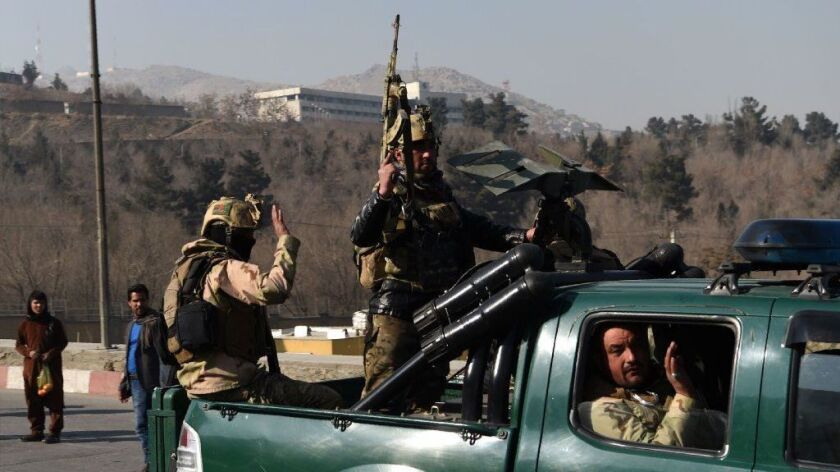 Reporting from Kabul, Afghanistan —
Afghan officials raised the death toll at Kabul's Intercontinental hotel to 19 on Sunday as the Taliban claimed responsibility for the latest major attack on civilians in the Afghan capital.
U.S. military advisors responded to the attack along with Afghan special operations forces during a 14-hour siege that began when four gunmen raided the six-story hilltop hotel Saturday evening.
Witnesses said the assailants shot at diners in the hotel restaurant and went floor to floor searching for more victims as panicked guests barricaded themselves in rooms and others escaped by leaping from balconies.
Of the 19 people killed, 14 were foreign nationals, said Najib Danish, spokesman for the Afghan Interior Ministry. Eleven were employees of Kam Air, a private Afghan airline. All four attackers were killed, officials said.
Twelve people were wounded, but some survivors said they believed the death toll was higher than the government had acknowledged. Some Afghan news organizations, citing unnamed official sources, said 43 people were killed.
"Three of my friends, two waiters and two other Afghans were killed in front of me, so I believe more were killed than what officials are saying," said Abdulhaq Omeri, a journalist with Afghanistan's Tolo news network.
Omeri was visiting friends at the hotel when they heard gunfire and explosions reportedly caused by grenades carried by the assailants.
"We were stuck in a room on the fourth floor after they attacked," he said. As smoke filled the air, he was separated from his friends and sought refuge on a balcony, waiting outside in freezing temperatures until about 3 a.m.
About an hour later, he heard U.S. soldiers call for everyone to come into the hallway. His friends, including an Afghan diplomat based in Pakistan, were killed. Security forces rescued more than 126 people, interior ministry officials said.
Waiters told Omeri that they recognized two of the attackers as hotel guests.
The hotel is surrounded by several checkpoints, and Afghan officials said they were investigating how attackers were able to smuggle weapons into the building and why it took security forces so long to end the siege.
The hotel, formerly part of the InterContinental Hotels Group chain but now owned by the Afghan government, is a favorite of officials and a frequent site for meetings and seminars. Some of the victims were government employees preparing to attend a technology conference that was to begin Sunday.
Perched on a hill in west Kabul, with a swimming pool and lavish buffets, the hotel is a landmark in the Afghan capital. Like other Kabul hotels and guesthouses known to attract foreigners, it has been targeted by the Taliban before, in 2011, when insurgents raided the hotel and took hostages.
In a statement, the insurgent group said its targets were government officials who were meeting with "international supporters." But the United Nations mission in Afghanistan said that among the events taking place at the hotel Saturday evening was a wedding ceremony.
"It is a moral outrage that the Taliban entered the hotel with the intention of killing civilians," said Tadamichi Yamamoto, head of the U.N. mission.
Special correspondent Faizy reported from Kabul and Times staff writer Shashank Bengali from Mumbai, India.
Follow @SBengali on Twitter for more news from South Asia
---
Must-read stories from the L.A. Times
Get all the day's most vital news with our Today's Headlines newsletter, sent every weekday morning.
You may occasionally receive promotional content from the Los Angeles Times.