Argentina minister says country lacks means to recover doomed sub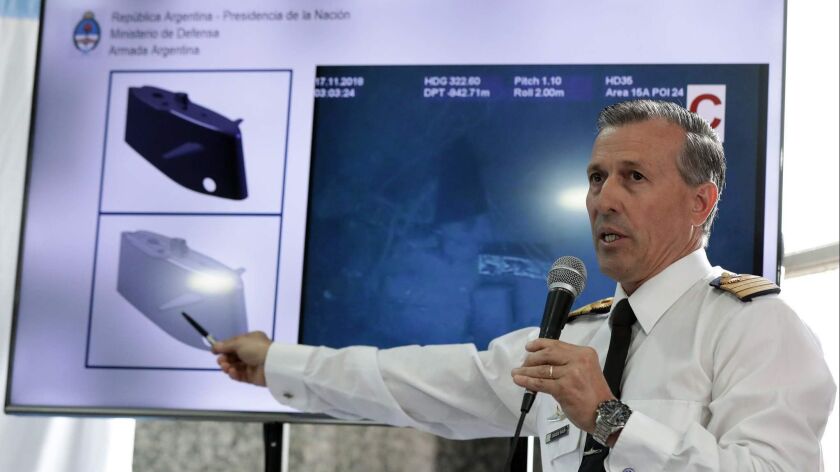 Reporting from BUENOS AIRES —
The Argentine government acknowledged Saturday that it lacked the proper technology to rescue the submarine just found deep in the Atlantic after it disappeared a year ago with 44 crew members aboard.
Defense Minister Oscar Aguad said at a news conference that the country's navy lacks submersibles with "modern technology" capable of "verifying the seabed" to extract the ARA San Juan, which was found 2,625 feet deep in waters off the Valdes Peninsula in Argentine Patagonia.
He said officials still need to determine the next steps.
Earlier in the morning, the navy said a "positive identification" had been made by a remote-operated submersible from the American company Ocean Infinity. The company was responsible for the search for the missing vessel and was commissioned by the Argentine government.
The discovery was announced just two days after families of the missing sailors held a commemoration one year after the sub disappeared on Nov. 15, 2017.
On Thursday, on the anniversary of the disappearance, President Mauricio Macri said the families of the submariners should not feel alone, and he delivered an "absolute and non-negotiable commitment" to find "the truth."
Macri promised a full investigation after the submarine was lost. Federal police raided naval bases and other buildings last January as part of the probe, soon after the government dismissed the head of the navy.
The San Juan was returning to its base in the coastal city of Mar del Plata when contact was lost.
Argentina gave up hope of finding survivors after an intense search aided by 18 countries, but the navy has continued searching for the vessel.
The German-built diesel-electric TR-1700 class submarine was commissioned in the mid-1980s and was most recently refitted between 2008 and 2014. During the $12-million retrofitting, the vessel was cut in half and had its engines and batteries replaced. Experts said refits can be difficult because they involve integrating systems produced by different manufacturers, and even the tiniest mistake during the cutting phase can put the safety of the ship and crew at risk.
The navy said previously the captain reported on Nov. 15 that water entered the snorkel and caused one of the sub's batteries to short-circuit. The captain later communicated that the problem had been contained.
Some hours later, an explosion was detected near the time and place where the San Juan was last heard from. The navy said the blast could have been caused by a "concentration of hydrogen" triggered by the battery problem reported by the captain.
---
Must-read stories from the L.A. Times
Get all the day's most vital news with our Today's Headlines newsletter, sent every weekday morning.
You may occasionally receive promotional content from the Los Angeles Times.