Why and how are asylum seekers entering the U.S.?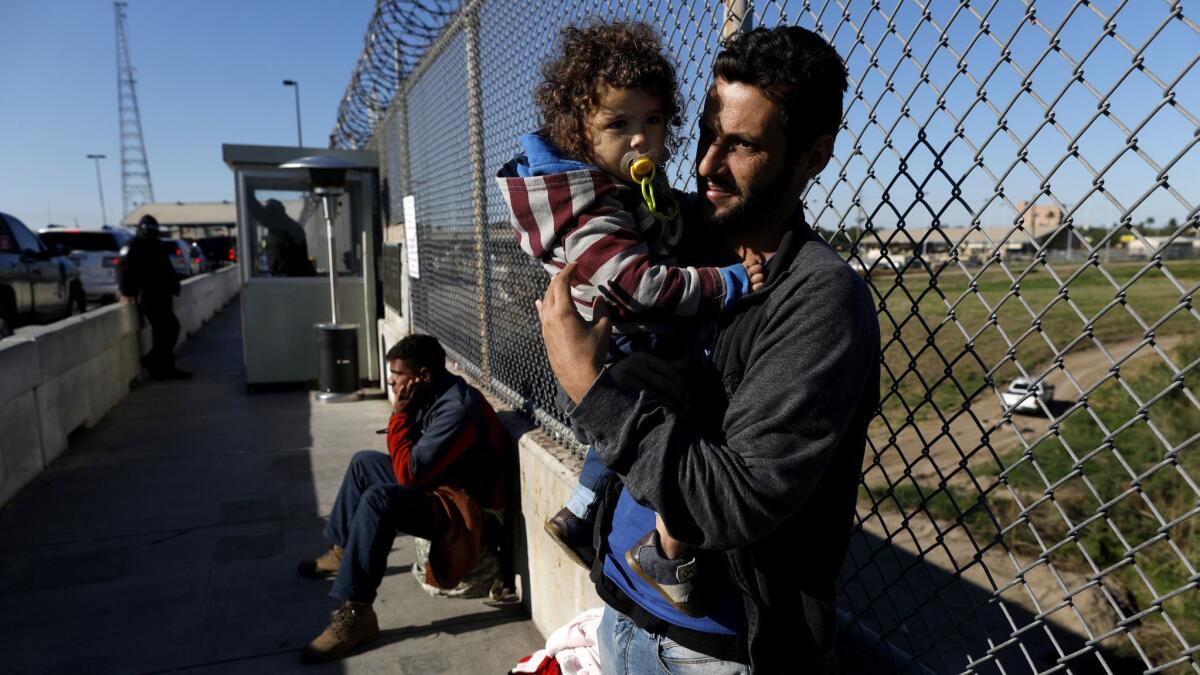 Reporting from Matamoros, Mexico —
Many immigrants entering the U.S. — legally and illegally — claim asylum. Advocates for greater limits on immigration, particularly "chain migration" based on family relationships rather than employment skills, have tried to restrict asylum seekers.
This month, President Trump issued a proclamation preventing immigrants from claiming asylum if they crossed the border illegally. On Monday, a federal judge in San Francisco blocked that "asylum ban."
But the judge's ruling did not address another U.S. policy that's forcing asylum seekers to wait on the Mexican side of border bridges, adding their names to growing waiting lists maintained by Mexican officials. On Thursday, a small group of Central American migrants marched peacefully to a border crossing in Tijuana to demand better conditions and push to enter the U.S. We talked to migrants waiting to cross the border legally at a shelter and border bridge in Matamoros, Mexico, and those who had crossed illegally and were released by U.S. immigration officials in neighboring Brownsville, Texas, last week — with notices to appear in immigration court — about why and how they were seeking asylum.
Why cross legally at a border bridge or illegally via the Rio Grande?
Most asylum seekers at the Matamoros bridge said they understood that by law, it was legal to enter the U.S. via the bridge. Some were aware of Trump's edict and feared that if they crossed the Rio Grande illegally, they could hurt their chances of being granted asylum. But with the Mexican list having grown last week to 80 names, they also worried about how long they would have to wait to cross. Some had already waited more than a month. Many of the migrants had been granted temporary visas in Mexico that had expired or were due to expire by month's end, and they worried they could be deported.
"I came here because I thought it would be faster," said Cuban asylum seeker Ronald Padron, 37, who had waited 26 days at the Matamoros bridge.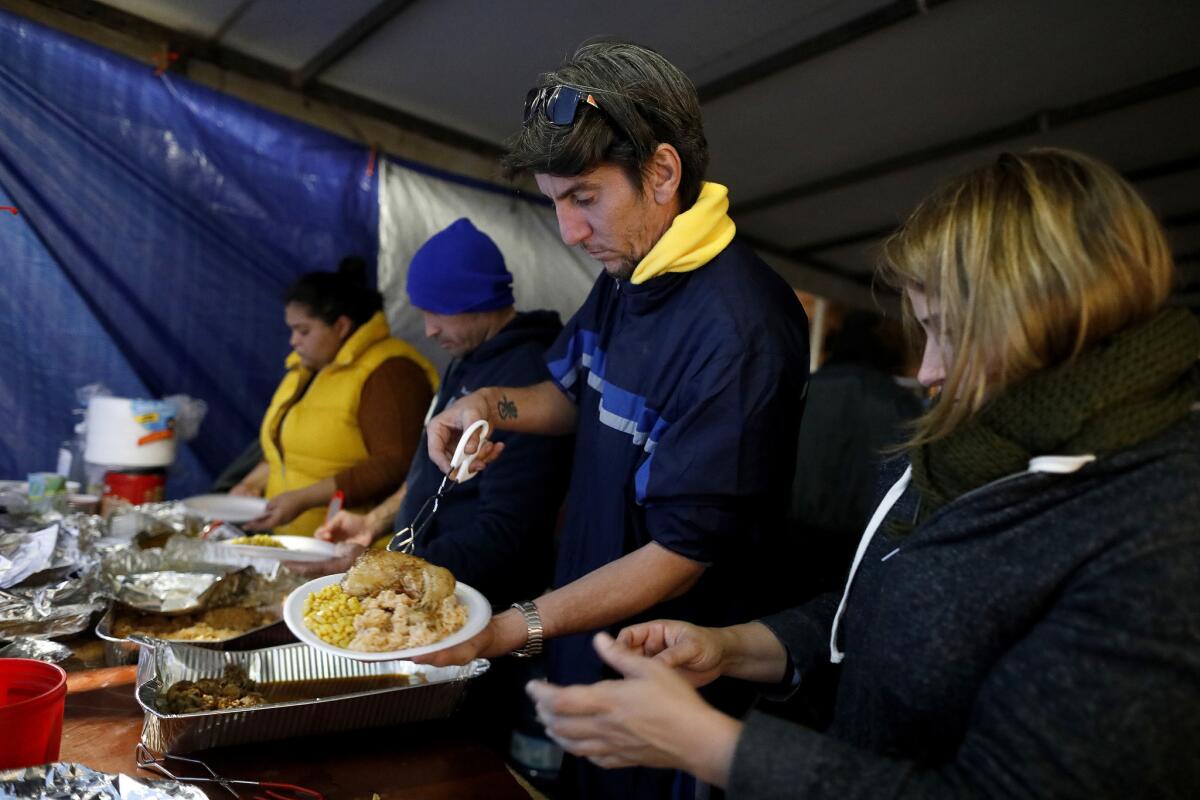 Among migrants released by Immigration and Customs Enforcement at the bus station in Brownsville, most said they had crossed the Rio Grande illegally about 60 miles west near Reynosa, a Gulf cartel stronghold. They had been released after Trump's announcement because it was still up to asylum officers and immigration judges to decide the validity of their asylum claims.
Many said they were unaware that there was a border bridge in Reynosa, or that it was possible to cross the bridge legally. Some who had seen the bridge said they were afraid to approach, because it was surrounded by Mexican drug cartel lookouts.
"They told me they would kidnap me if I went to the bridge … it's very difficult to decide" how to cross the border, said Honduran migrant Wilmer Gamez, 37, who crossed the river near Reynosa.
Other migrants said they crossed the river — on foot or rafts — because it was the most direct or cheapest route. They said they paid smugglers $1,000 to $2,400.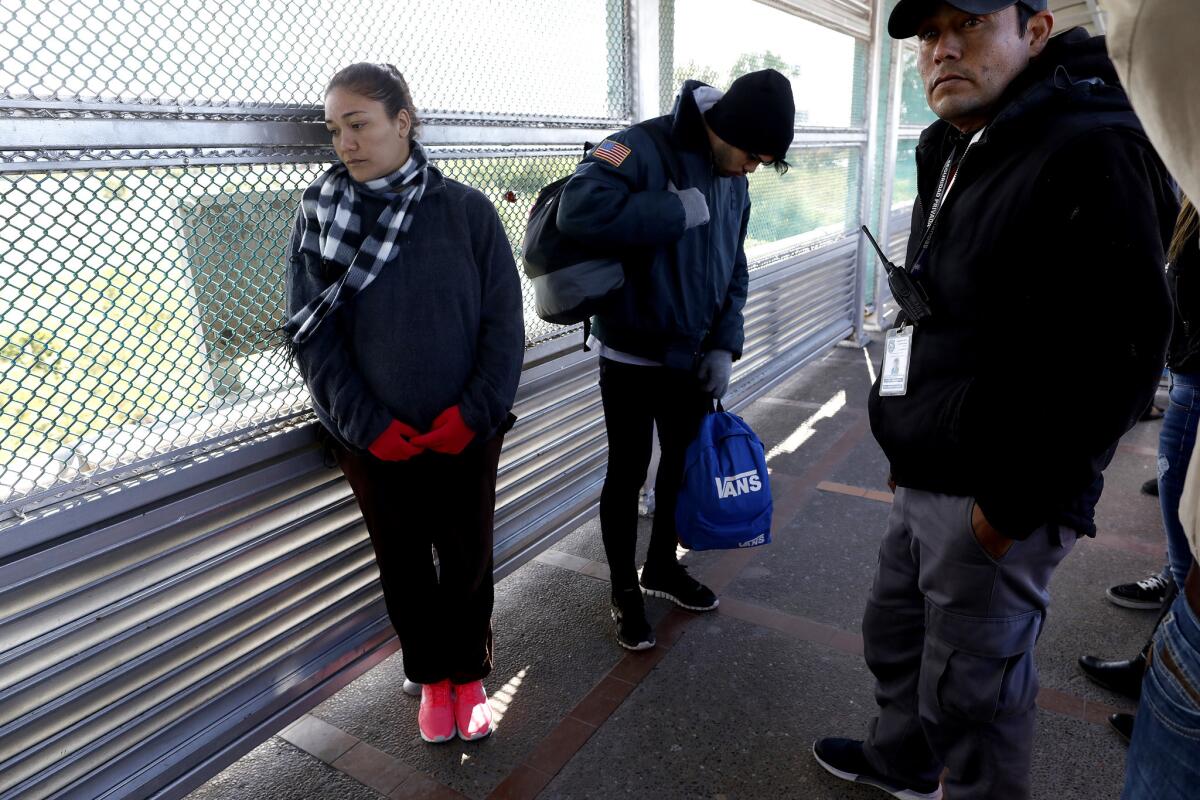 Honduran migrant Jessica Morillo, 26, paid $2,400 to cross the river near Reynosa. She didn't know about Trump's action or that she could cross a nearby border bridge. She said she fled her home country because a drug trafficker had raped her, then threatened her with a gun. When she told her father she was pregnant in September, he threw her out, and she had been staying with a cousin. She hoped to join her sister in New Orleans.
Do most asylum seekers have relatives in the U.S.?
Almost all of the Central American asylum seekers at the bridge in Matamoros and at the bus station in Brownsville said they had relatives in the U.S. Most of the relatives, they said, were parents, siblings, uncles or cousins spread across the country, from Los Angeles to Miami, New York and Washington. Some at the bus station were seeking to join family working in rural areas of Nebraska and Mississippi. Most African migrants at the bridge said they did not have relatives in the U.S. and hoped to join friends instead. Tsenay Bogale, 48, of Addis Ababa, Ethiopia, came with her aunt hoping to join friends in Washington.
What did asylum seekers do for work in their home countries?
Many of the Central American immigrants said they were farmers and store clerks. There was also a mechanic, nurse and teacher. All said they hoped to work in the U.S. None had advanced degrees. A few were elderly, joining younger relatives or friends.
In the U.S., political asylum is provided to those fleeing persecution — what are they fleeing?
Some of the asylum seekers were unfamiliar with U.S. law, which holds that asylum seekers must have a "credible fear" of being persecuted in their home countries based on their race, religion, nationality, political opinion or membership in a "particular social group." In the past, that included victims of domestic and gang violence; this year, then-Atty. Gen. Jeff Sessions issued a ruling saying such victims don't qualify.
Norma Torres and her husband said they fled Nicaragua with their three children five weeks ago after they were threatened by soldiers for protesting and working with Catholic groups challenging the ruling government.
"No one can say anything" against the government, she said.
The couple knew it was illegal to cross between border bridges, had seen reports about Trump's asylum ban and chose to wait at the Matamoros shelter instead of crossing the river. Mexican officials had yet to issue them a number on the waiting list last week.
"No one is helping us," said Torres, 35.
Rene Hormaza, 28, who ran a cafeteria in Cuba, said he fled with his wife and two children after being threatened by police in August.
"If you don't shut your mouth, they disappear you," he said of Cuban authorities as he waited at the border bridge. "I have the hope that the U.S. will help us Cubans."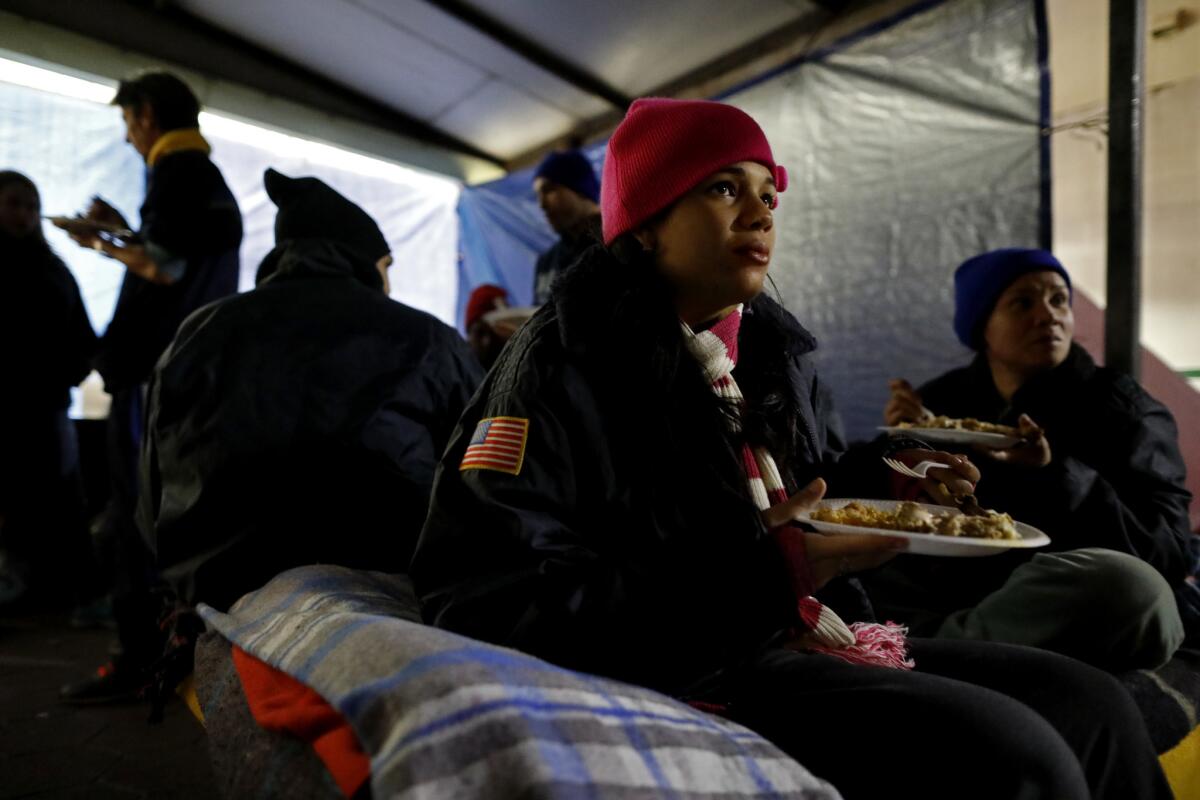 Migrants from Guatemala in Matamoros and at the bus station said they fled a combination of economic and political hardships. Some from urban areas said they were unable to find work. Farmers said their coffee crops had suffered blight. At the same time, they said they had trouble moving or finding work because of political corruption and nepotism. It would be up to a U.S. asylum officer and immigration judge to decide if they qualified for asylum.
African migrants in Matamoros described being threatened and attacked for speaking out and protesting against oppressive governments.
Lynda Fotso, 24, a stock clerk from Cameroon, said she was detained for protesting against the government in 2015. An only child, she doesn't have friends or family in neighboring countries. She first fled to Nigeria, but didn't apply for asylum there because she knew the government had returned other migrants from Cameroon. She speaks French and some English but no Spanish, so once she landed in South America, she headed for the U.S., which she and other migrants from Cameroon called a bastion of human rights.
"I just want safety," Fotso said in French as she sat waiting in the dark with other asylum seekers at the foot of the border bridge. "I can better adapt in the U.S."
Farmer Collins Fondong, 33, also left Cameroon after being threatened by police for criticizing the government. He has lymphatic filariasis, a tropical disease, and ran out of medication after he arrived in Mexico in September. He was No. 29 on the list of asylum seekers waiting to cross at Matamoros last week.
"I pray it works," he said of the list. "When you're running away from death, you will do anything."
He was eventually allowed to cross and volunteers said he received treatment at a local hospital.
Why didn't they seek asylum in Mexico, or one of the countries they crossed en route to Mexico?
Advocates for greater limits on immigration have pushed for a "safe third country" agreement between the U.S. and Mexico, similar to the one the U.S. has with Canada, that would force migrants who arrive in Mexico to first seek asylum there. Immigrant advocates argue Mexico is too dangerous, its asylum processing too rudimentary, to be considered a safe refuge.
Asylum seekers in Matamoros, including Fotso, said they feared for their safety in Mexico and did not consider seeking asylum there. Central American and Cuban migrants said their goal was to join relatives in the U.S. African migrants said they didn't speak Spanish and had a better chance of finding work and building new lives in the U.S. rather than in Mexico.
Migrants from Cameroon mostly fled through Nigeria, flying to Ecuador, then traveling by bus and on foot through the perilous jungles of Central America. They had read reports of fellow migrants being detained and deported in Nigeria, and so didn't consider seeking asylum there.
Michael Randy, 30, a businessman from Cameroon, said he fled to the U.S. because it was the only country in the world he trusted to respect human rights. He had read reports about fellow members of Cameroon's Anglophone minority who fled to Nigeria and were returned by the government to Cameroonian authorities.
"Massacres are happening in my country, genocide. Just the fact that you speak English in my country is a problem," said Randy. "I have to be somewhere I feel safe."
molly.hennessy-fiske@latimes.com
Sign up for Essential California for the L.A. Times biggest news, features and recommendations in your inbox six days a week.
You may occasionally receive promotional content from the Los Angeles Times.