Global Development: Rohingya Muslims who escaped the Myanmar army now brace for a threat they can't outrun: Rain
Reporting from Ukhia, Bangladesh —
When the rain came, as Mohammad Rafiq knew it would, there was nowhere to run.
The water seeped under the tarpaulin wall of his family's makeshift shelter, turning the dirt floor to mud and soaking the sacks of rice that represented most of their food. Gusts of wind ripped the bamboo-and-plastic roof, tossing the pieces like playing cards.

For the record:
7:10 p.m. May 31, 2018An earlier version of this article referred to Ukhia, Bangladesh, as Ukhali.
The brief storm last week offered a grim but probably mild preview of the dangers facing more than 900,000 Rohingya Muslims crammed into refugee camps in southern Bangladesh, the wettest region of a country regularly pulverized by cyclones, flash floods and landslides.
With the annual monsoon rains forecast to begin within weeks, families like Rafiq's are racing to shore up their flimsy huts with rocks, sandbags, bamboo poles, plastic sheets and whatever they can scrounge, while humanitarian agencies warn of a looming disaster.
"We are very worried," said Rafiq, a 40-year-old father of five. "The rains last for several days at a time, and then there are cyclones. No one is prepared."
Rafiq was busily repairing his shelter on a muggy morning days after the storm, tying and retying knots of rope to hold sticks of bamboo in place. His children were spending nights in another family's hut; he and his wife were sleeping on mats under their tattered roof, praying more rain wouldn't fall.
Pre-monsoon showers have already damaged or destroyed scores of shelters, but Rafiq's family lost more than their home: with no money, he was forced to pawn his 9-year-old daughter's gold-plated earrings to raise roughly $120 to buy new bamboo and plastic sheeting.
"Even this won't be enough," Rafiq said.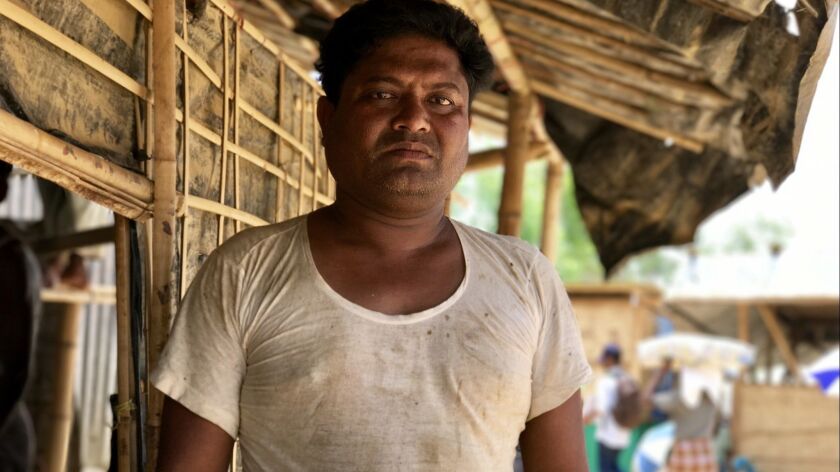 The upcoming monsoon, which typically runs from June through September, is the first that nearly 700,000 Rohingya refugees will spend in the camps after fleeing persecution and brutal attacks by the Myanmar army last summer. Many who survived what human rights groups have described as ethnic cleansing now confront another potentially life-threatening situation — one they cannot escape.
"We really fear that the monsoon and cyclone seasons will create a disaster within a disaster," said Daphnee Cook, spokeswoman for the relief agency Save the Children.
The low hills along the coast of southeastern Bangladesh typically receive up to 40 inches of rainfall in a month at the peak of the monsoon — almost as much as Los Angeles averages in three years. To accommodate the masses of refugees who began crossing from Myanmar in August, sandy knolls were flattened and more than 1,000 acres of forests were chopped down, heightening the risk of landslides.
As desperate families crowded into every available space, they built fragile huts and tents at the bottom of the hills and stacked almost atop one another along denuded slopes.
The Inter Sector Coordination Group, an umbrella organization of relief agencies responding to the crisis, has said that 200,000 people need to be relocated before the rains come. On a patch of high ground in Ukhia, earthmovers are crushing hills into more flat land, but aid groups say there is only enough new space to move about 20,000 refugees.
Many families have adopted a fatalistic attitude, saying they don't want to leave shelters where they are often surrounded by extended family members.
"After being through so much trauma, people do not want to be separated from family," said Nafeesa Shamsuddin, spokeswoman for BRAC, Bangladesh's largest relief agency, which has recruited volunteers to counsel people in waterlogged areas to move.
"When approached with the risks they face, a common phrase they say is: 'It is up to God.'"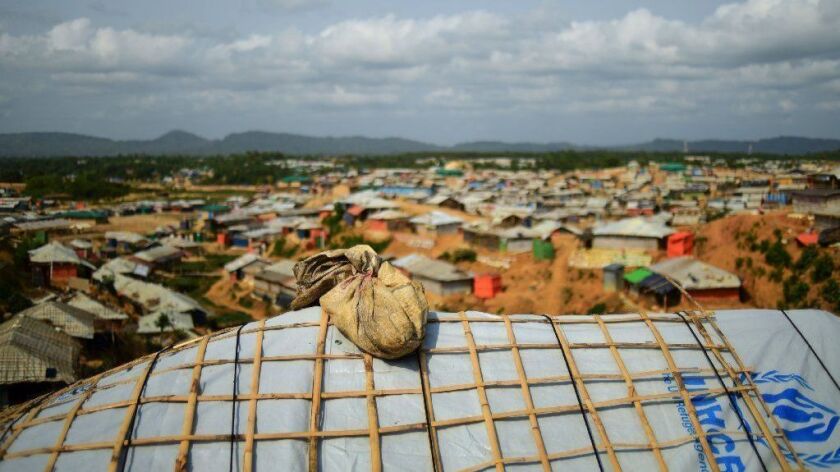 Relief groups say the rains could also damage health facilities and make dirt roads inside the refugee camps impassable, delaying the delivery of food aid and lifesaving supplies.
With no plumbing, refugees rely on latrines, many of which are less than five feet deep and, if flooded, could spread sewage across the densely packed camps. Nearly one-third of latrines have been dug close to the wells that supply drinking water, creating an acute risk of contamination and outbreaks of diseases, such as cholera.
"Any outbreak of disease would quickly claim the lives of thousands of malnourished children given current malnutrition levels, which exceed global emergency thresholds," Cook said.
Barred by authorities from receiving regular medical care in Myanmar, Rohingya Muslims have extremely low vaccination rates. In May, medical teams launched the second round of a cholera vaccination drive that has seen almost 900,000 people inoculated against the often fatal illness, which spreads through contaminated water.
"We have not seen in modern times a refugee population of this magnitude arriving with almost no vaccinations," said Sumbul Rizvi, who leads the Inter Sector Coordination Group.
The United Nations has appealed to the international community for $951 million to meet the emergency needs of Rohingya refugees and more than 300,000 Bangladeshis living in the surrounding areas. It has received less than 20% of the funding so far, officials say.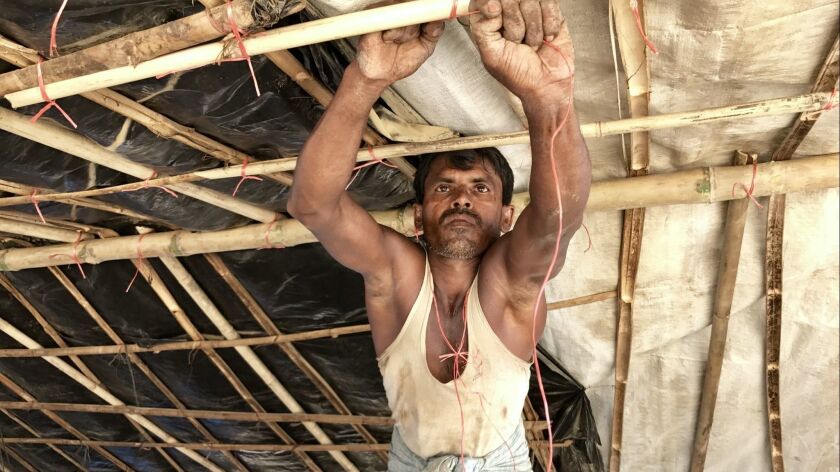 For now, the most pressing worry among refugees is fortifying their shelters. In the steamy heat, gray-haired men and barefoot children hauled 20-foot-long bamboo poles to their huts, while sweat-drenched workers dug trenches and laid tarps along hillsides to guard against flooding.
The camps echoed with the thwack of hammers nailing planks into place and with the grunts of men positioning sandbags on their roofs to keep them from blowing away.
In the Lombashia refugee camp, after the last rain shower, Ansar Begum scooped water out of her tent with her bare hands. Begum, 22, recalled the two-story wood-frame house that her fisherman husband, Mohammad Johar, had built in Myanmar with their savings, even after being jailed briefly by authorities who objected to Rohingya families erecting permanent structures.
"That house was firm during the monsoon," she said. "We are back to living like beggars."
She held her children close to her: a 9-year-old boy recently stricken with severe diarrhea and a 3-year-old who had already been hit with measles.
"We worry a lot about them getting sick," she said. "When it starts to rain, I don't know what we'll do. We can only cry."
Shashank Bengali is South Asia correspondent for The Times. Follow him on Twitter at @SBengali
---
Must-read stories from the L.A. Times
Get the day's top news with our Today's Headlines newsletter, sent every weekday morning.
You may occasionally receive promotional content from the Los Angeles Times.