L.A. family disappears after pirate raid in Amazon rainforest, then re-emerges on a surfboard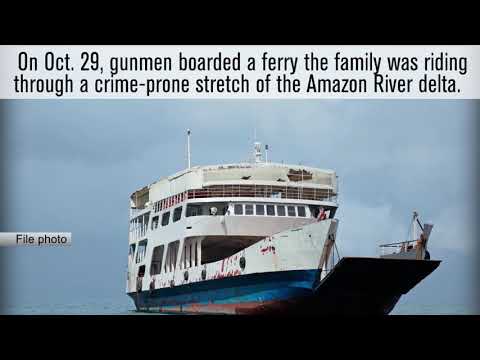 The Harteau family has been traveling through South America for the last 5 years.  On Oct. 29, the family went missing in the Amazon River, prompting an investigation launched by Brazilian authorities. (Nov. 3, 2017)
Each day, tens of thousands of people around the world scroll through their Instagram feeds for news of Adam and Emily Harteau and their travels through South America with their kids in an old Volkswagen van.
One day, the Harteaus and their daughters, ages 3 and 7, are lounging on an isolated beach, far from the worries the couple left behind in Los Angeles in 2012.
On another, the Harteaus are crawling along the craggy plateaus and green chasms of the Chapada Diamantina National Park in Brazil, hippie wanderers in the age of social media.
For their more than 100,000 followers, their Instagram account, @ouropenroad, is a portal to freedom and adventure.
Last Friday, they posted a photograph of their blue 1990 Westfalia T3 camper stuck in the reddish mud near the eastern tip of Brazil.
Silence followed. No more posts.
Then a policeman from the Brazilian state of Pará posted a message beneath the photo:
"Does anybody had recent contac with, emily or adam? Aparently they are lost. This is Pará Police, please contact me."
That was soon followed by an outpouring of alarm from the family's Instagram followers.
The trouble seems to have started after dark Sunday, when robbers with guns boarded a ferry the family was riding through a crime-prone stretch of the Amazon River delta, according to a local Brazilian law enforcement official who assisted in the case but did not have permission to speak with the media.
There were no other passengers on the cargo ferry, and the family was sleeping in the van when the robbers boarded and took everyone hostage, the official said.
At some point, the ferry's crew and the Harteaus managed to break free and call police, according to Pará Deputy Secretary of Public Safety André Cunha.
Police eventually reached the victims and launched an investigation. Then they left in hopes of tracking down the gunmen.
Cunha did not say whether any arrests were made, but police apparently managed to recover some of the items that were stolen from the family.
But when police returned to the boat around 6:30 a.m. to return a laptop the thieves had taken, the Harteaus were nowhere to be found.
"We don't know exactly why they left the boat," Cunha told Globo, a local TV station. "If they left for fear of what had already happened and the police being there because of the situation, or maybe they were afraid because of the small amount of marijuana" that police located inside the family van — apparently for recreational use.
Officials launched a search in the Amazonian wilderness as comments from worried fans stacked up on the family's Instagram account.
Even before starting their travels, the Harteaus were no stranger to the spotlight. Emily, a fashion designer, was a contestant on the 2008 season of "Project Runway," a reality TV show on Bravo. Adam was a fine artist.
Searching for a change in direction, the couple launched an internet fundraiser, left behind their fully furnished apartment near the Baller Hardware store on Hyperion Avenue in Silver Lake, and drove their van into Mexico, Colombia, Peru and the rest of South America with their then-2-year-old daughter, Colette.
It was more than just a vacation; it was a kind of rebranding of the American family — not homebound, but mobile; faraway but hyper-connected, like astronauts.
"Our Open Road will serve as a modern family portrait, as they shed their robes of comfort to reexamine the American Dream, they hope to inspire others to create, eat well, spend quality time together, and adventure into their own great backyards," says the family's website.
The Harteaus planned to be gone only a year or so, but then began amassing online fans and finding ways to keep funding their travels, including their online store, the 24 Hour Bazaar, and an online PayPal donation button.
They became prominent enough to be featured in a 2,100-word New York Times profile, and in 2014, Emily gave birth to a second daughter, Sierra, in Brazil.
The New York Times profile described the family as "blissfully optimistic" about the dangers of the road.
The Harteaus' encounter with pirates came just two weeks before they planned to end their five-year trek and return to Los Angeles.
After disappearing, the family was discovered alive. Ribeirinhos — rural river dwellers — reportedly found the four floating on a surfboard in a ravine close to the Jacaré Grande River, not far from where police had boarded the ferry.
The Harteaus were suffering from dehydration, insect bites and scratches. The couple told police on Wednesday that their family survived on fruits and river water before being saved.
It was unclear when the Harteaus were found. Authorities announced the news Wednesday, and it was soon picked up by websites around the world — catapulting the family to even higher levels of fame.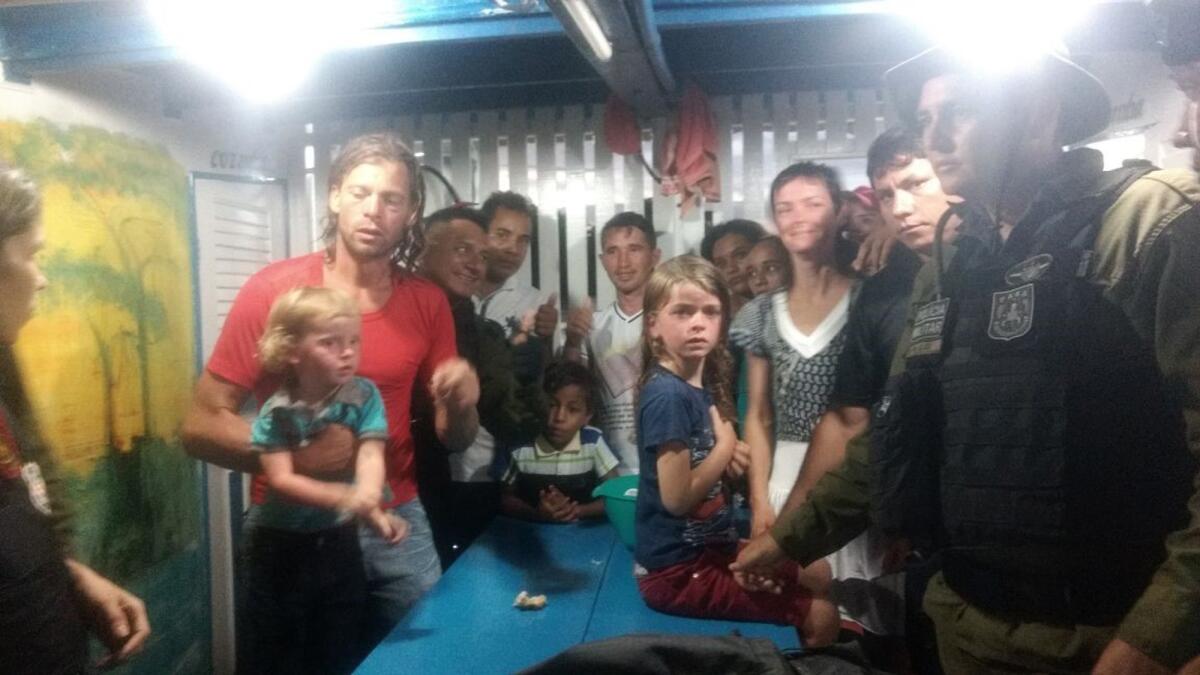 They went to a hospital in the rural municipality of Breves to recover, their social media profiles notably dormant, but their comments sections alive with fans and Brazilians sending good wishes.
"Shame about my country," one commenter wrote. "i praying for you."
"Please be safe, friends," another said. "Cannot wait to see you pop up on social media to say that all is well…."
On a GoFundMe page, friends said that in addition to losing cameras and other electronics, the Harteaus were robbed of goods they bought while traveling, which they often resold on their website to fund their travels.
The Harteaus have yet to update their Instagram account.
The most recently available photo of the family is not the kind of cinematically rendered image they normally post.
It's a blurry, harshly-lit snap, shared not on Instagram, but by Brazil's secretary of state for public security and social defense. It shows the four Harteaus after their rescue, surrounded by Brazilian villagers and a policeman — looking ruffled, but alive, and with yet another story to tell.
Pearce reported from Los Angeles. Langlois, a special correspondent, reported from Sao Paulo.
Sign up for Essential California for news, features and recommendations from the L.A. Times and beyond in your inbox six days a week.
You may occasionally receive promotional content from the Los Angeles Times.