Turmoil grows in Brazil as ex-President Lula is ordered to surrender and begin prison sentence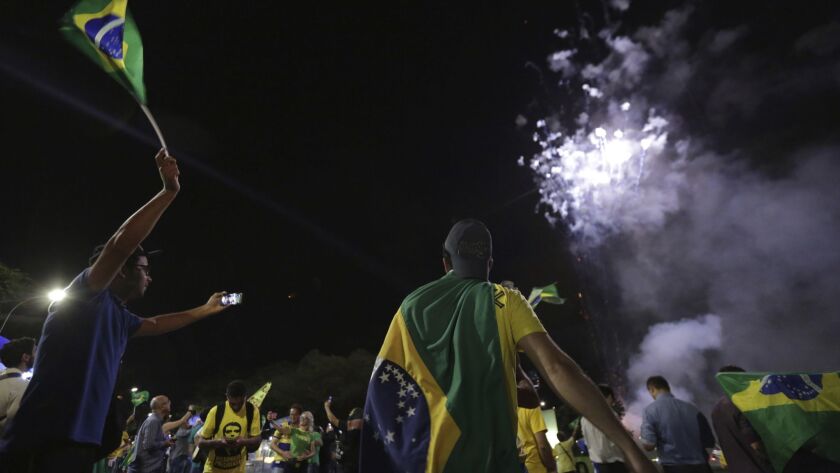 Reporting from SÃO PAULO, Brazil —
Once called "the most popular politician on Earth" by President Obama, former Brazilian President Luiz Inacio Lula da Silva now finds himself in a decidedly different position — heading to jail.
In a marathon session that lasted almost 11 hours and stretched into the predawn hours Thursday, Brazil's Supreme Court denied Lula's petition to remain a free man while he continues to appeal a corruption conviction handed down last July.
The last judge to vote was Supreme Court President Carmen Lucia, who broke the tie among the other 10 judges for a final count of 6-5. But it was Justice Rosa Weber who was considered the swing vote and is believed to have sealed Lula's fate.
"The judicial decision should be based not on the personal preferences of the magistrate, but on the best possible interpretation of the objective law," Weber said.
Justice Ricardo Lewandowski, who voted to allow Lula to remain free, argued that sending a defendant to prison before all appeals were exhausted would be unconstitutional.
"Prison is always an exception," he said. "Freedom is the rule."
That thought side, Sergio Moro, the lower judge who presided at Lula's criminal trial and had the authority to authorize the former president's detention, ordered the former president to surrender by 5 p.m. Friday and begin serving his prison term. Moro said Lula would be held at a federal police station, away from other prisoners, for his own protection.
Moro said the legal tactics that Lula's attorneys planned to pursue to extend their client's freedom were "hypothetical embargoes" that "should be eliminated from the legal world."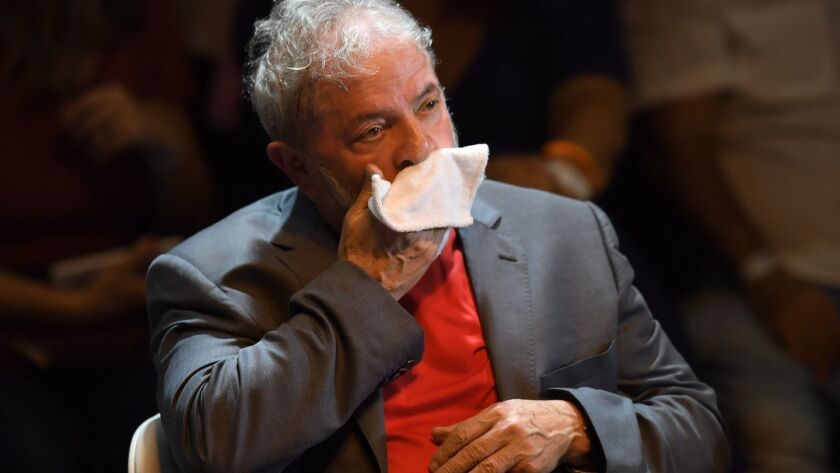 The high court's lengthy debate and Moro's quick decision to lock up Lula underscored the political and emotional divide in Brazil, which is still reeling from a damaging recession and a corruption scandal that has stretched for years and entrapped many of the country's political elite, including Lula.
Though wildly popular during his two terms as president ending in 2011, Lula has increasingly been a polarizing figure in Brazil, seen by some as a working-class hero and others as an entitled politician trying to escape a corruption scandal. Still, he remains the favorite in the upcoming presidential election, though it is now doubtful he could get on the ballot.
Despite the setback, the former president and his legal team still have options to fight to reverse his conviction and sentence of 12 years and 1 month. Other habeas corpus requests can be made, other courts could overturn his conviction, and the Supreme Court could even reconsider its decision if Lula exhausts all of his possible appeals.
But Brazilian society remains deeply divided politically, particularly when it comes to Lula and his successor, Dilma Rousseff, who was impeached during her second term as president. While many believed Rousseff's removal from office in August 2016 was warranted, others saw it as a coup and an attempt to take Lula's Workers' Party out of the race to lead the country again.
Protesters on both sides of the argument took to the streets then, as they have now, both in support of and against Thursday's decision.
Lula, who has always maintained his innocence and says the corruption charges against him are politically motivated, is now another step removed from returning as Brazil's president.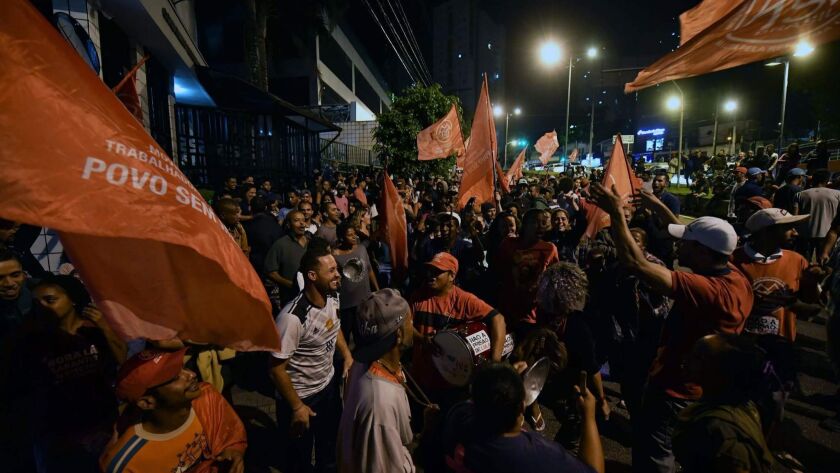 While he continues to lead preference polls for October's presidential election, he probably would not be allowed on the ticket at all, clearing an opening for Jair Bolsonaro, a conservative politician who has been fined for comments considered to be racist and sexist, and in Brazil is often compared to President Trump. Bolsonaro is running second in the polls.
But while Brazil's Clean Slate law does not allow someone convicted of a criminal offense upheld on appeal to run for elected office for eight years, the Workers' Party continues to support Lula and plans to register him as its presidential candidate in August. Once he is registered, it will be up to the electoral court to decide if Lula can run. The deadline for its final decision is Sept. 17.
Lula was convicted of accepting $1.2 million in bribes from contractor OAS in exchange for contracts with state-run oil giant Petrobras, money that prosecutors contend was used to buy and renovate a penthouse apartment in the seaside town Guaruja. He was initially sentenced to 9½ years in prison, a term that was increased to 12 years and 1 month when his conviction was upheld in January.
Langlois is a special correspondent
---
UPDATES:
3:10 p.m.: This article was updated with news that Lula has been ordered to surrender and begin his prison sentence.
This article was originally published at 12:20 p.m.
---
Must-read stories from the L.A. Times
Get the day's top news with our Today's Headlines newsletter, sent every weekday morning.
You may occasionally receive promotional content from the Los Angeles Times.