Brazil puts in place new regulations to keep government data and documents secret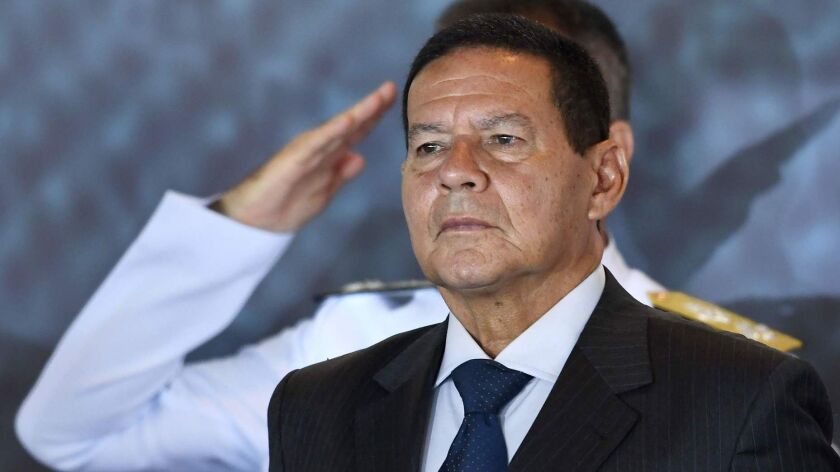 Reporting from Sao Paulo, Brazil —
Brazil's Vice President Hamilton Mourão signed an executive order Thursday altering the country's Freedom of Information Act, a move that raises new alarms about the administration's already contentious relationship with the press.
The order allows for a broader group of people to flag data and documents as "ultra-secret," making them unavailable to the public for 25 years. Documents deemed "secret" or "reserved" would be classified for 15 and five years, respectively.
Previously, the only people permitted to flag information as ultra-secret were the president, vice president, ministers, commanders of the armed forces and heads of diplomatic missions abroad. Now, those classified as senior management and advisory officials will also be able to keep documents secret.
"Transparency is maintained," insisted Mourão, who is acting president while Jair Bolsonaro attends the World Economic Forum in Davos, addressing reporters at a press conference. "And things here in Brazil are rarely ultra-secret. Normally they're military plans, some documents from Itamaraty [the ministry of foreign affairs], some signed agreements, very few things."
Mourão also said the order would "reduce the bureaucracy" in the FOIA process and allow it to run more smoothly by eliminating a number of documents that could have been obtained previously.
But Manoel Galdino, executive director of Transparência Brasil, a nonprofit that monitors public institutions and advocates for transparency, said the order "will likely make the work of journalists more difficult.
"Critical information about the government could be marked as confidential because a public servant is afraid of the repercussion. And when in doubt, many public servants would rather mark something as confidential than hand over information, when it should be the opposite. The rule should always be transparency. Confidentiality should be the exception."
The office of the comptroller general (CGU), which headed discussions last year on potential changes to be made to the FOIA, said the changes "are intended to simplify and reduce state bureaucracy."
"We would also like to highlight that the changes that have been carried out are the result of intense discussion since 2018 between the CGU and several actors, among them the Cabinet for Institutional Security, showing the federal government's ongoing search for improvement in public transparency," read an office statement.
But, according to Galdino, who sits on the CGU council, discussions were still ongoing and the decision to sign the order on Thursday "caught us by surprise."
"The fact that there was no discussion with civil society, that the government wasn't transparent about its changes to the regulations of the Freedom of Information Act, is very concerning," he said.
Bolsonaro and Mourão, have repeatedly been accused of a lack of transparency and the president, who took office earlier this month, regularly refers to reports in the media as "fake news."
The pair's relationship with the press has been tense since they were on the campaign trail last year, when the soon-to-be president chose to forego traditional news conferences and instead spoke to voters via social media, most often through Facebook Live videos.
During a speech in December, Bolsonaro said, "Public power no longer needs intermediation," and that new technology allowed him to have a "direct" relationship with his supporters.
Since his win, he has blocked several journalists from his Twitter account, which he announced would be one of his administration's official means of communication. He also barred reporters from Brazil's major newspapers, as well as international news agencies, from his first news conference as president, which one of his aides later blamed on a lack of space.
Langlois is a special correspondent.
---
Must-read stories from the L.A. Times
Get the day's top news with our Today's Headlines newsletter, sent every weekday morning.
You may occasionally receive promotional content from the Los Angeles Times.