Must Reads: For this transgender men's team in Brazil, soccer is a path toward self-acceptance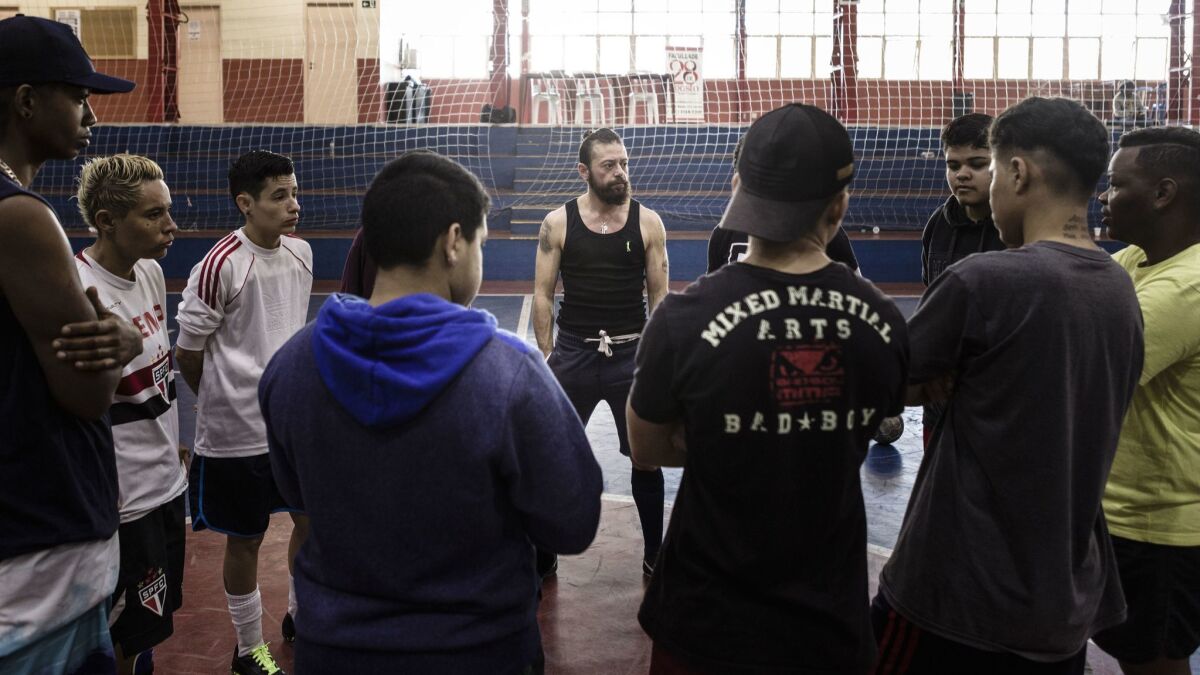 Reporting from Sao Paulo, Brazil —
After warming up with some traditional soccer drills — dribbling, passing — a handful of players on the Meninos Bons de Bola team in Brazil started tossing their shirts aside.
Some had scars across their chests. Others wore binders pulled tightly across their upper bodies. For many players on the amateur Sao Paulo-based team for transgender men, the seemingly trivial act of removing workout gear actually represented a major step toward self-acceptance.
"I couldn't look at myself in the mirror before," Claudio Raphael Galicia Neto, who, at 45, is the oldest player on the team and is affectionately referred to as Grandpa, said recently. "Now I love myself and accept my body."
Several players said the team provides friendship, understanding and recreation for members of a community that frequently faces ridicule, family rejection, discrimination and violence. It was started nearly two years ago by team member Raphael Henrique Martins, better known as Dan, with the help of social media and word-of-mouth as a casual way to play soccer and talk about issues faced by transgender men, they said.
Such outlets are difficult to find in Brazil and worldwide, according to transgender people and analysts familiar with LGBTQ matters. Statistics regarding transgender people also are not readily available in part because transgender people may not be correctly identified in public documents.
Discrimination, whether someone decides to make a physical transition or not, can lead to isolation and a lack of access to healthcare, education and employment, said Jody Herman, a scholar of public policy at UCLA's Williams Institute specializing in transgender issues.
"Community connectedness is one thing that has been shown to be a positive impact on trans people's lives, both in mental and physical health," she said.
Brazil holds the largest annual gay pride parade in the world and held a transgender pride parade in Sao Paulo this year, but members of the LGBTQ community still face a substantial risk of assault, several players and analysts said.
Galicia had been out with a soccer-related injury for about a month, but he went to practice on this day because he missed seeing the other players. His family has come to accept his transition from being identified as female at birth, but it was difficult at first.
His mom laughed it off when Galicia asked, at 5 years old, when his penis would grow. She ignored him when, at 12, he said he liked women and wanted to be a man.
"It was hard for my mom," he said. "She's from another generation where this type of thing wasn't talked about."
One day after his 18th birthday, Galicia decided to leave home. He ended up homeless and addicted to drugs. He didn't speak to his mom again until he was 25, when his uncle begged him to let her know he was alive. That's when Galicia went back home and turned his life around.
Before joining the team, he didn't know any other transgender men.
"My other friends just didn't understand a lot of what I was going through," he says. "These guys are my family. We laugh, we fight, we make up. I didn't have that before."
Most of the other 24 men on the team didn't have that either.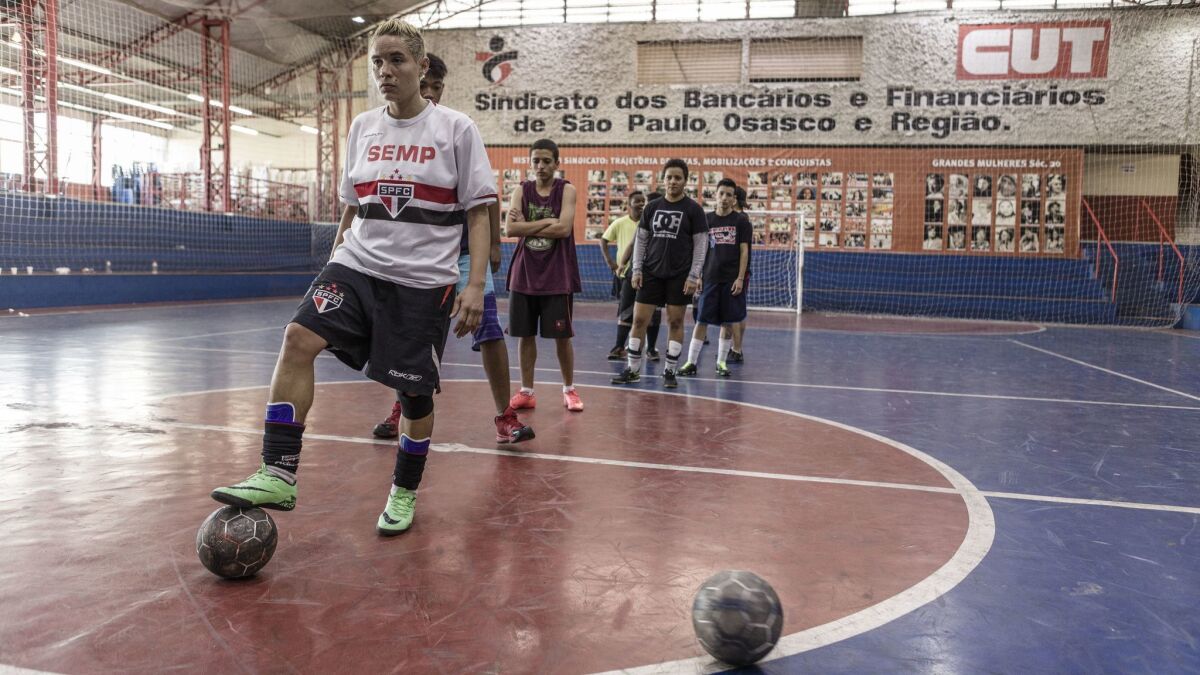 Martins, 30, said that when he realized he was transgender at 18, "I felt like I was an alien, like it must all be in my head." He said he started taking a testosterone-based steroid that a friend told him would help with his physical transition by giving him facial hair and a deeper voice.
Side effects like dizziness and vomiting led him to look for help online. That's when he discovered Sao Paulo's Center for Diversity, a program run by the municipal government for the last nine years that gives psychological and social support to members of the LGBTQ community.
"It was there that I found out people could be the way they wanted to be," Martins said.
Several years after coming out as transgender, Martins said he escaped a sexual assault in a taxi. After sitting in the front passenger seat, the driver threatened Martins, saying he would "show him how to be a lady." Martins was able to elbow the driver and fight his way out of the car when it stopped at a traffic light.
After attempting suicide following the assault, he realized he needed to use what happened to him to help other transgender men in Sao Paulo and to move forward with his own physical transition. Now a social worker with the center for four years, Martins says that, even there, finding other transgender men who would understand his struggles was difficult.
"There were no trans men [at the center]," he says. "There were plenty of gay men, transvestites and trans women, but not one trans man. So I had to figure out what would bring trans boys and men to the center. That's when I realized that what they wanted was to play sports."
Martins soon realized the men on the team wanted to do more than just practice. He started searching for other transgender teams or competitions they could play, but found none. There's a team made up mostly of transgender men in Porto Alegre, in the southern Brazilian state of Rio Grande do Sul, but Meninos Bons de Bola has yet to meet the group.
Meninos Bons de Bola will play any team or tournament that will have them. They dream of going to Paris in August for the 10th edition of the Gay Games. A sporting and cultural event meant to celebrate all types of diversity, the Gay Games have been held every four years for the last 36 years and allow participants to register in their chosen sport based on their gender identity and not what they were assigned at birth.
This year's Games are expected to host 10,000 participants from more than 80 countries, but the possibility of Meninos Bons de Bola making it to the tournament is slowly fading. Without a sponsor, the $20,000 they need to get 10 players there is too far out of reach.
At least for now, they'll continue to play closer to home.
Last year they came in third place at the Diversity Championship, an LGBTQ soccer tournament held in Sao Paulo. But their win didn't come without the name-calling they know is often part of the game.
"We were called little girls and ladies," Martins said. "But we can't bow our heads, because that's when we lose. That's what makes me so proud of our medal. We overcame all of that. It was our first fight against transphobia and we won."
Langlois is a special correspondent.
---
Must-read stories from the L.A. Times
Get the day's top news with our Today's Headlines newsletter, sent every weekday morning.
You may occasionally receive promotional content from the Los Angeles Times.