As Brexit deadlock deepens, Theresa May reaches out to EU leaders — without success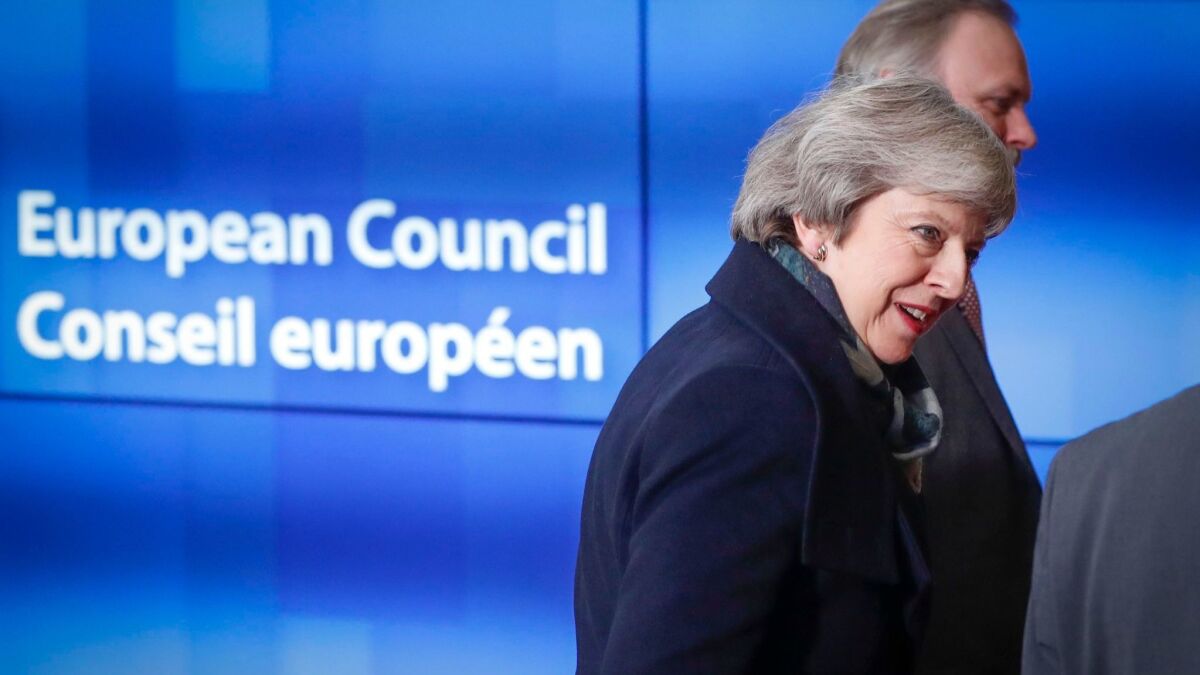 Reporting from London —
Key European leaders on Tuesday rebuffed appeals by British Prime Minister Theresa May to renegotiate terms for Britain's intended departure from the 28-nation bloc, heightening the prime minister's political peril and deepening the deadlock over Brexit.
A day earlier, May was forced to call off a long-anticipated vote in the British Parliament on the plan her government had negotiated on terms for exiting the European Union. U.K. lawmakers made it clear the proposed pact would have gone down to defeat.
In a whirlwind daylong tour of the Continent that took her to the Netherlands, Germany and Belgium, the British leader found some sympathy for her predicament — but that was coupled with still-firm European refusals to go back to the bargaining table.
With Britain scheduled to leave the EU on March 29, fears were growing that the departure might take the form of a "hard Brexit" — that is, crashing out of the European bloc with no agreement on relations going forward. Economists say a no-deal Brexit would almost certainly trigger a deep recession.
In pursuit of an agreement she could sell to lawmakers, May met for an hour with her most important European interlocutor, German Chancellor Angela Merkel. Afterward, the chancellor told members of her conservative German parliamentary group that there was no scope for renegotiating the Brexit deal, according to German media reports.
In Brussels, the president of the European Council, Donald Tusk, expressed regret over the setback the agreed-upon deal had suffered in the British Parliament, but failed to throw May any visible lifeline. He tweeted after their talks that, while the other 27 members of the bloc wanted to help, "the question is how."
While ruling out substantive changes to a deal that's already been negotiated, EU leaders expressed some hope that the terms could be clarified in a way that might help May secure parliamentary backing.
"There is no room whatsoever for renegotiation," said the head of the European Commission, Jean-Claude Juncker. "But of course there is room enough to give further clarifications and further interpretations, without opening the withdrawal agreement."
The main sticking point is a provision to ensure there would be no border checks between Northern Ireland, which is British-ruled and would leave the EU, and the Republic of Ireland, which will remain a member of the bloc.
The EU has ruled out any softening of that border guarantee, but some British lawmakers have balked, saying such an arrangement would give the bloc too much leverage. May planned to travel to Dublin on Wednesday for talks likely to center on that provision.
With less than four months remaining before Britain's scheduled exit from the EU, the prime minister tried to put the best face on her efforts, citing "shared determination" to reach a resolution. But her take on the day's diplomatic discourse did not appear to square with the EU's stance.
"We are just at the start of the negotiations and the start of the discussions," May insisted.
British media, meanwhile, dwelt on a comically symbolic moment as May arrived to meet Merkel, playing and replaying footage of the prime minister temporarily trapped in her car by an apparently malfunctioning door latch while Merkel stood waiting.
In London, May's spokeswoman said a parliamentary vote on Brexit terms would take place before Jan. 21, but with the clock ticking down, there was little room for more delay.
Amid the growing uncertainty, the prime minister faced the threat of rebellion within the ranks of her Conservative Party. A leadership challenge would be triggered if 48 Conservative lawmakers wrote formal letters seeking one.
News reports late Tuesday suggested that that threshold may have been reached, or nearly. Graham Brady, the head of a committee that would tabulate the letters and trigger a vote, requested a meeting with May on Wednesday, according to the BBC.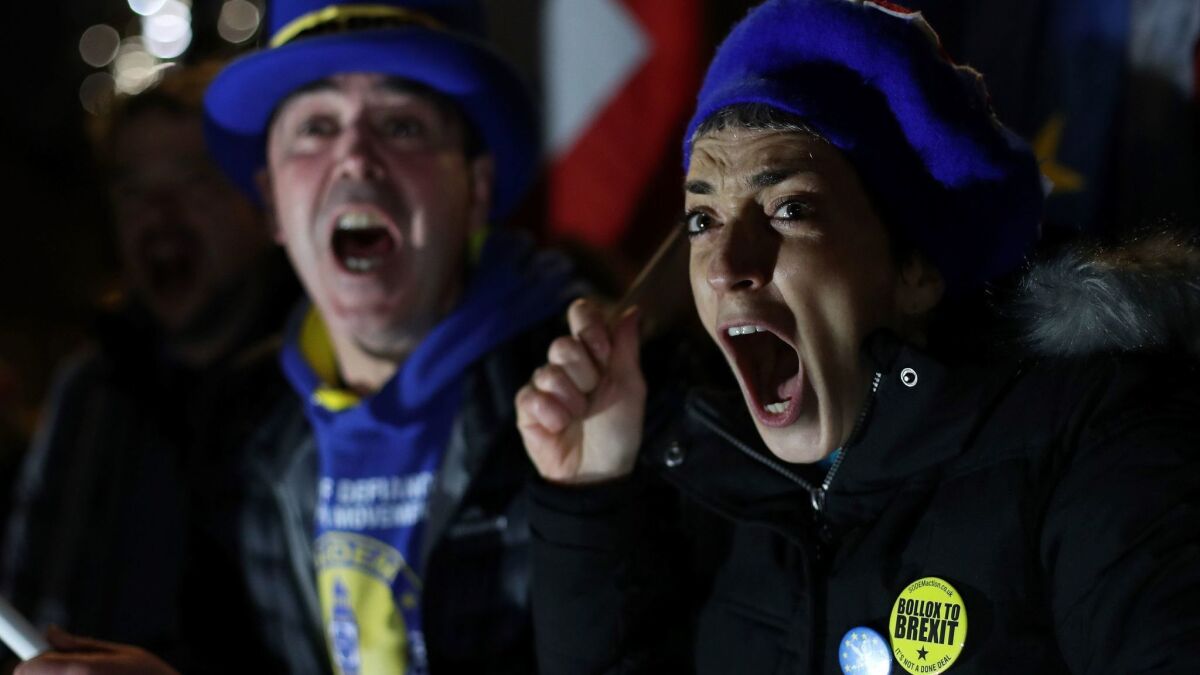 In the wake of Monday's stinging setback for the prime minister, the opposition Labor Party redoubled its scorn as she made the rounds of EU capitals. Labor leader Jeremy Corbyn branded May the "runaway prime minister" and said her trip to meet with European leaders was a "waste of time and public money."
Pressure also mounted on Corbyn to put forth a motion of no confidence in the government, which could trigger a general election if a majority of lawmakers supported it. But he has so far resisted, wanting to ensure that his Labor Party could seize power if an election were to take place.
The ongoing political chaos has galvanized calls to hold a new referendum. Supporters of the People's Vote campaign — a cross-party group of lawmakers and campaigners — reiterated Tuesday that only a second referendum would allow the country to move forward.
"Our fate remains in our own hands," said former Foreign Secretary Margaret Beckett, calling on ministers to draft legislation that would allow a referendum do-over.
But in many quarters, seeking to overturn the June 2016 vote to leave the EU is considered a politically explosive option that would set a dangerous precedent for Britain's democracy.
Special correspondent Boyle reported from London and Times staff writer King from Washington. Special correspondent Erik Kirschbaum in Berlin contributed to this report.
---
Must-read stories from the L.A. Times
Get the day's top news with our Today's Headlines newsletter, sent every weekday morning.
You may occasionally receive promotional content from the Los Angeles Times.