As talks with EU flounder, Britain continues to have a big 'Brexit' problem: Ireland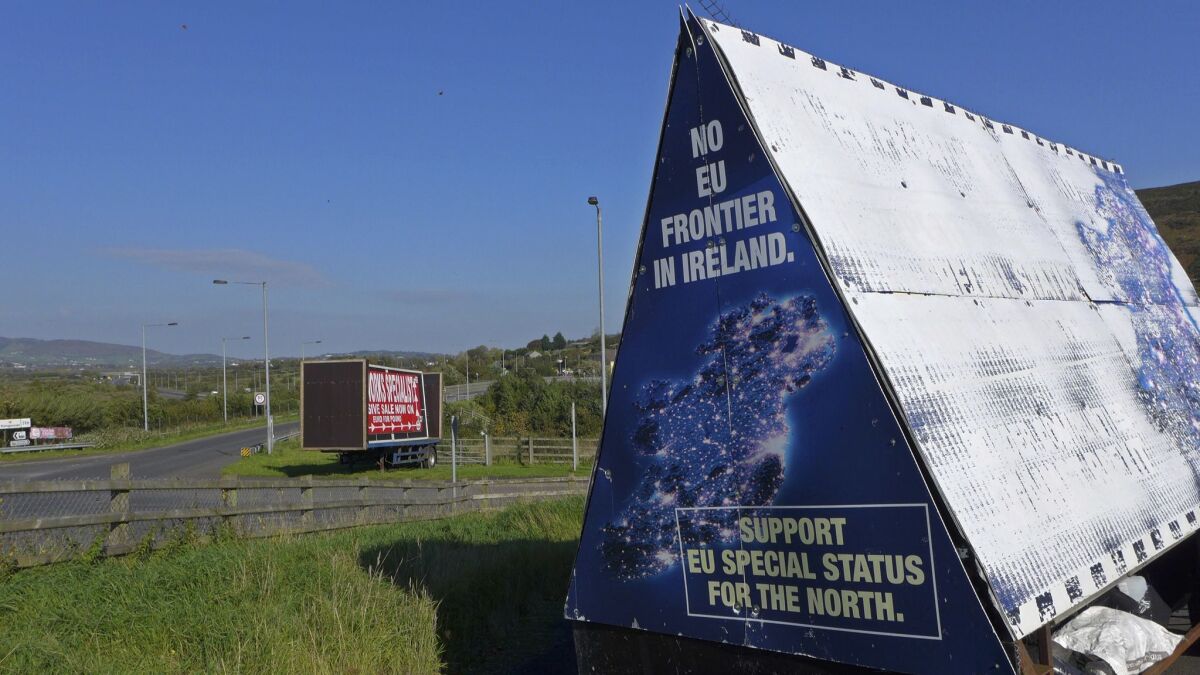 Reporting from Luxembourg —
The moods in Britain and the European Union swung between hope and gloom on Monday over an intractable dispute about the Irish border — shifts that came only two days ahead of a summit once seen as the last moment to reach a deal on Britain's divorce from the bloc.
After a flurry of weekend meetings had raised expectations for a "Brexit" agreement only to dash them again, EU and British leaders sought to keep alive the possibility that Wednesday's summit could see a Brexit breakthrough, despite their conflicting stances.
After a year and a half of talks aimed at a smooth breakup, both sides were still dogged by the same issue — how to ensure that no hard border is created between the EU's Ireland and Britain's Northern Ireland once Brexit happens on March 29.
EU Council President and summit host Donald Tusk searched for a positive outlook.
He cited a quote — "It always seems impossible until it's done" — before adding his own words, "Let us not give up." At the same time, he acknowledged that a breakup with no rules in place "is more likely than ever before."
Despite a failed meeting Sunday between the two sides' Brexit negotiators, British Prime Minister Theresa May told the House of Commons in London on Monday that "I do not believe the EU and the UK are far apart."
Yet a chasm remains over a solution for the Irish border.
The EU wants Northern Ireland to stay in its customs union to avoid a hard, policed land border between it and Ireland. But May says that would create "a border in the Irish Sea" between two parts of the United Kingdom — a scenario that she and Britain will not accept.
Britain is proposing instead to keep all of the U.K. in a customs union with the bloc — but only temporarily. Tying Britain to the EU on customs would limit the U.K.'s power to strike new trade deals around the world — a key goal of those who voted to leave the EU.
"I need to be able to look the British people in the eye and say this 'backstop' is a temporary solution," May told the lawmakers.
Insisting that a Brexit divorce deal was "achievable," May said the border dispute should not "derail the prospects of a good deal and leave us with the no-deal outcome that no one wants."
May is under intense pressure from her Conservative Party and its parliamentary allies not to give any more ground in Brexit negotiations.
May's political allies in Northern Ireland, the Democratic Unionist Party, stand ready to scuttle a Brexit deal over the Irish border issue. DUP Brexit spokesman Sammy Wilson said "it is probably inevitable that we will end up with a no-deal scenario" over Brexit.
Many fear that any return to customs checks and other controls on the Ireland-Northern Ireland border could revive tensions between Northern Ireland's Irish Catholic community and its British Protestant one. More than 3,600 people were killed in Northern Ireland amid 30 years of violence between the two groups and Britain before a 1998 peace deal.
Irish Foreign Minister Simon Coveney, speaking at a meeting Monday of EU foreign ministers in Luxembourg, said the delays in solving the border issue were frustrating. He suggested that May was reneging on part of Britain's commitment, made in December, to ensure that there is no hard border on the island of Ireland.
He said a backstop "cannot be time-limited."
"Nobody wants to ever trigger the backstop, but it needs to be there as an insurance mechanism, to calm nerves that we're not going to see physical border infrastructure reemerging," Coveney said.
The border impasse makes it is almost impossible that EU leaders will reach a Brexit deal at their summit this week. The British and EU parliaments need to approve any deal, a process that could take months.
German Chancellor Angela Merkel, perhaps the strongest voice in the EU, insisted Monday that May should not count on the EU to blink first for fear of losing valuable business. Merkel said Germany wants an orderly departure of Britain from the bloc "but not at any price."
EU negotiators and leaders have said that Britain should not seek to cherry-pick the best parts of staying in the EU without the costs and responsibilities.
"We must not allow our single market, which is really our competitive advantage, to be destroyed by such a withdrawal," Merkel told Germany's main exporters' association. "And if it doesn't work out this week, we must continue negotiating, that is clear — but time is pressing."
If Britain leaves the EU without an agreement on future relations, there could be chaos — tariffs would go up on trade, airlines could no longer have permits to fly between the two regions, and freight could be lined up for miles at border crossings as customs checks are restored overnight.
The EU has said it is willing to call an extra meeting in November if needed to seal a Brexit deal, but only if there was decisive progress this week.
"I figure November or December is the best opportunity for a deal," said Irish Prime Minister Leo Varadkar. "This is a dynamic situation."
As the chances of Britain crashing out of the EU without a deal rise, so do calls from pro-EU campaigners in Britain for a new referendum — dubbed a "People's Vote" — on whether to accept a divorce deal or stay in the bloc.
Several opposition lawmakers, and even a few Conservatives, stood in Parliament on Monday to call for a new Brexit referendum.
"We had a people's vote," May replied. "It was called the referendum and the people voted to leave."
---
Must-read stories from the L.A. Times
Get the day's top news with our Today's Headlines newsletter, sent every weekday morning.
You may occasionally receive promotional content from the Los Angeles Times.