British lawmaker Jo Cox killed in shooting, had campaigned against leaving EU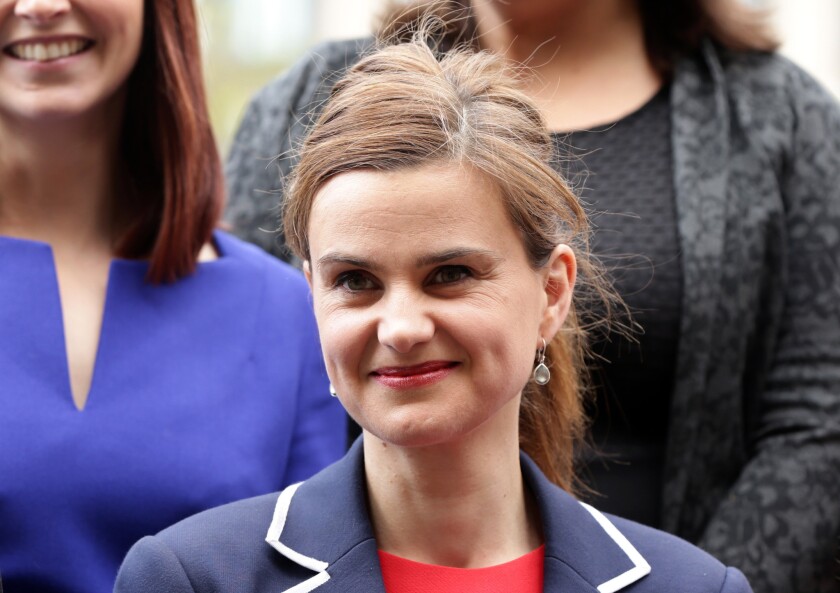 Reporting from London —
A member of Parliament and rising star in Britain's Labor Party was shot and stabbed outside a library Thursday in northern England, an act of gun violence rarely seen in a country where few use – or even own – firearms.
The fatal attack on Jo Cox sent shock waves through a country that has strict gun control laws and where gun-related homicides are infrequent. The last member of Parliament to die violently was Ian Gow, who was killed more than a quarter of a century ago when a pipe bomb planted by the Irish Republican Army blew up his car.
Cox, 41, was a former aid worker with a deep sense of social justice and had spoken in support of the refugees and Syrian people.
She also had been campaigning for Britain to remain in the European Union in next week's referendum. Both sides of the EU referendum debate immediately suspended campaigning after the attack.
Police did not immediately offer a motive, but one witness told the BBC that he heard the assailant shout, "Put Britain first!" at least twice before opening fire. Cox was left bleeding on the sidewalk.
A 52-year-old man, who has not been publicly identified, was arrested nearby and a gun and other weapons were recovered. Authorities, who could be seen searching a nearby home, said they do not believe there are other suspects.
Cox, the mother of two young children, had just met with constituents in the small market town of Birstall, outside the northern city of Leeds.
"She would have wanted two things above all else to happen now," said her husband, Brendan. "One, that our precious children are bathed in love. And two that we all unite to fight against the hatred that killed her. Hate doesn't have a creed, race or religion. It is poisonous."
Prayer vigils and moments of silence were held in Cox's memory in London and Yorkshire.
"This has just been so heartbreaking," Sarah Brown, the wife of former Labor Prime Minister Gordon Brown, said in an interview with BBC. "This is something that's so difficult to understand happening in our own country."
Gun-related homicides — even gun ownership — are exceedingly rare in England compared with the United States. According to 2007 statistics compiled by the Council on Foreign Relations, there were 0.06 gun-related homicides per 100,000 people in England. In contrast, there were 3.54 firearm homicides for every 100,000 people in the United States.
Cox was educated at Cambridge University and had worked at various aid agencies, including Oxfam, before being elected to Parliament during the 2015 general election.
Prime Minister David Cameron described her as a bright star in the party, someone with a "huge heart."
"She had a great track record of caring about refugees," he said. "She had taken a very big interest in how we could look after Syrian refugees and the right thing to do in our world."
Labor leader Jeremy Corbyn praised her for dedicating her life to human rights and social justice.
"Violence is not an answer to anything," he said. "We've lost a wonderful woman, we've lost a wonderful member of Parliament, but our democracy will go on. Her work will go on. As we mourn her memory, we'll work in her memory to achieve that better world she spent her life trying to achieve."
On Thursday afternoon, Cox's husband tweeted a photo of his wife standing on the banks of the Thames, believed to be near a houseboat they lived on in London.
Cox, he said, "believed in a better world and she fought for it every day of her life with an energy and a zest for life that would exhaust most people."
ALSO
Black box of missing EgyptAir plane is found and pulled out of the sea, Egypt says
Bangladesh crackdown: more than 14,000 arrests, yet machete attacks continue
After its own mass shootings, Germany beefed up gun control laws. The number of shootings dropped.
Boyle is a special correspondent. The Associated Press contributed to this report.
---
UPDATES:
3:22 p.m.: This article was updated with details of the attack.
10:42 a.m.: This article was updated with additional background information and reaction.
9:50 a.m.: This article was updated with information from a police news conference.
9:33 a.m.: This article was updated with the arrest of a man in connection with Cox's death.
9:23 a.m.: This article was updated with the death of Jo Cox.
7:54 a.m.: This article was updated with staff reporting throughout.
This article was originally published at 7:21 a.m.
---
The Latinx experience chronicled
Get the Latinx Files newsletter for stories that capture the multitudes within our communities.
You may occasionally receive promotional content from the Los Angeles Times.