Bangladesh crackdown: more than 14,000 arrests, yet machete attacks continue
Reporting from Dhaka, Bangladesh —
Police in Bangladesh have arrested more than 14,000 people in the last week and authorities have urged citizens to be vigilant. One district even armed some residents with bamboo sticks and whistles.
Yet police said Thursday that machete-wielding assailants had struck again, wounding a Hindu college teacher at his home in southern Bangladesh.
As a weeklong crackdown against suspected Islamist militants concluded Thursday, the massive numbers of arrests were not sufficient to stop the relentless spread of machete attacks that have claimed at least 49 lives over the last 17 months in Bangladesh.
One suspect in the attempted killing Wednesday night, described as a 20-year-old who had been missing from his home in the capital since earlier this week, was arrested and was being questioned. The teacher, Ripon Chakroborty, remained hospitalized with critical head and hand injuries in the southern town of Barisal.
Increasingly, the assailants' targets are Hindus, who are estimated to make up less than 10% of Bangladesh's 160 million people, the vast majority of whom are Muslim. News media reported Thursday that a priest of the Ramkrishna Mission, a Hindu organization in the capital city of Dhaka, received a death threat a day earlier from a group calling itself a member of Islamic State.
The computer-written letter said that if the priest did not stop preaching his religion he would be killed with machetes between the dates "20th and 30th," without specifying the month, according to bdnews24.com, a news website. The report did not name the priest for security reasons.
Authorities in Dhaka confirmed that the priest filed a complaint Wednesday night.
Two Hindus were among four people killed last week in separate machete attacks across the country, including the wife of a senior police official who had been investigating the wave of militant violence.
Islamic State and Al Qaeda have claimed responsibility for many of the killings, which have targeted secular bloggers, activists, foreigners and religious minorities. They have followed a disturbingly similar pattern – a few young men on motorcycles accosting their target, hacking them in the head and fleeing the scene, almost always without being stopped.
Bangladeshi officials have blamed the violence on domestic militants and political opponents, saying they want to destabilize the country.
Following the police official's wife's slaying, authorities announced the weeklong crackdown in which 166 suspected militants have been arrested, according to police. Most are members of Jamaatul Mujahidin Bangladesh and Ansarullah Bangla Team, two homegrown extremist groups, said police official Kamrul Ahsan.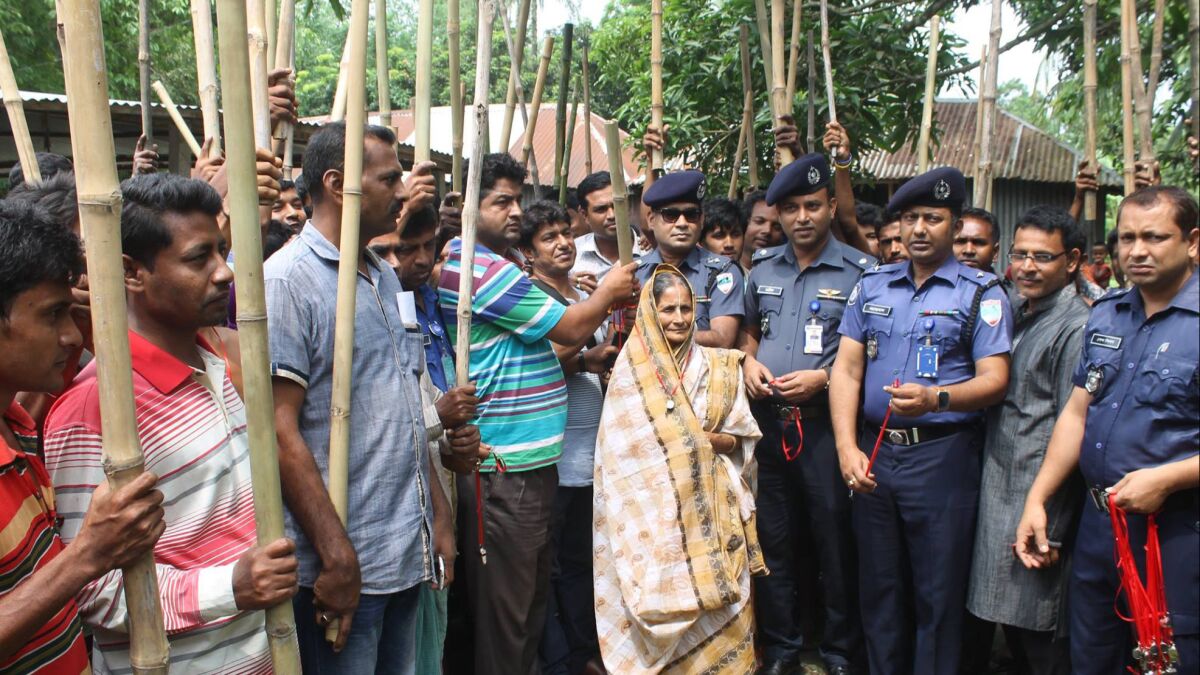 Ahsan said 14,552 people have been arrested since Friday. The majority are suspected of drug crimes and other offenses that are not directly related to militancy and will be interrogated or prosecuted, he said.
Police officials have not said whether any are suspects in the recent slayings. And some police tactics have drawn criticism – particularly the decision by officials in Magura district, an area with a significant Hindu minority 70 miles west of Dhaka, to equip villagers with bamboo sticks and whistles to raise morale.
Critics say the arrests are politically motivated.
Jamaat-e-Islami, an Islamist political party that opposes Prime Minister Sheik Hasina, said that many of its members were among those arrested and called the clampdown "inhuman and unlawful."
"The ongoing arrest drive caused severe resentment among the general masses," the Islamist party's acting secretary-general, Shafiqur Rahman, said in a statement. "I am calling upon the countrymen to raise [their] voice against these autocratic steps of the government."
The government's home minister, Asaduzzaman Khan Kamal, denied the allegations.
"No arrest was made with ill or political motive," Kamal said.
Analysts said the clampdown was needed to try to end impunity for the killings.
"We cannot expect militancy would be eliminated in one crackdown, but it would help to stop this ongoing series of murders," said Maj. Gen. Abdur Rashid, a security analyst and retired army officer.
Neem Chandra Bhowmik,a University of Dhaka professor and vice president of the Hindu Buddhist Christian Unity Council, a group that advocates for religious minorities, welcomed the police drive. Bhowmik said the group was visiting small towns to reassure fearful minorities and urging them to have confidence in the government's efforts to stop suspected militants.
"If they don't detain them, how could they find out the mastermind of these murders?" Bhowmik said.
Khan is a special correspondent. Staff writer Bengali reported from Mumbai, India.
ALSO
'Black box' of missing EgyptAir plane found, pulled out of sea, Egypt says
U.S. transfers imprisoned drug lord Hector 'El Guero' Palma to Mexican custody
Looting and unrest continue roiling Venezuela as shortages persist and protesters demand food
---
Must-read stories from the L.A. Times
Get the day's top news with our Today's Headlines newsletter, sent every weekday morning.
You may occasionally receive promotional content from the Los Angeles Times.