Chemical weapons watchdog confirms Russian ex-spy, daughter poisoned by sophisticated nerve agent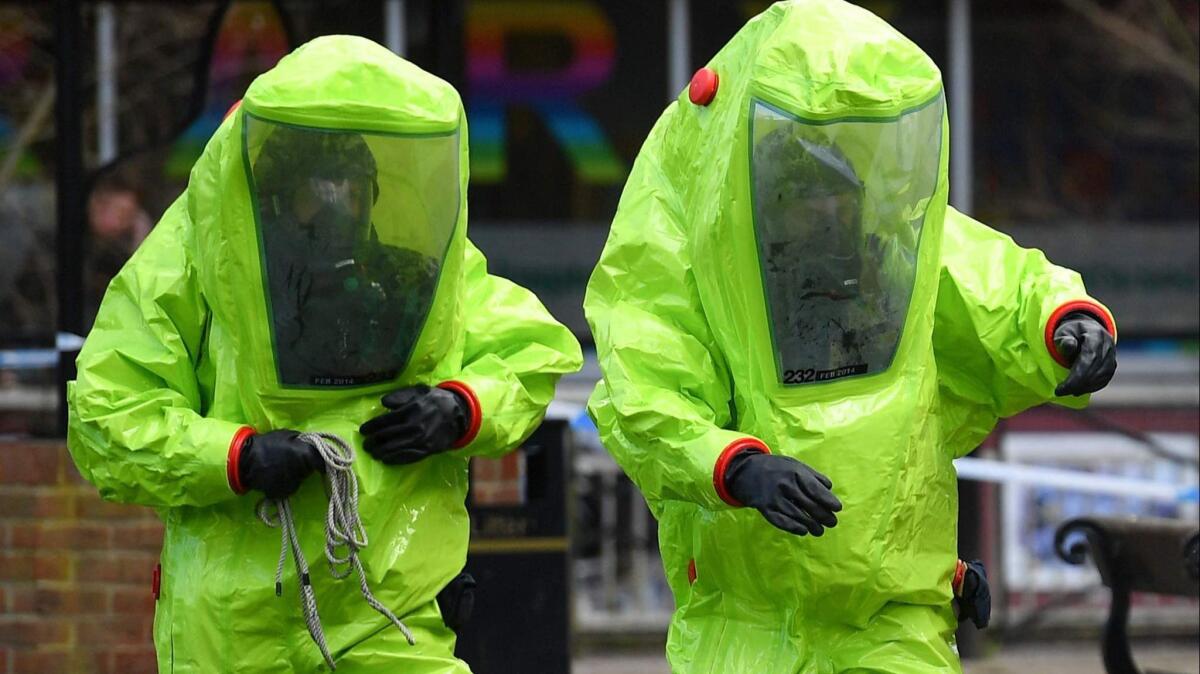 Reporting from moscow —
A saga that's already been widely likened to a spy thriller took on a series of new plot twists Thursday: a war of words over a watchdog group's scientific report, a growing diplomatic tug-of-war over a stricken Russian ex-intelligence agent and his daughter, and even a seeming family feud.
Britain said Thursday that an international chemical-weapons monitoring organization's report strongly bolsters the case for Kremlin guilt in last month's poisoning of onetime spy Sergei Skripal, 66, and his daughter Yulia, 33.
The Organization for the Prohibition of Chemical Weapons confirmed that the Skripals were exposed to a sophisticated nerve agent that it did not name in a summary of the report that was made public Thursday. Britain has earlier identified the nerve agent as Novichok, developed by Russia during the Cold War.
British Foreign Secretary Boris Johnson said there was "no alternative explanation" when it came to culpability for the apparent attack on the father and daughter on March 4 in the British cathedral city of Salisbury, where they were found slumped comatose on a public bench.
"Only Russia has the means, motive and record," Johnson said. "The Kremlin must give answers."
The Netherlands-based watchdog group, whose full report remained classified, did not identify the source of the toxin – an omission that was swiftly seized upon by Moscow to cast doubt on the findings. Russian officials have consistently described the entire episode as a Western-concocted provocation meant to discredit the Kremlin.
Britain said the report's characterization of the substance as highly purified supported its stance that the toxin could only have been produced by a state laboratory, although Moscow refuses to provide samples against which it could be matched.
At the same time, Russia stepped up demands for diplomatic access to Skripal, who remains hospitalized, and his daughter, who is is continuing her recovery in an undisclosed location after having been released earlier from the hospital.
"A month has passed, yet nobody has seen them yet," Maria Zakharova, a Russian Foreign Ministry spokeswoman, told reporters in Moscow. She insisted it was up to Britain to prove "that these people aren't being held hostage, and are not taking part in some horrible game."
A day earlier, Yulia Skripal, in a statement released on her behalf by Scotland Yard, declined what she called a "kindly" offer of assistance from the Russian Embassy in London. The embassy, which for weeks has offered a stream of caustic commentary about the incident, quickly suggested that the young woman's statement had been fabricated or coerced.
"With no possibility to verify it, the publication by the Metropolitan Police raises new questions rather than gives answers," the embassy said. "We would like to make sure that the statement really belongs to Yulia. So far, we doubt it much."
In the statement, Yulia Skripal said no one could speak for her and her father but they themselves. That was an apparent reference to a cousin in Russia, Viktoria Skripal, who has repeatedly popped up in interviews with official Russian media, and has offered to travel to Britain to bring her cousin home.
"I have access to friends and family, and I have been made aware of my specific contacts at the Russian embassy who have kindly offered me their assistance in any way they can," the ex-spy's daughter said in her statement. "At the moment I do not wish to avail myself of their services, but, if I change my mind I know how to contact them."
She also thanked Viktoria Skripal for her concern, but asked her cousin not to "visit me or try to contact me for the time being."
The poisoning of father and daughter comes against the backdrop of an escalating confrontation between Russia and the West over Syria. More than two dozen countries, including the United States, announced the expulsion of Russian diplomats in solidarity with Britain over the poisoning of the Skripals, plunging relations to a post-Cold War low.
President Trump warned Russia this week of an impending missile strike against its ally, Syrian President Bashar Assad over the alleged use of chemical weapons against his own people, although the president subsequently walked back denunciations of Russian President Vladimir Putin for backing Assad.
Special correspondent Ayres reported from Moscow and staff writer King from Washington.
---
UPDATES:
12:42 p.m.: This story was updated throughout with staff reporting and additional details.
This article was originally published at 8:25 a.m.
Sign up for Essential California for news, features and recommendations from the L.A. Times and beyond in your inbox six days a week.
You may occasionally receive promotional content from the Los Angeles Times.