Theresa May vows to hang on as British prime minister, but the road ahead is rocky
With 649 of 650 seats in the House of Commons declared, May's bruised Conservatives had 318 — short of the 326 they needed for an outright majority and well down from the 330 seats they had before May's roll of the electoral dice. (June 9, 2017) (Si
Reporting from London —
A defiant Theresa May vowed to stay on as prime minister and continue to lead the United Kingdom out of the European Union after her disastrous election gamble led to the loss of her Conservative Party's majority in Parliament.
Despite calls to step down — including from opposition Labor Party leader Jeremy Corbyn, whose party fared better than expected — May appeared determined to stay in her position and try to form a government with Northern Ireland's right-wing Democratic Unionist Party, which won 10 seats.
To that end, May met with Queen Elizabeth II on Friday morning to seek approval for her plan, then faced the country outside No. 10 Downing Street, the prime minister's official residence, with her husband by her side.
"I will now form a government," she said. "A government that can provide certainty and lead Britain forward at this critical time for our country."
But May emerged from the election weaker than she went in, with new questions raised about her ability to keep the country safe and maintain its social safety net. And some Britons saw her as too close to President Trump, who has become politically toxic in Britain — although May has hardly been his cheerleader.
The results also raised doubts about the country's ability to successfully navigate complex Brexit negotiations to pull out of the European Union.
Britain's Prime Minister Theresa May, flanked by her husband Philip after meeting the Queen in Buckingham Palace in London, Britain, on June 9. 2017.
(FACUNDO ARRIZABALAGA / EPA)
Prime Minister Theresa May leaves Buckingham Palace the day after the general election in which the Conservatives lost their majority.
(Paul Ellis / AFP/Getty Images)
Prime Minister Theresa May arrives with her husband Philip, second from left, at Buckingham Palace on Friday for her audience with Queen Elizabeth II.
(Victoria Jones / AFP/Getty Images)
People cross Westminster Bridge in front of the Houses of Parliament the day after Britain's election.
(Markus Schreiber / AP)
The Labor Party's Shadow Chancellor of the Exchequer John McDonnell leaves after speaking to reporters on College Green, opposite the Houses of Parliament.
(AFP/Getty Images)
British Prime Minister Theresa May arrives with her husband Philip at the ballot counting center in Maidenhead early Friday.
(Geoff Caddick / AFP/Getty Images)
Britain's Labor Party leader Jeremy Corbyn arrives at his constituency in London.
(Dominic Lipinski / AP)
Palmerston, the Foreign and Commonwealth Office cat, stalks past 10 Downing Street in front of the waiting media in central London after election results came in.
i
(Justin Tallis / AFP/Getty Images)
Election officials count votes in the Emirates Arena in Glasgow, Scotland.
(Robert Perry / EPA)
Election officials react during vote counting in the Emirates Arena in Glasgow, Scotland.
(Robert Perry / EPA)
Police watch over election officials as they count votes in the Emirates Arena in Glasgow, Scotland.
(Robert Perry / EPA)
The London Eye gleams with a color projection early Friday.
(Isabel Infantes / AFP/Getty Images)
Jeffrey Donaldson, Democratic Unionist Party candidate for Lagan Valley, celebrates his election win at the Eikon Exhibition Center in Lisburn, Northern Ireland.
(Brian Lawless / AP)
A TV crew reports from Parliament Square in Westminster as the Elizabeth Tower, commonly referred to as Big Ben, and the Houses of Parliament loom in the background.
(Isabel Infantes / AFP/Getty Images)
With only one seat left to declare, May's party had won the largest vote share in Thursday's election, with 318 seats, but it was short of the 326 needed to hold the majority in the 650-seat Parliament.
The leader of the Democratic Unionist Party, Arlene Foster, said she would work with May to bring about stability, but some voters were alarmed that her party was called upon to help prop up the minority government.
The DUP is socially conservative, opposes same-sex marriage and abortion, and has strong links to loyalist paramilitaries in Ireland. It was formed as a protest party under the late Protestant Rev. Ian Paisley, a hardcore unionist who was one of the U.K.'s most polarizing figures. At least one of its members of Parliament is a climate change denier — a rarer phenomenon in Britain than in the United States.
While the party is against seeing a hard border with checkpoints introduced between Northern Ireland and the Republic of Ireland when Britain leaves the EU, it is staunchly Euroskeptic and passionately supported the Leave camp in the referendum.
Sounding defiant and talking little about Thursday night's defeat, May said she would continue to deliver on last June's referendum result and lead the country through crucial negotiations to end Britain's decades-old membership in the European Union. Talks are scheduled to begin in just 10 days.
However, May — crucially — would not be drawn into questions about whether she would remain prime minister for the duration of the talks, and for the full five-year parliamentary term, leading many to believe she plans to restore order and then hand over the reins.
The killer was when the terrorist attacks happened. You ended up with a Conservative Party that was vulnerable because she was home secretary.
Anand Menon, professor at King's College London
But how exactly she plans to forge ahead with Brexit was unclear, given that she had called the election in the hope of strengthening her party's majority from the 2015 election, when the Conservatives won 331 seats, and obtaining a clear mandate from the British public as she embarked on negotiations. Instead, her gamble spectacularly backfired, and she not only erased the meager majority her party had, but left herself with no majority and a hung Parliament.
"It was a godawful Conservative campaign, nothing more, nothing less," said Anand Menon, professor of European politics and foreign affairs at King's College London.
May had entered the election campaign riding high and looked almost certain of success. She had a commanding lead in the polls while the left-leaning opposition Labor Party was seemingly in disarray, led by a divisive leader under Corbyn.
She had been chosen as prime minister by her Conservative peers in the wake of David Cameron's resignation. He had gambled his political career on holding a referendum on Britain's continuing membership in the EU, which he supported, and stepped aside when he lost.
Despite being a surprise choice as leader, May seemed to win over much of the country by appearing strong, decisive and successfully restoring some sense of normality to a country in flux. She said she chose to hold a snap election "with reluctance" in the hope of stamping out infighting over what Britain's future relationship with the EU would look like, and built her campaign around her ability to be a safe pair of hands during those talks.
But the country did not buy it, and cracks soon started to appear.
She was reluctant to be drawn into the specifics on her Brexit strategy, and her tough talk that "no deal was better than a bad deal" rang alarm bells. The Labor Party, meanwhile, also pledged to honor the referendum results, which in many ways made Brexit a moot point.
Instead, Labor sought to make the election about social welfare. It focused on the faltering National Health Service, pledging to cut waiting times and dramatically increase funding. Corbyn also vowed to scrap university tuition fees, raise the minimum wage and provide free childcare to infants.
By contrast, the Conservative Party has presided over years of austerity measures and failed to show how it would make the lives of working families better. A pledge to get the elderly to pay more for their social care was dubbed a "dementia tax" by critics.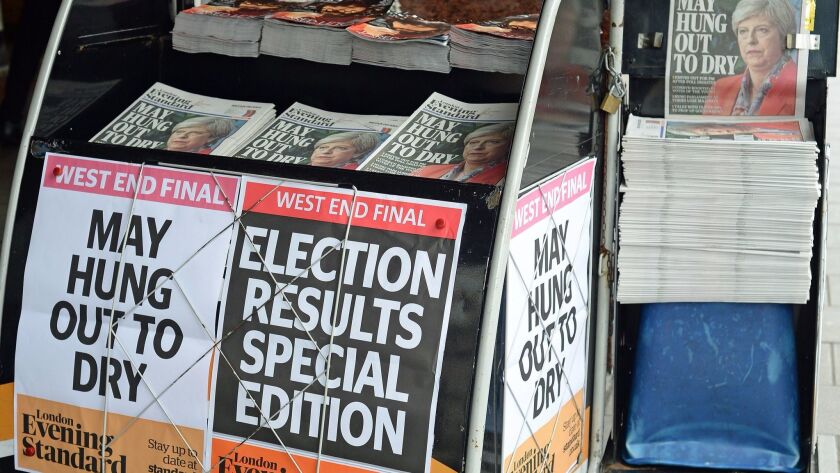 The backlash was so fierce that May was forced to modify the plans, in what some branded a U-turn. May also appeared stiff on the campaign trail while Corbyn, who has spent his life taking part in rallies, attracted large crowds and was especially appealing to the younger generation.
They repaid him at the ballot box on Thursday by turning out to vote in far higher numbers than usual.
Bernie Sanders, whom Corbyn often has been likened to, offered his congratulations on Friday: "All over the world, people are rising up against austerity and massive levels of income and wealth inequality."
Then came the issue of security, which is where the Conservative Party, and May especially, got hammered.
The campaign was marred by two terrorist attacks — first in Manchester, killing 22, and then in London, leaving eight dead. That pushed policing and security issues to the fore and might have been a final nail in the coffin for May's campaign.
She came under fierce criticism for presiding over cuts that reduced police ranks by 20,000 officers during her time as home secretary from 2010-2016. They were damning accusations that May could not shake.
"The killer was when the terrorist attacks happened. You ended up with a Conservative Party that was vulnerable because she was home secretary," Menon said. "She was uniquely vulnerable on that."
May was also seen to be pandering to Trump, refusing to call him out for his Twitter attacks on London Mayor Sadiq Khan in the wake of the London Bridge attack.
"Voters here already thought that Trump was a joke; but, for many of them, he turned into a sick joke when he started tweeting about the terrorist attack in London a few days out from polling day," said Tim Bale, professor of politics at Queen Mary, University of London. "May is seen as too close to him. That won't have done her much good."
As the votes rolled in, the calls for May to resign started — not least from Corbyn, her main opponent, whose party fared much better than predicted, winning 261 seats with the one seat still left to count, up from 229 in the 2015 election. He said the country had voted against the Conservative Party's austerity cuts and this was a clear sign that change was needed.
Even expressions of support from within her own party were underwhelming.
"I'm reeling. I think we're all reeling. I think there's real fury against the campaign," said former education secretary Nicky Morgan. "I think she should stay for now, but I think she won't fight another election — and I think eventually, whether it takes weeks or months, we will have to look at the leadership."
In Europe, leaders were understandably confused about what the results meant and expressed frustration that renewed political infighting in Britain could make the Brexit negotiations even more protracted than they already promised to be.
The European Parliament's Brexit negotiator described the results as "yet another own goal" — a term for when a soccer team scores against itself — that will only succeed in making "already complex negotiations even more complicated."
And after hearing that May had managed to get approval from the monarch to form a government, Donald Tusk, president of the European Council, wrote on Twitter: "Our responsibility now is to secure least disruptive #Brexit. No time to lose."
Regardless of the desire to move ahead with Brexit, the shape of those talks is likely to be dramatically different than what May outlined months ago when she talked boldly of leaving the single market and the customs union in order to regain control. She will now need to garner support from other sides of the aisle for her deals, and many lawmakers favor a softer approach.
"The election has changed everything as far as Brexit is concerned because it will mean that ultimately the government has to change its negotiating position to get cross-party support," said Robert Bell, head of EU and competition law at London law firm Bryan Cave. "The majority with the DUP is wafer thin. All it needs is a couple of rebels on the Conservative side to say, 'I don't want hard Brexit,' and they will lose their majority. It has complicated her life no end and I don't think she will be able to recover."
Boyle is a special correspondent based in London.
ALSO
Six people die in London rampage; police fatally shoot 3 suspected attackers
Following terrorist attacks, Britain prepares to go to the polls as race tightens
With British election looming, security debate sharpens as two bridge attackers publicly named
---
UPDATES:
3:15 p.m.: This article has been updated throughout with additional background, analysis and quotes.
7:05 a.m.: This article has been updated throughout with staff reporting.
5:15 a.m.: This article has been updated throughout with additional details, including May moving forward to form a new government.
June 9, 12:25 a.m.: This article has been updated with reports that May is resisting pressure to resign and with a quote from France's prime minister.
This article was first published on June 8 at 10:55 p.m.
---
Must-read stories from the L.A. Times
Get all the day's most vital news with our Today's Headlines newsletter, sent every weekday morning.
You may occasionally receive promotional content from the Los Angeles Times.