For China's gay men, Dongdan Park in Beijing offers haven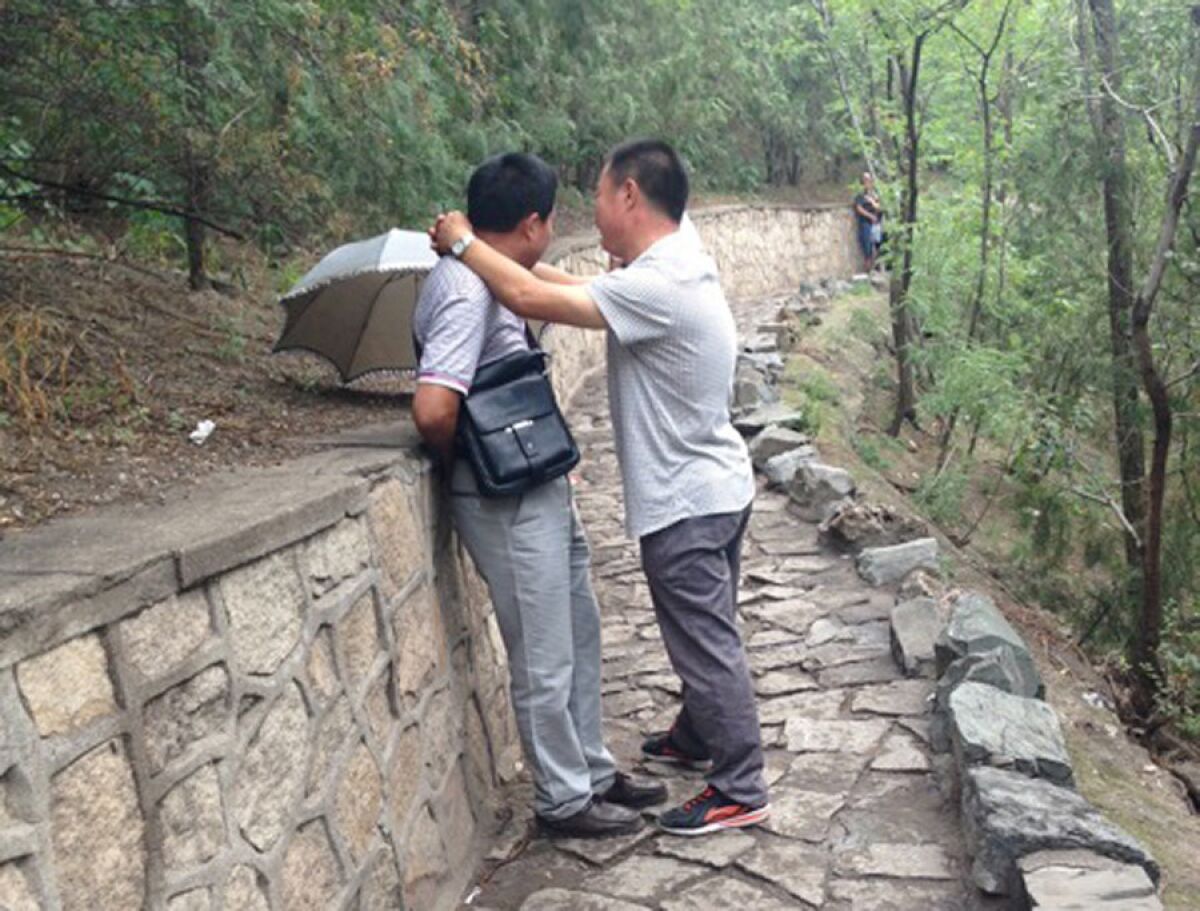 reporting from Beijing —
In 1984, Ning Guofeng, a.k.a. "Lady Paris," was arrested by police officers after visiting Dongdan Park in Beijing — the third time he was charged with "hooliganism" in seven years. Sent to a labor camp for three years, Ning, now 77 and known as "Granny Paris," still keeps returning to the scene of his alleged crimes.
"It's like home," said Ning, who earned his exotic nickname in the 1960s after having a dalliance with a chef from Paris who was working for the French Embassy in Beijing. "We can talk freely about what we've been hiding from our families and co-workers."
NEWSLETTER: Get the day's top headlines from Times Editor Davan Maharaj >>
For more than three decades, Dongdan Park, one mile east of Tiananmen Square, has attracted gay men from across China. Some seek a long-term love interest, some a one-time sex partner, others friendship.
China decriminalized homosexuality in 1997 and removed it from its official list of mental illnesses four years later. Though same-sex marriage has not been legalized, Chinese media regularly report on high-profile gay home weddings and gay couples getting marriage certificates in the United States.
But for many gay Chinese, it is still difficult to buck social pressure to find a spouse of the opposite sex and have children. Confucian ideology makes no allowances for homosexuality, and there are no legal protections against discrimination.
Dongdan, then, is a haven for many.
At first glance, it looks no different from other Beijing parks: In an open plaza, middle-age women dance to catchy pop songs while elderly men clamor over Chinese chess in front of a statue saluting workers, peasants and soldiers of the 1960s Cultural Revolution.
But in one section, up a hill covered in vegetation, men — old and young, well-dressed and casual, married and single — stroll on stone-paved lanes, making eye contact with others. A sustained glance can develop into a smile and much more.
Many regulars are migrant workers who came to Beijing during China's economic boom of recent decades. The crowds are aging: Thanks to online gay dating apps, fewer young men come to the park. Dongdan nevertheless provides something an app cannot: Immediate opportunities to interact face to face.
Some gossip about a news anchor they believe actually died of AIDS instead of the "official" cause. Others forgo small talk for blunt queries about their preferred style of sex.
Anonymity is paramount. "What if my boss finds out?" said a 32-year-old clothing wholesaler in a bright orange T-shirt and hair dyed to match. "Nobody outside knows I'm gay."
Although the park is in some ways a refuge, thieves are known to lurk. Some "money boys," or prostitutes, don't just charge for their services, but blackmail customers who fear their "hobby" may be leaked.
Peng Huijie, 60, who has volunteered for the Chinese Center for Disease Control and Prevention in Beijing since 2010, rarely misses a day at the park. He administers free HIV/AIDS tests, hands out condoms and delivers what he calls one-on-one "homosexual 101" sessions. Topics include cheating heartbreakers, gay identity and how AIDS is spread.
Peng and his five-person volunteer group have minimal contact with their government sponsors. The CDC dispatches supplies to the volunteers monthly, and in return Peng submits a list of HIV test-takers who typically register under fake names. Among 12,000 tests conducted last year, around 300 came back positive, he says.
Chinese media frequently portray HIV/AIDS as a "gay disease," even though national statistics show heterosexual sex was the route of transmission in 66% of new cases reported in the first 10 months of 2014.
"The CDC cares about meeting their quotas of HIV positives and getting their funding, but we see homosexuals with feelings," Peng said. "Their heart is not with the cause of anti-AIDS for the homosexuals. Sometimes they even discriminate against gay test-takers."
Anti-gay commentaries often appear in mainstream publications. Zeng Yi, a professor in Confucianism at Tongji University, called homosexuality "a crime against humanity" in an essay for the Shanghai-based news website the Paper after the U.S. Supreme Court legalized same-sex marriage and President Obama endorsed the decision.
Perhaps not surprisingly, few high-profile Chinese have publicly come out.
"Superstars don't want to lose their heterosexual fans, and those in politics need a 'normal' family to survive and get promoted," said sociologist Li Yinhe, a longtime advocate for gay rights in China.
Li estimates there are 39 million to 52 million gay men among China's 1.3 billion citizens. With same-sex marriage unrecognized, adoption by gay couples prohibited and surrogacy banned, a majority of this group, she says, would marry women (including some lesbians, who face a similar stigma). They want to quash rumors and have children to support them in their later years — and perhaps have grandchildren to dote on.
"This fling with guys is for now. I shall live with a woman in the long run," said the 32-year-old clothes wholesaler, whose wife and 6-year-old son live in his hometown, Chengde, in Hebei province.
Some park veterans, vexed by such cognitive dissonance, warn newcomers against "squandering" their time in the park. Some eventually become regulars, returning to seek a sense of belonging.
In the meantime, a few Chinese gay-rights activists persist in pushing for greater social recognition, and even marriage rights. "China needs to have representatives for the homosexual community in the National People's Congress to bring up proposals of gay marriage for the revision of the law," said Li.
Ning knows he's unlikely to bear witness to such a development. Yet, having weathered the twists and turns of a Chinese gay man's life for more than half a century, he remains optimistic.
"People used to be disgusted by our presence in the 1960s," he said. "But fewer people discriminate against gay men now. Things will be even better in the future."
Zhang is an intern in The Times' Beijing bureau.
ALSO:
Are 'gayborhoods' a victim of the gay rights movement's success?
Beijing wins an Olympic endurance contest
China aghast as woman crushed by escalator at shopping mall
---
Must-read stories from the L.A. Times
Get the day's top news with our Today's Headlines newsletter, sent every weekday morning.
You may occasionally receive promotional content from the Los Angeles Times.