Beijing wins an Olympic endurance contest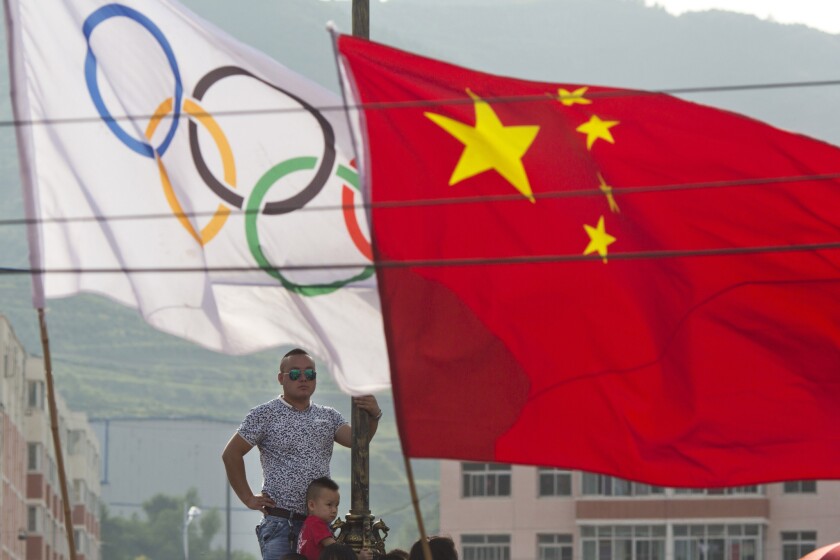 Not long ago, Beijing seemed a longshot to host the 2022 Winter Olympics.
Snowy locales such as Oslo and Stockholm seemed more suitable environments for testing the world's best skiers and skaters. Yet by the time the International Olympic Committee made its selection on Friday, the Chinese capital had become a clear favorite.
Call it a game of survival.
With one candidate after another scared away by potential costs, Beijing prevailed over the only remaining competitor — Almaty, Kazakhstan and became the first city named to host both the Summer and Winter Games.
IOC President Thomas Bach suggested his members had used their experience from the 2008 Summer Games to conclude that China could easily handle the logistics of staging another massive, 17-day competition.
"This is really a safe choice," he said. "We know China will deliver on its promises."
Beyond the world of sports, the selection sparked outrage among activists and human rights groups who say China's Communist Party is being rewarded despite its strongest crackdown on dissent in decades.
"There is no hope that China would make any more progress on human rights than it did with the 2008 Games," said John J. MacAloon, a University of Chicago anthropologist and historian who has studied the Olympics. "The decision for Beijing over Almaty is the biggest mistake the IOC could have made."
The final vote was closer than expected — 44-40 — and marked by some controversy after electronic equipment failed and Bach had to call for a revote using paper ballots. That did not seem to dampen the moment for Chinese officials, who said, in a statement, that "the Olympic family has put its faith in Beijing again."
It was not the best of weeks for IOC members who gathered in Kuala Lumpur, Malaysia. First, they learned that Boston, the U.S. bid city for 2024, had pulled out. Los Angeles is the leading contender to replace Boston, if the U.S. decides to make another bid.
Then, they convened to choose from just two 2022 candidates, the smallest field in almost 30 years.
The $51-billion price tag for the 2014 Sochi Olympics had caused potential bidders to think twice. In response, the committee recently enacted an "Agenda 2020" reform package that, among other things, sought to make hosting the Games more affordable.
Change did not arrive quickly enough to stop Oslo, Stockholm, Krakow, Poland, and Lviv, Ukraine, from dropping their bids over the past two years.
"The radical thing to do would have been to restart the bidding," said Victor Matheson, an economics professor and Olympics expert at the College of the Holy Cross in Massachusetts.
Instead, the IOC plowed ahead. Bid officials from Almaty knew they were underdogs, adopting the slogan "Keeping it real," a not-so-subtle reminder that it might actually look and feel like winter if the Games were held in their country.
Beijing had already conceded that, with nearby mountains receiving just 8 inches of snowfall annually, the alpine venues would rely on man-made snow.
Still, as a small nation and a relative newcomer to the Olympic scene, Kazakhstan seemed a riskier choice. And one that also faced human-rights issues.
China brought significant economic and political power to the table, along with a track record from 2008. Beijing Mayor Wang Anshun presented his city as an "athlete-centered, sustainable and economical choice."
The IOC had additional reasons for voting the way it did.
A return to Beijing offered another chance to promote its brand to a vast population. And the city proposed reusing some of its venues from 2008, including the "Bird's Nest" stadium.
Last December's reform package was aimed at discouraging hosts from building expensive venues that would go unused after the Games left town.
Beijing's current proposal calls for arena sports such as skating and curling to be held at venues in the city. Mountain sports would take place about 120 miles to the northwest in Zhangjiakou.
Organizers have pledged to build a high-speed rail line that could carry athletes, officials and fans between the Olympic clusters in less than an hour. They estimate that preparations — including the construction of 12 venues and three training sites — would cost $3 billion, just a fraction of the amount spent by Russian officials in Sochi.
The Olympics have a long history of cost overruns and money isn't the only challenge that lies ahead.
Pollution could be a problem, even if one bid official said, "We have seven more years to go, and it will be sunshine and white cloud."
Human rights issues figure to be of greater concern.
The Beijing Summer Olympics saw the forced relocation of 1.5 million people, the detention of disabled people and petitioners to "clean up" the city's image, and only temporary relaxation of restrictions on media.
Those Games "brought more humiliation than dignity and more sadness than joy to the people in China," said an open letter penned by dozens of prominent Chinese dissidents.
The IOC has a nondiscrimination clause in its host city contract but has repeatedly maintained the provision can only be enforced as it relates directly to the Games.
On Beijing's streets, reaction to the winning bid was muted in comparison with the national reverie the last time the nation was selected as a host in 2001.
"When Beijing won [the 2008 Summer Games], I felt so proud of my country — it demonstrated our nation's power and strength," said Ruan Yangbin, a 35-year-old resident of Shenzhen. "But I don't sense such strong feelings now."
The same might be said for global reaction.
"There wasn't much of a choice," Matheson said. "Given the current crop of bidders, it came down to which nontraditional, autocratic nation do you want to go with?"
Kaiman and Makinen reported from Beijing, Wharton from Los Angeles.
---
Get our high school sports newsletter
Prep Rally is devoted to the SoCal high school sports experience, bringing you scores, stories and a behind-the-scenes look at what makes prep sports so popular.
You may occasionally receive promotional content from the Los Angeles Times.