In Beijing, disappearances and security controls ensure quiet Tiananmen anniversary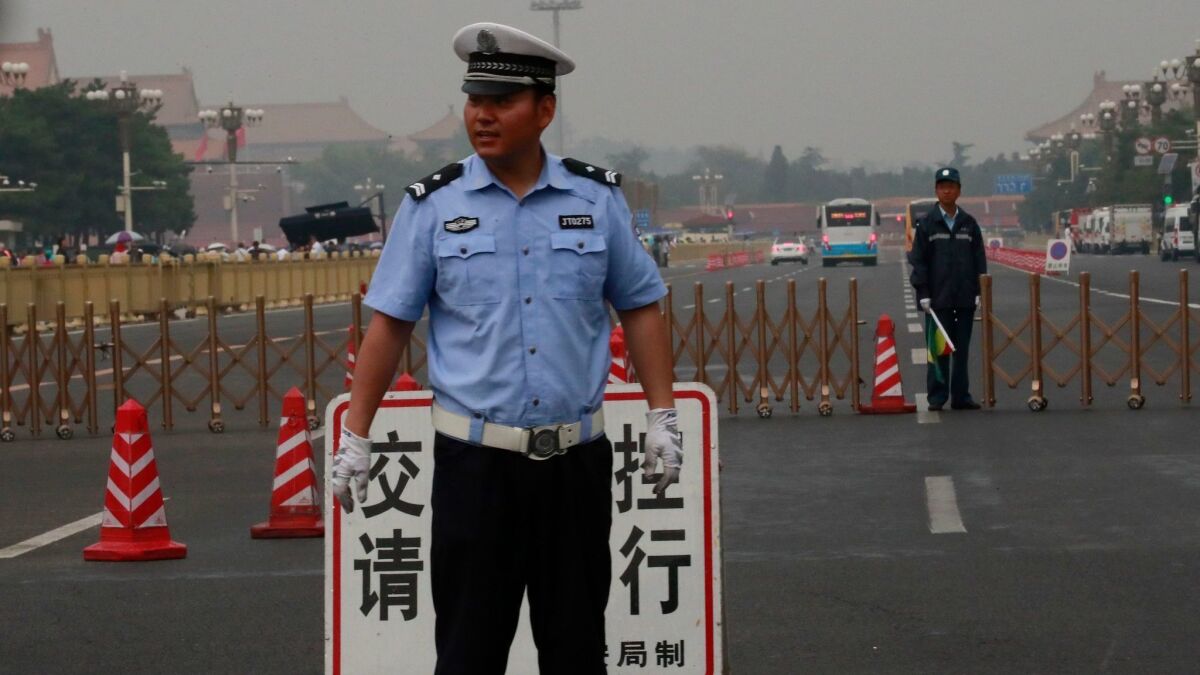 Reporting from Beijing —
In Beijing, the 30th anniversary of the Tiananmen Square protests passed in silence.
At the square, police checked the identity cards of every visitor exiting nearby subway stations, in addition to the usual measures of control — metal detectors, surveillance cameras and security guards — already in place.
Some foreign journalists were blocked from entering the square. Others entered and saw the usual scene of students and tourists taking photos, with the portrait of Mao in the backdrop, where visitors lined up to enter the Forbidden City.
Authorities took preemptive measures months before the anniversary to thwart activists who might try in some way to observe the anniversary.
Since late May, several members of Tiananmen Mothers, a group of victims' mothers made up mostly of women in their 80s, have been under house arrest and blocked from outside communication.
Independent filmmaker Deng Chuanbin was detained in Sichuan in May for tweeting a photo related to the massacre. Activist Hu Jia and others have been taken on forced "vacations" with assigned guards to prevent them from speaking to others.
In Sichuan, four activists were detained for producing a bottle of alcohol labeled "Eight Liquor Six Four," which reads in Chinese as a reference to June 4, 1989. One has been given a 3½-year prison sentence. The other three have been released, but authorities are keeping them under surveillance with electronic wrist monitors, according to Human Rights Watch.
Folk rock musician Li Zhi, whose songs mention June 4, has vanished from public appearances. An upcoming tour has been canceled, and all his music has been removed from Chinese streaming sites.
"Thirty years after the Tiananmen Massacre, Chinese authorities have not acknowledged the atrocity or provided justice for the victims and their families," said Yaqiu Wang, China researcher at Human Rights Watch. "The whitewash of Tiananmen and heightened repression across China have fueled activists' determination to fight for human rights."
The events of June 4, 1989, have long been censored in Chinese education, media and on the internet. Searches for "Tiananmen Square protests" on Baidu, the Chinese alternative to Google, yield only state propaganda saying that authorities brought anti-socialist riots under control on this day 30 years ago.
There is no mention of the killings of students and workers or of the protesters' original demands for democratic reform.
In a change from previous years, when authorities have said nothing about the anniversary at all, Beijing has made some defensive statements.
On Saturday, Defense Minister Wei Fenghe said at a security forum in Singapore that China's response to the protests was validated by the country's current "stability."
"The last 30 years have proven that under the leadership of the CCP, China has undergone major changes," Wei said, referring to the Chinese Communist Party.
"How can we say that China didn't handle that incident properly? That incident was political turbulence and the central government took measures to stop the turbulence."
The state-run tabloid Global Times ran an editorial June 3 saying the Tiananmen protests were a "vaccination for Chinese society" that would raise China's "immunity against any political turmoil in the future."
On June 4, the tabloid published a propaganda piece featuring photos of patriotic Chinese youth waving the Chinese flag at Tiananmen Square, and congratulating the Chinese Communist Party for making youth today more patriotic than those 30 years ago.
"The current generation of Chinese youth grew up with Coca Cola and Hollywood movies, but why do they have stronger support for the Party rather than becoming anti-Communist proxies to launch a 'Color Revolution' just as some Western forces have expected?" it said.
The tabloid answered its own question: because the Communist Party has provided financial well-being and "stability," in contrast to the "unstable and problematic parts of the outside world."
The piece did not specify what happened 30 years ago to warrant today's comparison.
Twitter was also embroiled in debate around Chinese censorship in the lead-up to June 4.
On June 1, Twitter suspended a number of Chinese dissident accounts, including human rights lawyers, activists and university students, some based in the United States, and others using virtual private networks to access the banned platform from China.
Yaxue Cao, activist and a founder of the website China Change, tweeted lists of suspended users, speculating that Chinese government agents might be mass reporting dissident accounts to get them shut down.
"This has to be an attack by a state actor," Cao wrote.
Sen. Marco Rubio (R-Fla.) also highlighted the suspensions, tweeting: "Twitter has become a Chinese govt censor."
Twitter released a statement saying the suspensions were part of regular, automated anti-spam cleanups that Twitter runs across the platform, and apologized for making "false positives" this time.
"The accounts were not mass reported by the Chinese authorities," Twitter's statement read. "This was a routine action on our part."
---
Must-read stories from the L.A. Times
Get the day's top news with our Today's Headlines newsletter, sent every weekday morning.
You may occasionally receive promotional content from the Los Angeles Times.