U.S. and Chinese officials meet in Beijing for last-ditch effort to end trade war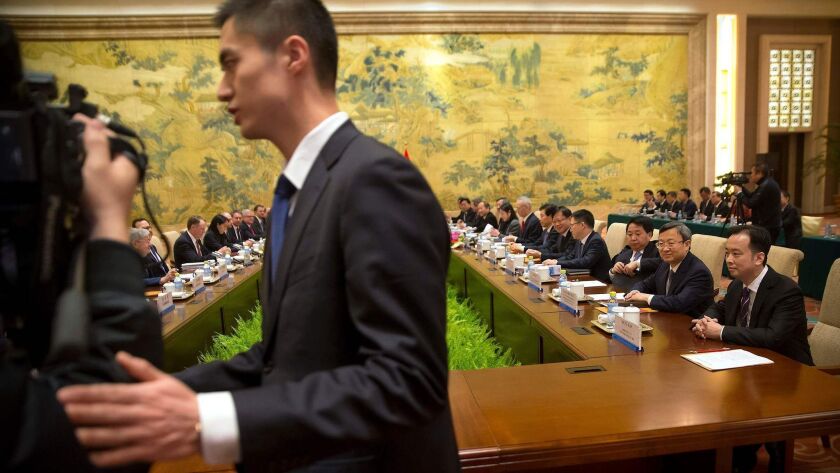 Reporting from Beijing —
American and Chinese officials met in Beijing on Thursday for high-level trade talks in an effort to reach a deal to end a bruising trade war, after President Trump told reporters that talks were "going along very well."
U.S. tariffs on $200 million in Chinese goods are due to rise from 10% to 25% if there is no deal by March 1, although that deadline may shift to allow Trump and Chinese President Xi Jinping to meet next month if the Beijing talks go well.
With differences remaining, a meeting between the two leaders is seen as the best chance to reach a deal to end the conflict that has roiled markets and threatens global growth at a delicate time, with China's economy slowing.
The conflict centers on U.S. anger at Chinese industrial and trade policies, including accusations that China does not protect American intellectual property, forces foreign companies in China to surrender their technology and subsidizes technological firms in strategic sectors, disadvantaging foreign firms.
Trump has indicated he might be willing to let the March 1 deadline slide for a short while although he's not inclined to do so. Chinese Ministry of Commerce spokesman Geo Feng refused to confirm a Bloomberg report Thursday that the deadline for talks on a deal would be extended by 60 days.
"I think you'll get a better answer after the conclusion of the high-level China-U.S. trade talks," Feng told journalists. But Hu Xijin, editor of the state-owned Global Times, tweeted that the report of a 60-day extension was inaccurate.
Trump and Xi agreed to a 90-day truce in December — when the tariff hikes were originally due to come in — to enable talks aimed at resolving the dispute.
Trade representative Robert Lighthizer and Treasury Secretary Steven T. Mnuchin led the U.S. delegation Thursday, while Chinese vice premier Liu He, Xi's top economic advisor, led the Chinese side. Xi is expected to meet Lighthizer and Mnuchin on the final day of talks Friday.
Thursday's talks at the Diaoyutai state guest house followed three days of lower-level talks focused on questions such as how to ensure the future enforcement of any agreement. American officials complain that China has failed to implement many of the reforms it promised when it joined the World Trade Organization in 2001.
U.S. Department of Agriculture Deputy Secretary Stephen Censky said Wednesday that Trump and Xi were expected to meet sometime in March.
Some of the parameters of China's offer have emerged in recent weeks: buying more American products such as soybeans, automobiles and liquid natural gas; fast-tracking a law increasing legal protection for companies against intellectual property theft; and improving access for foreign firms in China.
But the struggle to meet the March 1 deadline underscores the difficulty American negotiators face in shifting China on its core industrial policy.
U.S. negotiators are seeking fundamental changes on how China operates, including its support for domestic firms at the expense of foreign firms in China. But China sees subsidies of champion companies as core to its goal of emerging as a world leader in strategic advanced technology, in fields including rockets, artificial intelligence, driverless cars and semiconductors.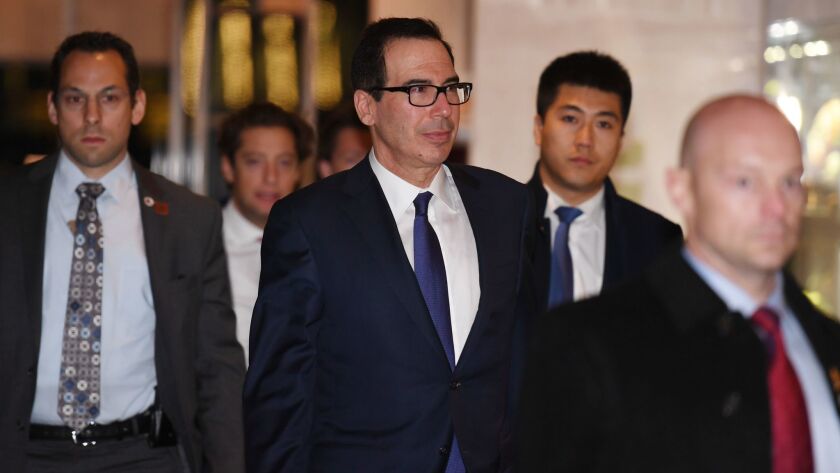 Moreover, Beijing sees the American tariffs and pressure on Chinese tech giant Huawei as a geopolitical strategy to contain China's rise and rejects U.S. accusations of intellectual property theft.
China is keen to reach a trade deal, with its economy slowing, a major debt burden and companies shedding workers. Xi recently warned senior officials of the need to take action to confront "major risks."
Some in Washington see China's current vulnerabilities as offering the best chance in years to extract an agreement to implement reforms and further open up its economy. But Trump, with an election next year, also faces political risks should a prolonged trade war continue to hurt American farmers, spook markets and stall stuttering global growth.
A series of arrests of alleged Chinese spies in the United States and U.S. pressure on Huawei have fueled tensions during the seven-month trade war. U.S. officials have warned allies against using Huawei technology in 5G networks, arguing this would endanger national security and jeopardize cooperation with Washington.
Having raised expectations, it may be difficult for Trump to present any trade agreement as the "best deal ever" unless China offers meaningful concessions.
Sen. Marco Rubio (R-Fla.) warned Thursday against the temptation to cut a bad deal, arguing that at the least any deal should stop forced technology transfers, intellectual-property theft and non-tariff barriers, as well as improving cybersecurity.
"Bringing balance to America's relationship with the People's Republic of China is the geopolitical challenge of this century," he wrote in an opinion piece in the Washington Post. "U.S. trade negotiators must stay focused on the fundamental issues of economic theft and competition. Haggling over soybeans, footwear or other low-value goods is not enough when China is engaged in a national effort to displace the United States and dominate 5G technologies, quantum computing, artificial intelligence, advanced pharmaceuticals and high-value manufacturing."
China's state-owned Global Times described the trade talks as having been "extremely complicated and often tense," in an article at the outset of Thursday's meetings.
"China has tried to meet the U.S. halfway. On the other hand, China sticks to its bottom line of economic sovereignty and national security. China will never harm its fundamental interests," the newspaper said in an editorial, adding that the trade war had "tested" Washington and forced it to change its attitude.
Hu, the Global Times editor, tweeted Thursday that the talks "are probably the most decisive ones since the China-U.S. trade war and will profoundly influence the future of China-U.S. relations."
Xue Rongjiu, deputy director of the China Society for WTO Studies, told the People's Daily that the global community should allow China to continue supporting its industries and give it more time to open up to foreign competition.
Twitter: @RobynDixon_LAT
---
The Latinx experience chronicled
Get the Latinx Files newsletter for stories that capture the multitudes within our communities.
You may occasionally receive promotional content from the Los Angeles Times.