China rejects 'threats and blackmail' on eve of U.S. tariff hike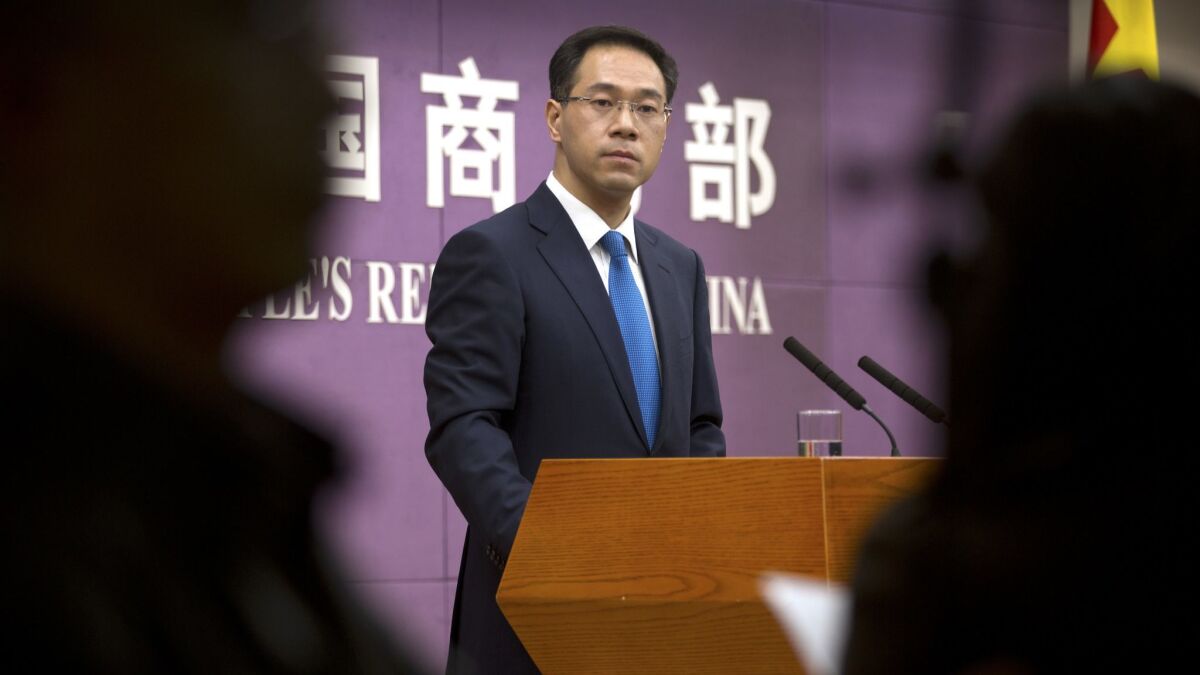 Reporting from Beijing —
China rejected "threats and blackmail" ahead of a threatened U.S. tariff hike, striking a defiant stance Thursday in a dispute companies worry could flare into a full-blown trade war and chill the global economy.
A government spokesman said Beijing will defend itself if President Trump goes ahead Friday with plans to raise duties on $34 billion worth of Chinese goods in the escalating conflict over technology policy.
The dispute reflects foreign frustration with China's state-led industrial development strategy, which Washington, Europe, Japan and other trading partners say hurt their companies and violate its market-opening commitments. Americans worry that rising Chinese technological prowess might erode U.S. industrial leadership and prosperity.
Chinese President Xi Jinping's government has issued a list of U.S. goods for possible retaliation, but the Commerce Ministry said it will wait to see what Washington does.
"China will not bow in the face of threats and blackmail, nor will it be shaken in its resolve to defend global free trade," ministry spokesman Gao Feng said at a news conference.
"China will never fire the first shot," Gao said. "However, if the United States adopts taxation measures, China will be forced to fight back to defend the core interests of the nation and the interests of the people."
RELATED: Some U.S. companies operating in China think the trade war may have already started »
Friday's tariff hikes are the first stage in threatened U.S. increases on up to $450 billion of imports from China over complaints Beijing steals or pressures foreign companies to hand over technology.
Xi's government has expressed confidence China can hold out against U.S. pressure, but companies and investors are uneasy.
Trade worries are adding to anxiety over cooling economic growth and tighter lending controls that have hit real estate and other industries. The main Chinese stock market index has tumbled 12% over the past month.
Chinese exporters of tools, lighting and appliances say U.S. orders have shrunk as customers wait to see what will happen to prices.
Ningbo Top East Technology Co., which makes soldering irons in Ningbo, south of Shanghai, used to export 30% of its output to the United States, according to its general manager, Tong Feibing. He said American orders have fallen 30% to 50% compared with a year ago.
RELATED: Port of L.A. estimates 15% of cargo could be subject to U.S., Chinese tariffs »
The company wants customers to split the cost of the tariff hike, but few are willing, Tong said.
"There is a chance the company will lose money and might go bankrupt," Tong said. "I will do whatever I can, including layoffs."
The ruling Communist Party has insisted on making changes at its own pace while sticking to a state-led industrial strategy seen as the path to prosperity and global influence. Officials in Beijing reject accusations of theft and say foreign companies have no obligation to hand over technology. But rules on auto manufacturing, pharmaceuticals and other industries require companies to operate through state-owned Chinese partners and share know-how with potential competitors or teach them how to develop their own.
Beijing has announced changes this year, including easing limits on foreign ownership in insurance and some other fields. But none directly addresses the complaints that are fueling its conflict with Washington.
The U.S. also has irked some of its closest allies by hiking import duties on steel, aluminum and autos from Europe, Japan, Canada and Mexico.
"The global trade conflict is at risk of a serious escalation," Adam Slater of Oxford Economics said in a report.
Tariffs imposed so far by all sides affect about $60 billion in goods, or 0.3% of world trade, according to Slater. He said that would rise to a full 4% of the global total if Washington, Beijing and other governments follow through on tariff threats.
Forecasters say a full-blown conflict could knock up to 0.5% off global economic growth through 2020 if Washington and Beijing impose tariff hikes on $250 billion worth of each other's goods.
---
Must-read stories from the L.A. Times
Get the day's top news with our Today's Headlines newsletter, sent every weekday morning.
You may occasionally receive promotional content from the Los Angeles Times.