China sends warning to Taiwan in the form of live-fire military drills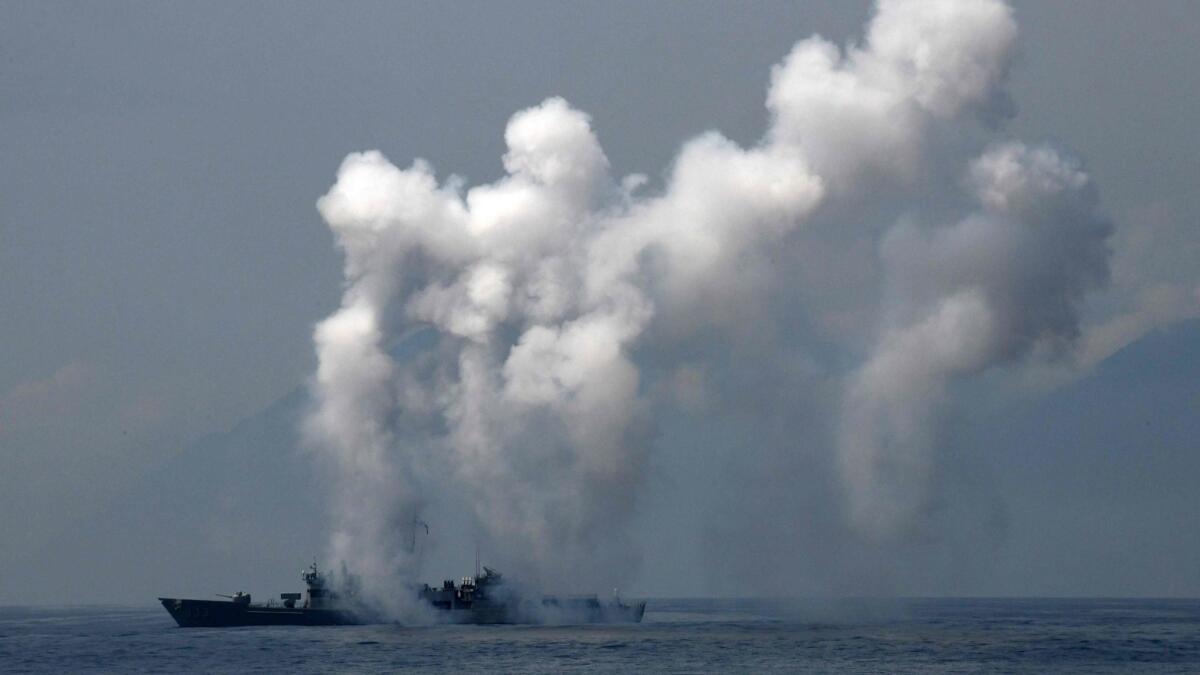 Reporting from Taipei, Taiwan —
China carried out live-fire military drills off its southeastern coast Wednesday in what was seen as a warning to Taiwan of the consequences of pursuing independence from Beijing.
Artillery rounds were fired in a zone about six miles off the coast of southeastern China and 108 miles from Taiwan, a Ministry of National Defense spokesman in Taipei said.
China intends for the 16-hour drills to discourage Taiwanese from seeking legal independence from the Communist leadership in Beijing, analysts say. Taiwan held its own military drills late last week.
"They will try to use it as way to influence the people of Taiwan," said Lo Chih-cheng, a ruling party lawmaker in the island's parliament. "This is sort of public opinion warfare rather than a military threat."
China claims democratic Taiwan as part of its territory, but the two have been ruled separately since the Chinese civil war of the 1940s. Taiwan government opinion surveys show that more than 80% of Taiwanese oppose unification with China, though some are more comfortable with today's de facto autonomy than with legal independence.
The Chinese government's Taiwan Affairs Office spokesman, Ma Xiaoguang, said Friday in connection with the drills that his government was ready to strike down any push for independence.
"I'd like to emphasize again that we have resolute willingness, ample confidence and plenty of ability to defeat any kind of 'Taiwan independence' and defend our country's sovereignty and territorial integrity," the spokesman said in a statement.
That comment "intends to intimidate Taiwan," the Mainland Affairs Council of the Taiwan government said in a statement Monday. Taiwan will "never give in to the threats of the Beijing authorities," it said.
Taiwan President Tsai Ing-wen rejects Beijing's idea that both sides belong to a single China. The two governments have not spoken formally since she took office in 2016. Tsai's Democratic Progressive Party also includes senior members who support legal independence.
Since Tsai started her term, China has also sent an aircraft carrier through the strait, flown military aircraft near the island and blocked Taiwan from participating with the United Nations, officials in Taipei say. China also held a live-fire drill near Taiwan two years ago.
Wednesday's drills come during Tsai's four-day trip to Swaziland. The country in southern Africa is one of 20 that recognize Taiwan diplomatically compared to the more than 170 that instead recognize China. The defense ministry in Taipei said it was following China's movements at sea and said Taiwan citizens should not be alarmed.
The military drills may be aimed as well at curbing further relations between Taiwan and the United States, said Yun Sun, East Asia Program senior associate at the Stimson Center think tank in Washington.
Jennings is a special correspondent
Sign up for Essential California for news, features and recommendations from the L.A. Times and beyond in your inbox six days a week.
You may occasionally receive promotional content from the Los Angeles Times.