In a surprise verdict, IMF chief Christine Lagarde found guilty of negligence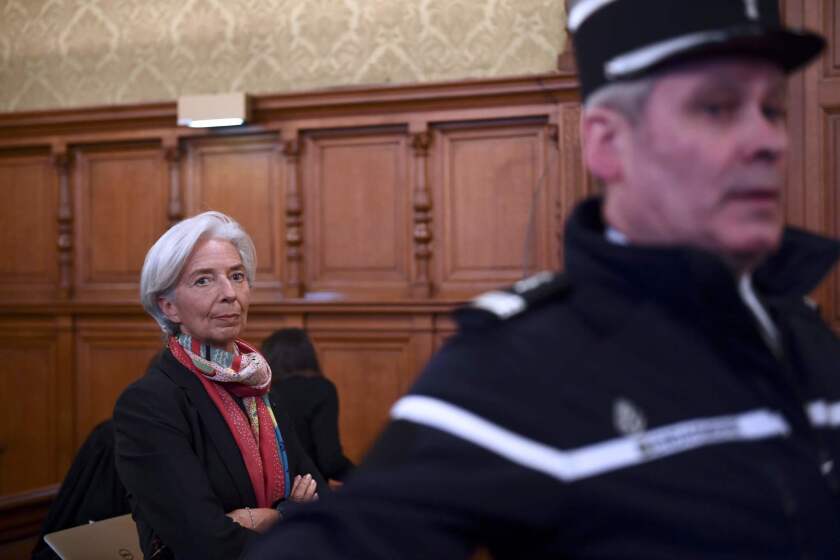 Reporting from PARIS —
A French court on Monday found Christine Lagarde, head of the International Monetary Fund, guilty of negligence with public funds for approving a controversial multimillion-dollar payment to a businessman.
But judges decided the former French government minister would not be punished with jail time or a criminal record. And the IMF said she would keep her job.

For the record:
9:54 a.m. June 29, 2022An earlier version of this article said tycoon Bernard Tapie is 72. He is 73. It also said arbiters recommended a payout to him in 2007. The recommendation came in 2008.
The surprising verdict came after the public prosecutor had recommended dropping the charge against Lagarde, 60. The IMF chief has always denied any wrongdoing, telling the court she acted in the "public interest." There is no suggestion she profited personally from the payment.
Had Lagarde been forced out, she would have been the second successive French IMF chief to fall. Lagarde's predecessor, French presidential hopeful Dominique Strauss-Kahn, was forced to resign after his arrest on suspicion of assaulting a New York hotel maid. Charges in that case were later dropped.
But the IMF issued a statement late Monday saying its executive board had met to discuss the verdict against Lagarde, and had reaffirmed "its full confidence in the managing director's ability to continue to effectively carry out her duties."
The statement said that the board had taken "all relevant factors into account in its discussions, including the managing director's outstanding leadership of the Fund and the wide respect and trust for her leadership globally."
Lagarde went on trial last week before a special tribunal set up to deal with alleged wrongdoing by politicians and other public servants while in office. Prosecutor Jean-Claude Marin had described the charge against Lagarde as "weak" and suggested her actions were political rather than criminal.
The charge of "negligence" involved her handling of a $366-million payout to tycoon Bernard Tapie, a former singer, football club owner, television star and politician. She approved the payment while serving as France's finance minister from 2007 to 2011. She left that position to become IMF managing director.
Tapie, 73, had sold his majority shares in the sportswear company Adidas to the Credit Lyonnais bank in 1993, when it was partially state-owned, to escape accusations of a conflict of interest when he was appointed government minister. The bank later sold the shares at a much higher price, and Tapie went to court claiming he had been defrauded.
After the case had dragged on through the often-tortuous French legal system, Lagarde referred it to a panel of private arbiters, who recommended paying off Tapie in 2008. Lagarde approved the payment, which came out of the taxpayers' purse.
The Court of Justice of the Republic, made up of three professional judges and 12 politicians from the French Parliament, declared she was negligent because she ignored public officials' advice not to make the payment and failed to appeal the arbitration decision.
Investigators have spent years looking into claims, fiercely denied by all parties, that then-President Nicolas Sarkozy had leaned on Lagarde to settle the case as a favor to Tapie, who had supported his successful 2007 election campaign.
Last year, Tapie was ordered by an appeals court to pay the money back, but he has appealed that decision, ensuring the case will continue to drag on.
Lagarde was not in court Monday for the judgment, having flown to Washington over the weekend for "professional reasons," according to her lawyer Patrick Maisonneuve.
"We would have preferred an acquittal, but it should be noted that the court has decided not to condemn Madame Lagarde to any sentence whatsoever," Maisonneuve told journalists after the judgment.
Willsher is a special correspondent.
ALSO
U.N. Security Council votes to deploy monitors to Aleppo to prevent 'mass atrocities'
These three U.S. companies moved jobs to Mexico. Here's why
Protesters have their eyes on the electoral college vote even though Trump is very likely to prevail
---
UPDATES:
2:50 p.m.: This article has been updated with further IMF statement, Lagarde keeping her job.
2:05 p.m.: This article has been updated with an IMF statement.
9:15 a.m.: This post has been updated with staff reporting, IMF to meet later today.
This article was originally posted at 6:50 a.m.
---
Must-read stories from the L.A. Times
Get the day's top news with our Today's Headlines newsletter, sent every weekday morning.
You may occasionally receive promotional content from the Los Angeles Times.