A carefully choreographed mass evacuation in Syria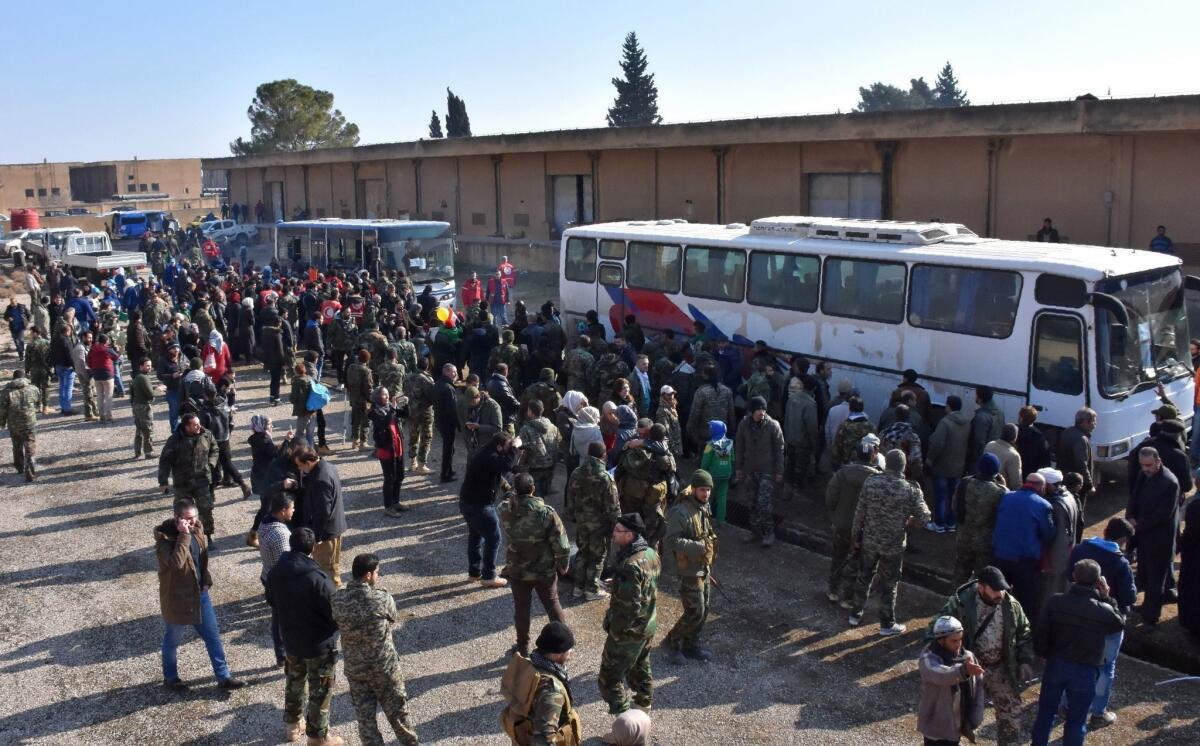 Reporting from Aleppo, Syria —
One convoy approached from the right, the other from the left. The buses rolled to a halt at the midpoint of the Ramousseh bridge, where a group of ambulances, aid workers and uniformed soldiers had been waiting for hours.
Minutes passed with both convoys frozen in place, all part of the intricately choreographed evacuation deal between the Syrian government of President Bashar Assad and the rebels trying to overthrow him.
One of the convoys on Monday contained some of the thousands of people being evacuated from the rebels' bombed-out districts in eastern Aleppo – ending their five-year battle to take control over the city, the largest in Syria. They were headed to rebel-held Idlib province, most of which is in the grip of a hard-line Islamist coalition known as the Army of Conquest.
The other convoy, consisting of 11 buses, had traveled roughly 30 miles from a pair of Shiite-majority towns, Foua and Kfarya, the last pro-government bastions in Idlib. For two years, people there had endured daily shellings and sniper attacks from rebel forces, as well as a crippling blockade.
It had taken days, and much bloodshed, to reach this point. There had been multiple rounds of tortuous negotiations involving the Assad government, the Army of Conquest and a variety of other parties with a stake in the fight: the Lebanese Shiite group Hezbollah; the governments of Iran, Russia and Turkey.
The evacuation had been set to begin Thursday, but quickly devolved into violence and recriminations from both sides, with the Syrian army and its allies accusing the rebels of smuggling weapons and hostages to their bastion in Idlib.
They also set as a precondition the emptying of Foua and Kfarya, where residents had become increasingly desperate.
Some of the Islamist factions balked at the loss of an important bargaining chip with the government. The threat of the two towns being overrun had guaranteed that Madaya and Zabadani, pro-opposition communities in the suburbs of Damascus, would not be forcibly taken over by the government forces surrounding them.
On Sunday, rebel fighters burned five of the buses that had come to Foua and Kfarya, spurring a round of condemnation.
Those still in eastern Aleppo meanwhile, thought to number anywhere from 4,000 to 40,000 people (accurate figures are impossible to obtain), uploaded videos on social media angrily beseeching their rebel allies to let the deal go through.
Cooler heads prevailed on Monday, as approximately 4,730 civilians and fighters left the rebels' enclave by the afternoon, according to the Syrian state news agency, SANA.
Other pro-government outlets, as well as a number of opposition sources, put the figure at 5,500, adding that approximately 200 of them had chosen to remain in government-held areas of Aleppo.
Monday's operation raised the tally of those evacuated to at least 14,000 since Thursday. Turkish Foreign Minister Mevlut Cavusoglu, in a Twitter post, put the number at 20,000.
Every step of Aleppo's evacuees was matched by the convoy evacuating the 500 sick and wounded residents from Foua and Kfarya. Roughly 3,500 more would follow.
Subsequent convoys followed the same procedure, underscoring the lack of trust among the belligerents.
Later in the day, Syrian state TV beamed celebratory scenes of Foua and Kfarya's residents arriving at a temporary shelter in Jibreen, an industrial area just east of Aleppo.
But those still waiting their turn in the towns, like journalist Jamil Sheikh, were anxious at the thought of leaving.
"We weren't wishing for such an operation to happen this way. We just wanted the siege to be lifted," he said in a phone conversation on Monday.
"This solution was like removing one's soul from your body. But the sick need to be treated immediately," he said.
In Idlib, Mahmoud Raslan, a pro-opposition activist, expressed disbelief that he had finally left Aleppo.
"I'm looking at piles of bread, and I can't believe it's there," he said in a WhatsApp voice message on Monday. "I see a fruit basket…. I think this is plastic, that it can't be real."
Meanwhile, the U.N.'s children's agency said on Monday that 47 children trapped in an orphanage in east Aleppo had been safely evacuated, with some in critical condition from injuries and dehydration.
"The evacuation of these orphans, along with thousands of other children from east Aleppo in the past days, is a glimmer of hope amid a grim reality for the children of Syria," said UNICEF Regional Director Geert Cappelaere.
The success in Syria comes as the United Nations Security Council passed a unanimous vote on Monday to send monitors from the U.N. and "other relevant institutions [to] carry out adequate, neutral and direct observation" of the evacuations, according to the text of the resolution released Monday.
The French-led initiative stated that security arrangements would be coordinated with "interested parties" to ensure the "well-being of civilians" in the eastern districts of Aleppo.
That provision had been added on Moscow's insistence (Russia had threatened to veto earlier drafts), and would require permission from the Syrian government before any teams could deploy, in what was seen as a nod to Syrian sovereignty.
SANA said in a report Monday that approximately 100 officials from the U.N., the International Committee of the Red Cross and the Syrian Arab Red Crescent would be deployed in Aleppo.
But in a press briefing following the Security Council meeting Monday, Syria's U.N. ambassador, Bashar Jaafari, clarified that the resolution was concerned with "observers already present in the location."
In an address to the Security Council, Jaafari also excoriated "some member states," a barb apparently aimed at the U.S., France and Britain. He accused them of drafting and presenting resolutions under humanitarian pretexts "in order to … fulfill their secret agendas and which aim at replacing legitimate governments by force and with the use of military force."
"We are dealing with the adoption of this resolution as a moral test and a chance for them to prove their good intentions, if any, and to meet the humanitarian needs of the Syrian people without any malicious or bad agendas against the Syrian citizens."
Bulos is a special correspondent.
ALSO
In a former factory just east of Aleppo, Syrians wait to return home
Jordan says Karak gunmen apparently planned more attacks
OxyContin goes global — "We're only just getting started"
---
UPDATES:
3:05 p.m.: This article has been updated throughout with staff reporting.
This article was originally posted at 7:15 a.m.
Sign up for Essential California for the L.A. Times biggest news, features and recommendations in your inbox six days a week.
You may occasionally receive promotional content from the Los Angeles Times.