As China and Taiwan fight, a tiny coffee bean business thrives amid bitter political dispute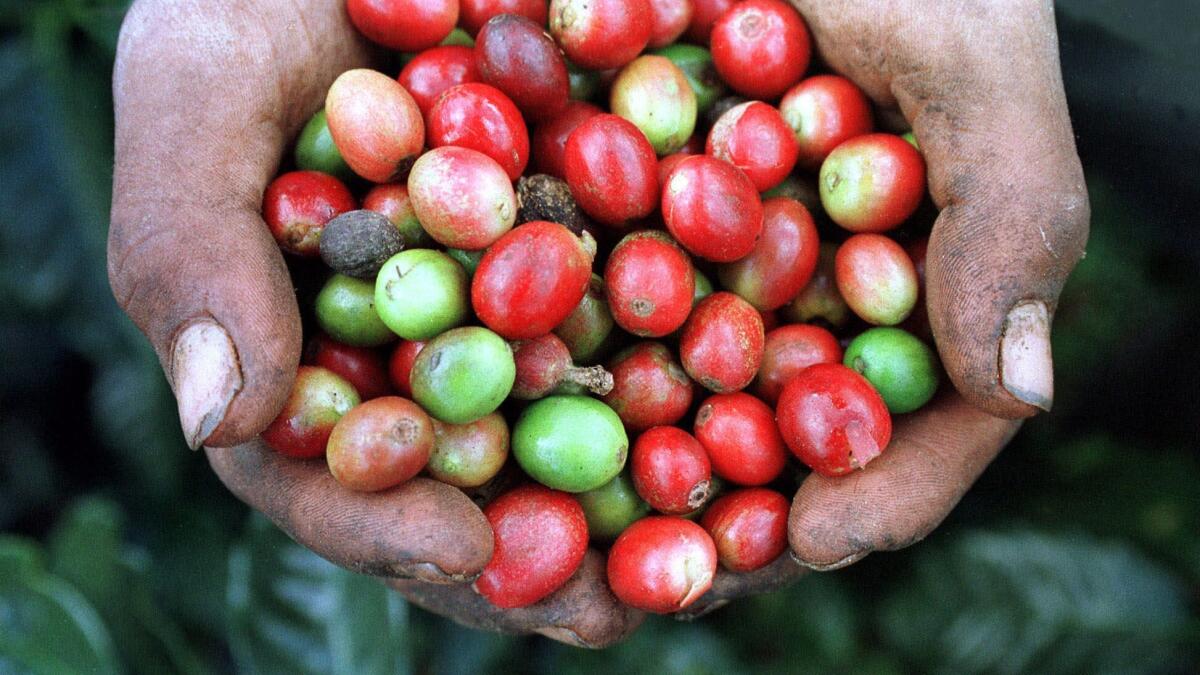 Reporting from Taipei, Taiwan —
Elias Rivera didn't plan it this way, but one of Asia's thorniest political disputes is giving his coffee bean startup a serious business jolt.
The 32-year-old Honduran national, who moved to Taiwan for a university degree and then stayed on to open a coffee bean import company, is breaking even in just his second year, thanks in part to the bitter relations between Taiwan and China as they battle for diplomatic recognition from countries around the globe.
Honduras is one of just 18 countries that recognize Taiwan as an autonomous nation, a fact that gives entrepreneurs such as Rivera preferred status here. Though Honduran coffee beans are relatively new — and a bit on the strong side — to Taiwanese cafe operators, Rivera is exempt from the steep tariffs usually slapped on importers and the government happily lets him attend food shows and coffee expos free of charge. Even getting a visa turned into a painless process.
"Taiwan has created a friendly and flexible business environment for us to operate," Rivera said.
But, as the geopolitical tug of war continues to play out, Rivera is the first to admit that his Taipei-based business — Zircle Coffee — may eventually have to turn to China to peddle its coffee beans.
If Taiwan and Honduras reach a diplomatic break at some point, Rivera imagines that China will pick up the slack with its own aid to the Central American country and that he'll get a piece of the giant Chinese coffee-drinking market.
"China is the place we're headed to eventually," Rivera said while attending a recent Taipei food show where Zircle's coffee beans were featured inside a Central American pavilion. "If you want to build a sustainable business, China is the place to go."
Yet it's a complicated gameboard.
China and Taiwan have been self-ruled since the Chinese civil war of the 1940s, but officials in Beijing continue to claim sovereignty over the island and insist that under its one-China policy, Taiwan must unite with the massive country. Polls in Taiwan show the islanders strongly favor autonomy, but finding support for that status beyond its borders has been difficult. While it clings to 18 allies, more than 170 countries have diplomatic relations with China.
Since Taiwanese President Tsai Ing-wen took office in 2016, China has pressured four countries to sever diplomatic relations with the island in favor of Beijing. China's pressure campaign is so intense that it has even leaned on airlines to stop referring to Taiwan as a country.
China has also protested Tsai's foreign travel agenda, such as her current tour of the U.S., Paraguay and Belize — all allies. During an appearance at the Ronald Reagan Presidential Library in Simi Valley, she declared that Taiwan's "freedom and future" were not negotiable.
Despite the political noise, Rivera said his interests are simple — to do something for his homeland, which is a poor country but, he believes, filled with potential.
Rivera, who earned a degree in marketing and logistics in Taiwan and went on to get an MBA, launched Zircle in 2017 with two partners. A series of taste tests helped Taiwanese coffee drinkers overcome suspicions that Honduran coffee was inferior to the blends they were used to, he said. Now 50 cafes buy his firm's beans, and more than 100 others are trying them out.
Taiwan's diplomatic outreach has helped farmers develop in Honduras while cutting tariffs on bean shipments. Taiwan has separately given $10 million to help finance infrastructure in Central America, including funding for agriculture in the region.
"We hope we can expand our import sources and hope that through those imports we can assist our diplomatic allies in adding to their foreign exchange income, using trade to strengthen and deepen our bilateral relations," Foreign Ministry spokesman Andrew Lee said.
Taiwan's free-trade agreement with Honduras lets Zircle and others import coffee beans tariff-free, Rivera says, compared with tariffs of around 30% that he would pay in China.
Revenue from Honduran coffee sold in Taiwan increased steadily from 2010 through 2015 to more than $2 million a year, according to the most recent figures available. Imports from all of Latin America came to about $11 million in 2010. Six years later, it totaled $16 million, according to the semi-governmental Central America Trade Office in Taipei.
Zircle's slice of the market is expected to reach about $130,000 this year, enough to break even, Rivera said.
Coffee-producing countries such as Honduras prefer export destinations with free-trade agreements or other incentives as a way to stay competitive, said Gratiana Jung, senior political researcher with the Yuanta-Polaris Research Institute think tank in Taipei.
And Taiwan, for its part, needs to keep its allies happy. "From the policy side, I should think there's no problem," Jung said. Honduras has been a Taiwan ally since 1965.
Rivera's firm and a handful of other traders based in Honduras are banking on Taiwan's thirst for coffee despite its small market size and historic preference for beans from mainstream sources such as Colombia and Indonesia.
But competition hampers the Taiwan business for Central American bean traders, said Gildardo Rivas, general manager of a Guatemalan plantation that also ships to Taiwan. Some of Taiwan's major cafe chains do their own sourcing, leaving traders to fight over indie coffeehouses and individual supermarket consumers, Rivera said. And one Taiwan chain with locations in Southern California — 85C — is the target of a boycott launched by netizens in China who believe the cafe has become too close to Taiwan.
Rivera is already eyeing China for its market size and hopes to expand there once he's established a solid base in Taiwan.
Coffee consumption has grown quickly in China, bounding upward by about 16% a year since 2004. And, with 1.3 billions citizens, China simply has more potential coffee drinkers than Taiwan, which has a population of 23 million.
Though tariffs in China — along with the lack of a Honduran Embassy in Beijing — make the coffee market there tough, China often rewards Taiwan allies economically for switching sides. Coffee bean exports from Costa Rica to China, for instance, rose from one to 96 tons a year after Costa Rica cut ties with Taiwan in 2007.
Jennings is a special correspondent.
Sign up for Essential California for news, features and recommendations from the L.A. Times and beyond in your inbox six days a week.
You may occasionally receive promotional content from the Los Angeles Times.