Chartered plane carrying a Brazilian soccer team crashes in Colombia, killing more than 70 people
Reporting from Bogota, Colombia —
The soccer world Tuesday mourned the deaths of almost all the members of Brazil's Chapecoense professional team in an airplane crash near Medellin, Colombia, that killed at least 75 people.
The Bolivia-based LaMia airline charter flight with 72 passengers and nine crew members on board crashed at about 10 p.m. local time Monday as it was preparing to land at Jose Maria Cordova International Airport in Rionegro, a Medellin suburb.
Among the dead were 19 of the 22 Chapecoense team members. Defenders Alan Ruschel and Helio Zampier, known as "Neto," and goalie Jakson Follmann reportedly were listed in critical condition at local hospitals.
"This is a very, very sad day for football," Gianni Infantino, president of world soccer's governing body FIFA, said in a statement. "We are so sorry to hear about the airplane crash in Colombia, it is shocking and tragic news. At this difficult time our thoughts are with the victims, their families and friends."
The soccer star known as Neymar, of Brazil's national team, said over social media that he was in a state of disbelief.
"Cannot believe this tragedy, impossible to believe it happened, impossible to believe that the plane crashed, impossible to believe that athletes, humans were on that plane, impossible to believe that these people left their families.…Today the world mourns, but the sky is happy to receive Champions. "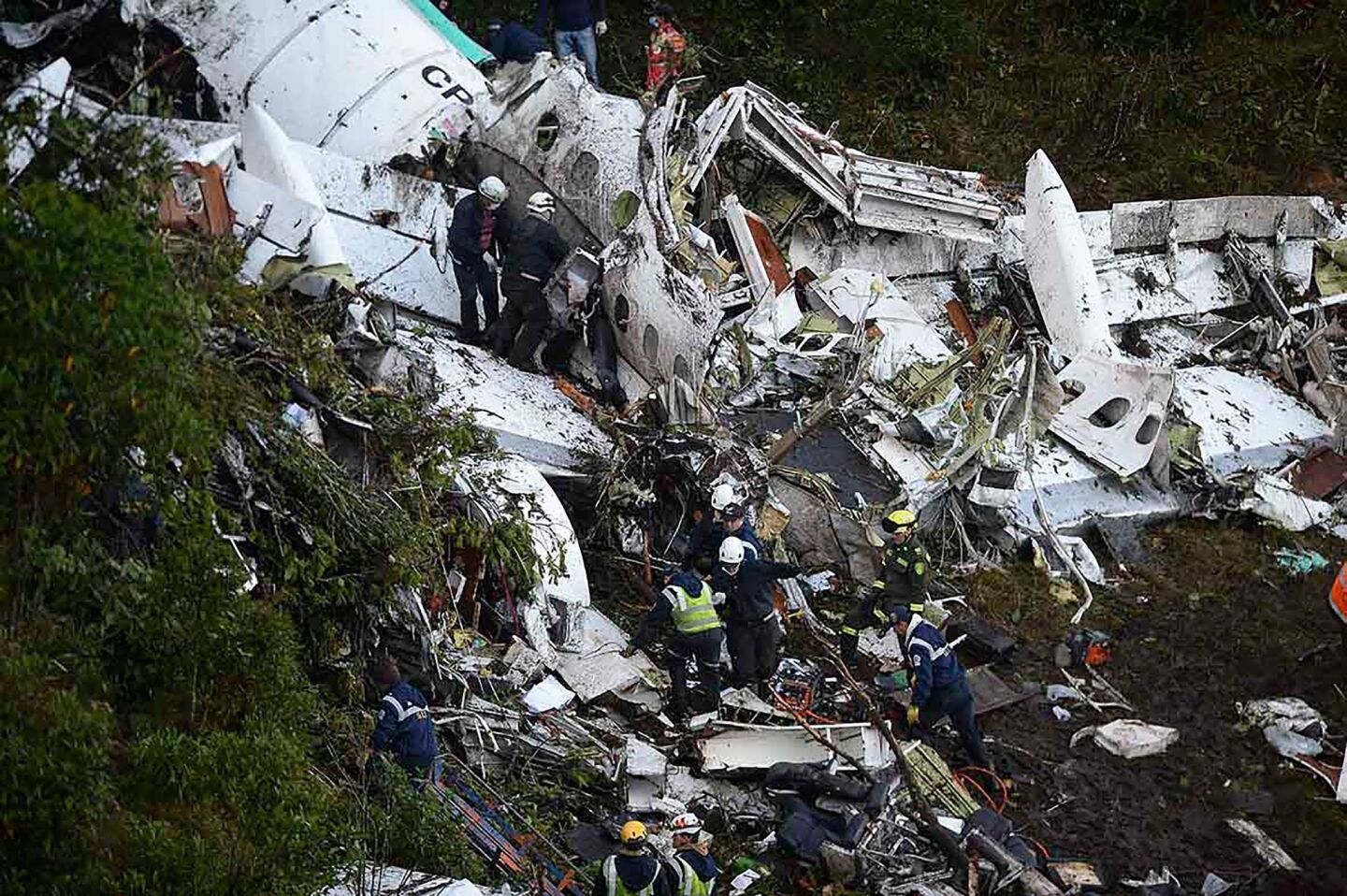 Rescuers search for survivors from the wreckage of the LaMia airlines charter plane carrying members of the Chapecoense Real soccer team that crashed in the mountains of Cerro Gordo, in Colombia.
(Raul Arboleda / AFP/Getty Images)
Rescue workers carry a survivor of a plane that crashed in La Union, a mountainous area outside Medellin, Colombia.
(Luis Benavides / Associated Press)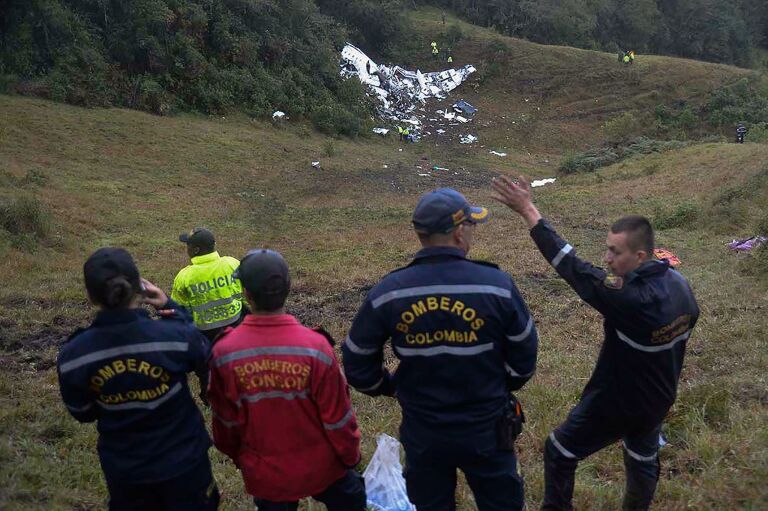 Rescuers gesture near the wreckage of the LaMia airlines charter plane carrying members of the Chapecoense Real soccer team that crashed in the mountains of Colombia.
(Raul Arboleda / AFP/Getty Images)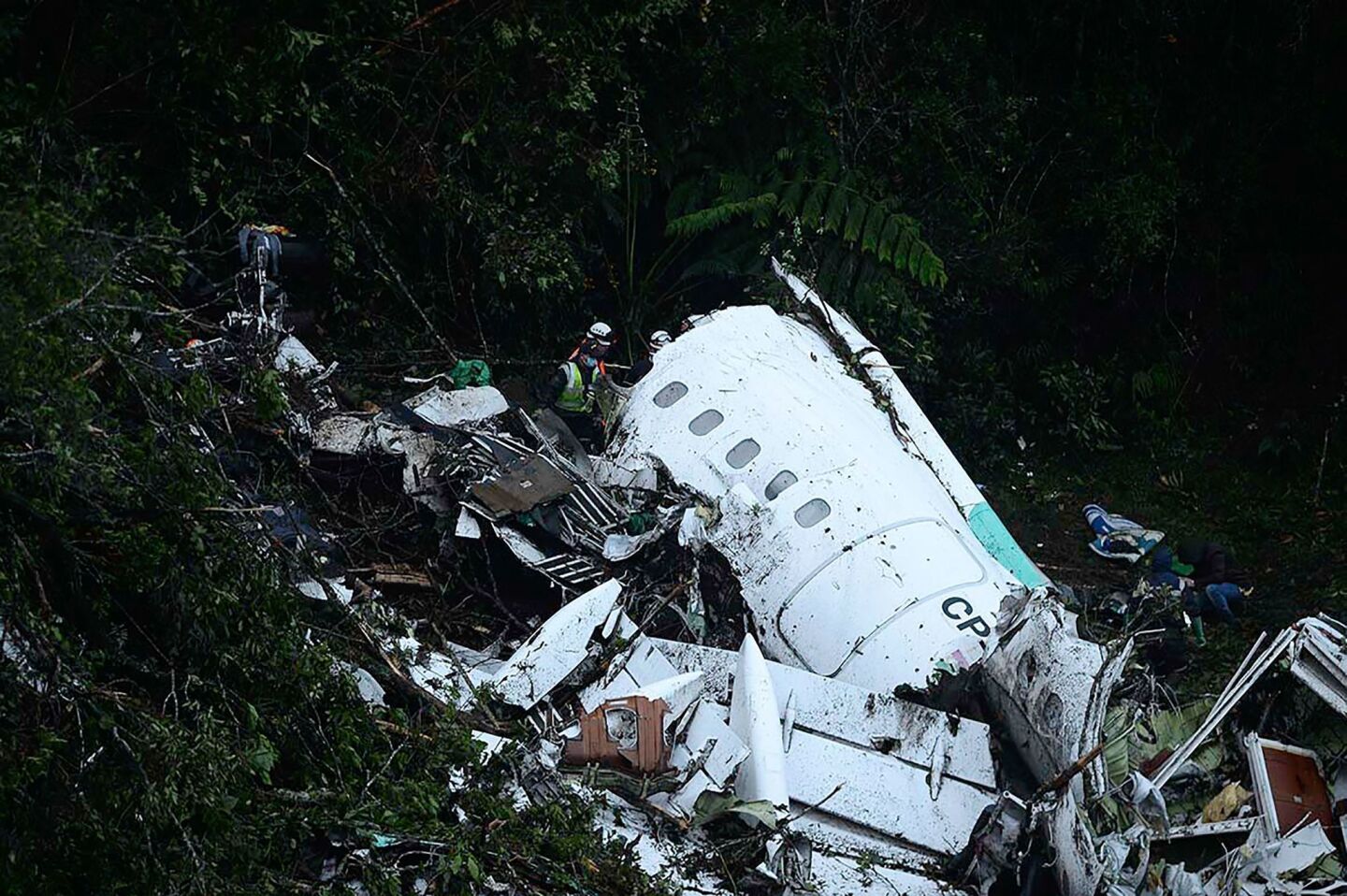 A charter plane carrying the Brazilian soccer team crashed in the mountains in Colombia late Monday, killing 76 people.
(Raul Arboleda / AFP/Getty Images)
Brazil's Chapecoense player Helio Neto is helped by paramedics at the San Juan de Dios clinic in La Ceja, Colombia.
(Luis Acosta / AFP/Getty Images)
The team, hailing from Chapeco in Santa Catarina state, was scheduled to arrive in Colombia to play this week in the Copa Sudamericana tournament against Medellin's Atletico Nacional squad.
The Brazilian players were a long-shot Cinderella team that put together a winning season despite meager resources and facilities. During the all-day travel Monday, several players in ebullient spirits sent videos to fans over social media.
There were conflicting media reports about what might have caused the crash of the four-engine British Aerospace 146 jet. On approach, the pilot reportedly informed the Cordova airport control tower of electrical problems. Poor weather conditions may also have been a factor or possibly a fuel shortage, according to an official interviewed on national television.
Local press photos of the crash scene indicated that the aircraft plowed through a forested area but that it did not explode or catch fire.
Hampered by heavy rain, fog and poor roads, rescuers reported difficulties in reaching the crash site in the La Union township about 10 miles from the Cordova airport. More than 150 rescuers managed to reach the scene and within hours take six survivors to nearby hospitals in La Ceja and Rionegro.
Local media reported recovery of the aircraft's so-called black boxes, which may provide clues to the disaster.
Colombian President Juan Manuel Santos addressed the nation Tuesday morning to express condolences to the family and friends of those on the flight that crashed Monday night, promising that a team of the country's best investigators would work to expeditiously identify the victims and deliver their bodies to loved ones.
At a news conference in Bogota, the Colombian National Director of Legal Medicine Carlos Eduardo Valdes said his agency had issued an appeal to family members of the victims in Brazil and Bolivia to provide fingerprint and dental records to help identify the bodies. The Brazilian air force was organizing a flight to bring relatives to Medellin to help with IDs, he said.
The team left Sao Paulo on Monday morning and stopped over in Santa Cruz, Bolivia, before continuing toward Medellin. There were conflicting news reports as to whether the team boarded the doomed LaMia aircraft in Brazil or after changing airplanes in Bolivia.
Chapecoense player Alejandro Martinuccio stayed home because of an injury.
"I feel profound sadness," the Associated Press reported he said. "The only thing I can ask is prayers for the companions who were on the flight."
Among the passengers were 22 members of news media. Fox TV reportedly sent a crew of six on the plane to cover the final matches, and the O Globo news organization based in Rio de Janeiro had three staffers on the flight. None survived. Several family members of players were also reported on the flight.
Other survivors included flight attendant Ximena Suarez, radio newsman Rafael Henzel and aircraft technician Erwin Tumiri, all in stable condition, the Associated Press reported.
Medellin's two airports, Jose Maria Cordova which serves international flights, and the Olaya Herrera airport downtown, which caters to commuter flights, have been described as among Latin America's most dangerous because of the precipitous Andes Mountains surrounding them.
Two crew members of a movie starring Tom Cruise that was filming in Colombia were killed in September last year when their twin-engine plane crashed on approach to Olaya Herrera airport.
Kraul is a special correspondent.
ALSO
Buying baby formula at $40 a can, and other stories of survival from Aleppo
From a bridge in South Africa, sidewalk bookseller believes in the power to change lives
The Marines wouldn't take him. So Levi Shirley went to war on his own
---
UPDATES:
11:15 a.m.: This article has been updated with Times reporting and comments by government and soccer officials.
5:23 a.m.: Updated to say a goalkeeper who survived the wreckage died at the hospital, bringing death toll to 76.
4:15 a.m.: This article was updated with a new death toll.
1:30 a.m.: This article was updated to say there were only five survivors.
12:10 a.m., Nov. 29: This article was updated with information from a local mayor about survivors.
11:48 p.m.: This article was updated with the cancellation of South American soccer federation activities.
11:10 p.m.: This article was updated with information on survivors and the airplane's electrical failure.
10 p.m.: This article was updated with information from Medellin's mayor regarding the crash.
This article was originally published at 9:35 p.m.
---
Must-read stories from the L.A. Times
Get the day's top news with our Today's Headlines newsletter, sent every weekday morning.
You may occasionally receive promotional content from the Los Angeles Times.